Written by Rastafoo69, edited by Otaku Apologist
Pronant Symphony, a hypnosis hentai RPG developed by EB. Released May 1, 2017. Download on DLSite for $18.00. For PC Windows. No voice acting. Censored genitals. Available in English and Japanese.
Evil king Istaroth used his magic to turn thousands of humans into a new race, Alvs. Alvs possess the ability to use Pronant, the ultimate mind control ability. But will you use it for good or evil? The choice is yours.
Read our guide how to download DLSite games.
STORY
Julius the Alv uses his pronant spell to trick four beautiful women into believing they are his friends. Since Alvs have shortened lifespans, Julius hopes to defeat evil king Istaroth and regain his humanity.
The four girls are pretty shallow characters. Irito is the knight in love with you, Jueli is a goofball big sister, Serafina is the mature womanly nun, and Niva is the sleepy but sassy mage girl. They hardly develop throughout the entire 40 hour experience.
Rather than a game about corrupting women, the focus is on the player. The choices you make throughout the game will reward you with good or evil points on your soul. This contributes to the ending you receive. Abusing your hypnosis powers or killing innocents will lead to a bad ending.
There is no harem ending. At best you run away with Irito and become a couple. In the true ending, you continue traveling with the four girls having finally found happiness. The initial English release did not translate the true ending, but that has since been amended.
The story is told like Neon Genesis Evangelion, throwing you into the world with little setup and explanation. The protagonist is emotionally constipated and surrounded by beautiful women. Small details and bits of information about the characters and the world are slowly given to the player over time. It's meant to intrigue and keep you engaged with the massive 40-hour ride.
Your enjoyment of the story depends entirely on your taste in writing. I personally hate when a story is dragged out like this. But some people love to slowly peel back layers before reaching a core understanding of the narrative. Some people will love it, and others will absolutely hate it.
What remains beyond dispute is this. Even with 9 endings, the game lacks replay value. Because, who would invest over 400 hours of their life just to see them all? While the grind is enjoyable, fun, and even addictive, it wears off after the first ten hours.
The nine endings aren't even worth it. Four endings for the four girls, three bad endings, and two general endings. In the bad endings, the girls leave you and you feel sad. The good endings lack emotional payoff since they're all super similar and end in the most predictable ways possible. For this kind of time investment, I was expecting a lot more than "let's be friends forever".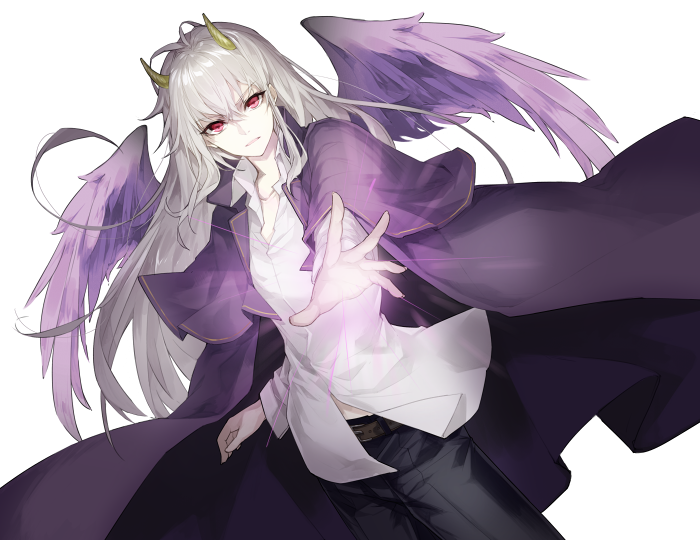 GAMEPLAY
Pronant Symphony was created in Wolf RPG Editor. There is no text skip, text log, or hiding text boxes. You can name your character, but his default is Julius.
The core game cycle is a classic RPG dungeon crawler where you grind to level up, find crafting ingredients, and spend gold at the shops. However, the developer added a wide variety of side-features that make this game a truly unique experience. The downside being, it's easy to forget certain things if you haven't played the game in a while.
The number keys activate pronant. Press 1 for information. Press 2 to steal. Press 4 to fuck the person in front of you. Press 7 to give commands. These keys are vital to remember for events like stealing from the fairy with the special item. Don't forget!
Every battle has its own attributes favoring water or fire or something else, completely randomized. So you can't button mash the game, you have to stay aware of what moves work best.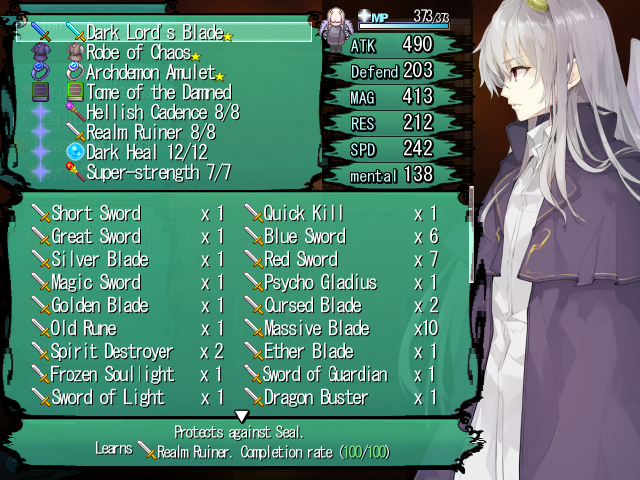 Actions within the game will have effects seen even hours later. Like girls remembering you assaulted them, guards appearing when you steal, and the black market serving you once you're evil enough.
Completely explore a floor on the map for bonus experience points. Defeat the floor boss for bonuses. Complete side quests for small rewards. Catch and deliver beasts to the 8th floor for other bonuses. There's always something new to do.
Foraging points can be upgraded by pressing 1. Gather more valuable resources to produce better equipment. Press CTRL for auto-battle. Press A for the adventuring log. Killstreaks without leaving the dungeon will reward you with higher earnings.
There are four difficulty modes, but they do not affect the story. Max level is 55. 100% completing the game will likely take longer than a standard 40 hour playthrough. Speaking of which, it goes without saying that while these features make the game addictive and engaging for a while, forty hours is still a lot of repetition.
GRAPHICS
The art is drawn in the standard Japanese anime style. The artist went for realism, as the breasts and cleavage don't form a perfect sphere or follow other tropes. I personally enjoyed it, but some may mistake this for sloppy execution.
The protagonist has no standing art until the second playthrough. The true ending can only be achieved on a second playthrough, so this gives a bit more personality to the experience. Still, 40 hours for 35 sex scenes is pretty thin. Sure there are occasional non-sex CGs, but they're spaced out just as much as the sex scenes. Play this game for the RPG mechanics, not for the visuals.
The vast majority of the game takes place in the dungeon of Pandemonium, home of Istaroth. There are 50 floors in total. Some have an ice theme, some are lava themed, some are like a graveyard, and some are pure darkness and stone. Although each region is unique, the game remains an enclosed space with walls on all sides of you. Do not expect a truly open world.
The art in this game is beautiful but restricted by the Wolf RPG Editor's image resolution. Playing in fullscreen, you'll see some pixels and lack of detail. Ultimately, seeing 640 x 480 images will be a turn-off to some players.
VOICE ACTING AND SOUND EFFECTS (SFX)
Pronant Symphony has no voice acting.
The sound effects in this game come from a wide variety of stock and licensed assets. Due to the sheer volume of spells and skills, there will always be something new to excite your ears. The sex sound effects as well, are fitting if a bit uniform. The same sounds repeating in all 35 scenes feels like the developer almost didn't want to include sex to begin with.
MUSIC
There are 124 songs in total, 120 if you ignore environmental noises. 52 of these tracks are brand new while the rest are stock and licensed assets. The music in this game is so beloved, many have uploaded samples of it to Youtube. In fact, 160MB of the game files is devoted to these tracks, so you know they are complex and high quality.
Piano, harps, violin, and more! Sometimes the game feels like a nostalgic music box. The musical choices here juggle all aspects of the game perfectly. This is a grade A soundtrack.
The problem is, the game is 40 hours long. Do the math, that means 3 songs for every hour of play. And when each song is only 1-3 minutes, frequent looping is unavoidable. Not to mention some tracks are reserved for specific moments, locations, and boss battles, so they won't be playing on a regular basis.
120 songs is impressive, but in practical use, there were some hiccups. Like how the theme for the good endings is the exact same home soundtrack you've heard for the entire game. After a 40-50 hour experience, I was expecting something damn near legendary! Instead I got the bare minimum for that scene!
On the plus side, some of the music choices are hilarious, like how soft nursery music is played in the adventurer's guild to contrast the bleak black market.
HENTAI
There are 35 scenes in total, each with its own CG. A good guy playthrough has no sex scenes, except if you devote yourself to one lady. The true ending has you dating no-one.
Sex scenes are almost always missionary or doggystyle. Blowjobs and titfucks are the exception, and don't expect any crazy fetishes either. Erotic dialogue is the usual "feels so good and so big" standard to the genre. Variation images are used for cumshots but there are no animations.
A magic collar made Niva submissive! A tentacle creature fucks Irito! After she confesses to loving you, Serafina wants to jump into bed together! The scenes are all pretty basic and predictable. On the plus side, you can fuck any female NPC you meet using pronant, which was a super hot game feature!
CONCLUDING WORDS
Pronant Symphony is a super long RPG filled with monsters, side quests, and boss battles galore! But with a predictable story and limited sex scenes, it feels more like an old school RPG than a hentai game. Play this if you love monster grinding with tits on the side.
Download Pronant Symphony. If you liked this game and want more from the developer, then check out our review of Demon Sword Snakes.

Graphics

Gameplay

Story

Music

SFX

Hentai