Written by Rastafoo69, edited by Otaku Apologist
Jasmine Hotwife for Life, a 3D porn visual novel developed by Stan Prentice. Released October 18, 2020. Download the game. For PC Windows. No voice acting. Uncensored genitals.
Your wife Jasmine is a total beauty! Its a shame she's never had another cock before. A body like hers is just begging to be shared!
STORY
For ten years, you and Jasmine have had marital bliss. But after all this time together, you've begun to fantasize about making her your hotwife! Do you think she'll agree to have sex with other men?
After the beta was released, this game never received any content additions. The developer never had a Patreon either, so this passion project has been largely forgotten in the adult gaming community.
The story is super short, but it was clearly written with additions in mind. First, the husband researches hotwifing and decides it's right for him. Second, he does roleplay with his wife. Third, she flirts in the office. Then she has sex with her coworker. Considering how clear these stages of progression were, it's obvious the developer wanted to flesh them out more in future releases.
Although the dialogue is generally realistic, it can also be rather farfetched. Like during the first section of the game, hotwifing is explained like its your first time hearing about it. This section drags on as the developer basically tries to tutor you on every detail of hotwifing. In other words, the game needs polish it never got.

GAMEPLAY
Jasmine Hotwife for Life is a visual novel created in the Renpy game engine. Click the screen to advance the story. Make the right choices or you'll risk a game-over. I highly recommend using multiple save slots, since there is no recollection room.
GRAPHICS
The visuals in this game are 3D CGs created in the Daz3D engine. The creator has been able to easily produce numerous 3D images on his own thanks to this powerful software.
While certain details like characters blinking give this game a sense of realism, there are some odd facial expressions. Jasmine's facial proportions for example, seem to vary dramatically depending on the scene. Sometimes she has a thin narrow face, while other times it's more rounded. Sometimes her lips are normal and cute, while other times they're wide and cover her face. It's as though her character model was changed from scene to scene.
An impressive use of visuals was in the scenes regarding cell phones. The developer made them look realistic, with text message bubbles and everything! I wish they played a larger role in the story, like an entire sequence of text messages exchanged.
The sex scene at the end of the game was clearly created by cutting corners. It's way too short and doesn't even show all the good stuff you want to see! Every line of dialogue changes the position, so you never really get to enjoy the visuals. Altogether, it's clear the developer needs practice before trying to make a truly sexy experience.
VOICE ACTING AND SOUND EFFECTS (SFX)
Jasmine Hotwife for Life has no voice acting or sound effects.
MUSIC
Although the music was nice, it seemed more like a placeholder than a true fit for the game. Heavy violin, piano, and wind chimes are often used to create a super bouncy and lively tone that would fit more into an RPG title than a sultry visual novel experience. And the main menu has no music at all! While the music makes for a good placeholder, it doesn't fit the game at all.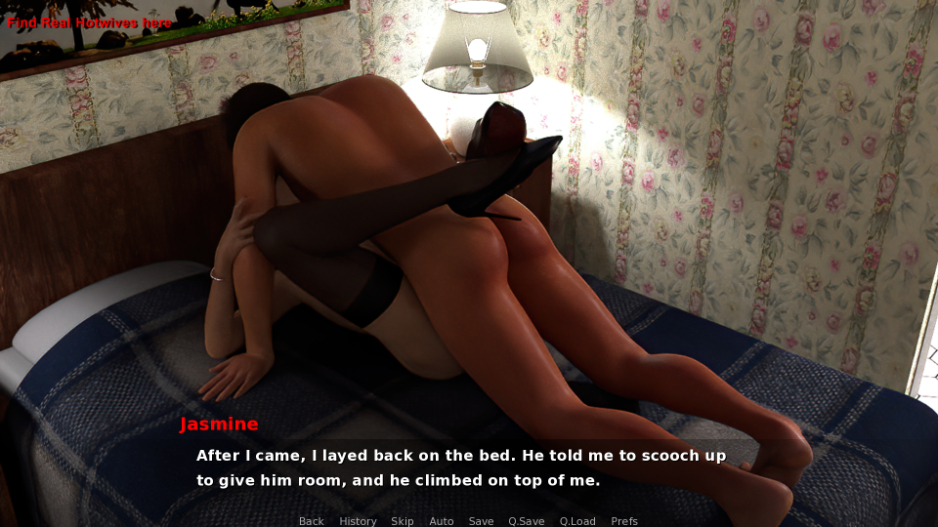 HENTAI
There are a handful of lewd scenes, most of them short and not very satisfying. Often times weird facial expressions and unrealistic reactions break the immersion in the scene. For example, you bring up Jasmine role-playing fucking another guy. She's immediately on board and everything goes absolutely perfectly like a literotica post. This was stupidly predictable. And she agreed so fast, it didn't feel realistic at all.
Although sex positions like missionary and cowgirl are used, the lack of animation really holds this game back. Without proper buildup or animations, this feels like a rule34 post instead of a visual novel. Although the artworks are nice, they're only exciting visually, lacking the psychological titillation crucial to this niche fetish.
CONCLUDING WORDS
Jasmine Hotwife for Life is a forgotten title in the hotwifing genre. While the main characters are enjoyable and well depicted, there really isn't anything separating this from other titles on the market today. The lack of originality makes this game a fun experience for hotwifing fans, but anyone else might be disappointed with the experience.
Download Jasmine Hotwife for Life. If you liked this game, also check out our review of The Adventurous Couple.
Graphics

Gameplay

Story

Music

SFX

Hentai