Written by Mistress Valentine, edited by Otaku Apologist
Muramata-san no Himitsu, a hentai anime by Queen Bee. Released July 17, 2020 . Runtime 20 minutes. Full voice acting. Censored genitals.
STORY
Kaji and his senior, Muramata, are chew-out by their boss for under-performing at their workplace. While Kaji is someone who is naïve and eager to impress others, Muramata laughs off the shouting they just endured and invites Kaji for a drink at her favourite bar.
Unfortunately the bar is closed. Kaji and Muramata head to her apartment to get wasted. A stray joke reveals Muramata has a split tongue that she usually hides whenever she laughs. Kaji compliments her, and in their drunkenness, the two decide to fuck like rabbits.
A few days later, on Kaji's birthday, Muramata and Kaji are invited to an office party. They soon slip away to a love hotel. Muramata confesses she couldn't find a present for him, so he can unwrap her body with his cock instead! She admits that she's in love with him. As a way of reciprocating, Kaji buries his dick deep inside Muramata's pussy. A truly heart-warming hentai romance.
SOUND EFFECTS AND VOICE ACTING (SFX)
This anime has some great voice work. It sounds like Muramata's actress is really enjoying herself. She gets to show a wide variety of emotions apart from horniness. There are times when she is genuinely nervous or embarrassed, she behaves like a slut when she is teasing Kaji. Her love confession feels earnest. Her moans during sex are complimented by her exaggerated lewd facial expressions.
Kaji's voice actor does a great job as well. His comedic timing is on point.
MUSIC
The anime has a nice set of songs. Some of my favourite tracks include one with a real jazzy feel to it that plays when Kaji and Muramata are kissing on the bed. Every sexual scene has its own song that fits the scenario perfectly.
When Muramata and Kaji are licking her boobs, the music changes and takes on a more rave beat. After Muramata confesses her love for Kaji and they have sex, the music changes again to a wholesome song that emphasizes the honest feelings the two have for one another.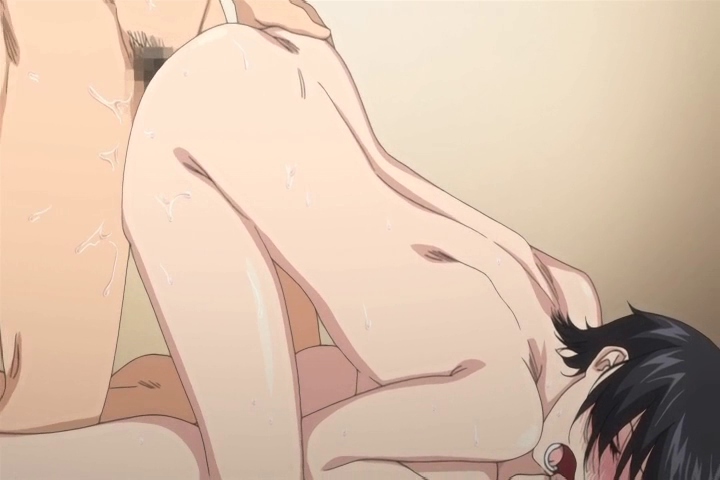 ANIMATION
Animation is standard for a hentai. Overall Muramata has a plain-Jane design but I found her very cute. She has a unique looking face which seemed intentionally designed that way, so she can make plenty of dirty expressions. Makin sexy faces feels like second nature for her. Kaji's character design is generic.
The animation during sex is enticing with multiple different sexual positions animated. The camera work is just as good with angles used that make you hornier and hornier as the episode goes on. There are plenty of Dutch camera angles to spice up the sex.
The animators show their work by including minor details like Muramata's breasts heaving only a fraction of what is normally shown during sex. They barely bounce but the slight fabric movements are so noticeable that you can't help but admire the visuals.
HENTAI
Anytime Muramata makes a lewd expression, it is sexy as fuck. Her mouth was made to suck cock. There's a shot of her giving Kaji a handjob where she wraps both sides of her tongue around his dick for a "threesome-handjob". It's as ridiculous as it is sexy and a creative way of using a character's unique attributes. She goes into blowing him and the shots of her face with the split tongue bobbing up and down made me soaking wet.
Muramata invites Kaji to suck on her boobs and he returns the favour by fingering her pussy. He shows he's secretly an alpha masquerading as a beta by pushing his fingers all the way up inside Muramata in one go. She lets him stick it inside her and enjoys being ploughed like a cheap slut. There are several position shifts with some lewd play-by-play commentary to keep the repetitive sex animations alive.
When they're having sex in the love hotel, Muramata tells Kaji to help her rub lotion on her body. He wraps his hands around her big tits and makes sure to get into every nook and cranny. She teases his nipple with her tongue before sucking on it hard. She uses her tongue to lick things like his toes and butthole. They have vanilla sex after Muramata confesses her feelings for Kaji.
CONCLUDING WORDS
This Japanese hentai animation is definitely worth a watch. It's full of intense vanilla sex and wholesome fun. The characters are relatable and enjoyable, the sex is fulfilling and the production values are well-balanced. It's a realistic scenario for lovers of immersive porn.
You can watch this faptastic hentai anime at multiple streaming sites online.

Animation

Story

Music

SFX

Hentai