Puzzle Game Review: Hentai Story Sweet Bottom Pie
Hentai Reviews

>

Reviews

>

Puzzle Game Review: Hentai Story Sweet Bottom Pie
Written by Mistress Valentine, edited by Sexy and Otaku Apologist
Hentai Story Sweet Bottom Pie, an adult puzzle game developed and published by Pen in Apple Studio. Released for Windows on April 13, 2021. Download on Nutaku for $2.00. Moans only. Uncensored genitals.
STORY
Sweet Bottom Pie is a short puzzle game. You play as a nameless customer who enters a cute little maid café. You order a cake but find the waitress who serves you even more delicious. You forget about the cake and seduce the poor girl. Once she has submitted to pleasuring your cock, you have unprotected sex with her and leave her behind drenched in your man juice – a classic pump and dump. The game is devoid of text. The plot is inferred through the use of imagery.
GAMEPLAY
Sweet Bottom Pie is a puzzle game. You progress through the story by matching tiles. There are nine stages to play. At the start of each stage, a board of different tiles will flash onscreen. You have to memorize their locations and pair them up two at a time.
Once the board has been cleared, you move on to the next stage. Every time you clear a board, another CG is unlocked. Tile images include cherries, milkshakes, cakes, pastries and other common items found in a maid café. You can clear stages immediately by pressing the Control + F keys together. This is cheating, it robs the game of all the build-up and the fun. I don't know why the developer allowed this feature in their game, I feel it goes too far.
GRAPHICS
The waitress' sprite has an adorable look with a soft body and big bouncy boobies. Her poses and expressions are limited, but her maid uniform makes her look extra sexy. The game uses a unique engine that makes the sprites move around like they're alive. Breasts and clothes sway and bounce. The colors are halfway between jaded and vibrant. Bodies look like they're painted on with thick lines and big, bubbly eyes. The female character is nameless and feels like a generic 'fuck toy' in a hentai title.
The background art uses the same style as the character sprites. There is enough detail for them not to be distracting. The game's CGs try very hard to put the waitress in sexy positions, whether she is leaning over a table with her ass sticking out or standing idle with a chest full of cum.
VOICE ACTING AND SOUND EFFECTS (SFX)
Hentai Story Sweet Bottom Pie has no voice acting. You can hear some nameless girl moan while you please her. These sounds are generic and probably lifted off some internet library full of royalty-free material.
Other sound effects that you can hear throughout the game include flipping tiles up and down, penis thrusting and pussy squelching noises and some alerts for victory and failure.
MUSIC
Sweet Bottom Pie uses original instruments like the saxophone, drum sticks, tambourine, and electric guitar to soothe you while you wrack your brain trying to solve the puzzles. The soundtrack is comprised of a handful of songs. Tracks blend into one another after a short time, hence the low score.
There is little variety with every track being a slow, intimate number designed to help the player concentrate while creating a friendly atmosphere. You can tell a lot of effort went into crafting the soundtrack. I just wish there were more songs to choose from.
HENTAI
I enjoyed the sex in Sweet Bottom Pie more so than other Pen in Apple titles. The waitress comes by to serve you some cake but you have a different dessert in mind. She looks cute so you immediately get to work checking her out. You charm her by feeding her a cherry while prepping on popping hers in a few minutes.
You undo her dress and play with her breasts. You cup her delicious ass before bending her over. You prove yourself to be a man of culture and eat out the bitch's pussy before ramming it in her. You cum all over her and leave her a sticky, hot mess in the café. You don't even leave your number, you bastard.
The lack of voice over and onscreen text doesn't hurt this title as much as the others in the series. The CGs do a good job of telling the story for you. If you have a good imagination, filling in the gaps will be very sexy. The sex itself is paint by the numbers. The romp is fun but not very creative. You don't get to eat cake off the waitress or stuff some vanilla icing sugar down her ass to lick out later. Moments like these would've made this experience far raunchier.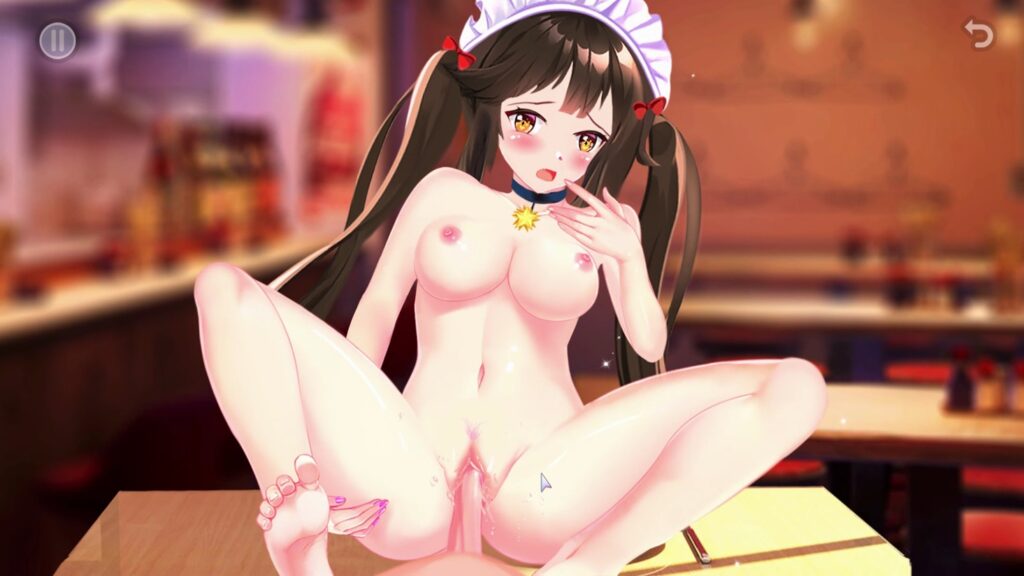 CONCLUDING WORDS
Sweet Story Bottom Pie appeals to anyone who loves cute slutty maids and the ecstatic feeling of plunging a hard dick inside them. The maid girl is cute and the sex and music get a little more attention than other titles by the developer. The lack of story continues to be an eyesore in the Pen in Apple puzzle series, but I had fun. You can download Hentai Story Sweet Bottom Pie.
Story

Graphics

Gameplay

Music

SFX

Hentai