Written by Mistress Valentine, edited by Otaku Apologist
Samus' Training Days 2, a 3D porn cartoon made by 26RegionSFM. Visit the creator's Patreon. Released June 28, 2020. Runtime 12 minutes. Full voice acting. Uncensored genitals. Read our review of the first episode.
Samus Aran from the Metroid series has sex with a big badass alien. Fuck yeah.
HENTAI
Samus sucks the cum hole of the creature's dick because he's too big for her mouth. She teases it by licking along his shaft and giving him a handjob. She demands the monster to put its cock in her pussy, but backtracks when he shoves it all the way fast and hard.
He thrusts everything into her and she tells him to slow down…which he doesn't. Samus comes to regret her decision to have sex once the beast gets going. He slams into her balls deep and thrusts the life out of her pussy.
Samus is secretly a masochist, we discover. She asks him to fuck her ass next. Through the miracle of 3D animation, the creature's monster cock somehow fits inside Samus' tight little shit snatch and he pounds her ass until her body is ready to give up. She orgasms loudly as the beast pulls out of her. In the climax, Samus squirts the monster's enormous load out of her pussy like a fire hose.
VOICE ACTING AND SOUND EFFECTS (SFX)
SilkyMilk voices Samus. She is a super star with a beautiful, cock-hardening voice that radiates lust with every line she delivers. I loved listening to her as her character's pussy is ripped in two by this horse-cocked monster. Her moans are wonderfully lewd and devilishly sexy. She sounds like someone you'd want to bang non-stop in real life.
Throughout the episode you can hear a lot of different sound effects that make the entire animation feel more realistic. The ship's engines hum in the background while the computer sounds a typical sci-fi alert that someone has stepped onto the bridge. When someone moves, either fabric will rustle or the ground will make a noise. There are also sound effects for doors sliding open and closing, abstract transformation sounds and plenty of sex noises lifted from some generic smut library on the internet.
ANIMATION
I fucking loved the visuals in this episode. Samus is fucked senseless by a monster character with an almost comically over-the-top sized dick. Samus' character model is sexy as hell with curves in all the right places. The animator cheats a little by artificially stretching her pussy or hiding it with clever camera angles so that the monster's dick can fit inside her. Her facial expressions as she suffers thrusts from the monster are a highlight of this episode.
The episode has a great frame rate and high definition rendering. The character models don't have any clipping issues and the movements look fluid. The camera work is stellar with several prime shots showcasing Samus' body in all its sexy glory. The camera seems to love showing us how much the monster is also enjoying the sex. Sometimes the camera will switch between third person and first person perspective to emphasize monster's size or Samus' domination.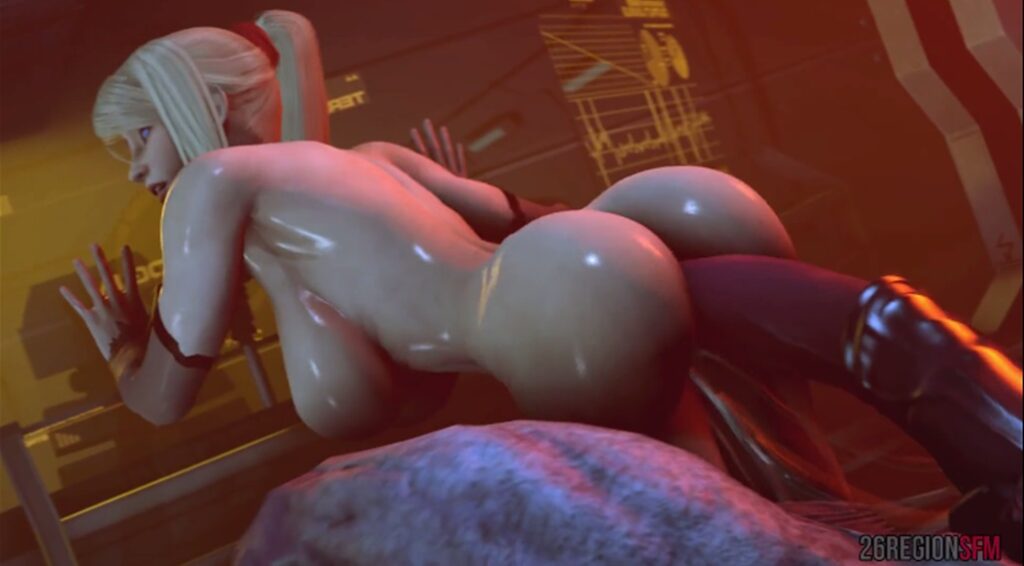 MUSIC
I enjoyed the songs in Samus' Training Day 2 for its well-balanced usage. The episode manages to keep you on-guard with dark, fear-inducing background music that fits perfectly with the visceral monster sex. The songs feel like they were lifted from a Resident Evil soundtrack.
Sometimes the music's volume seems purposefully very low. The viewer can hear the hard thrusts the monster is giving Samus. We can enjoy hearing Samus moaning like a horny bitch. Songs in this episode aren't interesting, but they aren't as boring as white noise. You would definitely think less of the episode if it didn't have any music in it, bad as it is.
STORY
Samus from Metroid is on the bridge looking through the training roster for the day. Her next client steps in and he's a huge fucking monster sporting a giant horse dick. Samus takes one look at this monstrosity of a sexual specimen and practically cums just from the sight of it. She grows horny and states how she can't wait to shove that dick up her pussy. She changes into her sex clothes and leads the creature to another room where she proceeds to fuck his dick off for the rest of the episode.
CONCLUDING WORDS
Samus Training Day 2 is a super hot 3D animated mess with stellar vocal work, wonderful visual design and visceral sexual scenarios captured with great camera work. This clip will make you wet, hard, and happy. It's a top-tier example of what 3D porn should be like.
You can watch this faptastic 3D porn video clip here.

Animation

Story

Music

SFX

Hentai