Hentai Anime Review: Tenioha! 2 Nee, Motto Ecchi na Koto Ippai Shiyo
Hentai Reviews

>

Reviews

>

Hentai Anime Review: Tenioha! 2 Nee, Motto Ecchi na Koto Ippai Shiyo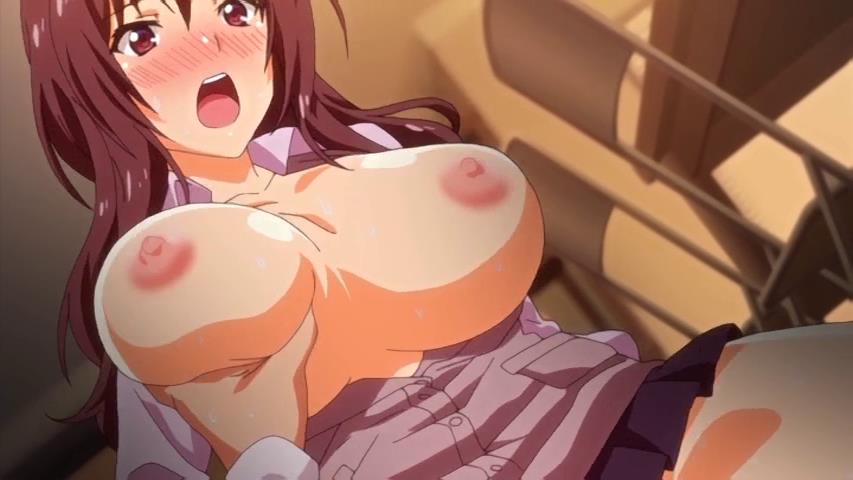 Written by Mistress Valentine, edited by Otaku Apologist
Tenioha! 2 Nee, Motto Ecchi na Koto Ippai Shiyo, a hentai anime developed by Pink Pineapple. Released June 28, 2019. Runtime 26 minutes. Full Japanese voice acting. Censored genitals. Based on the visual novel made by Rootnuko INC.
STORY
The episode is told in a series of flashbacks chronicling Takumi and Ayane's sex life. Takumi and Ayane are part of the School Morals Committee. Takumi has a lewd crush on Ayane but his dreams become reality when she gives him a sloppy tittyfuck after school. She sticks his virgin cock in her pussy and rides him until he cums. Ayane lets him know that they are not done yet.
Later on, another member, Manami, points out some cum on Ayane's mouth. Ayane happily licks her lips clean. Afterwards, she and Takumi make love in a love hotel. They have lots more sex but Takumi's beta male attitude quickly bores Ayane who drops his ass.
He goes to a comic convention and meets up with Manami. He takes her back to his place where she confesses to liking him. Takumi forgets all about Ayane and jumps Manami, fucking her and making her cum. She asks that they become sexfriends. Takumi agrees.
After a few more days of making wild, passionate love together, Manami tells Takumi she doesn't want to be friends with benefits anymore. Instead she wants to be his girlfriend. They share a tender moment before having sex at his place.
VOICE ACTING AND SOUND EFFECTS (SFX)
I really enjoyed the voice acting from Manami and Ayane's voice actresses. Ayane's VO has a slow, intimate manner of speaking; making it sound like every word is deliberately sultry and oozing with seduction. Manami's voice is cute and filled with incorruptible innocence. Both girls sound wonderful when they are brought to the brink of climax. Manami's VO deserves extra credit for making the audience believe in her love for Takumi even though the episode shows us no reason why she would have feelings for him. The voice actor for Takumi is dreadful and annoying. He sounds like a whiny bitch boy. His voice turns me off every time he opens his mouth.
The sound effects in the episode are limited to pussy squelching and cum spurting. There is some dick licking sounds but most noises are deafened out by either Ayane or Manami's moaning.
MUSIC
The episode starts off with a very slow and intimate number that features the keyboard as its main instrument. Other tracks employ the piano to create a romantic setting. Overall the music in the episode shows creativity and effort with songs in each scene having a distinct feeling and tone. All music has a slow beat that fits the romantic sex-lazed drama perfectly.
ANIMATION
The animation quality is higher than in most hentai anime out there, with enough detail in backgrounds and character renditions. Both Ayane and Manami have cute designs, they sport exaggerated breasts that are bigger than their heads. Their facial designs are stellar, both showcasing a wide variety of lewd faces.
You can tell a lot of work went into making the animation look great because the episode uses varied camera angles to showcase the sex from a lot of different angles. Ayane and Manami's bodies are shown from a whole bunch of sexy angles. It's easily one of the highlights of the anime. The colors are not too vibrant or too jaded. I particularly enjoyed scenes where boobs are being squeezed as the animation makes them look like two mounds of jello being manhandled.
HENTAI
The sex is wholesome and stuffed with vanilla goodness. The episode tries really hard to show that these encounters are between two young people madly in love with each other. Sadly, the story fails to establish "why" they would be in love. Because of that, a lot of the sex looks lewd and feels dirty, but is devoid of real passion. Ayane tittyfucks Takumi until he cums in the first scene, giving the audience a great shot of her lewd face. In another scene she take his virginity before they sixty-nine each other.
Ironically sex with Manami feels more realistic even though she has less reason to be in love with Takumi. After she asks for sex, Takumi completely forgets about Ayane and pushes her down onto the bed. He fondles her breasts and sucks on them before stripping her of her virginity.
The episode also features some kinks like public sex when Ayane and Takumi do it in a public rest room or Manami sucks his cock underneath a table at school. In one scene Ayane asks Takumi to rub his dick on her armpit and cum in there.
CONCLUDING WORDS
Tenioha! 2 is a solid hentai anime with passable production values and a realistic scenario for everyone who loves anime schoolgirls getting lewd. The girls are cute, but not very exotic due to the realistic art direction. The animation quality makes for the generic visuals. If you're in the market for hot vanilla hentai action, check this one out, and rub it out.
You can discover this hentai anime at several shady hentai streaming sites, including Hentaihaven.

Animation

Story

Music

SFX

Hentai