Written by Otaku Apologist

"Tenioha, Girls Can Be Pervy Too", is a hentai visual novel developed by Rootnuko INC. Available on Nutaku's download store for $45.00. Released on December 1st, 2017. Genitals censored with mosaics. A high-budget Japanese hentai visual novel, with production values up the ass, Tenioha plays it safe with its generic school premise, and female character designs. It's the perfect borderline mainstream hentai game that virtually anybody and everybody of every skin color, religion, sexuality, gender, social class, and political alignment can enjoy.
This game features three very perverted, very dirty-talking young ladies with the sexual appetites of a nymphomaniac.
STORY
Hiroto is the only straight male member of an all-girl school club called the Intellectual Culture Research Club. You're basically a bunch of wankers who lazily hang around, doing nothing but play video games. After establishing the characters and some backstory for the club, the sexual activities quickly escalate. Starting from a strip Mahjong game with the feisty brunette Nanase, the story begins to branch in different directions based on your choices. If you beat her in the game, you access her route. If you lose, you're soon met with another choice that starts the route for Ami, or Matsuri. I played Nanase's route fully for this review.
The story is very bare-bones. Hiroto lives alone, goes to school, wanks off to anime. After you got a relationship established with one of the girls, the sex scenes quickly chain together. From playing Nanase's route, I can tell the game is light in tone, I don't see the other routes stirring drama. Nanase's dark secret was very personal, but nothing life-threatening.
There's barely any plot to speak of. The game establishes a premise and chains sex scenes. There's some character development, like Hiroto gets over his passive beta male bullshit, after fucking a girl day, after day, to finally make a decisive romantic move. I can only imagine how much courage that takes, after your dick juice has defiled the woman's holes so many times, she'll never forget the taste, texture, and feeling of your cum.
The characters are fairly well written, and feel realistic enough that you can easily immerse yourself in the fantasy. What's never explained is Hiroto's magical male aura that attracts these beautiful women to his dick. He never has to overcome much resistance to get fucked by the girls; they initiate the sex, sometimes upon just seeing his awkward boner.
Briefly on the characters: Matsuri is a trash-talking egotistical gamer girl, that hits many sexy tropes. She gives off the tsundere vibe, while acting cute in a macho-girl way. Ami is a "girl next door" type, with zero prior sexual experience, and a soft, but strong personality. Ami is a high-class female that every guy at the school wants to fuck, which has more to do with her reality-defying breast size than anything else. Nanase is the oldest of the group, with plenty of life experience, and sexual experience. She has an amazing body, and an almost succubus-like seductive personality. Her brash openness about sex makes her feel very accessible.
There's also side characters, who barely impact events at all. At least in my playthrough, the side characters never did shit.
GAMEPLAY
Tenioha is a visual novel. You click the screen to turn the pages. You save your progress in several save slots. Go back on your choices utilizing "quick save" and "quick load", or just regular "save" and "load". Hide the text box by pressing "Escape" (ESC). There's also features like a log that lets you replay dialog lines.
GRAPHICS
The art of Tenioha, is nothing less than amazing. It's all anime-style, and of the highest quality. The women's bodies look fantastic: Their thighs are thick, boobs ample, and beautifully shaped. There's incredible detail in their hair, and clothing. The beautiful coloring makes every pound of flesh just pop out. The detail on little things like game consoles, panties, backgrounds, just look jaw-dropping. I enjoyed the tiny details so much, like the realistic sweat trickles on the women's bodies during sex. Personally, when I see giant boobs glistening with sweat, from many minutes of grinding her pussy, my dick is tickled.
The character sprites have varied art. They wear different clothes, change pose, and their faces. The girls all have poses that extenuate their breasts. They also move around, in cute little animations. You know when your visual novel sprites are hopping around like running their own circus show, your production values are pushing the limits.
The backgrounds are digitally painted from scratch. The lighting in scenes like the love hotel fucks, and the night-time park fucks, is just spectacular. Most people will let those scenes just flow like there's nothing of interest to pay attention to, when the very fact that nothing looks awry, is the result of sublime artistic execution.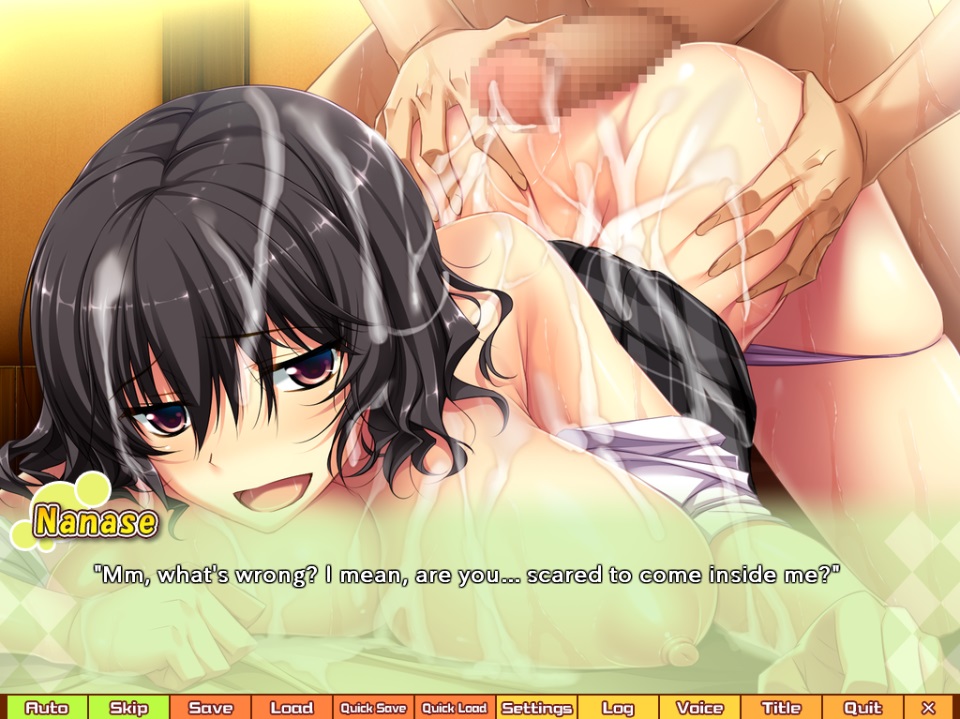 MUSIC
The sex scene music is very soft, and dreamy. It's most of the time creating a more romantic atmosphere than what's actually happening. The sex is so hardcore, so fast paced, I'm hard-pressed to call it romantic. Every encounter is aggressively initiated, with little foreplay. The slow instrumental music hardly befits what's happening, but the track is good on its own right. Other tracks are good too, they add a lot of energy into scenes. The opening music has the most excited tone, and it plays every time when you boot up the game. I feel a little happy every time I hear it, especially the first riff. If I'm slow with opening a save file to start playing, the song enters a new phase. The musicians go all-out, and there's so many simultaneous instruments.
VOICE ACTING AND SOUND EFFECTS (SFX)
The pussy grinding sounds great when it's slow, and wet, like the vagina is just devouring the dick. One route ended in pregnancy, and the final sounds the girl's pussy made, were beyond hot and slippery. There are times however, especially when the pounding gets fast-paced, that you can tell the audio department used something like water balloons filled with fluids. The little sounds inside the cacophony of squishing are uncanny, and can destroy your immersion at key moments.
The female voice acting is so sugary, they utter every syllables of Japanese, like calling the tadpoles to dance in your balls. During sex their voices are sexy, during story scenes they are flirty. These women dance mating dances inside your ear drums, coaxing every trickle of sperm to ooze out of your slit. My favorite voice actress was Matsuri's: She sounds so cute, so feisty, and then she spreads her legs and sucks you off with all her holes. Their voices are appropriate for the characters' ages, and their personalities.
The main male character is not voiced. Side male characters are, but who the fuck cares?
HENTAI
The sex scenes take place in various places: Parks, love hotels, classrooms, school showers, at Hiroto's home. The girls have few sexual inhibitions: Cum is always swallowed, semen shot in the pussy. The scenes often feature multiple cumshots. The content could be described as realistic, but not really, considering how perfectly these people execute every sexual encounter. Hiroto always has the stamina to fuck up to three cumshots worth, and the girls always orgasm at the same with the guy. Also, virgin girls performing perfect fellatio their first time without gagging? Yeah, right. The sex is realistic enough that you can suspend your disbelief.
The sex is very different depending on girl. For example, sex with Nanase is always hardcore, focused so much on creampies. She always wants it inside. Meanwhile, sex with Ami is all about the joy of discovery: She gets all mushy about her first time eating a hard prick with her crotch-mouth, while the smell of dick just makes her crazy horny.
The writing does a good job of describing the action, though there are occasional spelling errors, and grammatical errors. The problems are not frequent enough to detract too much from the experience. If you're obsessed with your grammar, the occasional mistakes and over-abundant use of certain words, may grate on you. There's a lot of dialog in the sex scenes, mostly consisting of muffled moans, and other sex gibberish. The girls talk in cut-off sentences where barely two words stick out in a puddle of what-the-fuckery. They speak the kind of shit one only lets out during hard pussy-pounding.
The scenes can be longish. The game offers an auto-mode, like most visual novels do, so you can listen to the sexy female voice-acting, and read. As the scene progresses, the imagery updates the emotions on the girl's face. After the first cumshot, the pussy is all drizzled in seminal fluids, while the pounding continues. In scenes where you can choose to cum outside of her, she'll be covered in white as you go for the second round. The imagery also updates to show titties being grabbed, etc. As the cherry on top, there's a "cumshot counter", a nice feature that more visual novels should do. The counter helps with timing your orgasm to the moment the girl is creampied. Very important!
CONCLUDING WORDS
Tenioha is a great hentai game for masturbation purposes. Its only flaws are the censored genitals, and the linearity. The moment you choose a girl, the route is locked. The porn montage begins soon as the relationship is properly established. If a realistic hentai fuckfest with the bare-minimum character development is what you want, Tenioha delivers.
Recommended for fans of creampie sex. Download Tenioha: Girls Can be Pervy Too!
Graphics

Gameplay

Story

Music

SFX

Hentai