Written by ShoMeReviews, edited by Otaku Apologist
Shining Song Starnova, a hentai visual novel developed by Love in Space. Released on July 25, 2018. Download on Nutaku for $29.99. Available for PC Windows, Mac, and Linux. Partial Japanese voice acting. Uncensored genitals.
Shining Song Starnova is a tour into the world of the idol industry. You are Producer-san, a man struggling to rebound his career after getting fired from his previous workplace. Producer-san quickly learns that the only idols who'll want to work in his new, disreputable agency are the bottom of the barrel.
STORY
Once the setup is established, the story embraces its adventurous nature. You'll be watching your group come together, the agency expand and gain notoriety. The audiences attending your group's performances get bigger and better. Then, just as everything seems to have fallen into place, the idols start infighting. Rivaling idol groups push into your territory.
The premise of an idol-themed hentai game stands out on its own, but the smart writing ensures a literary experience above most visual novels. There's lots of twists and turns coupled with comedy that solicits chuckles in exchange for a few cringes.
The first 3-4 hours of the game feel rather slow. There's very little sexual content during that time.
It's clear to see that the characters are based off of popular anime tropes. But rather than taking the easy way out and committing them to their roles, the writers decided to add dimensions to them.
Rather than the common main character whose only driving motivation is lust, Producer-san comes across as a character you can relate to. His dream to produce the best idol group feels authentic. Several scenes where he could easily start fucking one of his employees, his dedication to his work does not allow him to. He refuses to get in bed with his girls on a whim.

CHARACTERS
Shimazaki Sasumi is the sheltered "girl-next-door" of the group. She has a little experience under her belt. She was let go by her previous agency after a harassment debacle with her former employer.
Kashiwagi Aki serves as a walking contradiction. When she's on stage, you can expect a cutesy loli that does nothing but lust for her big brother! However, once the cameras and lights fizzle away her true nature reveals itself. She's a loudmouth, aggressive, dominant girl who never hesitates to criticize anyone.
Hashimoto Mika was a shut-in until the formation of Starnova. She could not face her social awkwardness and inabilities. She has no employment history or schooling due to her social faults and thus often speaks as a fantasy character, too afraid to show her real self to the group.
Akimoto Nemu doesn't need to be in the group. A well-mannered heiress of a huge corporation, Nemu joins Starnova out of pure interest in the idol lifestyle. Her mother is not excited about her daughter singing and dancing on a stage in a tight outfit.
Tanabe Natsuki is far from home. A country bumpkin who decided to check out the other sides of life, Natsuki brings a fun, energetic personality to the group. Taking the whole thing as a learning experience, Natsuki sets out to learn more about the world.
Watanabe Julie is the foreigner of the group, and boasts a bratty American personality. Similar to Aki she doesn't take shit from anyone and isn't afraid to get close with Producer-san, despite his continued rejections. This lust for an older man was born due to her familial past and poor father figure. She thinks she needs an older man, but through the experience she finds out that she really needs a reliable partner more than anything.
Yamamoto Mariya is the veteran of the group. She comes from the best ranking idol group in the country. She brings with her the cynicism of a competitive industry. Mariya has trouble believing in the success of the group, but takes on a motherly role due to her previous experience. Secretly not wanting to give up on herself and her dreams because of her older age, Mariya works hard to police and advise the group.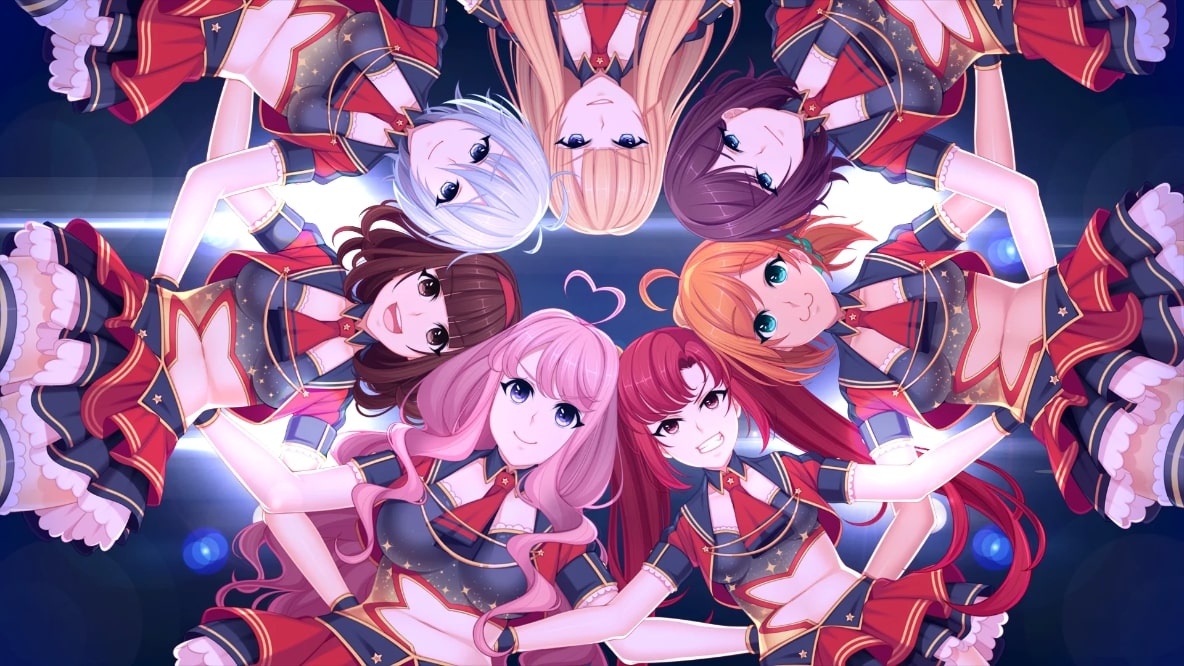 GAMEPLAY
Shining Song Starnova is a visual novel. You simply click the screen to "turn the pages". You can save, or load the game at any point. The game contains a small amount of situations where the player needs to make a choice. Opting for quality over quantity the choices carry great weight and will send you down entirely different story lines. Some choices lead to a quick bad ending.
GRAPHICS
The idols are drawn in anime style. They are realistically proportioned where even the largest of boobs could be found in our world. The character designs are somewhat generic. You have the classic pig-tailed loli, the crazy girl rocking pink hair, the stuck-up girl dressing in high fashion. You can readily identify a lot of popular tropes.
Girls in the main cast are characterized by bright colors and clothing, with the exception of Mariya and Mika. These darker color palettes match their personalities, and diversify the visuals.

The variety of backgrounds that the game features reflects the high production valus of the game. You have scenes at bars, at the office, around the city, during nighttime, during daytime, etc. A few backgrounds even have respective weather animation effects for rain, snow, or fog.
The majority of backgrounds have both 2D art and 3D models. There's rooms with hand-drawn teddy bears on a 3D desk. It's not quite as conflicting as it sounds thanks to quality artwork and image editing, but there are a few instances where the contrast appears jarring. Undoubtedly the worst instance of a jarring image surfaces in a forest background that's basically an unedited photo from real life. Perhaps the budget finally ran out and they thought the local park looked nice that day.
SOUND EFFECTS AND VOICE ACTING (SFX)
Shining Song Starnova has partial Japanese voice acting.
Major scenes boast lines of voice-acted dialogue. Every member of the cast does a ridiculously good job of performing a voice that's both distinct and fitting for their character. You could go blind after a few hours of playing, and by that point you'd already be able to identify which character is on screen by the voice alone. The emotional segments are convincing and the lighthearted moments are more relaxed and heartwarming thanks to the excellent voice acting.
The game has sound effects littered throughout the scenes. They don't occur often enough to be annoying, and they're high enough quality to add to the scenes. A few, most noticeably the comedic sound effects, can be repeated a little too frequently. It does not help that these comedic effects are wild and bombastic.
If you're not a fan of the audio, you can change volumes of sound effects separately in the settings without affecting voice acting or music. The developers also included the option to mute any character whose voice you don't find appealing.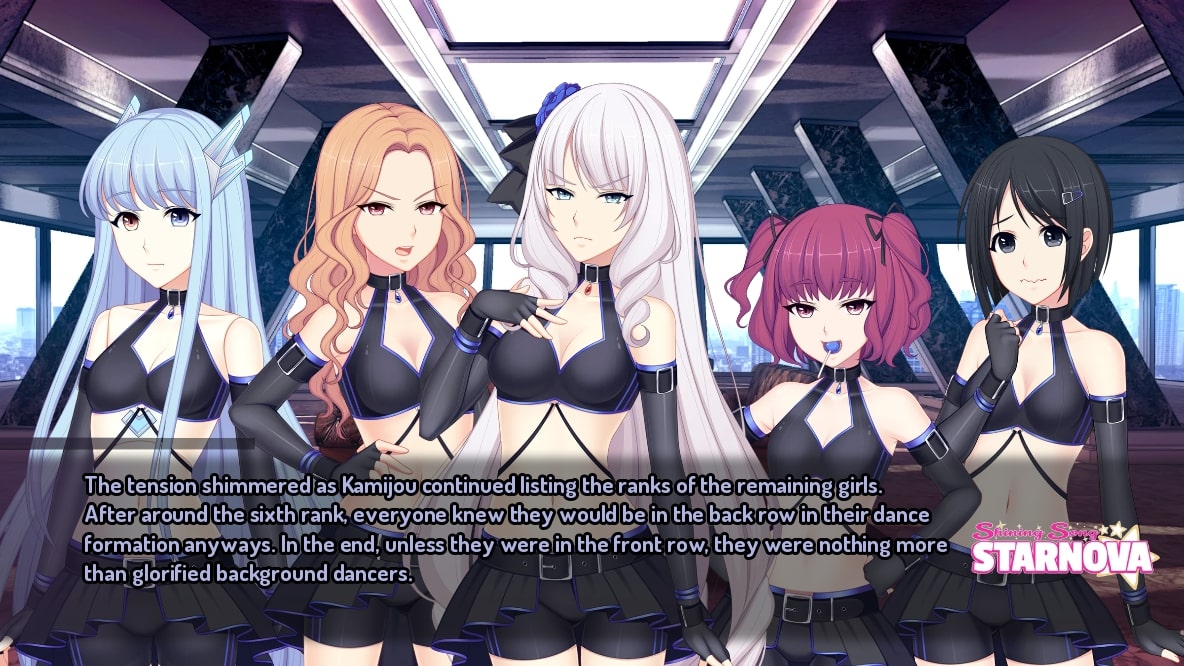 MUSIC
Background music in the game consists of orchestral compositions. When the mood needs to be jubilant and upbeat, the music delivers the perfect atmosphere. The songs do a perfect job matching the scenes they're paired with. In contrast, tracks hosting the piano as the lead instrument bring up the opposite side of the emotional roller coaster. The soundtrack is not memorable enough to make you want to come back to it after completing the game, yet it's a fine and supplementary addition to the experience.
In true idol fashion, the game also contains four vocal tracks that are performed by the real voice actors for the characters. I've always appreciated this detail in anime and it's nice to see it show up here. The tracks sound straight out of a Love Live! episode and add to the emotion in some performances. Especially since you experienced the difficulties the group went through, just to perform.
HENTAI
The hentai scenes are beautifully drawn. It's not all static images either. There's also animation! The fuck loops are smooth and intense. However, the sex scenes are not voiced. What the flying fuck? The whole point of partial voice acting in a sex game is to save budget for the sex scenes. Instead, they chose to compile a constant loop of sex noises to play during the sex. I'm suspecting the actors the studio employed were unwilling to voice the explicit lines. To add insult to injury, the girls each have one voiced line, period. You get to hear every girl fake an orgasm.
It makes no sense. What kind of voice actors are okay with pretending to cum for an audience but refuse to record dirty talk? The auditory aspect was disappointing after hours of teasing in the other scenes.
The dialogue served to reinforce the pain brought by the lack of voice acting. It's disheartening to see strong characters throw away their personalities during intercourse. After trekking through a game's character development and buildup, you want to be rewarded with a unique experience. During these sex scenes, the characters regress mentally. They spout generic porn lines like "Oh yes…fuck me…it's so good". Simply put, the writing lacked personality.
Longer hentai visual novels need to capitalize on the reader's emotional investment in the characters. The transition from talking to a character at the train station and fucking them in a hotel should be seamless, because the character should not change. They should not become a mindless slut that thinks "your dick is so hot" because that does not add anything to the game that cannot be found elsewhere in thousands of other games.
The art and animations were great when coupled with Producer-san's detailed descriptions of the sex act. However, a visual novel of this caliber had so much potential to score higher on the sex.
CONCLUDING WORDS
Shining Song Starnova is a great visual novel with clever writing, solid assets, and fleshed out characters. It's a journey that observes the darker side of the idol industry. The sex scenes should've been better, lack of voice acting was a killer. After hours of growing emotionally invested in my idol group, more payoff would've been neat.
I recommend this game to fans of girl pop bands. Please download Shining Song Starnova.
Graphics

Gameplay

Story

Music

SFX

Hentai