Schoolgirl Hentai Anime Review: Kutsujoku 2
Hentai Reviews

>

Reviews

>

Schoolgirl Hentai Anime Review: Kutsujoku 2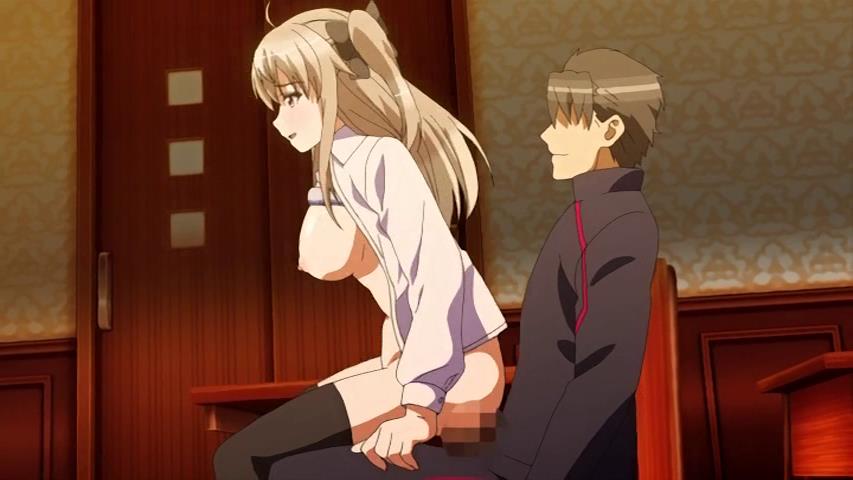 Written by Mistress Valentine, edited by Otaku Apologist
Kutsujoku 2, a hentai anime. Released June 26, 2020. Runtime 20 minutes. Full voice acting. Censored genitals. Based on the visual novel of the same name developed by Bishop.
STORY
The nameless male protagonist is pepper-sprayed by the alpha bitch Rikka Orouna. She laughs at him along with her friends. In a flashback we see that our MC is used to this kind of treatment since taking over as the new substitute teacher. He's sick of it and wants revenge. One day when he is crying out in pain he accidentally unleashes some strange previously dormant powers on Rikka, making her body momentarily freeze up.
Later on he meets nice girl Yumihara Sayuki, who is a member of the swim team. After their coaching session, he daydreams about diving his dick into her pussy. He heads to the teachers' office where he dreams of fucking a heavily pregnant Sayuki.
As hentai logic would dictate, Sayuki appears before him! The two begin discussing her. It turns out Sayuki has an older sister who suddenly and quite mysteriously moved overseas with her parents. After the chit chat begins to him, the guy remembers his powers, uses them on Sayuki and has sex with her. Yes, this story is full of fresh and engaging ideas.
SOUND EFFECTS AND VOICE ACTING (SFX)
I enjoyed the vocal work. Sumihara and Rikka's voice actresses give stunning performances. Rikka's bad bitch persona is fun to watch and makes you want to stuff her pussy with your dick.
Sumihara's innocence is showcased at every turn and especially when she is forced to masturbate in front of her teacher against her will. Sumihara's actress excels at sexy dialogue. Her high-pitched voice makes her moans deliciously lewd.
Sound effects are used sparingly, we get fabric rustling, pepper spray, chairs moving, as well as foot steps and thuds. The sex sounds are copied from a some generic sound library, but they are well placed and make the sex more engaging.
MUSIC
When the action ramps up, so does the music. The anime has a wide selection of songs that play at exact times to drive up the tension. When the MC realizes he can fulfill his fantasies with his powers, ominous music plays. Loud drum beats signify that some high school sluts are about get creamed.
One song sounds lifted straight from Stranger things with a weird, 80s inspired overtone that sounds perfectly menacing mixed in with the regular soundtrack. The are several other songs that have weird beats to them. They fit the action and are immediately noticeable.
The best piece of music plays when our MC is fucking Yumihara. It has a strong, badass beat.
ANIMATION
The artwork is of higher quality than typical for Japanese hentai anime. The color scheme is slightly jaded but makes the animation look more realistic. The anime features meaningful flashbacks that establish the MC's struggle as the new substitute teacher. The screen will flash, shift, or become distorted periodically to highlight the sadistic treatment the MC is receiving from others.
The character illustrations are great. Each girl has a distinct look and feel. Differing hairstyles, facial designs, and eye colors. They all have different body shapes, but everyone sports massive tits. The characters look like they were made for sex. The camera loves closing in on characters' faces. We can see the fear, panic and ecstasy they are feeling. A lot of times the camera will slowly trail up a character's body to highlight how sexy their proportions are.
Background art is just as good. The anime features a bunch of locations that each have different feel to them. The classroom in the first episode is deafened by close-ups to match the MC's eyes being sore from getting pepper sprayed. The swimming pool is bright and vibrant to match Sumihara's innocence. The teacher's office is littered with shadows as if symbolizing how fucked up the MC is.
HENTAI
The sex encounters are super lewd. The idea of someone else being able to control my body while I'm still conscious and doing all kinds of perverted things to me has always been my fantasy.
Watching Yumihara lift up her skirt, show her ass to her teacher and take off her underwear is a great lead-in to a stunning sex scene. Yumihara is confused and embarrassed and scared of what she is doing but that doesn't stop her from making the teacher stroke her pussy. There are numerous sexy bits in this anime that made me wet.
Later when he makes her suck his cock, Yumihara's play by play commentary as she questions why her body is acting on its own is just as sexy as her licking and sucking. She coughs as he blasts his load down her throat and moves on to fucking her.
CONCLUDING WORDS
Kutsujoku ticks all the boxes of a good revenge fantasy hentai anime. The unnamed male main character's behavior is questionable in places, but watching him turn all these dumb cunts into his private army of cock whores is very entertaining to watch. The animation is great Japanese quality while the voice acting and music enhance the sexual experience.
I highly recommend you check out this anime at Hentaihaven.
Animation

Story

Music

SFX

Hentai