Hentai Trainer Game Review: If Distant Relatives Live Together Properly
Hentai Reviews

>

Reviews

>

Hentai Trainer Game Review: If Distant Relatives Live Together Properly
Written by Rastafoo69, edited by OtakuApologist
If Distant Relatives Live Together Properly, a hentai trainer game developed by Kano Kobo. Released February 27, 2020. Download on DLSite for $7.00. For PC Windows. No voice acting. Censored genitals.
Kotoha-chan is your distant cousin. One day your parents call you to say, "Kotoha's parents can no longer take care of her! Your parents are too old to watch after her, so the responsibility is up to you!" Naturally, you two proceed to fall in love and fuck.
STORY
You're the only man left who can take care of Kotoha-chan. Buy her sweets, talk to her, and build a consensual sexual relationship between you two! Treat Kotoha-chan however you want. If she gets too unhappy, she'll run away and you'll get a game over. If you build a good relationship, she may fall in love with you.
There are two ways to play this game. The nice route involves kissing her and touching her and slowly building up to sex through loving patience. The horny route involves questionable shenanigans and fucking her while she's asleep. This will cost you relationship points, but I honestly couldn't wait to fuck her. Kotoha's behavior will also change dependent on how you treat her. Flattery will make her conceited and haughty. Scolding will make her obedient and scared. Each personality archetype will unlock new scenes ranging from obedient doggystyle to a generous and happy morning wake-up blowjobs.
GAMEPLAY
Distant Relatives was created in the Unity game engine. You only need a mouse to play. There is no backlog or rewind function. All gameplay functions are listed on the side of the screen. These include an inventory, a shopping function, a stats menu for Kotoha, a bed symbol, a work symbol for money and a heart symbol for socializing.
Work your job to earn money. Spend it by going shopping. Whether it's for aphrodisiacs or sweets, you can check the item effects in the stats menu. Work mode has two features. In manual mode you need to constantly click the screen to make money. Automatic mode will advance time by 1 hour and pay you accordingly. You can also invest money, increase your work skill to increase payouts. I highly recommend you focus on this when you play the game for the first time. If you work too much, Kotoha will feel neglected.
The muscle item will increase dick size, making it easier for Kotoha to orgasm. The sperm item increases the number of ejaculations you can perform. Items like anal beads cannot be used until Kotoha has been fully trained. The number of days and the passage of time is recorded, but there is no deadline to meet. As long as you have 3,000 Yen for living expenses, you'll be fine.
GRAPHICS
The house shows Kotoha drawn in an animated polygonal sprite format. However, during dialogue and sex she'll have a classic 2D anime style. All sex scenes in this game are animated. Some animations play without your input, while others rely on the mouse to move Kotoha's head up and down as she sucks your cock. Guiding her during sex is an absolute joy. Kotoha's standing art changes based on her personality. While the obedient personality shows her arms crossed in a protected manner, the pure happiness pose has open arms and a big grin to show her loving nature. The variety of poses and emotions shown in the artworks is downright awesome!
Visuals in the game match the dialogue. When she's undisciplined and smirking, Kotoha's dialogue changes to shouting "Awesome! Cool!". Her obedient personality is shy and likes to thank you constantly for any kindness. You can tell the developer had a clear vision.
There are four unique artworks to mark special moments in the game. It's never properly explained how to unlock them, so just experiment with various personality types until you do. Good luck!
VOICE ACTING AND SOUND EFFECTS (SFX)
Moaning and thrusting sounds are commonly heard during sex. The girlish yelps of pleasure are incredibly hot and hearing your skin smack against hers is a dream come true. Sound effects are rarely, if ever used outside of sex.
MUSIC
The handful of tracks used in the game are fantastic. The main menu theme relies on the piano and flute to create a humble and simple theme while later tracks use horned instruments like the bass guitar and other woodwind instruments like obo, which have a lower pitch. Together these tracks stay fresh and enjoyable throughout the game.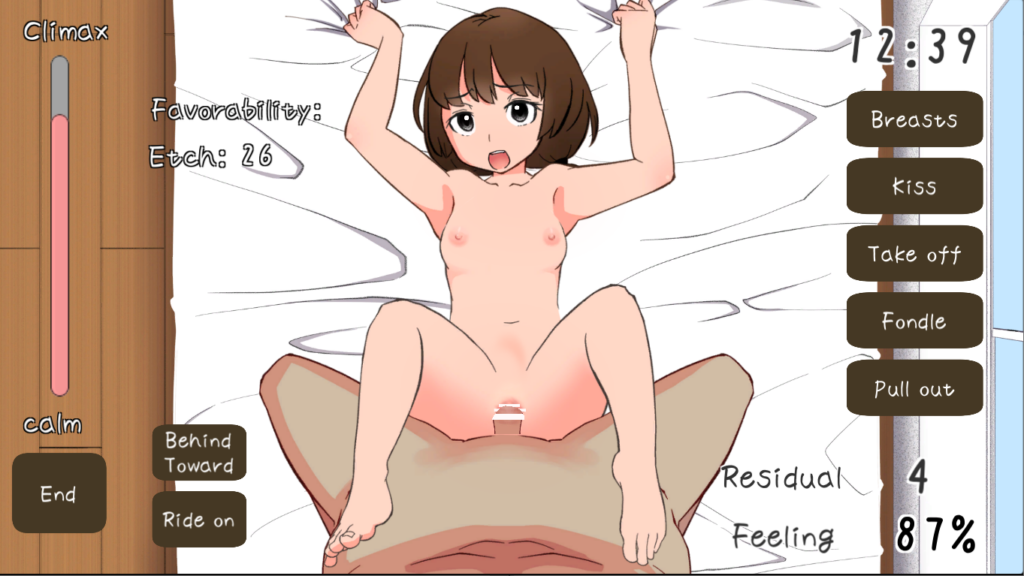 HENTAI
Rather than a set number of scenes, this game is an interactive simulation where you make your own pleasure. If you romance Kotoha, you'll unlock new actions with every 25 lewd points you earn. Kissing leads to undressing which leads to fondling her breasts. Eventually you've built up enough trust to finger her in an explosive sexual encounter. Sex scenes in the game are both unlocked and restricted based solely on Kotoha's personality. If she's totally in love with you, she won't agree to doggystyle because "I want to see your face".
During my play-through I fucked Kotoha during her sleep. Her lewdness didn't increase, so I woke the bitch up right before the money shot. Over time Kotoha became more obedient and learned to accept my cock. Sometimes I was thrusting, other times she was bouncing back on it blissfully.
Each personality trait comes with unique variations on the sex scenes. If Kotoha is a cocky girl, she'll call you a pervert and say "you better take responsibility". If you're a goofball, she'll give you a morning blowjob before asking you to take her shopping.
CONCLUDING WORDS
Distant Relatives is a great trainer title with a focus on personality archetypes. The graphics are gorgeous, the girl is deliciously petite, the gameplay is varied, and the sound design is downright awesome. If you want a vanilla hentai game done right, this is the perfect adult gaming experience for your kind of pervert.
Recommended Japanese porn game. Download If Distant Relatives Live Together Properly.
Graphics

Gameplay

Story

Music

SFX

Hentai