Written by Rastafoo69, edited by Otaku Apologist
'Whatever', a hentai RPG developed by circle 'I Wanna Make RPGs'. Released on January 30, 2014. Available for download on DLsite.com for $15.00. Available for PC Windows. No voice acting. Censored genitals. Free demo available. The game has an English fan translation patch.
Ellis is a girl whose parents disappeared when she was very young. After training all her life to become a detective, Ellis is finally ready to begin the search for her parents! Unfortunately for her, she's an idiot in a smoking-hot body. She doesn't even consider how much attention her supple luscious body will attract from countless men!
Read our guide how to download DLSite games. Also consult our article how to apply translation patches.
STORY
A baby left on the doorstep of the Detective University, Ellis has finally grown up and is ready to search for her parents! Problem is, she grew up in such a sheltered environment, she has no clue how cruel the world can be!
Ellis is a pink-haired ditzy girl. Her naive personality creates tons of comedic moments. As a grave example of her stupidity, she still believes the fairy tale that parents often tell their kids that babies come from storks! The girl is in her twenties, and thinks babies come from storks! This girl is ripe for the rape. Many other characters comment on her incompetence, even going as far as to say "Since you're an idiot with terrible memory…" when they speak to her. Safe to say there's some fantastic dialogue and non-consensual sex to look forward to!
What makes Ellis special is her ability to read people's memories. When a man cums into her mouth, she's able to see his memories after swallowing the hot load. Even on the virgin route, you must offer your mouth-pussy for dicks!
You unlock new dialogue by clearing out dungeons and talking to NPCs. There may be a supernatural threat coming down on humanity, and it's up to Ellis to piece together the truth by sucking all the dicks!
Sometimes you're given clues in dialogue that tell you exactly where you need to go. For example, "I should hurry and go toward the woods in the north!" Other times, you're given no clue what to do next, or you're even misled by the game! When you're told to investigate "volcanic activity", you might think it's time to go to the magma zone, but you need to explore a completely different zone! And this zone is closed until you walk into a completely random house and enroll as a teacher and suck off a student! Figuring all this out took over an hour for me.
While sometimes the game is straight-forward, other times the puzzles are incomprehensible. It's not good!
GAMEPLAY
'Whatever' was created with RPG Maker. The controls are simple: You move with the arrow keys and press spacebar to interact with objects and people. Hold CTRL to skip dialogue. Hold SHIFT to run.
The game cycle is simple. Clear out a dungeon, speak to NPCs, clear out the next dungeon until the game is finished.
All equipment in the game is available from the moment you start, even though you won't have the money to purchase it. Money from enemy encounters is very low, and you'll gain more money by doing missions throughout the story.
At the end of every battle, all of your HP is recovered, but your MP is not. This doesn't make the game more intense, because there's no death penalty. Even in situations where your path is blocked by an enemy, if you lose the battle, you can walk right past them! You don't lose money, experience, or anything else.
There game offers minor choices which affect little. You're often allowed the choice to not have sex. Sex impacts nothing because there's no sex stats, or impregnation mechanics. You can't get pregnant even from a million creampies.
In the land of socialist unicorns, casual sex bears no consequences to your health or community. Yey!
GRAPHICS
The art is anime style. Ellis is featured in every sex scene. She's a total cutie pie! With her lilac eyes and cotton candy pink hair, she's the cutest piece of meat I've seen in a long while!
The game takes place in a variety of areas accessed via the world map. The map design is reminiscent of Melty's Quest. All the landmarks are openly visible to the player, and you're just left to wonder how to access them. From the mysterious Tower to the south-west to the Flying City of the east, you can see all future locations from the beginning of the game.
There's little to no background art in the game. The background is usually just a map screen of pixels with character sprites, or Ellis having sex on top of that. The visuals in gameplay sections are dominated by the RPG Maker assets.
Strangely enough, many times the map markers do not match the in-game buildings! For example, a tent turned out to be an enormous log cabin! It's strange, and really breaks your immersion to see such oddities.
The character sprite for Ellis is kawaii as hell! She's got big anime eyes, a cute pink dress, she looks adorable. Even in dialogue, she is very expressive! Her face changes from shock and confusion to gentle smiles, like you're watching anime.
Although there is no animation in the game, other techniques are used to emulate animation. Variations of the images show up on intervals, conveying movement. When a man dry-humps Ellis, he pushes her from side to side on screen.
Ellis wears various cosplay outfits, such as the french maid, and bunny girl. The outfits are not a core part of the game, and nothing would really change if they were gone. They still look damn cute!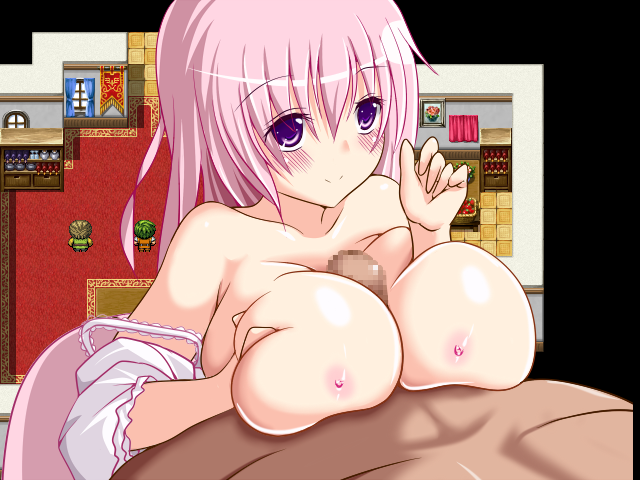 SOUND EFFECTS AND VOICE ACTING (SFX)
'Whatever' has no voice acting.
The game has plenty of unique sound effects. Instead of slurping sounds during sex, you get fluffy rubbing sounds. Although the cartoonish audio would detract the score of another game, this type of audio works in this game's context. Although the sound effects are not realistic, they match the overall tone and presentation of the game. The menu lets out beeps and boops when pressing buttons. The combat has a unique "here comes trouble" jingle. The attacks prompt the typical RPG Maker sounds for blunt attacks, magical spells, etc.
MUSIC
There are 49 songs in the soundtrack, near all of which are original.
Instruments used in the game include drums, bass, and horn instruments, none of which sound digitally synthesized. Even xylophone and light electric guitar join in. There's a lot of versatility between songs. The music goes from guitar solos right into emotional piano melodies. One of the more memorable songs was one with a single instrument playing, the piano. It was a sad song that made me emphatize with Ellis' sad life marked by constant rape and abuse. Poor girl!
My favorite track in the game is the seventh song, "Blue", which starts with electric guitar and drums that set up an intensifying beat. A synthesized clarinet takes center stage. The guitar and drums stop at certain times to create tension, a dissonance that is resolved by the clarinet filling the silence. The music sounds very skillfully made with complex melodies. The bass in the background can't be understated, as it's the glue that ties everything together.
HENTAI
'Whatever' has 28 sex scenes. You can access these scenes anytime in the recollection room after beating the game. The product page advertises 36 scenes, which means the developer must be counting the times the character is groped and dry-humped, which are not recorded in the recollection room.
From tittyfucks to blowjobs, there are plenty of ways for Ellis to drink cum! If you choose to give in to the advances of various men, expect to get bent over in doggystyle, your ass pounded full of cock! Doggystyle is the most common sex position featured in the game. There's also standing sex and variations on the missionary position, but you're mostly in for doggy.
The erotic text can get repetitive at times, as it progresses from "Ellis didn't know what the man was doing" into "All she knew was that she wanted him to keep going!" The descriptions get repetitive and less entertaining after each fuck.
Ellis' height and body proportions are inconsistent between sex scenes. Sometimes she's a tall girl who is the same height as the men she meets. Other times, she's a total shortstack, and the men can easily overpower her with their masculine power! Sometimes she has C-cup breasts, other times her breasts are an A-cup that barely fit in your hand! When it's time for a tittyfuck, her breasts are enormous! During regular sex, they shrink down to size.
The game features mostly vanilla sex. No taboo, no fetishes, just good old vanilla vaginal intercourse.
CONCLUDING WORDS
Whatever is a cute hentai RPG with an extra cute naive female main character who's so stupid and lacking in survival heuristic, she practically deserves to get raped a million times. The soundtrack is orgasmic, you'll be humming the songs for hours after cleaning your pipes. The CGs are beautiful and the writing is hilarious! It's four solid hours of entertainment.
I recommend this title to fans of casual hentai RPGs. Download Whatever! You can visit our webstore for more quality hentai games we've reviewed and support our original comics and writing.
Graphics

Gameplay

Story

Music

SFX

Hentai