Hentai Visual Novel Review: Succubus Waifu
Hentai Reviews

>

Reviews

>

Hentai Visual Novel Review: Succubus Waifu
Written by NotTowfu, edited by Manfred Manson
Succubus Waifu, a hentai visual novel developed by Eternal Alice Studio, published by Lewd Formosa and Eternal Alice Game. Released on November 27, 2019. Download on Steam for $7.99. Available for PC Windows and Mac OS. Partial voice acting. Uncensored pussy.
Two newlyweds embark in loving cohabitation after a sweet honeymoon. Play as a loving and supportive succubus wife and maintain a smooth sailing marriage of eternal bliss and passionate fucking!
STORY
Erica and John are married. Returning from their lovey-dovey honeymoon, they find out John has been put on a big company project. The couple is ecstatic at the news. They're definitely not going to turn down the opportunity to bank more cash!
Unfortunately, the road to wealth gets rough. John begins to return home, exhausted and burnt out. The couple starts having issues. Erica, worried that her husband will end up married to his work, decides it's all or nothing.
Unknown to him, Erica hides a secret. She's actually descended from a Succubi bloodline. She refuses to stand by as John suffers and decides to make use of her powers. So her journey begins to become the ultimate cum dumpster for the man she loves!
The story is that pretty much. There is no overarching plot apart from Erica wanting to help John destress by keeping his balls nice and empty. The game relies on events to create tension and give players the option to unlock or play out sex scenes. It's mostly relationship obstacles.
One example is the typical "you came home late from work" moment. That night, I didn't get the option to trigger an erotic scene. This means that if I had let John's stress meter build up, I might have missed a chance to have Erica coddle him.
If the player chooses not to let Erica pleasure her husband, then his stress meter will obviously fill up. You'll have to tackle that and make sure the meter doesn't fill up too much. Obviously, not doing so will reward you with a bad ending. When Erica keeps the marriage smooth sailing, players will get the chance to advance and unlock more erotic scenes.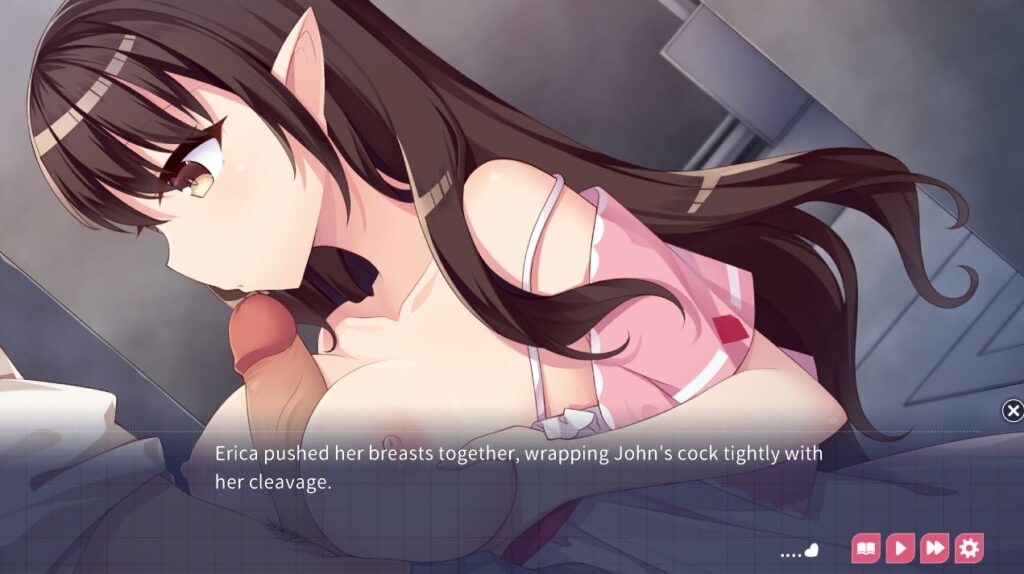 GRAPHICS
Succubus Waifu uses a typical anime art style. My first impression was that the art was generic but it got better the more I played, especially when Erica and John start to experiment with sextoys and different positions. The art is clean and sharply drawn. A big plus is that while Erica's body is erotic, it looks normal and well proportioned.
Erica is the only character you see throughout the game, and she's the star of the show. Her design is wonderful. During the day, she looks every part of a petite and gentle housewife in her casual clothes. At night, she embodies more of her succubus traits. When she leaves her hair down to show off her pointed ears, she feels like a completely different woman. Her lustful expressions are sure to make you cum buckets!
GAMEPLAY
Succubus Waifu is a visual novel with sim building elements. Click the textbox to advance the story. Interact with various in-game menus to help Erica earn money and choose how she'll fuck her husband each night.
The user interface is easy to use and feels good to navigate. Though the game mechanics are shallow, it works to break the monotony of continuous reading. Since Succubus Waifu isn't much story-driven, I'd say it was a good choice.
Aside from pleasuring her husband each night, Erica can take up a part-time job in the day to help with household expenses. With the money the couple earns, you can buy items to unlock sex scenes. Early in the game, for example, Erica can visit the shop to buy a fleshlight. She uses it instead of her pussy to make John cum, adding some spice to their sex life.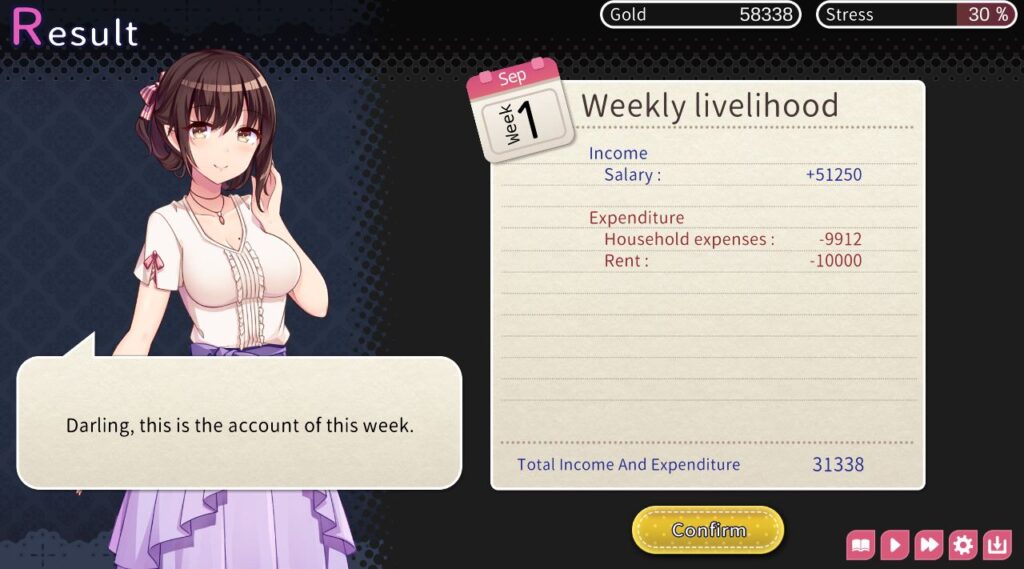 SOUND EFFECTS AND VOICE ACTING (SFX)
The game has limited sound effects. Aside from the adorable bubblelike sound effect from interacting with the interface, it lacks other basic sounds. This is disappointing since there are cheaper hentai games that do better. Succbus Waifu would be more immersive if sounds like footsteps, doors being opened, were included. Most of the game plays out in Erica and John's apartment.
MUSIC
True to its theme of fun marriage life, Succubus Waifu has a peppy soundtrack. You can get a good idea of this in the game's title track, a short, almost irritatingly upbeat tune. Acoustic beats are interspersed with scratchy sound effects, and the late addition of a violin turns the song into a funkier, less annoying beat.
Thankfully, the rest of the soundtrack is more palatable. For example, when Erica is given the chance to choose how she spends her free time, you're treated to a bouncy, synthetic track. It starts out simple before several other comedic sound effects are added to make the atmosphere cheerful. Other scenes, like Erica and John's lovemaking, receive a more romantic touch in the form of piano pieces.
HENTAI
You play as the wife in Succubus Waifu, and though the story is mostly told through Erica's POV, the hentai scenes play out in the third person. There is a decent variety of sex scenes, from vanilla missionary at home to a hot titfuck in a random alley somewhere.
As part of Erica's self-appointed task to help John, she needs to have sex with him to lessen his stress. The player can freely choose what position or sex-play Erica will do with John. Rather than fucking, the sex between them is better described as love-making. They're ridiculously into each other, and the dialogues are always pleasant and romantic. The dialogue can get very steamy, especially when Erica shows more of her succubus side.
There is partial voice acting during the hentai. Erica makes lustful moans and reacts cutely as she gets ravaged by John's dick. When she blows him, her wet sucking noises are sure to make you bust a nut. Strangely, there's no sound effect of flesh hitting flesh when they fuck like rabbits. It's not a deal-breaker for me, but it would have been sexier if it was included.
CONCLUDING WORDS
Succubus Waifu is a solid hentai visual novel experience. If you crave to experience sweet married bliss, and love the idea of a succubus sucking you off every night, then you'd definitely enjoy the game!
Graphics

Gameplay

Story

Music

SFX

Hentai