Hentai Zombie Action RPG Review: Panacea Z
Hentai Reviews

>

Featured

>

Hentai Zombie Action RPG Review: Panacea Z
Written by Rastafoo69, edited by Otaku Apologist
Panacea Z, a hentai game developed by circle HouseGame. Released August 21, 2020. Download on DLSite for $13.00. For PC Windows. No voice acting. Censored genitals.
Rabi is searching for the mysterious Panacea Z, but her quest is delayed when she's captured and imprisoned in a facility filled with zombies! Find a way out, defeat the strongest zombies, and don't let them fill you with zombie cum!
New to Japanese eroge? Read our guide How to download DLSite games.
STORY
The writing in this game is predictable but enjoyable. The mad scientist who caused the zombie outbreak is actually the shy nerdy guy you rescued at the start of the game. He caused this outbreak hoping to "push human evolution forward". He survives the end of the game with a "to be continued" message. If you hate cliffhanger endings, this will be a strong negative point against the game.
Since the story takes place in an enclosed space (the laboratory), NPC dialogue and free roaming mechanics are extremely limited. Instead the focus is on foreshadowing and problem solving. Like seeing areas blocked by keycards or new weapons which imply a tough boss battle to come. Even the recollection room foreshadows the future with silhouette artworks and enemy data guides, indicating your progress through the game so far.
The game struggles with its pacing and giving players proper direction on how to proceed. Like how there's two bosses back to back, then three hours of nothing. When you get a new keycard and have to backtrack six doors that you hopefully remembered. When an optional fight with a zombie-dog drops that keycard, so if you miss it, you'll be clueless on how to proceed. The list goes on. A quest log or world map would have solved most of these problems.
A lot of the game's content is not unlocked until the last ten minutes of the experience. This includes the rocket launcher by the entrance, the 5th crewman behind the rubble, and the computer for reading experimental data. The game basically requires a notepad on the side to remember all of these hanging plot threads by the end-game.
There are four endings in total. The first is becoming infected with the zombie virus, the second is losing against the final boss, the third is completing the game. The true ending of the game requires you save rocket ammo and don't waste it on the final boss. You are given no indication you have to save the ammo, so many players will miss this ending.
GAMEPLAY
Panacea Z was created with RPG Maker MV. Controls can be customized in the options menu. The default controls are as follows. 'A' for melee attacks. 'Z' to shoot your gun. This is only possible if you press 'CTRL' to aim the gun first. There are no text logs. Hold 'Enter' to speed up dialogue.
As an action RPG, combat takes place in real time. Combat rewards good reflexes and ability to predict your opponent's next move. By simply moving out of the way, you can dodge their attacks and breeze through battles without ever taking damage. This game does not have a "level up" system. Your strength grows by finding new weapons. Player skill is most important here.
Press 'C' to use special abilities that boost your long range or short range damage. Press 'V' and 'B' to cycle through these abiltiies. There's only four, so it's not too crazy. The problem is, your MP can only be recovered by resting after a monster fucks you. The game has no healing items, so you're heavily discouraged from experimenting and goofing around.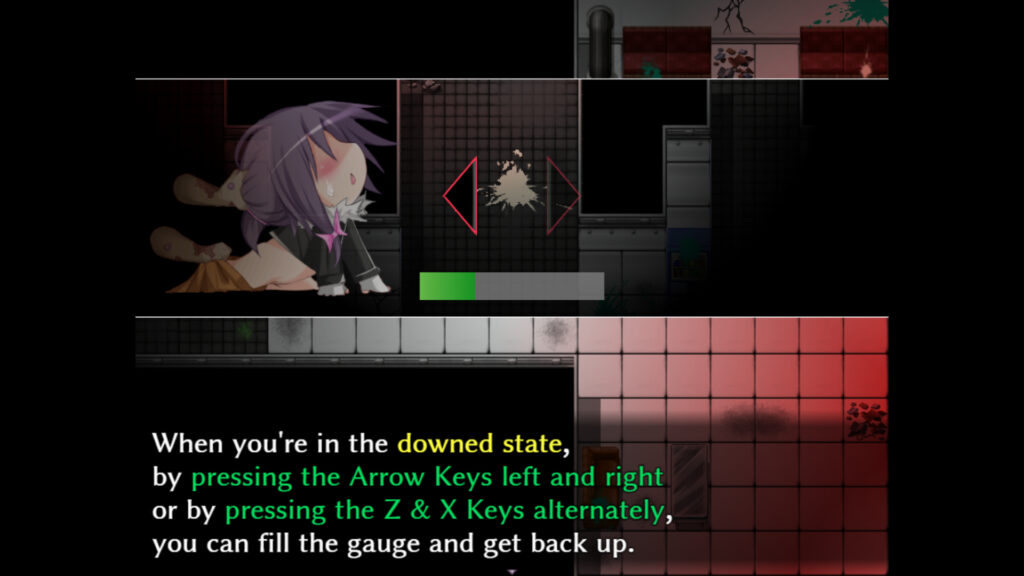 There are a handful of bugs like when my character walked inside of a wall and another time where they stopped moving altogether even when there was open space. The lack of an experience point system means killing zombies feels absolutely pointless. They rarely drop items, all they do is take up space.
The final boss is painfully bad. There's no cover, he charges at you super fast, he becomes invincible while launching long range attacks, and is likely to take multiple tries because there are no healing items. It's highly likely you'll start the battle without full HP and MP, which feels totally cheap. Worst of all, every time you face him you have to rewatch a super long cutscene. Rather than ending the game with a great finale, it felt more like an irritating obligation.
The game has a demo and seems designed with that in mind. The first hour of the experience is smooth and perfect, but everything afterwards declines in quality slowly. While the action is fun, it's held back by a lack of individuality. Even cool ideas like the infection system go completely to waste. More on that in the hentai section below!
GRAPHICS
The art is Japanese anime style. There are 24 base CGs, most of which involve zombies fucking Rabi the mercenary.
These artworks are absolutely gorgeous. The DLSite store page does not do justice to the wide variety of poses and expressions that Rabi conveys throughout the game. Doggystyle creampies, lustful cowgirl bouncing, the piledriver position! The artist gives Rabi tons of personality with every action. Like her hair braided with a ribbon, her fingerless gloves paired with a gun, her pinkish blush complimenting her scarlet eyes adorned by a sharp scar on the left one! Rabi is my new waifu. Seeing "to be continued" at the end of this game was a glorious day, because it means there's still more Rabi to come! I'll buy the new game simply out of love for the character!
Alongside fullscreen CG artworks, the game also uses animated sprites for both sex and action sequences. From aiming to stabbing to fucking, Rabi's tiny little sprite expresses so much personality by the movement of her pixels. Most games only use sprites or CGs – this game has both!
Although the laboratory facility is only a single building, it actually felt like a huge and wide open space to explore. There's a basement, a rooftop, a jail, and so much more! I could actually imagine a prequel taking place with this location as the setting, that's how masterfully it was designed! A good developer can work with any setting, and circle HouseGame is the proof!
As a zombie apocalypse game, it's only natural that the style of presentation may bother some. Like the vignette fog around the edges of the screen, or the occasional jump scare from a zombie dog coming through the window. Yes, it's a window on the second floor and there's no way a dog could jump that high, but shush! If you can look past the outrageous moments, the game is a deeply immersive experience. I highly recommend playing it at night time to get the full experience.
VOICE ACTING AND SOUND EFFECTS (SFX)
Panacea Z has no voice acting. The sound effects are limited to combat and come from the stock RPG Maker library. Often times the sound effects don't fit well. Like when a giant 500 pound boulder makes the same sound as humans punching each other. That was just embarrassing.
MUSIC
There are 16 tracks in total. The main menu theme is an awesome guitar solo with a rock beat that gets you hyped for an edgy adventure of shooting zombies. The main game however, tends to rely on only one or two exploration tracks. Whether you're fighting the undead or just examining your surroundings, the music never changes. The lack of intentional sound design leaves this game feeling only average in the music department.
HENTAI
There are 24 scenes in total. A handful of them involve human on human sex, but the majority is zombie sex. Rabi is the only female and the primary focus of the game.
In this world, men are highly vulnerable to becoming zombies via the disease called "Panacea Z". The intention was to make men stronger, but its side effect made them mindless horny zombies. Women can only be infected via repeated exposure to the sperm of zombies. Once infected, they lose free will and become cum dumpsters to breed more zombie babies.
The game offers sex stats to track your sexual experiences, but this goes against the premise of the story. If you have too much sex, Rabi will catch the disease and you'll get a game over. So you're punished for having sex, but there's sex stats and a recollection room to encourage you to have sex. Even worse, completing the game will not unlock the gallery. The scenes can only be unlocked by fucking. But why would you want to raise your infection rate and risk a game over?
If you can look past this poor game design, the sex scenes are downright fantastic. While there are no lewd sound effects, the artwork and narration are incredibly hot! Reading of how the "zombie meat stick pistoned in and out of Rabi's wet little pussy" made for a glorious experience. And with the occasional pixel animation as well, these scenes are sure to make even veteran fappers cum in minutes!
My only issue with the game is an over-reliance on doggystyle. There's only two cowgirl scenes, and I wish there were more. Rabi has such a cocky and confident attitude, I would have loved to see it on display during sex scenes, instead of her always being submissive.
CONCLUDING WORDS
Panacea Z is an absolutely gorgeous hentai RPG. Rabi is the perfect mercenary waifu, and watching her slice and blast her way through zombies is a joy to explore. The story might be a bit predictable, but zombie sex is too good to pass up!
I recommend this game to fans of action RPGs. Download Panacea Z. If you like this developer, check out our review of Ninja Girl Ayame.
Graphics

Gameplay

Story

Music

SFX

Hentai