Hentai Visual Novel Game Review: Welcome To Pussy Park
Hentai Reviews

>

Featured

>

Hentai Visual Novel Game Review: Welcome To Pussy Park
Written by Mistress Valentine, edited by Otaku Apologist
Welcome to Pussy Park (aka. Welcome to Mating Park), a visual novel game developed by Norn / Miel and published by Cherry Kiss Games. Released April 24, 2020. Download on Nutaku.net for $9.99. For PC Windows. Full Japanese voice acting. Censored genitals.
With birth rates declining and the human population growing fainter by the day, the government opens special theme parks. Filled with fertile women ready to be fucked, the country begins to rebuild the population. Follow Kazuya as he explores one such park by shooting his certified extra-fertile spooge into as many women as he can in hopes of saving the future.
Order your adult artwork at hentaicommissions.com.
STORY
After receiving an invitation, you are guided through all the various sexy rides of the park. Your guide is named Rina, she's your hostess for the day, and then you fuck her pussy. First come, first served. After you have your way with Rina, the plot gets completely dropped. You have sex with as many random women as possible throughout this epic sex adventure.
The writing is alright, but nothing spectacular. The game is filled with many lewd ideas that turn normal amusement rides you grew up with into saucy sexual encounters that you wish were real. Unfortunately like most Norn/Miel games, the plot becomes an afterthought once the premise is established and the sex can begin. The game is an obvious wish-fulfillment scenario. All the girls praise your dick. There is no personality to any of these characters. Some characters don't even have proper names. They are simply referred to onscreen as 'foreign slut' and 'tanned slut'. You're losing points for that one, buddy.
SOUND EFFECTS AND VOICE ACTING (SFX)
The game contains voice acting for all the girls. Much like their bland personalities, the girls' voices all blend together after a while. Each actress sounds like they're having a good time. Their moans during sex sound sexy as hell. There is a voice type for every kind of hentai fan. Some actresses use soft, cutesy voices while others are sultry seducers. The line delivery feels natural. Rina's actress puts out the best performance. She conveys whatever emotion is needed and sounds like the cute girl next door.
Sound effects in the game are limited. The most frequently heard sex noises include squelching, thrusting, and splashing.
MUSIC
Welcome to Pussy Park features some stunning music. The soundtrack is mostly comprised of original instruments, but uses synthetic ones as well. The soundtrack feels inspired by the city music you hear in French films. One song features a great piano number that reminds you of cabaret clubs. There is also notable a song with mostly accordion playing that makes you feel like you're having a casual stroll in the park.
Songs in the game loop with noticeable changeovers. The musical score contains a variety of songs that are unique and fun to listen to. The synthetic songs each have a good beat that is fast-paced and somehow fit the scenes they are used in without feeling intrusive.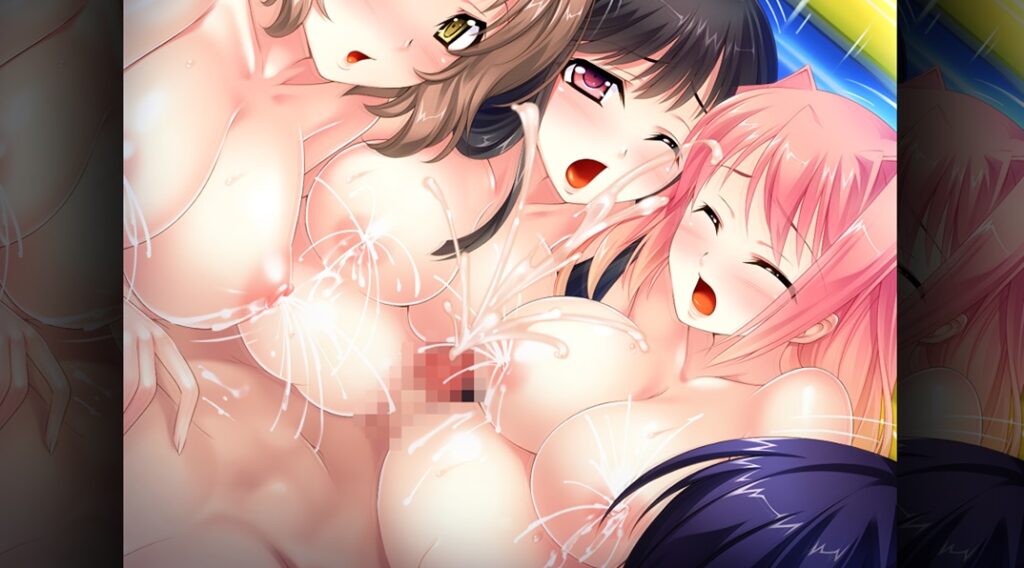 GAMEPLAY
Welcome to Pussy Park is a visual novel game. The game has basic VN functionality. You click on the screen to "turn the page". There are enough slots to save your progress. Use the 'auto' and 'skip' options to fap with both hands. There's a menu where you can choose to replay any chapter or any sex scene in particular. You can also view CG artwork from the Gallery menu.
Throughout the game you will be presented with choices. These choices do not have any impact on gamely and only exist so you have some control over who you fuck and where.
GRAPHICS
The game features many characters but Rina is the only one with a sprite. She has limited poses but a variety of facial expressions. She is the most featured character, with a super sexy body. Artwork with Rina is notoriously lewd. Rina's line delivery is synced to moving lip flaps on in-game sprites. Sometimes the girls' eyes will blink.
The game sometimes tricks you with camera zoom-ins that make it look like there are more CGs than there actually are. Artwork contains vibrant colors. Edge lines are thin and the shadows realistically note of the time of day. Each girl in the game has huge tits with plump bodies and cute faces. The girls have no personality and this shows up sometimes. While the artwork is wonderfully lewd, it sometimes lacks soul.
Background art is colorful and gorgeous. The artwork is brimming with electric color schemes that ease you into a relaxing mood. Unfortunately background art is extremely limited compared to previous titles with only one or two venues. H-scene artwork features a wide variety of different scenes for different tastes.
HENTAI
Norn/Miel always has great sexual content. Welcome to Pussy Park is no exception. The play by play commentary from characters is steamy with lewd descriptive text. Coupled with great music and visuals, the overall experience is very arousing.
The game puts Kazuya in a lot of different sexual situations with many different girls. There are wall-fucks where each girl represents a country and you have access to their sexiest spots. You and Rina take a ride down a waterslide designed for men to stick their peckers in girls while going down. You also have sex on the ferris-wheel, sex inside of spinning cups, and you visit a petting zoo where all the girls are dressed as cute animals.
Sex scenes are short but plentiful. They start to feel stale after a while due to the hard focus on fucking without build-up. The artwork evolves during a scene, featuring changing facial expressions, cum on bodies, etc.
CONCLUDING WORDS
Welcome to Pussy Park is truly excellent fap material. The story sets up an incredibly enticing premise featuring tons of casual sex with consenting girls. While the plot is merely an excuse to take your dick out, the sex scenes and stunning production values make it worth busting a nut and a wallet.
Highly recommended Japanese porn game. Download Welcome to Pussy Park Now!
Graphics

Gameplay

Story

SFX

Music

Hentai