Written by Mistress Valentine, edited by Otaku Apologist
Ane wa Yanmama Junyuuchuu, a hentai anime developed by Studios T-Rex. Released June 5, 2020. Runtime 17 minutes. Full Japanese voice acting. Censored genitals.
STORY
It's a simple story about a guy named Taku and a girl named Aika. They're family but not related by blood. Taku has never felt attraction to Aika. This changes one day when he sees her breastfeeding her newborn. Suddenly he notices her huge milky tits, realizes that she has a pussy and comes to the logical conclusion that his dick gets hard every time he sees her.
One night after a hard drinking session, Taku and Aika ignore their previous relationship and jump each other's bones. They fuck madly and live happily ever after. It's really that simple, since the porn is the focus here.
The writing for the anime is alright. It's an age old tale of a married woman cheating on her husband because he isn't around to satisfy her. She starts enjoying the feeling of having another man's cock lodged in her mouth, ass and pussy. The rest of the anime details their illicit affair.
SOUND EFFECTS AND VOICE ACTING (SFX)
I enjoyed the voice acting in Ane wa Yanmama Junyuuchuu. Taku's voice over artist lends the character a certain goofball quality that makes him stand out from other lucky generic hentai protagonists. Aika's voice actress is very good. She moans like a slut when she's pretending her pussy is being drilled.
Sound effects include clocks ticking, bottle caps flipping open, various sparkles, fabric rustling, liquid noises and an abundance of sex sounds like thrusting and squelching. Several scenes end with a thick, creamy load splashing.
MUSIC
The music is very laid back. Every other scene has its own song. Music in Ane wa Yanmama Junyuuchuu uses original instruments like the guitar, keyboard, violins and pipe organ. The songs aren't boring. They don't blend into the background. They are fun to listen to and you realize the studio went that extra step to make this layer of production stand out.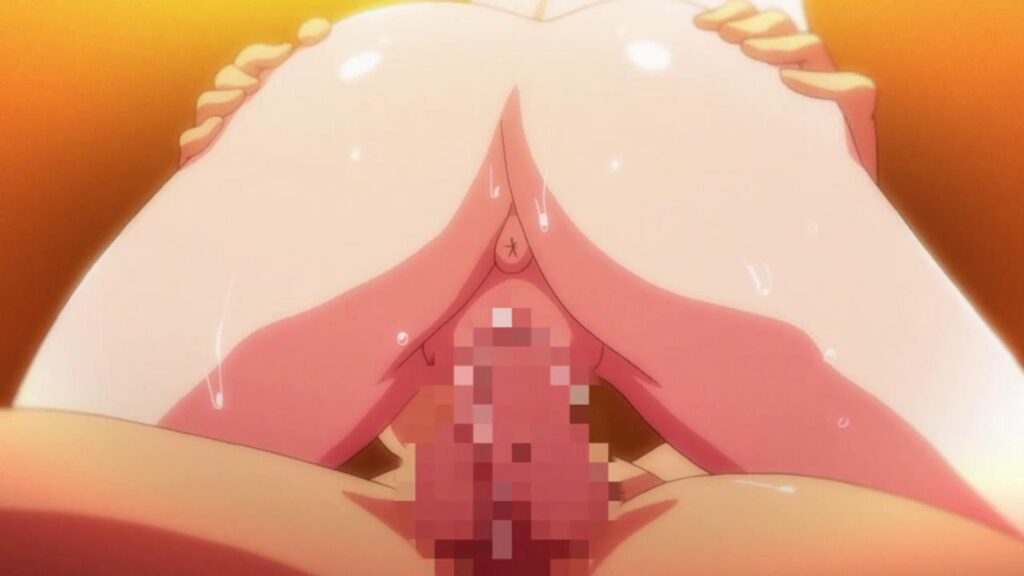 ANIMATION
The animation is gorgeous. I watched it in 480p and the visuals looked stunning. The colors are nice and vibrant with the right amount of lighting to make them pop. Aika's breasts look especially delicious. Their movement is realistic with subtle heaving when Taku is sucking on them. They are big and round and makes you envy the lucky bastard. Aika's character design is also sexy. Her dirty blonde hair compliments her easy-going personality. It's times like these I wish I had a man's cock so I can fuck that mouth of hers.
The anime uses slightly thicker edge lines which is only noticeable if you're looking. Character proportions are exaggerated during sex to make it feel wilder and raunchier. The anime features light spots in the corners of some scenes. The censored dick drags down the popping art style of the anime.
HENTAI
The sex is kinky and fun to watch. Taku proves himself a true alpha when he boldly declares he's gonna suck on Aika's boobs after she jokingly offers them to him. He mimics what he saw her baby do and sucks her until she cums.
Aika is super embarrassed this man made her cum just by sucking until she spots the boner in his pants. She tells him she's gonna get the milk back that he sucked out of her breasts by milking his dick. After he cums, Taku realizes that it's not enough and decides to fuck Aika. She comes to her senses and tells him 'no' but he thrusts into her and starts pounding that pussy.
The absolute sexiest part of this anime is right after they have sex for the first time. Aika is using multiple tissues to get Taku's cum out of him. She stands up and a shit load more jizz oozes out of her pussy.
In another scene he comes up from behind while she's putting the baby to sleep and slips his dick right into her. Taku cums inside her again and Aika tells him to wear a condom from now on. Another lewd scene involves Aika berating Taku for making her jerk him off while he sucks her breasts.
The anime flashes to various points in the future where the affair with Taku is still on-going. They fuck in secret while Aika's son searches for them. Taku takes Aika's pussy by surprise one night when she is sleeping. He abandons condoms and vows to knock her up. This fine young man truly is marriage material!
CONCLUDING WORDS
Ane wa Yanmama Junyuuchuu is a run of the mill unsatisfied, cheating MILF and her lucky fucker-to-be. The plot is nothing to write home about but the kinkiness of the relationship and the sexy Aika more than make up for it.
You can watch this kinky hentai anime at HentaiHaven.
Animation

Story

Music

SFX

Hentai