Written by Mistress Valentine, edited by Otaku Apologist
Hajimete no Hitozuma, a hentai anime developed and released by Mary Jane. Released April 3, 2020. Runtime 16 minutes. Full Japanese voice acting. Censored genitals.
STORY
Kanako and Tomoya are newlyweds. Their love is one of passionate vanilla goodness. They are about to submit their marriage registration but are short on cash. They decide to stay with Tomoya's father, Togawa.
Ringing the doorbell, Kanako appears nervous and one flashback later reveals why: Seven years ago before she met Tomoya, Kanako prostituted herself to Togawa.
That night, Tomoya passes out after drinking too much, leaving Kanako with Togawa. He reveals that he remembers her and proceeds to seduce her. Kanako remains faithful to her husband until Togawa pushes the right buttons to make her fuck her. He threatens to tell his son about their prior relationship. Wit no other options left, Kanako spreads her legs for her father-in-law.
SOUND EFFECTS AND VOICE ACTING (SFX)
The voice acting in this anime is stellar. Kanako steals the show with a truly moving performance. Her actress gets to play every kind of emotion and her journey from happy wife to subjugated sextoy will make you feel sorry for her. Togawa's voice artist is just as good. He gets to play more than the creepy, perverted old bastard when he pretends to welcome Tomoya and Kanako into his home. Tomoya's actor's voice performance is passable.
The sound effects are limited to sex noises like pussy squelching, dick thrusting, creampie shots and regular effects like fabric rustling, beds shaking and footsteps.
The story feels well thought-out for a hentai and provides the audience with more than just sex as a reason for sticking around. You grow attached to the characters and want to see what will happen to them next.
MUSIC
You are always aware of the music. It's unique and interesting. The songs are purposefully placed in sections which should contradict the mood onscreen but doesn't. A really fun and wholesome track plays near the end of Tomoya and Kanako's lovemaking. It spills out into her backstory where she remembers being used by Tomoya's father. It fits even though it shouldn't.
When Tomoya's father comes onto Kanako, the music shifts, becoming more ominous and grim but still maintaining a carefree vibe. Music in the anime uses a combination of original and synthetic instruments.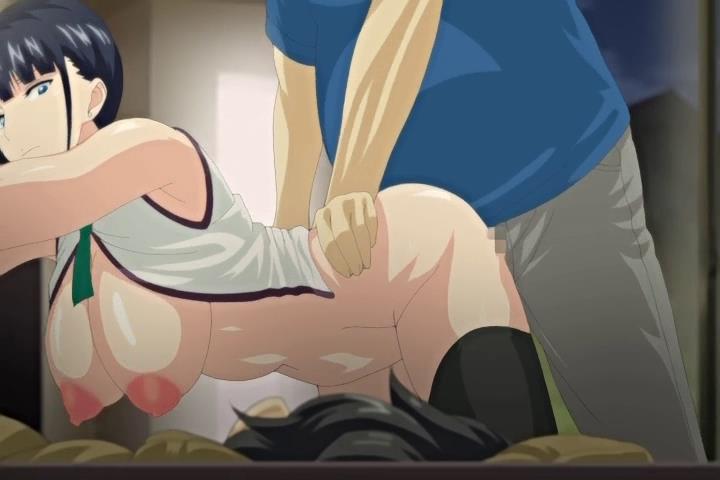 HENTAI
The episode cleverly perverts its own wholesomeness. For instance, at the start of the episode Kanako asks Tomoya to wear a condom which he happily agrees to. She offers to put it on with her mouth which is adorably lewd. Later when she demands his father wear one as well, he creepily asks her to put it on using her mouth.
Other perverted moments include Togawa fingering Kanako, but stopping moments before she cums. He asks her to check his stiffness using her pussy and measure his sperm volume when he cums inside her. Togawa also insists they fuck while Tomoya is asleep in the same room.
The episode's first scene is extremely wholesome while the second is mildly disturbing and lewd to watch. Kanako's insistence on not giving in to Togawa is sexy to watch.
ANIMATION
Hajimete no Hitozuma features decent animation that looks organic with fluid bodily movements. The artwork has a realistic color scheme with some faded colors that make the anime look different from others.
Backgrounds are detailed and well lit. Some scenes take place at night while others take place outdoors during the daytime. The camera work is just as good. Not only does Kanako's body get a lot of close-ups and focus, but the camera provides us with a couple of unorthodox angles that make the visuals pop.
The sexual artwork is very detailed. Scenes and takes have the right length to them before switching over, helping the episode not become repetitive.
CONCLUDING WORDS
Hajimete no Hitozuma makes for an excellent hentai anime that has enough NTR, twisted plot developments and story elements that keep it from becoming just another NTR hentai. The acting is good, the music is interesting and Tomoya and Kanako deserve a happy ending.
You can watch this faptastic hentai anime at HentaiHaven.
Animation

Story

Music

SFX

Hentai