Hentai RPG Game Review: Pixel Town Wild Times at Akanemachi 2
Hentai Reviews

>

Featured

>

Hentai RPG Game Review: Pixel Town Wild Times at Akanemachi 2
Written by Rastafoo69, edited by Otaku Apologist
Pixel Town Wild Times at Akanemachi 2, a hentai game developed by Sprite Hills. Released January 10, 2016. Download on DLSite for $12.00. For PC Windows. Partial voice acting. English fan translation patch here.
Two years have passed since the events of the first game. Akanemachi has been relatively peaceful, but it seems like people are being corrupted once again. Luckily, a mysterious blue-haired girl named Fuu has appeared to help!
Read our guide how to download DLSite games. Also consult our article how to apply translation patches. Read our review of Akanemachi 1.
STORY
Fuu gathers magic power by having sex. She needs to have sex with every guy in town to gain enough power to defeat the evil Akame once and for all!
This game's story is practically the opposite of its predecessor's. While the first game required a virgin playthrough with a serious tone while facing a mysterious threat, this game requires a slut playthrough with a silly tone while removing the mystery entirely.
It turns out Fuu created the seal of Akame. He is not a demon, he is a bio-weapon created by her clan. And even though he is evil, she befriends him and they travel the world together.
While Aya still lives in Akanemachi, she's a total side character. And the magic in this game is explained as a biological mutation by Fuu's clan, meaning nobody else can use it. Considering the multiple unavoidable coerced sex scenes, this game is a mixed bag. It's fun on its own, but feels like a weak follow-up to the original title.
The writing here is a lot more silly than the first game. Like Fuu purchasing anime figurines for a guy to jizz on, then wearing a cosplay outfit to please him, only for him to say her tits are too big. He calls her a sow! While moments like these were funny, they distracted from the serious threat that Akame should have been.
The game takes 3 hours total, which is double the length of the previous title. There are five bad endings and one good ending. The bad endings involve Fuu becoming a sex slave under various circumstances.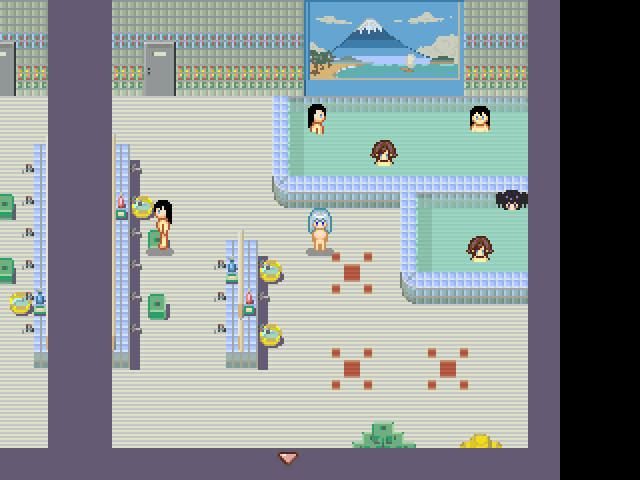 GAMEPLAY
Pixel Town Wild Times was created in Wolf RPG Editor. Use the arrow keys to move. Press CTRL for message skip. During sex scenes, press A for auto mode and S for a scene skip.
Gameplay is simple. Walk here, talk to this person, walk there, talk to that person. Repeat this for three hours until the game is complete.
This game added a quest log via the items menu. However, players no longer have to track down items relevant to quests. Once you find the right NPC and location, the quest completes itself.
Hold shift to run and activate "clairvoyance". This highlights NPCs and items in red, so you know how to progress. Dialogue will indicate if a quest needs Aya in your party to progress. This is a neat feature, but pretty bare-bones and forgettable.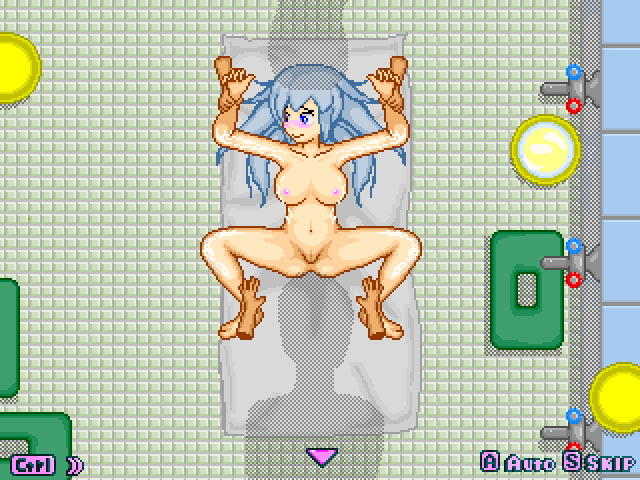 GRAPHICS
The game is fully animated with character artworks during dialogue and full motion movement during erotic scenes. Although the DLSsite page advertises 19 scenes, there are actually 24 as of the June 26th update of 2016.
Unlike the first game, this one has long loading times when you save game or travel to certain areas. There is still no diagonal movement. And although Fuu changes clothing between her kimono and school uniform, this is done as a part of the story and not an actual clothing swap feature.
Fuu's character sprite is short and super cute. The downside being, the sprite is too small to see the details. For example, Fuu wears red glasses. But because the sprite is so small, the red looks more like blush on her cheeks. The artist should have enlarged the sprites or simply skipped the glasses altogether.
The setting is largely the same as the first game with a few exceptions. The park was expanded, the school has a pool, the mansion yard is larger, the police station and deep forest are inaccessible, and the town of Tonaramchi was added. You can walk there on foot or take the train. Naturally, this makes the world feel more realistic and alive. Especially the mini-mart and Otaku's home, which can be entered at your leisure. If a third game expands the world even further, I'd be excited to start exploring again.
The character design during sex scenes is even better than the first game! However, there are some flaws from time to time. Like how sometimes girls have four fingers but guys have five fingers! Once you see it, it cannot be unseen! Still, the animations are well designed with realistic and expressive facial movements that perfectly convey the tone of the on-screen dialogue.
VOICE ACTING AND SOUND EFFECTS (SFX)
Pixel Town Akanemachi has no voice acting.
The sound design in this game is fantastic. All sex scenes have accompanying sound effects ranging from thrusting to moaning. No full lines are spoken, but the moaning tracks add a lot to the experience. The sound effects from this game are licensed assets from On-Jin, HeavenlyBlue, and Yakitori SFX.
MUSIC
There are 18 tracks in total. Most are carried over from the previous title but some like the final boss theme are unique and enjoyable. The music synced well to each headphone. The right speaker has the rhythm and beat while the left speaker has the primary instruments for the melody. The tracks in this game are licensed assets from Demon Soul, Yufuruka, and Music is VFR.
HENTAI
Pixel Town Wild Times 2 features 24 scenes total, that's 14 more than the previous title! However, this game lacks the insect and beast sex that the first game had. And due to the focus on Fuu, Aya and her sister have just one scene devoted to them.
This game is at least 50% tentacles. Even the artwork with humans in them ends up having tentacles. Because they whip their dicks out, and the dick is red, and grows longer and larger, and becomes a tentacle, like the developer was trolling me.
The complete focus on Fuu is a mixed bag. Players must view all available scenes in order to gain enough power for the good ending. Naturally, one of these 24 scenes is probably going to bother you. Like when an innocent bystander gets coerced into sex and traumatized. The game literally confirms she developed "androphobia". Even if you skip these scenes by pressing 'S', they're still a part of the story.
On the flip side, the consensual human sex scenes are incredible. Like the ugly bastard plowing Fuu's tiny pussy! The drunk businessman fucking Fuu on the side of the road! The time Fuu video-taped herself getting gangbanged! The groping on the train! The public blowjob! And best of all, fucking two complete strangers in the hot springs! I drained so much cum playing this game, I almost passed out!
CONCLUDING WORDS
Pixel Town Wild Times 2 is an incredibly hot adventure game with gorgeous pixel animations. While the story is predictable, the world is lively and full of character! And the return of Aya from the first game was a truly welcome surprise.
Download Pixel Town Wild Times 2. If you liked this game but never played the first one, check out Pixel Town Wild Times 1.
Graphics

Gameplay

Story

Music

SFX

Hentai