Written by Rastafoo69, edited by Otaku Apologist
Cucking Trap, a netorare hentai game developed by Double Melon. Released March 28, 2020. Download on DLSite for $10.00. For Windows PC. No voice acting. Censored genitals. English fan translation patch here.
Two couples, one building, what happens inside will determine their futures. Will you stay loyal to your woman? Will she stay loyal to you? Find out by playing this sexual 'escape room' scenario, the cucking trap!
Read our guide how to download DLSite games. Also consult our article how to apply translation patches.
STORY
Your name is Mamoru, and you are dating the busty blue haired babe Mafuyu. Your best friend is named Takashi, and he's dating the slim and classy babe Kana. Two happy couples, or so it seems!
In reality, Takashi is in love with Mafuyu and Kana is in love with Mamoru and they are conspiring to destroy your relationship! Of course, they aren't pure evil. They'll put the temptation of cheating in front of you. If you decide to cheat, they will destroy your relationship!
The entire game takes place in a business similar to an 'escape room'. Two people enter and have to search the room for a way to open the door. It could be a key, it could be a puzzle, who knows! The quirk behind this business is that its true name is "The Switch House". The two couples swap partners to test their love!
There are five endings in total. The endings depend entirely on your choices made throughout the story. Did you cheat on Mafuyu? Did she cheat on you? If you did cheat, do you plan to date Kana?
The NTR ending is the darkest, since Takashi was using a sex tape to coerce Mafuyu into sex only to expose her cheating later on. Mafuyu falls into deep despair, knowing she is unworthy of a happy relationship or reconciliation because her lies have so deeply hurt the protagonist. If you've ever been betrayed by a loved one, the writing in this scene is likely to make you cry.
The game can be completed in an hour, but has significant value due to the various endings, choices, and unlockable scenes. Use the hints in the pause menu to find what you're looking for.
GAMEPLAY
Cucking Trap was created in RPG Maker MC. Right click to hide text boxes. Press CTRL to skip text. Press Q to access the backlog. The game manual is available in the pause menu.
This is a simple exploration game. There aren't even puzzles, you simply walk around interacting with objects. Although the game has two difficulty modes, this only affects whether you're told where special items are, or have to find them yourself.
The central focus is always on your choices and the various result thereof. I highly recommend utilizing multiple save slots if you want to backtrack and view all outcomes.
GRAPHICS
The artwork is drawn in the iconic style of Double Melon. Bright colors and simplistic backgrounds are paired with rounded line art and expressive faces to emphasize the sensual nature of the sex scenes. Some may complain about the simplistic backgrounds, but I found the artwork sexy enough to hold my full attention.
The CG Gallery and scene recollection functions are available in the pause menu. There are over 28 scenes, due partially to repeated CGs with new and unique dialogue. In particular, there are variations depending on if Mafuyu has cheated before or not.
Whether it's the default blue interface or the pose art title menu, this developer really emphasizes a "less is more" approach. The title screen may be simple, but this allowed time for the wide variety of scenes. The interface may be basic, but that's because of the genre of the game. Although it was created in RPG Maker, the writing follows a Renpy visual novel approach. There are no stats or items, so you should have no reason to pause. The interface is simplistic because otherwise, it would distract from the characters as the focus of the experience. In other words, the simple list-style pause menu was the best design choice for this game.
These single images do not do this game justice! Each scene features multiple variation CGs matched with dialogue to grow and build the pacing of the event. At first a dick may be hovering just outside the pussy, then it's finally pushed in, you can see the girl get wetter, her facial expressions changing, until the final climax where a thick load of white spunk is poured deep into her womb! These still images are nice, but you really have to see the variation images and gradual buildup to fully appreciate the game. Because when you play it, you'll feel like you can't look away!
VOICE ACTING AND SOUND EFFECTS (SFX)
Cucking Trap has no voice acting.
The sound effects in this game are fantastic! Rather than overuse stock assets for footsteps and doorways, the developer keeps the atmosphere relatively limited to match the tension of the "Switch House". You find a condom on the table, and instructions to fill it up. The dialogue carries the scene until suddenly, you hear it! The glorious and realistic sounds of thighs slapping together as Kana bounces up and down on your cock! You could close your eyes and the sounds would be enough to paint the image in your head! This developer holds back on the sound effects until the right moment, and it feels magical. From the splash of the bath, to the thrusting of prone bone fucking, this game does sound design right!
MUSIC
The soundtrack has 39 tracks in total. All tracks are digitally synthesized to match real instruments like cymbals and the guitar. Digitized music was used to stretch the guitar riffs a bit longer than normal. After all, in real music, strings only vibrate for so long. But in this game, the fundamental nature of these instruments is changed to create a totally unique and fresh pacing. Sometimes the violin changes pitch in a super fast way to boost the rhythm, in a way that would be difficult or even impossible to do in real life.
The soft piano of the love confession is beautiful. The guitar and bass used in the track "Construct" were in downright harmony. And when the pacing needs to be lightened up a bit, tracks like "Swingin Life" were there to break the tone. Personally, I prefer the classical instrumentation, but breaking up the heavy tone is necessary from time to time too. Many other developers could learn a lot from the sound design in this game.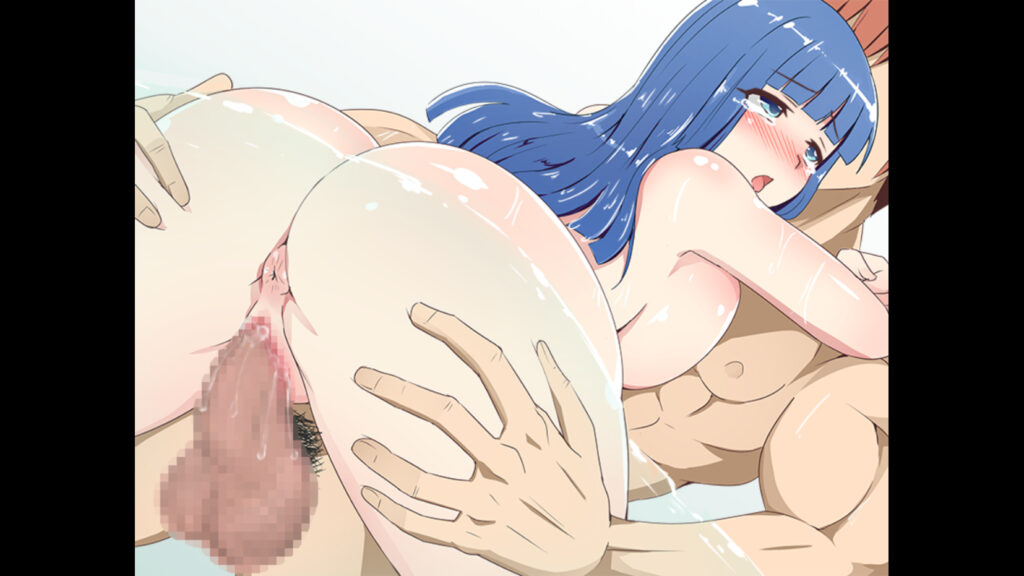 HENTAI
There are around 28 scenes total. Some of them are softcore, like if you'll see Kana naked or not. Others are full on fucking like Mafuyu getting a bare and unprotected creampie from your best friend. And of course, you can always play as a loyal boyfriend and avoid all lewd scenes.
The game escalates faster than most titles. There are no handjobs or kisses, it jumps directly into sex pretty quickly. This is necessary so that by the end of the game, Mafuyu can become addicted to another cock. While this makes for an incredibly erotic ending, it makes the beginning feel a bit rushed.
Sex scenes in this game have some fantastic dialogue and setup. Your best friend's cock is twice as big as yours! He agrees "only rubbing, I won't insert it", but Mafuyu doesn't stop him when he does! Mafuyu has her first orgasm with him, her first experience with a bare cock, her first ever creampie! You've always had to wear a condom, but this stronger man gets to creampie your girlfriend! And even after the double date is completed, he's still fucking her behind your back!
Although I found the game almost perfect, that's mainly because I adored Mafuyu. Anyone who loves pink haired Kana will probably be disappointed since she has fewer scenes. And Mafuyu's heavy guilt from cheating may also be a downside to some.
Still, these scenes are too hot to ignore! Like when Mafuyu takes her first cheating creampie and tries to finger herself to get it all out of her! "It's still so gooey inside", she says as it pours out like a fountain. She's not on birth control and another man just came in her pussy! He filled her up fully and may have impregnated her!
Pubic hair was toggled off for this review, though it is available for those who want it.
CONCLUDING WORDS
Cucking Trap is a unique spin on the NTR genre due to the premise of an escape room separating the two couples. Your ending depends entirely on your choices, and you can even leave your girlfriend to start a relationship with someone new! Alternatively, she can do the same right back! This really is one of the most creative and unique adult games on the market today.
We highly recommend this game for anyone with a cheating fetish. Download Cucking Trap. If you want another unique title in this genre, then check out our review of Okaken's Treasure Cuckold Sugoroku.
Graphics

Gameplay

Story

Music

SFX

Hentai