Written by Rastafoo69, edited by Otaku Apologist
Erotica Exorcist, a hentai game developed by Nekoshaku. Released January 8, 2021. Download on DLSite for $12.00. For Windows PC. No voice acting. Censored genitals. Available in English and Japanese.
Mari and Ruri are a duo of shrine maidens, cursed by evil spirits. These spirits make the girls act super lewd and submit to sexual encounters. You never know what kind of sexual adventures they'll get into next!
Read our guide how to download DLSite games.
STORY
There is basically no story. Nor are there conversations, NPCs, or any real personalities whatsoever. You simply go from mission to mission, doing random things.
There are bad spirits at the plaza! The spirits make Mari engage in public masturbation. Mari goes to the bookstore! The bad spirits make her shoplift and give the owner a titfuck. There's a gang of ruffians terrorizing the city! Mari ends up fucking an old man on the street corner.
Mari is the girl with pink hair and Ruri is the girl with white hair. Although the status menu gives them personality traits like "good at sports", we never actually see this in-game.
GAMEPLAY
Erotica Exorcist was made in RPG Maker MV. There is no text log, text skip, or a button to hide text boxes. There is no quest log either, so hopefully you beat this game in one playthrough, or you'll forget where to go next. The game is about an hour long.
The combat system is the standard RPG Maker experience. The encounter rate will be absurdly high at first, and you may face back to back battles after only one step. This changes once your level is high enough to auto-win battles simply by walking into enemies. Although this was a neat feature, the game is too easy and short to really make use of it.
In spite of being a hentai game, there are no unique mechanics to be found here. Corruption levels, sex stats, optional side quests, nothing. In spite of the $12 price tag, this game is a $5.00 experience.
GRAPHICS
There are only 10 CGs total, which are obtained as you progress through various quests. There are no NPC characters. Although the two heroines seem to have unique sprites, they are inaccurate. Ruri's outfit doesn't have long sleeves, but her sprite does. And neither girl has a flower in their hair, in spite of the sprite's appearance. It seems the developer simply recolored a stock asset character sprite.
The game has six locations in total, but the lack of NPCs and use of stock assets make each location feel like a template rather than a believable location. The six locations are a city, a plaza, a home, a shrine, and two forests. As you can see, they all blend together in the most forgettable way possible.
Mari has a pair of white objects on her hair, though I'm not sure what they are. It's almost like a PNG image dragged over the artwork. Is that a hairpin, or something else? And in the status screen, both Mari and Ruri have identical faces, which felt like pure laziness from the developer. Their outfits are also inconsistent, since sometimes Ruri has a hexagram necklace, and other times she does not.
Body proportions are very inconsistent. One scene, Mari has tits larger than her head. The next they are simple B-cups. One scene shows Mari with small hips and slim legs, the next has her with thick thighs! While the artworks look good at a glance, they're actually pretty subpar.
VOICE ACTING AND SOUND EFFECTS (SFX)
Erotica Exorcist has no voice acting.
The sound effects are all stock assets from the RPG Maker library. No sounds are used in a creative or meaningful way.
MUSIC
The 18 songs on the soundtrack are ripped directly from the RPG Maker stock library. You hear Battle3, Ship2, Dungeon1, and so much more. From the moment you start the game, these stock tracks poison the experience. The developer didn't even go out and download some free licensed tracks to mix it up a bit. This game is entirely made up of the default music that comes when you download RPG Maker. This is the peak of laziness.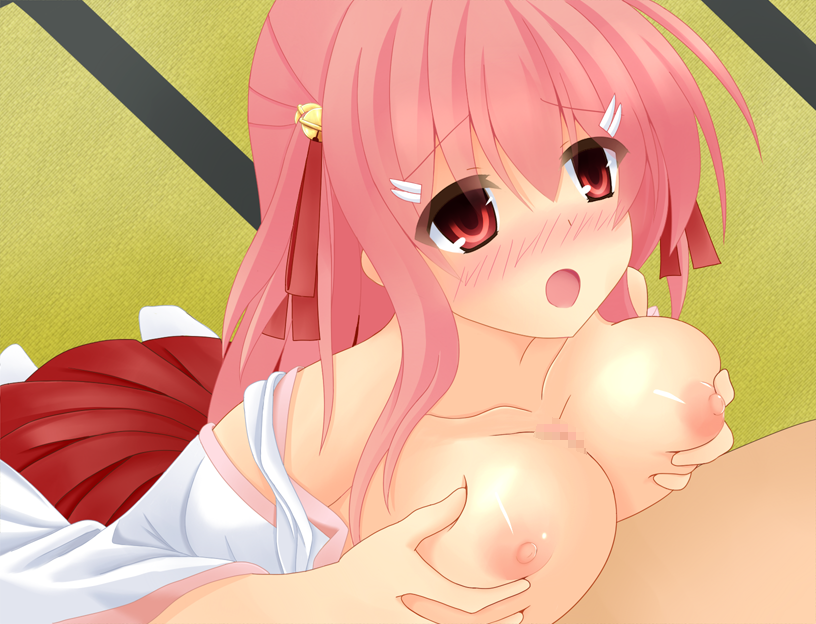 HENTAI
There are 10 scenes total. Dialogue tells you where to go, and then a scene begins. Sex positions range from cowgirl to doggystyle. Each scene is pretty short and limited on dialogue. There are a handful of variation images to illustrate cumshots.
All scenes are unavoidable, including the vines molesting Mari. Some scenes don't even feature sex like Mari laying in bed horny or being harassed by ghosts. And when they do show sex, the dicks are so small, it doesn't even look pleasurable! 8 of the 10 scenes focus on the pink haired Mari, so you'll be sorely disappointed if you hoped for Ruri scenes or scenes with them together.
CONCLUDING WORDS
Erotica Exorcist is a DLSite exclusive title with an official English translation. In spite of this, the game is practically shovelware. There are no unique audio files or gameplay mechanics, it's an hour long game for a quick fap and forget.
Download Erotica Exorcist. If you like indie porn games but want something unique and creative, then check out our review of Pirate Princess Mareina.
Graphics

Gameplay

Story

Music

SFX

Hentai