Gender Bender Hentai Anime Review: Kuro Gal ni Nattakara Shin`yuu to Shite Mita
Hentai Reviews

>

Reviews

>

Gender Bender Hentai Anime Review: Kuro Gal ni Nattakara Shin`yuu to Shite Mita
Written by Mistress Valentine, edited by Sexy and Otaku Apologist
Kuro Gal ni Nattakara Shin`yuu to Shite Mita (eng. I Became a Gal So I Fucked My Best Friend), a hentai anime made by Suiseisha and Blackflag and released by Irawias. Released April 5, 2021. Runtime 6 minutes. Full Japanese voice acting. Censored genitals.
STORY
Shion and Rui are playboys. Rui is popular while Shion has to work for his pussy. While out on the beach, Shion runs into an old flame he mistreated in the past. She ambushes him in the bathroom and he blacks out. When he wakes up, he has been transformed into a big-breasted tanned girl with a virgin cunt. Rui discovers him and immediately takes Shion's pussy out for a test drive much to Shion's embarrassment.
Afterwards, Shion begs Rui to help him change back. Rui agrees, but only on the condition that Shion becomes his bitch until then. The rest of the series explores Shion's predicament. Each episode features at least one sexual encounter between the two, whether it's Shion as a man or a woman.
The series also explores Shion's gender identity to a degree. He finds it strange that he is enjoying having sex with Rui in a girl's body and begins to question his masculinity. For an eight part miniseries that stands at roughly 6 minutes in length each, the show does a good job of giving its main characters some depth, even if it's just a means to get Shion to accept that he's happier to be the one taking dick than giving it.
ANIMATION
The series is well animated. The character designs for Shion and Rui are generic but Shion's female body is hot as hell and cute as a button. No man would be blamed for wanting to fuck his brains out. Making the character a tanned girl adds an exotic flavor to his design.
The artwork looks amazing in 1080p. The colors are rich and vibrant with thin edge lines. The series looks and feels like a high budget slice of life anime. There are plenty of comedic moments that are represented by visual cues like breasts bouncing. Sometimes text will appear onscreen to deliver the punch line to a joke the show is trying to make.
The show also uses a lot of different locations and they all look believable with plenty of detail put into them. Episode 1 takes place at the beach and in the showers, episode 2 is in an apartment and a night club, episode 3 features a shopping mall and a clothing store as a backdrop. These locations add a sense of scale to this fictional world that we only get to explore for eight micro episodes.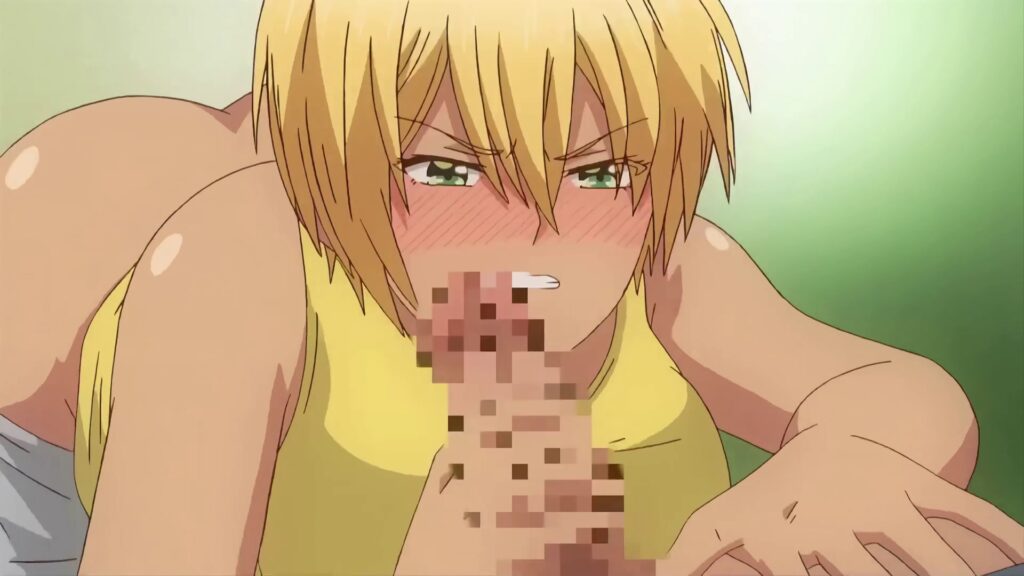 VOICE ACTING AND SOUND EFFECTS (SFX)
I really enjoyed the voice acting in the series. The actor for Shion is great. They voice both versions of the character but managed to fool me into thinking the female half was being voiced by a separate actor. Their comedic line delivery is excellent and had me in stitches most of the time. When it's time to spread her legs and take dick, the actor gives it his all with steamy, sexy moans and embarrassed grunts that make you believe that he is really a she. Rui's actor does a great job too as a handsome pretty boy who cannot hold it in his pants.
The sound effects for the series is excellent. The library used contains a vast number of noises that are sprinkled into each scene to make it come alive. I have to praise the comedic/abstract sound effects. The series takes every opportunity to include one, whether it's to emphasize a boob bounce or highlight Shion's cuteness with a sparkly background. The sex sounds are varied as well with lots of different noises used for fingering, thrusting, squelching and cumming.
MUSIC
The soundtrack is big. There is a song for every occasion. Most songs feel like you'd find them in an anime romcom. The wacky, upbeat tracks are balanced well with the more intimate, sensual melodies. There is one particular song that plays whenever Shion and Rui have sex. It's sweet and soft and adds another layer of realism to the sex.
The series uses original instruments for the most part. There is one or two times I heard a synthetic instrument. The anime relies heavily on the piano. The series' theme is very upbeat and wild. The beat is infectious but has a great rhythm. It's wasted as an ending theme.
HENTAI
The series features a lot of different sex. I initially expected Shion to change into a girl, remain one and get fucked until he is in love with Rui's dick, but the series throws us a curveball by giving us some yaoi action as well. Rui doesn't care about gender. He will grab Shion's dick and jerk him off until he transforms into a girl and then fuck her new pussy like a true alpha motherfucker.
Most scenes feature Shion in his girl form being groped, fucked or sexually humiliated by Rui. They have sex in rest rooms, apartments, basically wherever Rui feels horny. The sex is very vanilla but Shion's ongoing embarrassment over being treated like a slut when he is a grade-A womanizer make the scenes where his pussy is spread as funny as they are sexy.
The sex scenes are short but feel long enough compared to the length of the episode. You'll get to fap loads while watching this series. If you're not a yaoi fan, the amount of boy-on-boy sex in this series might turn you off.
CONCLUDING WORDS
Kuro Gal ni Nattakara Shin`yuu to Shite Mita is a sweet, gender bending drama that appeals to fans of bros banging hos and bros banging bros. The characters are likable, the humor is great, the visuals are stunning and the sex is raunchy. If you're not into dudes masturbating or having sex with each other, this title is for you.
You can watch Kuro Gal ni Nattakara Shin`yuu to Shite Mita on Muchohentai.
Animation

Story

Music

SFX

Hentai