Hangover Parody Hentai Game Review: Forget-Me-Not Gemini Fort
Hentai Reviews

>

Reviews

>

Hangover Parody Hentai Game Review: Forget-Me-Not Gemini Fort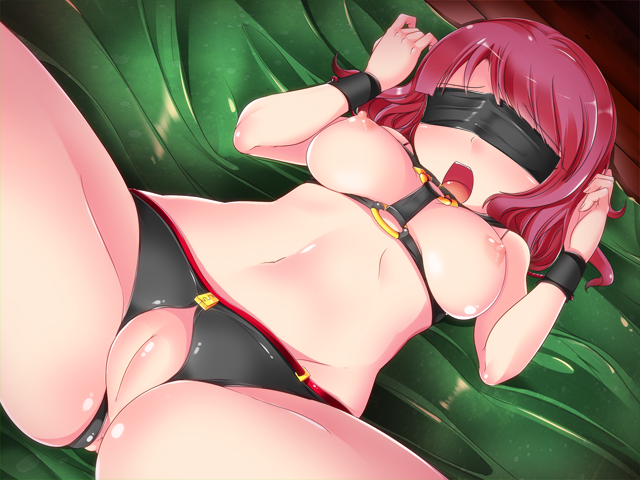 Written by Rastafoo69, edited by Otaku Apologist and Mistress Valentine
Forget-Me-Not Gemini Fort, a fetish hentai game developed by Tsukinomizu Project. Released October 28, 2020. Download on DLSite for $5.00. For Windows PC. No voice acting. Censored genitals. Available in English and Japanese.
This game is basically "The Hangover" with porn. You play as a party of three girls exploring the adventurer town and trying to figure out what happened last night. One of these girls drank a futa potion. She'll be playing with her cock along the way.
PROMO: When you download games through links on Hentaireviews, we make original hentai comics.
New to Japanese eroge? Read our guide how to download DLSite games.
STORY
Your party of 4 goes to Gemini Fort to fetch new equipment, but when you wake up the next morning, Nemesia is gone! Your big-titty mage party member needs your help! Go find her and uncover the truth of what happened last night.
The game follows a trio of girls looking for their missing party member. Marzia is the pink-haired leader with a magic curse that stops her from wearing panties. Mizuna is the petite mage with a futanari curse. Elka is the warrior who woke up with a lewd rune on her stomach. If sperm enters her pussy, she'll have a 100% chance of getting pregnant!
While this seems like a setup for a great adventure, it's actually pretty linear and basic. You visit the item shop, the weapon shop, the tentacle store, the casino, then the brothel, then you run away from the alchemist guild pursuing you. They're trying to arrest you because last night, you were spotted with Mary, the daughter of the head of the alchemy guild. She's gone missing, so you're going to explore the town, hoping to find her and Nemesia. Your next stop is the arena, and you're hoping to find out who supplied the futa seed that caused Mizuna to grow a dick.
Here's the thing, that alone was 2 hours of just wandering around the map. The rest of the game is much the same! Sure there are occasional battles, but the vast majority of this 4 hour experience is just walking around! Group amnesia is a nice setup, but I was expecting something interesting to keep my interest!
Although this was an official DLSite translation, there are some grammatical errors like "You grew a penis" being mistranslated to "I grew a penis". The frequency of errors is to be expected though, considering how dialogue-heavy this game is. In fact, dialogue often changes depending on small in-game choices like if you helped your partner or let them get beaten up.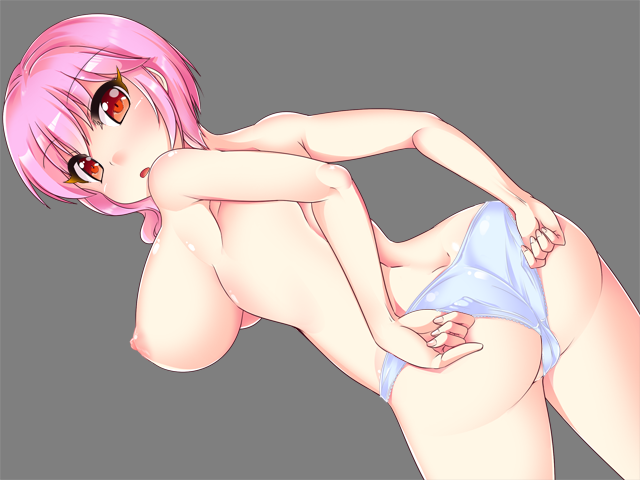 GAMEPLAY
Forget-Me-Not Gemini Fort was created in RPG Maker VX Ace. Press D to hide text. Press A for the text log. Although this game is advertised as an adventure RPG, it's more of a kinetic novel.
A lot of this game is padding. When you visit the tentacle shop, you cannot simply talk to the shopkeeper. Instead, you must wander through his basement, watch a tentacle anal sex scene and interact with 10 objects to find a switch, only for the shopkeeper to tell you to go somewhere else.
That's this game in a nutshell. At one point you go inside a building, then go outside, and a tittyfuck scene randomly happens in broad daylight. There is zero effort put into setup! Nothing is ever earned! The game is advertised as an adventure, but it feels more like a scene gallery! This game would be tolerable as a Ren'Py visual novel, but as an RPG, wandering around like this drained my will to live. This was not worth four hours of my life.
As you progress through the game, you'll fill a monster encyclopedia and gain clues about what happened during that strange night. However, all battles are scripted and can be skipped if the player chooses. There are no level-ups. Although there are skills and special abilities, you have to use them in a particular way to win.
GRAPHICS
There are 40 CGs and scenes. In the recollection room, players can review a gallery of standing artworks. Scenes are often organized randomly, so I recommend you just play through the game, otherwise you'll miss tons of context.
The girls are super cute! I love how Marzia has those sexy stockings and a short skirt! I love how Mizuna has her hair tied off to the side! I love how Elka wears tight spandex that leaves little to the imagination.
The standing art in this game is pretty goofy. It's wonderfully drawn, super expressive, and conveys a ton of personality behind each character. Elka bends over to look at her stomach and has a shocked expression that it's glowing! Mizuna opens up her giant adventurer's handbook and it's the side of her torso, but she carries it around, so she always has answers whenever Marzia starts rambling. These little details make each character adorable in their own beautiful way.
There are some downsides. The world was created with stock RPG Maker assets. Some areas feel generic. Because Mizuna is a futa, there's often heavy pixelation when she's in a scene. It also feels as though Elka gets less scenes than the other two. And I wish Nemesia was in the party since she was probably the sexiest of them all. These are all minor gripes though. The art left an overwhelmingly positive impression on me.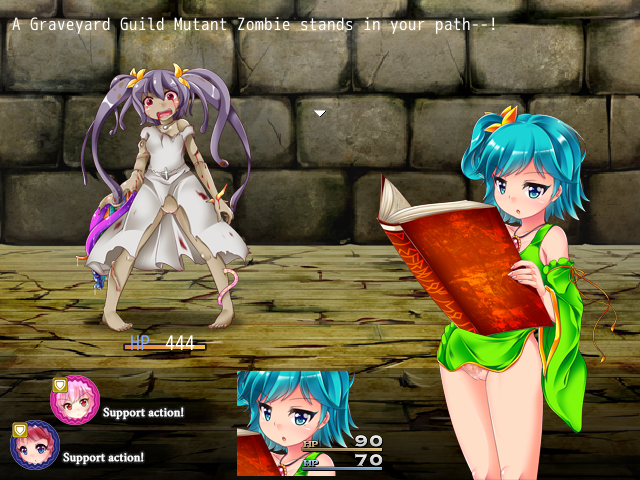 VOICE ACTING AND SOUND EFFECTS (SFX)
Forget-Me-Not Gemini Fort has no voice acting.
The sound design is well done, standard for the genre. Due to the lack of action scenes, most of the game is just walking around, so you'll mostly be hearing doors opening and closing.
MUSIC
There are 76 music tracks in total, mixed between licensed and stock works. I love the uncommon licensed tracks that relied on piano, drums, chimes, and other bouncy instruments. The title music is one of my favorite tracks for its simple rhythm and reliance on bass guitar. I'd honestly be glad to hear these tracks repeat in a future title with more stakes and better writing.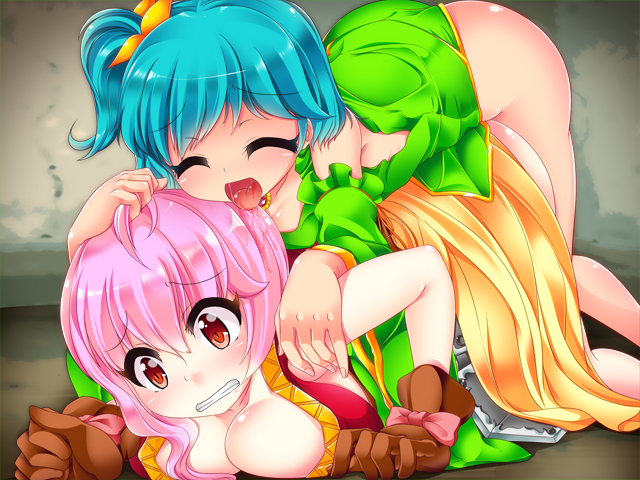 HENTAI
Forget-Me-Not Gemini Fort features 40 erotic scenes and CGs. At least half of these scenes feature futanari content and there is very little standard straight sex. Tentacles, mushrooms, dildos, and groping are far more common.
Most scenes are completely unavoidable and will happen regardless of your interest in them. I didn't want to watch a tentacle anal scene with Elka, but the story refused to continue until I did. Often times scenes are dropped on you at random without context, so don't expect any build-up.
Elka having a lewd crest could have been the hottest setup possible. If something cums in her, she has a 100% chance of getting pregnant. Notice how I said "something". For example, if the tentacles came inside her, she would get knocked up with their spawn. That is so twisted! I wish there were some risky scenes with last-minute pullouts to emphasize the pregnancy risk. Instead we just got a bunch of anal, how predictable!
The linear nature of the game holds it back from being truly erotic. Every scene is a "one and done" experience, so you know not to take it seriously. Like when the party theorizes the futa cock will disappear once it cums. I already knew that would never happen, but the dialogue pretended it was a real possibility.
CONCLUDING WORDS
Forget-Me-Not Gemini Fort has some of the cutest character designs in eroge, but the bare-bones story and nonexistent gameplay are weighing it down. The music is fantastic and many of the sex scenes are super hot, but none of it comes together to create a cohesive experience.
Download Forget-Me-Not Gemini Fort. If you liked this game but want some top-quality gameplay, then check out our review of Fall in Labyrinth.
Graphics

Gameplay

Story

Music

SFX

Hentai