Magical Girl Hentai Anime Review – Aisei Tenshi Love Mary: Akusei Jutai
Hentai Reviews

>

Reviews

>

Magical Girl Hentai Anime Review – Aisei Tenshi Love Mary: Akusei Jutai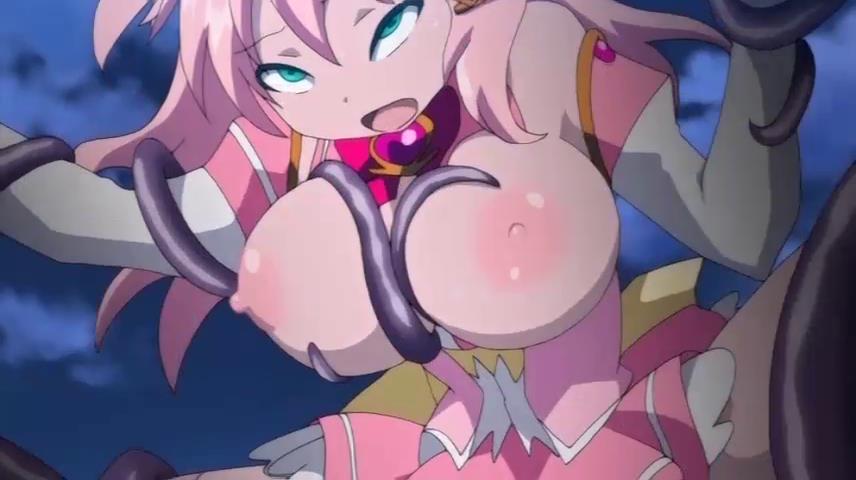 Written by Mistress Valentine, edited by Otaku Apologist
Aisei Tenshi Love Mary: Akusei Jutai, a hentai anime developed and published by Pink Pineapple. Released February 28, 2020. Runtime 25 minutes. Full Japanese voice acting. Censored genitals.
STORY
Akari is an ordinary girl moonlighting as a super powerful magical girl. She goes out at night and fights monsters who serve Elzaem, a demon who is using lust to resurrect himself. Akari sucks at her job and is easily captured and violated. A strange sexy servant of Elzaem shows up to taunt her before Akari passes out.
The rest of the episode deals with Akari coping with incidents where she wakes up in a strange dimension getting fucked either by monsters, strange men or Elzaem's servant. Her friends become concerned for her. Yuzu, a childhood friend of hers, finds out about her battles with evil. He transforms into a magical girl to help but the slow, sexual corruption of Akari causes her to turn on Yuzu. Yuzu enjoys some sex with Elzaem's servant lady and Akari. Afterwards, his cock becomes corrupted and turns demonically evil. The episode ends with Akari fucking.
The writing strikes a good balance between porn and plot. Good chunks of the episode are dedicated to giving us some background on what is happening. The character of Akari and Yuzu ticks the box on several cliché anime tropes. The slow corruption process is fun to watch.
HENTAI
The episode spends its 25-minute runtime to show off many sex scenes. Akari has her virginity stolen by a rogue tentacle monster. In another scene she has no choice but to service a strange man before cumming with his cock lodged in her pussy. At school she gets a surprise visit by sexy Elzaem servant lady who fondle her titties. She gets transported to a weird dimension where another tentacle face fucks her while squeezing her nipples and ramming her pussy until she cums.
The best scene involves her friend Yuzu who gets to stick his dick in sexy servant lady while Akari sits on his face and lets her sex juices get licked up. The last scene involves Yuzu actually fucking Akari using his new demonic cock. A large part of the hentai's sexiness is due to the various super exaggerated facial expressions Akari and Yuzu pull when they are being fucked senseless. The swaying boobs and super-size dick add a degree of fun to the episode.
ANIMATION
Aisei Tenshi Love Mary Akusei Jutai's animation feels different from typical hentai. There is some jadedness to the color scheme that makes it look flat, despite not being flat. The character designs differ slightly between scenes. There is a clear difference between sex and non-sex scenarios. The lighting is toned down even during scenes taking place at daytime. In multiple scenes, character facial expressions will be exaggerated. Bodily proportions change sometimes. This happens to breast and dick size.
Akari and Yuzu's character designs are nothing special. Akari's youthful appearance felt awkward to me at times. Elzaem's sexy servant lady has an interesting design with a striking appearance and unique face. The camera work is great. Akari's body is showed off from a variety of angles that make her look sexier. The focus on her exaggerated facial expressions was a real highlight.
MUSIC
The anime contains a large soundtrack. Most songs use original instruments and focus on sounding creepy. One or two tracks use synthetic instruments and feel completely out of place. It doesn't fit the sex. The techno rave overtones miss the mark entirely.
Battle music sounds amazing. It feels vibrant and unique but isn't featured nearly enough. There is music for magical transformations, but the song used is generic.
Other pieces of music include a slow, string plucking number that uses the piano to create a disturbingly ominous beat. Another track, that plays during the school sequence feels like it was lifted from a Higurashi video game. It's sweet and sinister with a slow, menacing tone that makes you feel like you're sinking into a bottomless pit.
SOUND EFFECTS AND VOICE ACTING (SFX)
The voice over performances are great. You can tell the actress playing Akari had a lot of fun pretending to be fucked senseless. Her go-getter, spunky attitude is cliche but entertaining while her sex noises are stellar. The sexy servant lady is also really great, but it would've been better if she taunted Akari more. The rest of the performances are passable.
The episode features loads of sounds that make the world feel more believable. Organic noises like fabric rustling, tentacles and running are used expertly with abstract ones like swishing, tons of anime transformations, magic circles and teleportation noises. The wetness sounds used for tentacle violation sound as slimy as it looks onscreen.
CONCLUDING WORDS
Aisei Tenshi Love Mary: Akusei Jutai is a generic magical girl corruption anime with flat, youthful characters that makes up for it with funny and sexy sex. The story is decent, the voice performances are entertaining enough and the music is mostly very ear-catching.
You can watch Aisei Tenshi Love Mary: Akusei Jutai at HentaiHaven.

Animation

Story

Music

SFX

Hentai