Written by Rastafoo69, edited by Otaku Apologist
Fall in Labyrinth, a hentai RPG developed by Jukkaku Games. Released November 10, 2019. Download on MangaGamer for $20.00. For PC Windows. Full Japanese voice acting. Uncensored genitals.
You wake up on a ship heading toward the island of Veria-Pool. There you will find adventure, romance, and a grand labyrinth where the fate of humanity shall be decided.
This game is 20-30 hours long. In order to present a useful review that gives players clear expectations of the experience, massive spoilers are ahead.
STORY
The game begins with a 1-2 hour introductory sequence before you unlock free roaming. This covers your trip to Veria-Pool and meeting a few traveling companions. After this point, the rest of the game moves at your own pace, with the exception of the final two hours. Once the game is completed, the post-game leaves you open to free roam once again.
The notes for this review comprise over 16,000 words. In my 25 hour playthrough, there were twists and turns around every corner. A queen influenced by dark magic, a rivalry between Gods, a battered homunculus, an immortal wizard, a shadow government, a zealous cult, time travel, side quests, and a huge cast of characters. Playing this game is like entering a brand new world of action and adventure. The writing here makes Final Fantasy look like a dog's dinner. This is simply, an 11/10 experience.
A perfect example of the quality of writing, is a simple side quest. This is just a mini-mission to distract from the main story, and it was art!
"The Diary of the Sunken Tower" tells the story of how a skeleton still lives, because his spirit cannot pass on to the afterlife. He was supposed to pick up spices for a local noble at a cliffside fortress. Everyone told him not to go, because an earthquake could collapse the building, but he didn't listen. When the building did collapse, he was trapped in the sunken tower, underwater. Thankfully, the water didn't get into this room, so he was trapped, in the spice room. Surrounded by water with nothing to drink, surrounded by spices with nothing to eat. He died soon after of dehydration. Poetically depressing. A lesson to value every bit of food and drink you have, because there are some in the world, who die dreaming and wishing of the things you have.
This is just a random subplot in a single quest, yet it was written with attention, love, and care. The writer behind this game clearly takes pride in his work, and wanted to create the best experience possible for the player.
This game has one ending. However, there are constant choices throughout the story that change the dialogue and tone for every scene. Even something as simple as your first sex scene. Do you force yourself onto her, or take it slow? I chose neither! I kept my two waifus as virgins and never once laid a hand on them! Best of all, they comment about this in dialogue, giving my choices weight and impact. Every action you take is tracked in this game, and is sure to come up later in interesting and quirky ways.
The central plot of the game is that the immortal wizard Beahilda is hoping to bring the demon god Phalphurdoll into the human world to rule over humanity. Beahilda leads a cult of followers and casts dark magic on royalty to finesse her way into power. She has also created multiple homunculi, younger clones of herself that serve her every desire. The shadow government of Veria-Pool, The Letterfaith Clan, sends you to investigate her plans. Even then, she is simply so overwhelmingly powerful, you cannot stop her! It is only through the intervenion of humanity's guardian deity, Veria, that you were able to survive. Veria rewinds time back, but can only do this once, and tasks you with defeating Phalphurdoll before he conquers the world. All of this is generally speaking, and there are many plot points being glossed over.
Although there are a million more things to say about the story, it's honestly better explained by playing it. My sole complaint is that the last two hours felt rushed and forgettable. Leaze got no character development, the demon world felt too easy, and the final confrontation with Phalphurdoll felt artificially delayed.
First you got to kill 3 gods to use their power to break into the final dungeon, then you have to kill Phalphurdoll's three lieutenants, and it just isn't interesting. And Phalphurdoll was easy to kill! He was built up as an evil God, but I took him down no sweat!
In spite of the lackluster ending, the rest of the game is so overwhelmingly perfect, I would still rate it an 11/10.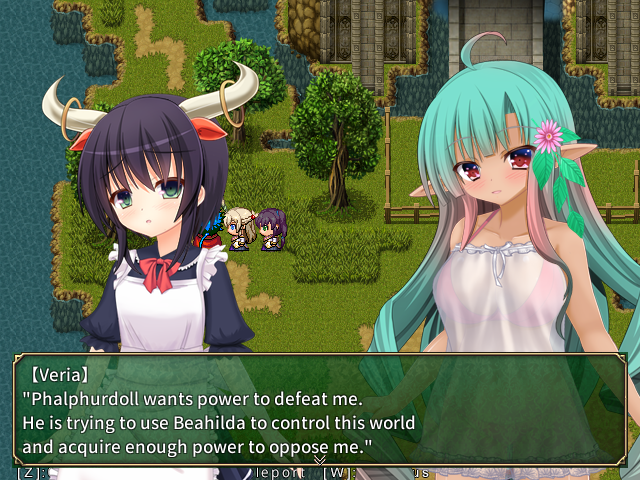 CHARACTERS
The Master of the Audragon is the protagonist of the story. Your name and origins are never given. You awoke aboard a ship heading towards Veria-Pool, and were chosen as the master of the Audragon. You are the only one capable of wielding it, due to your determination to achieve all that you desire, and your relationship with Aulla.
Aulla is the spirit of the sword Audragon. Loyal to her master, she lives to serve you and defeat the evil god Phalphurdoll. At the start of the game, she uses up all of her power to save you, and is stuck in a chibi-fairy state. She later regains her true body and power in a sex scene that bonds you two together as master and spirit. Fan polling indicates she is best girl, and I agree.
Torte is the exiled princess of the Ivov Empire. Originally meant to be the wielder of Audragon, she was nearly executed when the Queen became corrupted by dark magic. In exile, she lives as your slave. Distrustful at first, she slowly falls in love with you as she witnesses your heroism and care for others.
Fano is a priestess in the temple of Veria from over 5000 years ago. She was trapped in a magic crystal, and intended to be the sacrifice that would resurrect Phalphurdoll. Thanks to Veria's interference, Fano was rescued and ended up as your party member. Petite, soft, and kindhearted, she is contrasted with the tsundere attitude of Torte.
Beahilda is the primary antagonist of the game. She created Leaze the homunculus, and manipulated the events of history hoping to resurrect Phalphurdoll. She needs equipment inside Labyrinthos to make that happen, and founded a cult to help her get inside. However, her efforts were unsuccessful until you came along and opened the way. After her defeat, years are sucked from her life to resurrect Phalphurdoll. This renders her a young girl without any memory of her evil actions. She is your final party member and joins in the last two hours of the game.
Pristina is the pink-haired girl with the big tits. She's a ditzy doofus obsessed with legendary equipment. Her side quest reveals she's a noble who left home for a year of adventuring. Although she was a contender to take the throne, she refused in order to marry you and keep adventuring.
Tainy is the blue-haired elf girl of the party. Although she is significantly older than everyone else, elves age slowly and she remains flat-chested. She's greedy and often cruel, but also a skilled thief. Fan polling indicates she is the worst waifu.
Leaze is a homunculus created by Beahilda. She gets no character development besides switching loyalties and following you when Beahilda is defeated.
TRANSLATION QUALITY
The English translation for this game is flawed. It's mostly great, but has some flaws. Poor spelling is the most common issue. You will spot odd words such as "strenger" instead of "Stranger", and "desvires" instead of "desires" and "power" when it should be "tower". Poor grammar is another issue.
The character diaries in this game are poorly formatted and have the worst translations. The typos are rare in the beginning of the game, but grow in frequency toward the end. Like Torte claiming she was Paladin class, when originally she claimed she was a knight who new nothing of magic.
The only translation errors really damaging to the experience have to do with manners and titles. For example, Pristina always refers to you as "Senpai", since she views you as a more seasoned adventurer. But some lines remove this quirk of hers. "Senapi Arigato" becomes a simple "thanks". This English translation is not 100% faithful to the original, and actually detracts from certain bits of dialogue.
This game has an NSFW patch on OtakuPlan. This review is of the MangaGamer version, which includes adult content by default. This is only worth mentioning because sex is so intrinsically linked to the plot. Especially with the characters of Beahilda and Pristina, sex is a central point of their questlines. The plot hinges on Beahilda using sex to get you into a vulnerable position! For this reason, I highly recommend you play the NSFW version. The adult content is a core part of the plot and has tons of character building dialogue that you simply should not miss.
GAMEPLAY
Fall in Labyrinth was created in RPG Maker VX Ace. Press X to hide text boxes. There is no text log. The game can only be saved at special circles on the map.
The core gameplay loop is to explore Labyrinthos to level up and find magic equipment to sell or use. There are six party members you acquire throughout your journey, so leveling and equipping them is a constant process.
Although RPG combat is the core loop, the game offers a wide variety of side-activities to keep players busy. These include fishing, unlocking new sex scenes, getting married, buying furniture for your house, finding and dominating monster girls, filling your item encylopedia, creating custom spells, reading character diaries, checking the rare item shop daily, unlocking magic stones, playing the lottery, exploring the demon realm, purchasing new outfits, customizing your favorite look for each girl, unlocking the endgame bonus outfits, competing in the arena, completing adventurer's guild side quests, unlocking new party members, and so much more. Safe to say, any review claiming the game can be completed in 10 hours is blowing smoke up your ass. This game is 20 hours minimum, and took me 25 hours to complete.
The general focus of the game changes over time. At first, your focus is on building the loyalty of Torte and Fano via gifts and sexual encounters. Once they're loyal enough, you can undertake difficult guild quests and build your own house. Then your focus is on furnishing the house and leveling up your trio to conquer the Labyrinth. Then, the focus is on unlocking the four other party members. Then you'll need to do their questlines to unlock their special abilities and level them up. Finally you customize your ideal party and head off to defeat Phalphurdoll.
The fundamental complaint all players have about this game, is that you can only save game at certain locations. This game design choice only works if the game is 100% bug free. If there is even one bug, then players are doomed to lose an hour of progress by a game crash, all because they could't save game regularly.
For example, talking to Tainy after the closure of Labyrinthos freezes the game, forcing you to load. And self destructing enemies may insta-kill your entire party before your first turn, forcing you to load.
The difficulty varies depending on the randomized equipment you find. Sometimes you'll struggle, but other times you'll acquire a fantastic skill or weapon and sweep through hoards of enemies.
The late game is visually enchanting but the gameplay is horse shit. You have to fight six bosses before facing Phalphurdoll, each giving 4000 experience. Phalphurdoll only gives 10,000 experience. These are big baddies of the endgame, and they don't even make you level up. It's obvious that the developer is trying to slow down your pace of leveling, so the final boss will be engaging, but it didn't work. Just spam "Ether ManaBlast" and Phalphurdoll will drop like a dead fish.
A walkthrough is not neccesary to complete this game. If your next quest hasn't appeared, you usually have to wait three days. This is bad, but it's not the only example of bad pacing. The boss on 7F required an unusual amount of level grinding and prep time, which detracted from the pacing of the story.
At the end of every day, the game gives you some quick tips. For example, equipping the same gem does not boost its effect. This really feels like something you should tell players from the start. I didn't get that hint until I was 8 hours in!
Overall the good outweighs the bad. The pacing is weird, bosses give little experience, and you can't save game easily, but the overall experience is awesome.
GRAPHICS
This is one of the few games we have reviewed that features custom character creation mechanics. Players choose a CG face and fully customize their character sprite at the start of the game. This sprite can be fully edited at any point in time from the town. There are 12 tops, 18 hairstyles, and a wide variety of other features, all in a color of your choosing. Want to wear a hood and hide your face? Do it! Want to wear a goofy hat? Go ahead!
Each character has a unique character sprite and multiple standing artworks for various facial expressions. They also have chibi variations that appear during loading screens. All battles are icon encounters, meaning you can walk around and avoid conflict. In battles, enemy sprites are also fully unique. There's a purple demon with a venomous snake where his dick should be!
The world map is beautiful, the randomly generated NPCs bring the city to life, the endless customization options for Torte and Fano are wonderful, and the minimap in the bottom-right corner during dungeons is super valuable!
Since the Japanese version was originally censored, the decensoring is hit or miss. Dick size changes randomly, and the dick often looks like a brown oval instead of a realistic body part. Even worse, some CGs repeat in different scenarios. Like Torte's oral sex scene having the same CG as her deflowering scene. And how 25 hours of playtime will be filled by under 40 unique CGs.
While most games prioritize the anime art and leave the gameplay basic, Fall in Labyrinth prioritizes the core gameplay visuals while leaving you wanting more anime artworks. Besides Torte and Fano, each girl only gets two artworks!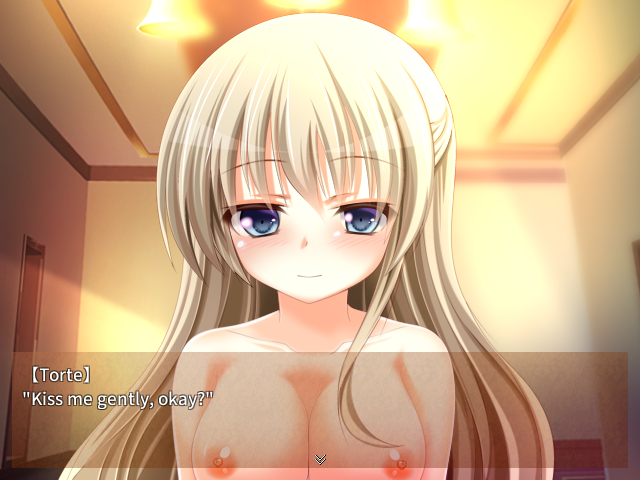 VOICE ACTING AND SOUND EFFECTS (SFX)
Fall in Labyrinth features full voice acting for all female characters. This is primarily because the player controls dialogue choices all throughout the game, so the tone and personality of the hero is dependent entirely on your playstyle.
The voice acting in this game is simply phenomenal. Pristina has a more childish way of speaking and higher pitch since she's a pampered former royal, while Torte has a classic tsundere style of raising her voice to emphasize her points. Fano is the small petite cutie, but she's also an adult, so she has a comforting and calming tone of voice like a mother. The most huggable waifu is Beahilda, since she's lost all her memories and relies on you so much. Her voice is like a teenage girl finding her first love, while also a bit cocky and overconfident.
There are over 7000 lines of unique dialogue throughout the game. It's simply fantastic!
During sex scenes, the actions being taken influence the audio you're hearing. Like the wet and realistic sound effects of oral sex, combined with muffled dialogue as the girl has your cock in her mouth.
Hearing Pristina say "senpai yamete" made me feel so warm inside. And hearing Torte shout "Ether Manablast" during battle was fucking heroic! And there's never a disappointment! Even the minor characters like the slime queen get full voice acting!
The best waifu of all is Aulla, since she always refers to you as "Masta" and is the first to defend you in every argument. And when something silly is going on, hearing her "Yare Yare" is always sure to make you smile!
The sound effects in this game are also fantastic. Unique chimes for menu scrolling and ocean waves on the title menu. I could praise that endlessly but honestly, the voice acting has me gushing like crazy! Even during battle, the characters announce which technique they're using!
MUSIC
There are 153 tracks in total, most of which are completely unique to this game. As extensive and detailed as the story is, the music still manages to enhance each scene and create emotion in the player.
Like when you're in the bedroom, There's soft flute, harp, and piano to craft a peaceful and idyllic feeling. Or when you face a totally unique boss with custom music that makes heavy use of a fiddle and electric guitar! And it's not just single tracks! The music also transitions at perfect moments like at the slave auction, building tension via the rising rhythm of swift piano keys. In another scene, the music switches from background bass guitar to a lively flute! Switching between pitches like that creates a feeling like you've just awoken from a dream.
The change in music when you enter Labyrinthos sent shivers down my spine the first time. It's a whole different world from the outside realm, from the peaceful town. And yet, it becomes familiar and exciting later on as well.
When Leaze is defeated and that dramatic music starts playing, all the magic is sucked from her body, it was chilling. Cymbals and strings and harps come together in building a melody, making your heart beat faster and faster!
One battle has fast-paced techno music, another uses an epic orchestra of drums and violins and trumpets and choir chanting! Sometimes less is more though! Like when Torte faces Beahilda and a suspenseful piano track begins to play, foreboding and exciting in way that creates dread! And when the battle is over, when you wake up alone, far away from Labyrinthos, a soft harp begins playing. Then, piano joins in. It really hammers home the emotions of unavoidable solitude.
HENTAI
Fall in Labyrinth features 38 CGS over a 25-hour playthrough. That averages to 1.5 CGs per hour. It's a mathematical fact that this game is light on erotic content.
This is not a game for a quick fap. The first sex scene will take 1-2 hours to reach, and that's if you force yourself onto Torte! If you buy her gifts and court her slowly, your first sex scene is going to be 4 hours into the game.
Sex scenes are not evenly distributed throughout the game. Since the four unlockable side-heroines are only available after nearly completing Labyrinthos, you have no sexual interactions within them until you're at least 8-10 hours in. You can't fuck Beahilda until her boss fight at the end of Labyrinthos. You can't fuck Leaze either until Beahilda is defeated. You can't fuck Pristina or Tainy until their questlines are completed, which requires 3 days of waiting between each quest. And none of them can even be started until you build a house and progress far enough to unlock their quests at the adventurer's guild. Most of the CGs are available in the second half of the game.
Even when you do unlock the scenes, some of them are disappointing. The writing for Tainy's quest was stilted and stupid, you just drink tons of booze and force yourself onto her and the dialogue doesn't even match the images! The dick never actually goes into her mouth and the visuals don't show any cum, but dialogue says it's happening. Lame!
There are some positive scenes though. Capturing and fucking the monster girls was very satisfying, and fucking Veria the goddess was a dream come true. Regardless, the point stands that the hentai in this game is subpar overall.
CONCLUDING WORDS
Fall in Labyrinth is one of the longest adult games I have ever reviewed. The visuals are gorgeous, the customization is incredible, the story is unforgettable, the music is art, and the voice acting makes every scene 10 times better than it originally was. Even though the hentai content is basic, the game overall is an unforgettable experience.
If you love quality adult RPGs, Download Fall in Labyrinth. And if you loved this game but want some realistic animations, check out our review of Artemis Pearl.
Graphics

Gameplay

Story

Music

SFX

Hentai