One Piece Hentai Parody Game Review: Pirate Trainer
Hentai Reviews

>

Reviews

>

One Piece Hentai Parody Game Review: Pirate Trainer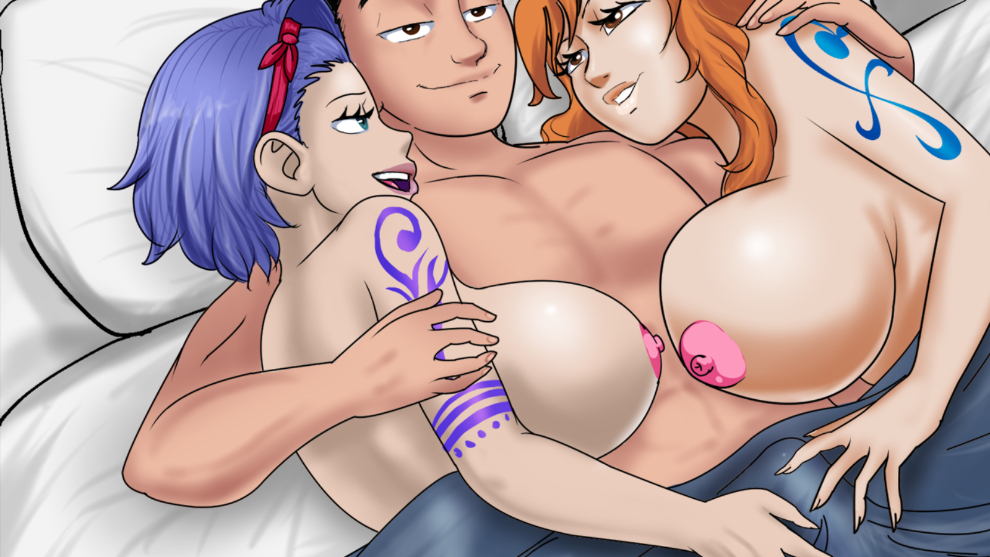 Written by Rastafoo69, edited by Otaku Apologist
Pirate Trainer, a One Piece hentai game developed by Mr. Rabbit Team. Released February 1, 2021. Download on the developer's Patreon. For Windows PC, Mac OS, and Android. No voice acting. Uncensored genitals.
After you save the cat burglar Nami, she decides to stay on your ship as part of your crew. As long as you pay her, she'll do plenty of lewd things for you. She has to buy back the freedom of her village from the evil pirate Arlong, so help her out!
STORY
The overall story is quite limited. At first you're mainly focused on naval battles to earn materials to upgrade your ship, gold to buy food, and berries to have lewd encounters with Nami.
If you visit the Gray Terminal, you can meet Makino, the woman who helped look after Monkey D Luffy in Foosha Village. I honestly found it to be a surprising choice that she would get such a large role in this parody game, but it's a welcome surprise. If you help find her son you'll get an animated titfuck scene followed by unprotected cowgirl sex with her.
The focus of the game is on earning currency to unlock lewd scenes with Nami. You can either grind repetitive battles for hours or use the cheat function. Either way, you pay Nami for lewd favors until she makes enough to buy Nojiko's freedom. For some reason, in this game, Arlong just accepts the loot and lets Nami buy the villagers' freedom.
After you sexually dominate Nami in every way possible, three endings become available. The ending you receive is based on the decisions you make at the end of the game, so don't worry about routes.
In the first ending, Nami leaves you to spend five years with the straw hat pirates before returning back to you. In the second ending, Nami becomes your sex slave. In the third ending, Nami becomes your girlfriend and travels the world with you. While each one has its appeal, I preferred the third one the best since it seems to lend itself to a potential sequel.
The format of the game is clearly inspired by Akabur's Trainer titles. However, the writing is not the same. While Akabur has funny writing and fourth wall breaks, this developer builds the narrative around a weak protagonist. Iver is a weird guy, and not very charming. He's a pirate who does good deeds but also has a lewd side. He's a pretty bare bones character.
GAMEPLAY
Pirate Trainer was created in the Renpy visual novel engine. Click the screen to advance. Press CTRL to skip text. Bookmark your progress by saving on several available slots. It takes an hour to level up completely, but 4-6 hours to grind enough currency to bang Nami and complete the game.
There are four assets. Money, materials, food, and crew. Money is used to get the other assets. Materials are used to level up and repair the ship. Food feeds the crew. The crew determines your attack power during battles.
Battles are super simple turn-based combat. Unless you're using the AOE attack, it's just clicking to progress. Sometimes you miss, sometimes you deal good damage. The battles are pretty random and inconsistent. I missed my shot fives times in a row sometimes!
Enemies scale to your level which can get annoying. I want to feel powerful as a pirate, but nothing I do seems to get me there. Even in the late game, it often feels like you aren't very strong overall.
Outside of ship battles and visual novel scenes, there are a handful of events to enjoy. Like clicking a whale when it jumps out of water to harpoon it for food. Or purchasing lewd images from a shop on land. Despite all the stuff to do, the entertainment value started dropping for me after the first hour of play.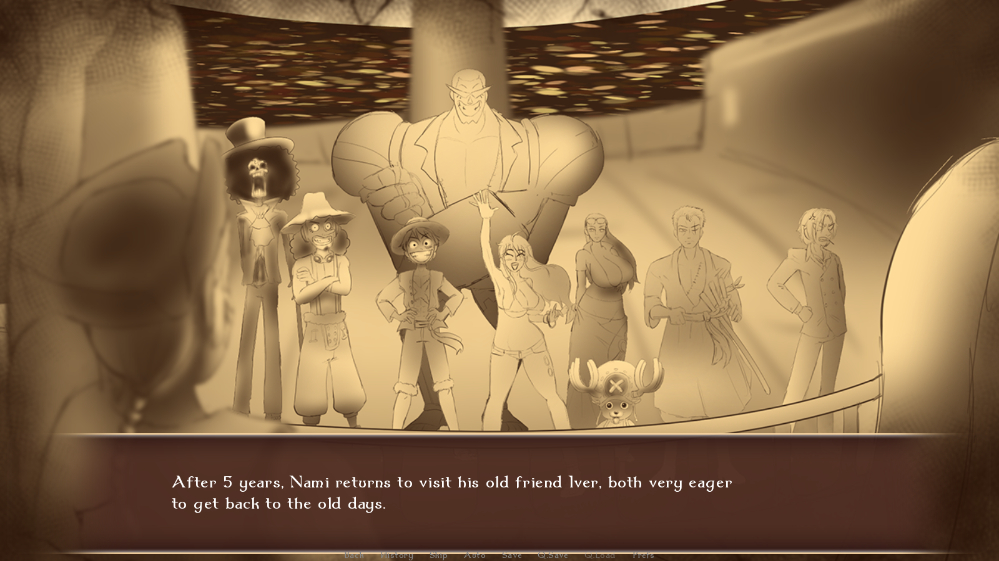 GRAPHICS
The art is drawn in a style unique to Mr Rabbit. Although Nami is recognizable, she is far more busty and detailed than her anime counterpart. In particular, the shading and eyes are given significantly more attention. On a related note, Makino is drawn with significantly larger breasts to the point she's almost unrecognizable compared to her anime counterpart. The same applies to Nojiko.
Although the game lacks animations, it does use image swaps to simulate movement. Especially during the french kissing scene, this provides a sense of tongue movement without having to invest time in fluid animations or something so small.
While the game starts out heavy on the POV perspective for titfucks and make outs, it quickly switches to a full-on third-person perspective with various camera angles. Some scenes are incredibly hot like seeing Nami get ready to suck your cock. Other scenes like the standing sex position felt like they could have benefited from a change in camera angle.
While the vast majority of the game is conveyed via colored visual novel scenes, the story moments are instead given a shade similar to sepia tone. In these scenes, the images are shown to be drawn on parchment, providing less color but far more artistic expression. Whether you're rescuing a boy or eating a devil fruit, these simple sketches provide a great change of pace when compared to the rest of the story.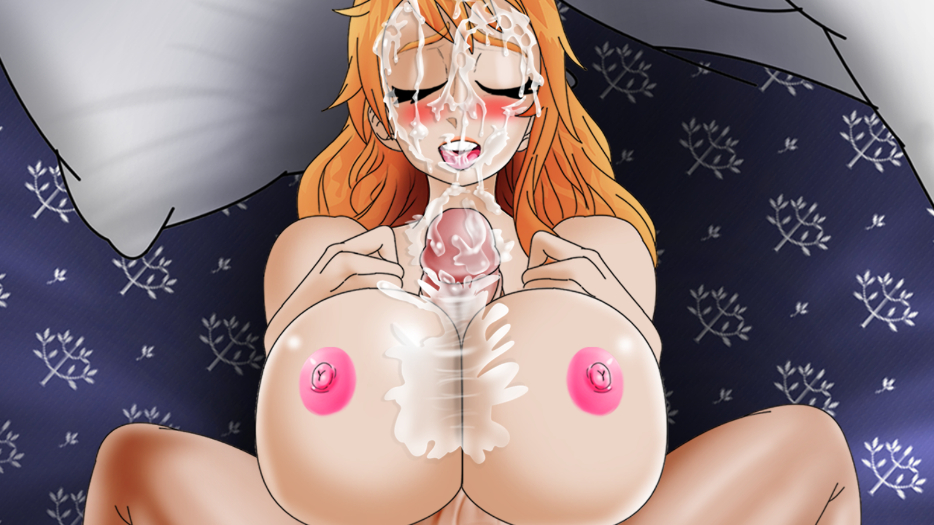 VOICE ACTING AND SOUND EFFECTS (SFX)
Pirate Trainer has no voice acting.
The only sound effect you'll hear often is cannon fire as you battle enemy ships. With so many of your shots missing, it can get pretty irritating hearing a cannon being shot without hitting its mark. Atmospheric ocean sounds are also used, but they don't really add much to the experience, since you never actually see boats in motion.
MUSIC
Pirate Trainer has no music.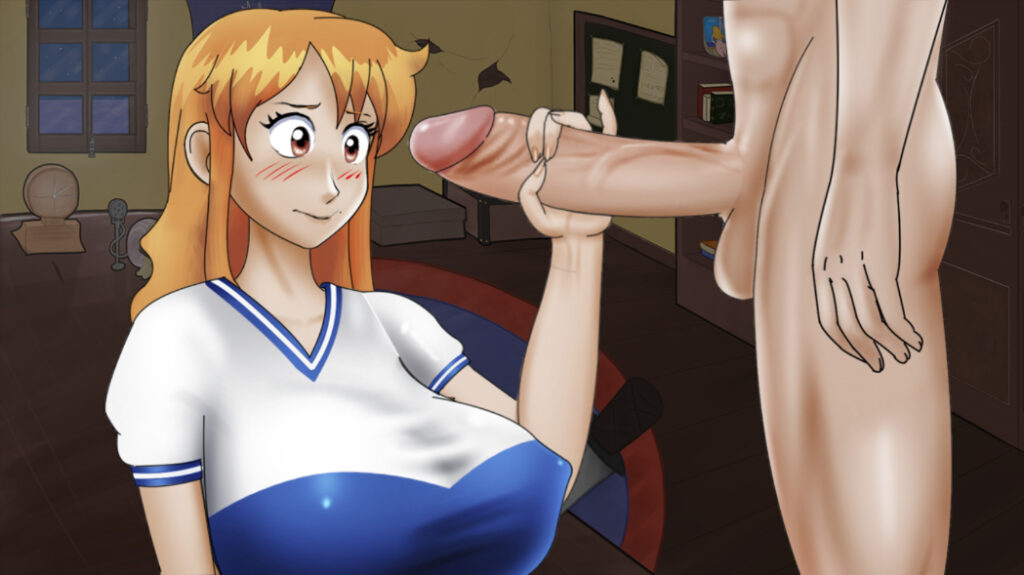 HENTAI
Almost every sex scene in this game is standing sex, with the exception of the ending scenes with Nojiko. This felt pretty lame, since it limited the potential views of Nami's body. I would have loved a mating press scene or even a simple missionary position to see her legs spread in a passionate way instead of the quick and dirty sex we had.
I like how the premise to the sex is built into the narrative of One Piece. Nami needs to pay off Arlong, so she agrees to fulfill your various requests. This is both believable and super convenient, as she is sexually available to the player.
A big issue with this game is that you cannot properly review old scenes once you've seen them before. Dialogue will always indicate you've done that act before, so you won't be able to simulate the act of doing it again. If you loved the shy and awkward kissing of your first time with Nami, that's too bad, because you won't see that again unless you load a save file to the start of your courtship.
CONCLUDING WORDS
Pirate Trainer is a fun, free sex game about Nami from One Piece becoming your pirate whore. The visuals are hot, the character designs are fresh, and the gameplay is easy to learn. My only complaint is the poor pacing and emphasis on repetitive ship battles. If you're not turned off by that, there's plenty to enjoy in this porn game. I personally enjoyed this and can recommend it!
Download Pirate Trainer. If you liked this and want another porn parody title, check out our review of Gravity Files.

Graphics

Gameplay

Story

Music

SFX

Hentai