Written by Rastafoo69, edited by Otaku Apologist
Busty Maid Creampie Heaven, a hentai visual novel developed by Ume Soft. Released in Japan on January 1, 2009. Localized by MangaGamer on October 14, 2016. Download on MangaGamer for $15.00. Download on Nutaku for $15.00. For PC Windows. Full Japanese voice acting. Uncensored genitals.
After countless days of coming home to an empty house, you learn that someone new has arrived! Ayumi Aozora is going to be your new maid! Treat her well and she'll be your reliable companion for years to come!
STORY
Your name is Eiji, and you live a boring, depressing incel life: No friends, no girlfriend, you come home to an empty house every single soul-crushing day. You eat, you shit, you masturbate before bed, wishing you would die.
One day, you find Ayumi Aozora in your home! You met her once before when you saved her while she was lost and cold. To pay back that kindness, she is devoting her life to you! You are the master, and she is your faithful maid!
Over the course of the game, you develop your relationship with Ayumi Aozora. Although the game has many choices, they have little impact. Even when you're rude to her, your character takes it back and says he was joking. This was lame, it made it feel like my choices don't matter.
Ayumi is super trusting and a total virgin. You deflower her on the very first day of the game. All of the following days focus on trying new sex acts like titfucks and doggystyle. Eventually you'll have all the sex scenes and realize the game is on an infinite loop.
The most dramatic event in the game is when she disappears for a day. But she comes back the very next day and things go back to normal. The story is very predictable, and it's only worth playing if you want cute loving moments.
GAMEPLAY
Busty Maid Creampie Heaven is a visual novel with numerous features standard to the genre. Click the screen to advance the story. Use your mouse scroll to view the backlog. Press CTRL to skip dialogue. Click the auto-button for hands-off play.
This game is coded in the same engine Ume Soft uses for all their other titles. Players can expect slow transition times as well as the beloved quick-save feature.
The game offers a variety of choices that don't affect the story. Choices let you skip over content, or go in-depth on certain topics. For example, you can ask Ayumi questions and get to know her before jumping in bed with her.
Players can rename the maid after deflowering her for the very first time. Beyond that, the game lacks any sort of customization. The girl will always wear a maid outfit and say the same dialogue. Every playthrough is the same. Talk to her and then have sex. This repeats until you feel done with the bitch.
GRAPHICS
The art is classic Japanese anime style. Ayumi is the only drawn character in the entire game.
The design of Ayumi is pretty basic. She has red hair, a wide face, and a simple maid outfit. Her big blue eyes make her look so innocent and huggable, while her thigh high leggins make her so fuckable! Her tits are enormous and her hips are wide. Too bad no scenes feature her plump ass! The artworks are well drawn with Ayumi having a variety of facial expressions for every situation ranging from embarrassment to happiness.
The entire game takes place in your apartment, and you never get to take Ayumi out on dates. This is disappointing, and makes for repetitive background images.
The game is over a decade old, so I don't blame it for being visually predictable. Cut-in images and perspective changes were not common at the time. But by today's standards, this game is very bare-bones, and something you'd expect from an indie developer.
VOICE ACTING AND SOUND EFFECTS (SFX)
Busty Maid Creampie Heaven features full voice acting for Ayumi.
The voice acting is superb. The realistic delivery and wide range of emotions are fantastic. This girl has a serious tone when she's bluffing, a whiny tone when she's crying. Her delivery alone makes it easy to identify what's going on. The voice acting carries this game, making the romance even more delightful. Still, there are some nuances lost in translation.
In one scene, Ayumi says she does not want to marry you, and only wants to be your maid. I couldn't tell if she's dead serious or simply guarding her true feelings.
Sound effects are restricted to sex scenes and common to this developer. From insertion to ejaculation, the sound effects are very "2009". I enjoyed them for the novelty, but if you've played other games by Ume Soft, you've heard them all before.
MUSIC
There are only three music tracks throughout the game. The first is guitar and flute with some piano for a light and relaxed theme. The second is a digitally synthesized background track I could imagine playing in a shopping mall. The third track uses a metal triangle and harp for a soft and loving track that plays during all sex scenes in the game.
There are 3 songs in a game with 16 unique scenes. It goes without saying that the tracks can get repetitive over time. Thankfully, the voice acting distracts you from the music, so you rarely ever notice. If not for the superb voice acting, the audio would be crap.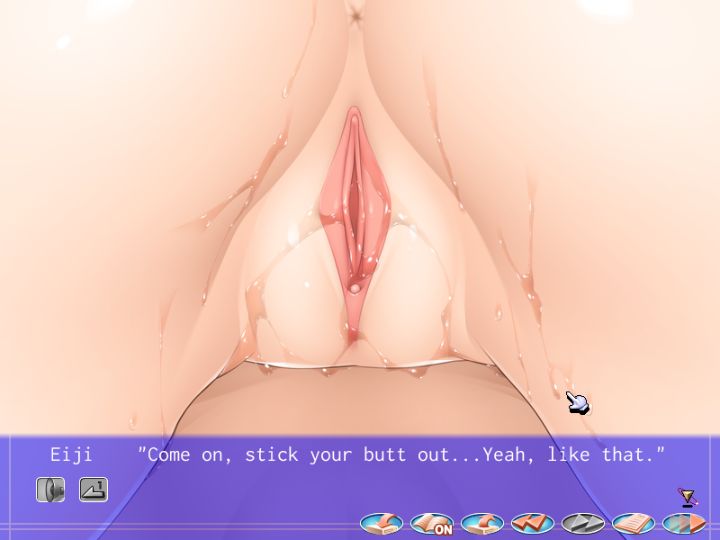 HENTAI
There are 16 hentai scenes with about 10 unique CG images.
The game feature titfucking, cowgirl, doggystyle, thigh sex, and so much more! After you deflower this girl, you can fuck her any way you want! As your loyal maid, she is obliged to accept your cock and open her legs for regular creampies!
There's rarely a lot of foreplay and setup, making for limited dialogue. You hear such classic lines as "your cock is so great", and "I'm cumming inside of you". Ayumi is a submissive girl who wants to be dominated. The downside is that adult gaming has come a long way since 2009. Random hookups are a thing of the past. Gamers nowadays except tons of build-up before the dirty deed is finally done. This game is hot, but only if you're okay with random sex at random times.
CONCLUDING WORDS
Busty Maid Creampie Heaven is a fun little hentai experience for fappers who enjoy submissive, caring women. The lack of gameplay and story make it very average as a game, but it's still enjoyable. The voice acting is absolutely fantastic and the girl is fucking cute! If you like this developer, also check out our review of Detective Masochist.
Download Busty Maid Creampie Heaven. Download on Nutaku for $15.00.
Graphics

Gameplay

Story

Music

SFX

Hentai