Virgin Harem Hentai Game Review: Village of Adventurers 2
Hentai Reviews

>

Reviews

>

Virgin Harem Hentai Game Review: Village of Adventurers 2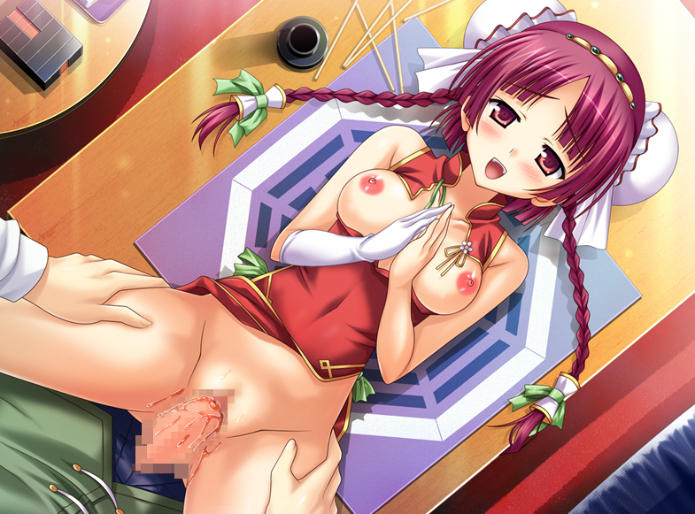 Written by Rastafoo69, edited by Otaku Apologist
Village of Adventurers 2, a harem hentai game developed by Tamamo Studio. Released August 10, 2013. Download on DLSite for $18.00. For Windows PC. Full Japanese voice acting. Censored genitals. Available in English, Chinese, and Japanese.
You have been blessed with magic sperm! Use it to unlock new magic spells and strengthen your village! With enough influence, girls from all over the world will come to find you! Did I say find? I meant, they're coming to fuck you!
The Japanese name for this game is Boukensha no Machi o Tsukurou. Although it was originally on Steam as "Village of Adventurers", it is no longer available for purchase. It was taken down after players ordered refunds due to the poor translation and poor performance. Our review covers the issues as well.
STORY
Although this game is titled "Village of Adventurers 2", it can be played as a stand-alone experience independent of the original. If not for the dungeon diving gameplay, it would be considered a kinetic novel without choices.
This game is poorly written. You start out with a lore dump to set up the main conflict of the story. A riot killed your parents three months ago. The riot also killed the king and queen. Princess Claris is heir to the throne, but the position is remaining vacant until public anger cools off. In other words, the throne remains empty until you marry Claris and ascend to royalty.
The problem is, we never actually witness any public unrest. And there are many waifus besides Claris that the player might prefer instead. I cut it some slack since the early 2010s were an experimental time for adult gaming. Still, there are other games released that year with significantly more cohesive plots.
This game is not purely a visual novel, an RPG, or a city builder. This is because there are no choices, combat is mostly automated, and the management side is just building houses without any real thought required.
In other words, the developer gives flimsy reasons for you to explore this cave, then that cave. And to have sex with this girl, then that one. It almost feels like a modern day Patreon product, where every individual part of the game is added in episodically and independently of the others, never formulating a cohesive experience.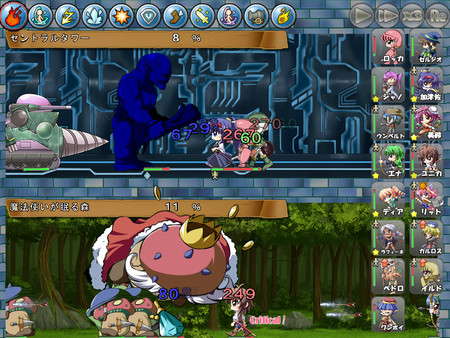 Even in 2013, the "magic sperm" genre was already done to death by other titles like Beat Blades Haruka. It's a plot contrivance done so many times, we may as well have a section on the site devoted to magic sperm games.
You gain magic power from sex. While mages have to study and train, you're able to get this power easily. Clairvoyance and ranged magic are your primary abilities, and you use them to help the adventurers under your protection. Your dick also has a special emission that makes women lustful and horny. Even the most reserved woman will orgasm from sex with you.
One of the most memorable lines from the game is when you're told "Your sperm can also accelerate healing, reduce fatigue, and make girls beautiful". You're pressured to have sex with the girls in town, as this helps in growing your adventurer's village.
In spite of how predictable a lot of the game is, the writer did care to put in some small details. The great hero Sarah calls you "Kai-kun" because she does not look up to you. In contrast, Princess Claris respects you as head of the village and calls you "Kai-sama". It's the small details like these that show the developer did care, he just didn't have a compelling story to tell.
An unforgivable sin is the inconsistency with character names between versions. Because it's a machine translation with no editing, even the names get fucked up! Your childhood friend Yunika Kiki becomes "Eureka". The virgin Chinese babe with hair buns named Mei Meirin becomes "Misuzu". Many of the characters have mistranslated names like these, which doesn't match the promotional material for the game at all.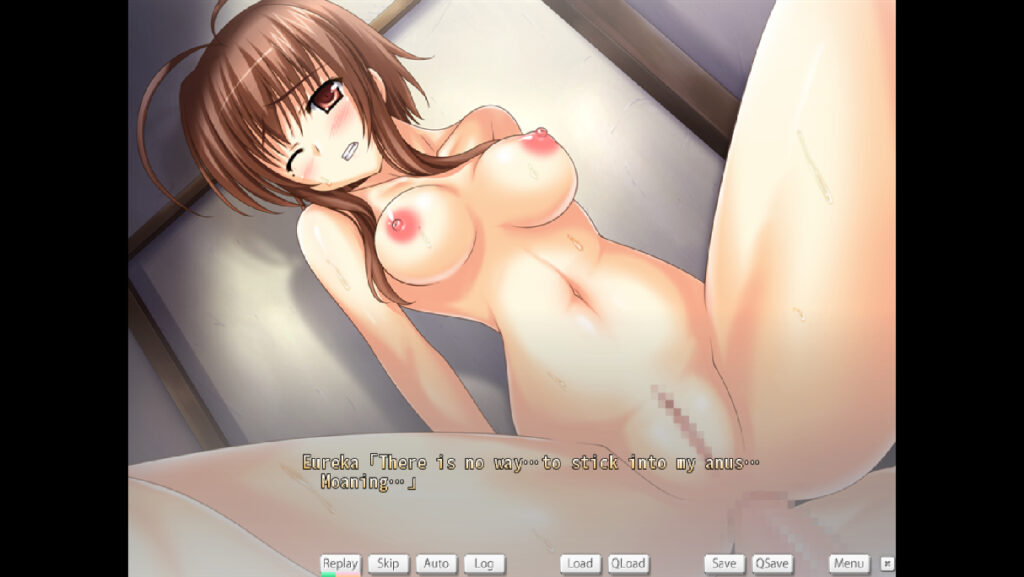 GAMEPLAY
Village of Adventurers was created from scratch by this developer. That means it lacks all the features and stability of popular engines like Ren'Py and RPG Maker. In fact, the entire game is operated by your mouse alone!
There are five difficulty modes, but this review is written for normal mode. Scroll to view the text log. An in-game manual is available for new players. Quicksave, quickload, auto-text, and text-skip are available during visual novel portions.
In the visual novel portions, simply click to advance dialogue. In the battle portions, the adventurers fight automatically and all you do is cast an occasional fireball or freeze spell to help them. In the city management portions, you spend the gold earned from adventuring on various materials to construct buildings.
Build farms to keep your population healthy and growing. Spend gold on wood or stone to create buildings like an archer tower or roads. Monsters appear around town, so be sure to cast spells or send your adventurers to kill them regularly. Although this sounds deep, it's actually pretty monotonous over time.
The game is not difficult, it's just a grind. Sending your adventurers out to auto-battle enemies to earn gold to spend on buildings is boring. The reason is, there's no end-goal in sight! You're just told to "grow the village", for no reason other than the game telling you to. I wish I had a reason to do all this, because as it stands, it's just a grind.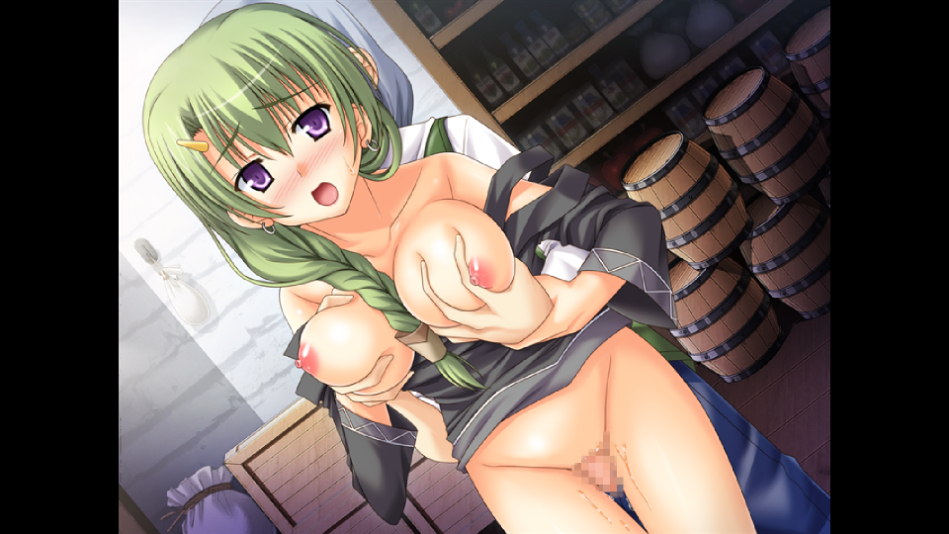 Your growth is heavily restricted by story progress. You don't get new spells until you unlock new girls. You can't build more houses until you clear more dungeons. This means every single playthrough will be exactly the same, because your actions are heavily restricted, limiting your creativity.
Acquiring and using new spells is boring. Like the blast spell, it's just the fireball spell with a larger radius and lower damage. And because the freeze spell is locked behind meeting and fucking Misuzu, you probably won't use it very much since you're already accustomed to other spells. I wish we just started with some base spells and leveled them up over time.
The game is filled with poor game design choices like that. How you have to construct a museum to get info on the monsters and weapons you've found so far? What's wrong with a simple monster encyclopedia in the pause menu? Why does the developer always choose the most obtuse way of doing things?!
The game is over 6 hours long, depending on how fast you read. Similarly, VNDB ratings of this game overwhelmingly give it a 6 out of 10. Although plenty of interesting ideas were seeded throughout, the developer failed to deliver on a clear and cohesive vision.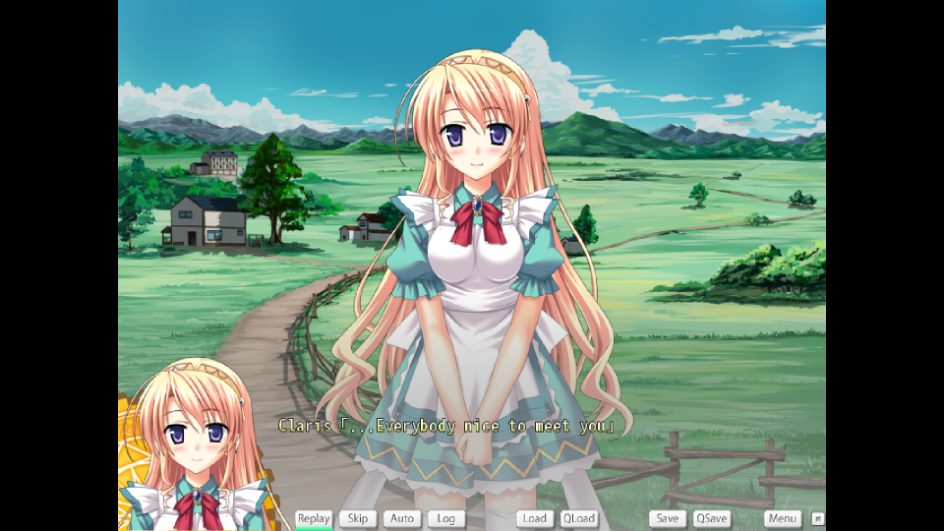 GRAPHICS
A big selling point emphasized in the trailers is the animated nature of the experience. However, these animations are usually limited to walking cycles and spell effects. During battle, your adventurers just run into enemies to beat them. When you fire a blast spell, you see a red graphic animation for a second or two.
While these animations are charming and even impressive, they cause the game to lag like crazy. One of the biggest reasons this has such negative Steam review scores is the fact that full-screen mode is broken, so you have to play in windowed mode. Even if you do, clicking outside the game window too many times will cause an immediate crash. Sometimes it's solid, but other times it crashes often.
The developer didn't implement fade-outs for sex scenes. Instead, the images change abruptly and very noticeably, which may ruin your immersion. Similarly, the sex scenes lag any common visual effects like a shaky screen or zoom-ins that other games have made the standard. Even though this is from 2013, it feels older.
The gameplay itself is very visually appealing. Players can launch as many dungeon expeditions as they want, and scroll through a menu showing each individual party's actions. This allows you to manage a large group of adventurers in a meaningful way.
There are 24 CGs total. The scenes have a good variation between the POV perspective and a 3rd person view. While most scenes are well drawn, there are some exceptions. Whether it's a blue tint to symbolize moonlight or excessive sweat to signify rapid movement, there are multiple images in this game that simply aren't appealing to look at. Excessive sweat marks on characters is especially bad.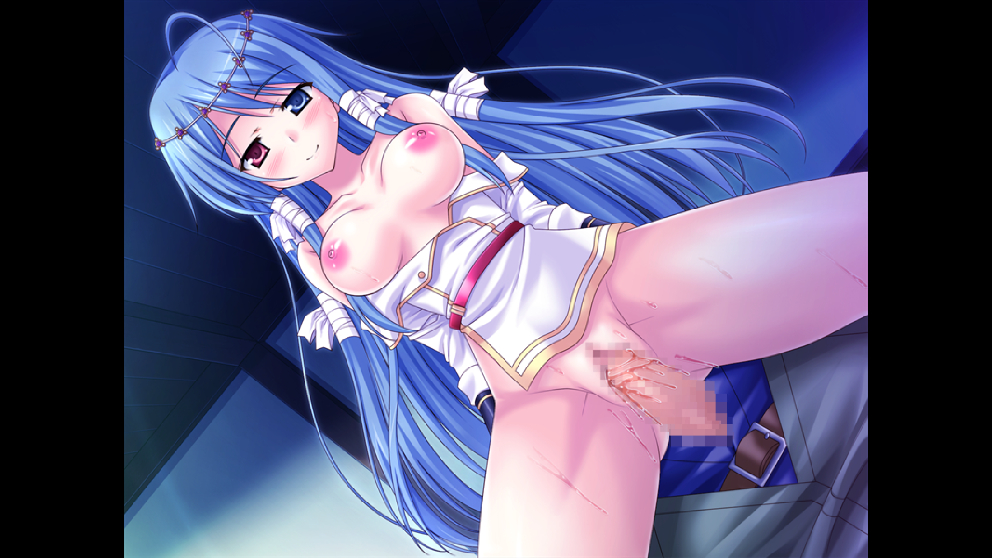 VOICE ACTING AND SOUND EFFECTS (SFX)
Village of Adventurers features full voice acting for all female characters. Each girl has a unique niche and voice to match. Your childhood friend sounding like a casual tomboy. Or Misuzu, the young virgin, with a high-pitched squeal. Or my favorite, Ina the lusty milf with a sultry voice.
If we were judging by voice alone, this game rocks! But there are some miscellaneous concerns. You cannot access the menu or edit the audio levels in the recollection room, so sometimes the music is louder than the voice acting. Another concern is how subtitles often don't match the voiced lines. The text says "moaning moaning" even when the girl is full on talking, so it's unclear what's being said. The last quirk is the occasional English words thrown in, which are pronounced so strangely, it's almost hard to recognize them as English. Like when Eureka says "th-hank-yoo Kai". Some find it cute, but others might find it unrealistic. My biggest complaint is that there are long pauses between each sentence of dialogue, making conversations feel unnatural.
The sound effects are standard for the genre and very fitting. A vibrating "boom" sound for a blast, a magical chime for ice, and so on. Sound effects are limited or nonexistent during sex scenes to keep the focus on the voice acting. Altogether, I prefer this emphasis on the voice acting, because it keeps the experience focused on characters rather than action.
MUSIC
Most of the soundtrack is digitally synthesized music with a fast-paced drumbeat behind it. Some variations include particular tracks with an emphasis on piccolo woodwinds. Although the music is unique, it's not very memorable. Even during sex scenes, a simple piano track will play, but it sounds like every other soft piano track played during sex scenes in other games. In other words, the developer played it too safe.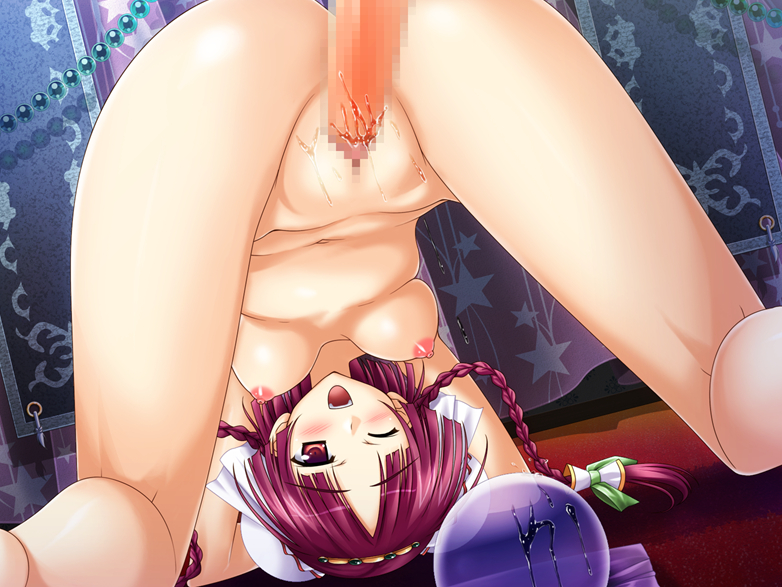 HENTAI
There are 24 CGs for the 29 scenes spread throughout the game.
The developer totally felt like he was pandering to certain fetishes. Like when Eureka literally says "But you are my childhood friend! It's only natural I'm hesitant." and then later on says "This is my first time, be merciful". I don't know if it's the translation or the writing, but the simple fact is, nobody talks this way! Rather than getting me in the mood, it feels like the developer created lines that he thinks you want to hear.
There are 10 female adventurers throughout. Naturally you'll have a shot at fucking every one of them, but most only have 2 scenes or so. I didn't like how a missionary sex scene was immediately followed up by deep anal. The girl was a virgin two seconds ago, and now she's straight into hardcore stuff! This is the common issue of harem titles, the progression is nonexistent!
Sometimes the writing feels a bit strange. Like when you fuck the married MILF Ina. Technically, you cucked her husband, but it's never really emphasized. She looks so young, it's hard to imagine she's even married at all. The developer should have either made her a simple MILF, or further emphasized the cheating aspect of the relationship. Because as it stands, she's in this weird middle-zone where her plotline needed more development.
CONCLUDING WORDS
Village of Adventurers 2 is an ambitious porn game from a decade ago that was taken off of the Steam Webstore. The translation is spotty and the gameplay is a hodgepodge of random features, but the voice acting and waifus are hot enough that I didn't regret my time playing. I can tentatively recommend this, if you can accept some quirks in the experience.
Download Village of Adventurers 2. If you liked the idea of this, but want an animated porn gaming experience, I recommend my review of Noelle Will Give Her All.
Graphics

Gameplay

Story

Music

SFX

Hentai