Written by Jin0uga. edited by Otaku Apologist
Wild Romance: Mofu Mofu, developed by Norn/Miel, published by Cherry Kiss Games. Download on Nutaku for $15.00. Genitals censored with mosaics. This visual novel revolves around you, your four childhood friends, and is every serial masturbator's wet dream. Four gorgeous chicks fight for your eternal love (read: vaginal creampies) in this supernatural slice of life digital story.
Leave your panties at your feet, because this game is guaranteed to help relax your body.
STORY
You are Kazuma. A regular, dreamless college kid who returns to his hometown in the countryside. You spend the first few minutes basking in the familiar atmosphere of your old home. But the contemplative silence is soon broken by girly squeals and face-to-chest hugging. Your four childhood friends are ecstatic to have you back.
The girls have matured since you last saw them. You are no longer an innocent, naive boy, and the sight of their voluptuous figures sends shivers down your spine. The feeling is mutual, as they eye you with equal amounts of lustful longing.
After catching up, the five of you decide to play hide and seek near the temple. You get the role of the seeker, like when you were younger. Things start out light-hearted, but as you scour the area for plump butts and even plumper breasts, finding several badly hidden girls in the process, shenanigans ensues.
As you help one girl get down from a tree, you lose your footing. Instead of getting a nice shiner, or a mild concussion, you find yourself suspended in mid air by magic. In trying to save you, the girls reveal their true slutty nature. As you're trying to wrap your head around their newly formed animal traits, the voice of God echoes throughout the area. For revealing themselves to you, God wants to punish them.
You heroically white-knight the pussies. God is not impressed, the girls plead desperately for a chance. He saddles you with the job of helping various Youkai in the town, and leaves. Totally turned on by your heroic sacrifice, the girls throw themselves at you even more. No longer afraid to hide their true selves, the girls whisk you away on an adventure of sexual exploration.
The plot, while unashamedly full of hentai, is boring. Despite supernatural elements, like Youkai and gods and elemental magic, the pace is slow. The problem is that there's often four girls on screen simultaneously, bantering. There's a fair amount of back and forth, like a girl might be flirting with Kazuma, quickly cock-blocked by another girl. Rinse and repeat. The pace suffers from the writer's need to show hot girls argue over who gets to ride the cock.
Another thing that drags the story, is the lack of immediacy. The plot plays out like a slice of life anime – despite God threatening to turn Kazuma into a toad. There's no deadline, no threat of time running out.
The lengthy dialogue drags the plot, but it's also entertaining. The girls have their own quirks. Their interactions with Kazuma are often hilarious. They usually throw pointed remarks about how much he's grown, and lewd innuendos. When the girls are bantering with each other, they poke fun at their respective animal traits, like how the youngest girl with dog ears constantly wags her tail when she's happy.
CHARACTERS
Kazuma is the male main character. He's a plain guy, with no redeeming qualities outside of being nice. He's a blank slate character, and the girls go nuts over him. Not much is revealed about Kazuma outside of the initial introduction.
Sumire is your typical big-breasted, sisterly type. She is a fox youkai and the most mature one in the group. Characterized by her gentle demeanor and huge tits. She is constantly flirting with the main character. Despite her overwhelming craving for dick, she acts as a surrogate older sister to the rest of the girls.
Tsubaki is a cat youkai and a tsundere ( character type known for passive aggressive displays of affection). Like all tsunderes, she's in love with the main character. Despite her knee-jerk reaction of constant name calling and insults, Tsubaki is quite lovable. Her lust for Kazuma is rivaled by her determination to get things she wants.
Nazuna is a tanuki youkai. She is constantly slacking off. A surprising aspect about her is her intelligence. She's a brilliant inventor. For example, she makes a love potion for the sole purpose of getting Kazuma to fuck her silly.
The final girl is the youngest of the four. Aoi is a dog youkai, a bundle of joy and innocence. She's full of energy, constantly seeking Kazuma's affection. She loves acting a sexual pet. Her keen sense of smell can distinguish changes in weather, and her adorable personality keeps arguments from escalating too far.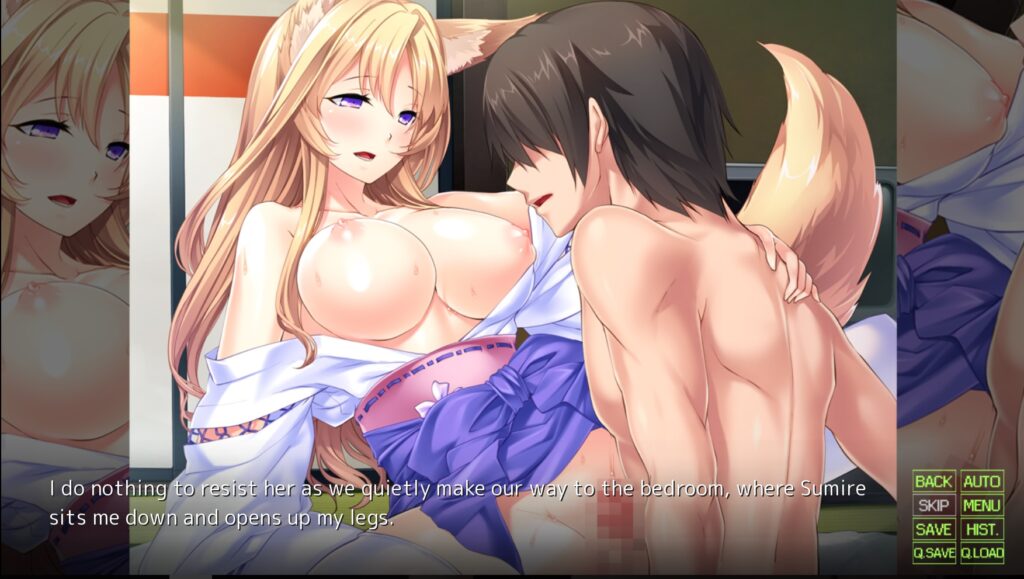 GRAPHICS
Wild Romance: Mofu Mofu edition has an anime art-style, that still manages to look unique compared to similar visual novels. Character sprites, backgrounds, and CGs look crisp. Transitioning from one image to another is practically unnoticeable.
Sprites are gorgeous, great to look at. The visual novel doesn't fall into the trappings of anime style. Each girl is unique without obnoxious differences. A fair bit of their personality is conveyed through their varied outfits. How Nazuna wears her shrine maiden outfit, is one example. While the other girls look perfectly proper, her outfit is loose, and constantly slides down to bare her shoulder. Another example, is Aoi with her day-to-day outfit.  The cropped top she wears with her orange jacket, has a drawing of a bone and a collar on it. It's fitting if you consider her youkai traits, which gives her fluffy dog ears and a tail. These small details make the girls feel genuine.
CGs look ridiculously good. Most sex scenes feature the girls with their youkai traits, like animal ears and tails. Even when the girls are naked, writhing under Kazuma's touch, their animal features never feel out of place. Each girl has a banging body, matched with pert breasts, and delicious thighs.
Kazuma's body is often off-screen, but parts of him can be seen in the CGs. The muscled curve of his back, and thickness of his arms, are a good contrast to the girls' slender, petite forms. The colour palette is vibrant, like the mellow purple of Tsubaki's hair, or the creamy beige of bare skin. I'm unsure if backgrounds are done by the same artist, but it feels like a remarkable amount of effort is put into balancing the visuals.
SOUND EFFECTS AND VOICE ACTING (SFX)
Kazuma's dialogue is not voiced, but everyone else's is. Each girl has a distinct way of speaking, and the voice actors capture the quirks of their speech near perfectly. Nazuna for example, finishes each sentence with the word 'yo' or 'na'. Thankfully, her voice actress makes it sound natural. I found it endearing once I got used to it.
Sound effects are varied. You hear an effect whenever something notable occurs. For example, there's a small 'whoosh' when the girls gain their Youkai traits. Sex scenes have the usual wet slapping sounds of dick being driven into a soppy vagina. It can sound overly harsh at first, like the girls were being fisted. There's also sound effects for Kazuma cumming into a girl's mouth. The voice actresses add dirty lip-smacking sounds while their characters are sucking him off.
MUSIC
The opening song that plays on the title screen sets the tone immediately. The song has a mixture of horn instruments, bongos, and some ridiculous joke effect I can't describe. It matches the humorous tone of the visual novel. The same song plays in other scenes as well, and it's one of the few I liked.
The rest of the tracks are forgettable. I expected songs to match the scenes they are played in, but it's never the case. For example, when Kazuma gets a blowjob from Tsubaki and Aoi, the song that plays sounds like repetitive elevator music. It loops over, and over. It's easily drowned out by the stellar voice acting, but it sucks that the track failed to set the mood.
A big problem is how electronic the tracks can sound. Seeing as the story includes mythical, Japanese creatures like Youkai, I expected songs to be orchestral, or utilize real instruments, like flutes. Instead, most tracks resemble chiptunes. This can ruin the mysterious, supernatural vibe these scenes try to aim for. When Kazuma goes into the forest for an exorcism, for example, the song that plays is almost fully synthesized.
GAMEPLAY
Wild Romance: Mofu Mofu edition is a kinetic novel. You click the textbox to 'turn' the page. You can also press the spacebar, or enter-key. There are no choices that would lead you to branching paths. The interface is easy to navigate. You can save your progress into several save slots.
HENTAI
Wild Romance has a healthy number of sex scenes to enjoy. Unlike other visual novels I've reviewed, these sex scenes contain a lot of dialogue. The girls are constantly talking, teasing, flirting, even when their pussies are stretched by a fat cock. The descriptions of the action are rather basic, and don't conjure vivid imagery. The writer mostly states the obvious, like what's already shown on screen. It can get stale, but thankfully, the voice acting and sound-effects keep things sexy.
While there are many hentai scenes, they don't explore any kinks or fetishes. The sex is mostly vanilla, with a heavy dose of outdoor sex. The characters fuck each other anywhere, in a river stream, in an empty hole, a rock in the wilderness, etc. Blowjobs and tit jobs are plenty. However, thanks to the copious amounts of dialogue, you get sex scenes that are really long. If you prefer to savour your hentai, you won't be disappointed.
CONCLUDING WORDS
Wild Romance: Mofu Mofu edition is worth checking out. The genitals are censored, sure, but when have pixels made western hentai-lovers lose their erections? If you have fifteen bucks to spare, you're in for lengthy hentai scenes, gorgeous art, and delicious voice acting. For juicy masturbation sessions. Download Wild Romance Mofu Mofu Edition>