Written by Rastafoo69, edited by Otaku Apologist
Summer Color, a hentai game developed by Shinachiku-Castella. Released June 6, 2020. Download on DLSite for $18.00. For PC Windows. No voice acting. Censored genitals. Free demo available.
Ryouka Enomoto is your busty childhood friend who lives in the countryside. This summer will be your last chance to see her and confess your feelings. You have one month, or she'll be taken by another guy.
This game has multiple names. Kagura Games is localizing it as "Scars of Summer". The DLSite English page calls it "Summer Shattering". And the direct translation of the Japanese title is "Summer Color". Each version is identical.
Also visit our comic site for free original hentai comics!
STORY
Your name is Keita, and you're spending the next month living with your childhood friend. If you can make it through 30 days without any guy fucking her, you will confess your love to her and live happily ever after.
This game has six routes and eight possible endings. There are six men who can steal her. The game has multiple endings. To unlock the true ending, you must gather all four memory spots and keep Ryouka a virgin until the end.
The quality of the routes varies dramatically. The bullied wimp named Masaru has a very predictable story about learning to stand up for himself for which he gets a pity fuck from Ryouka. In contrast, the manly delinquent named Yasui engages in blackmail and manipulation to get his way, whoring out Ryouka to her classmates. Simply put, some routes are better than others.
The pure love route has no sex scenes or unique dialogue. You need to keep Ryouka in your party at all times and avoid talking to perverted men. This is probably the worst route because nothing interesting ever happens at all.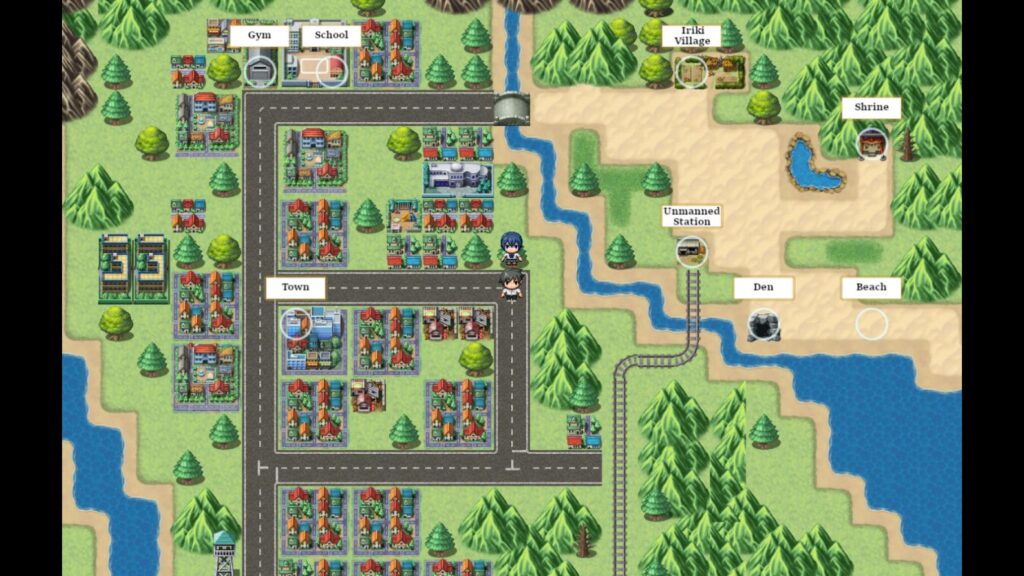 GAMEPLAY
Summer Color was made with RPG Maker MV. Press ALT to skip dialogue. Press Q to use your phone. Press W to use your notebook. Press A to teleport home. Press T to fast forward time. There are two basic game cycles.
Firstly, do something that makes Ryouka cross paths with a person. Then, leave her alone and she'll spend her free time with that person. You can find her location on the map, to stalk her. Over time, she'll eventually have sex with that person, with no player input required.
Secondly, you raise your stats. Whether it's watching movies or collecting butterflies, increasing your point values is crucial to the true ending of the game. On the map there will be dungeons. Spend points to go deeper inside and unlock memories. Once you unlock all four memories, the true ending is available. This is assuming you've kept Ryouka a virgin.
Purchasing items and talking NPCs can unlock sex scenes where you peep on Ryouka's sister being a slut. There's a specialized menu outside the house to manually pick your route, because otherwise it'll be the first guy you speak to. And of course, players can check their social media for glimpses of Ryouka with another man.
Overall the system is bare bones. The only way the developer could fill those 30 days with content was by making every action pass the time. Entering buildings, walking past butterflies, every menial thing you do makes the time pass.
GRAPHICS
The art is Japanese anime style with the classic twist from this developer. The men are hairy, the women have enormous breasts. Whether it's pussy juice or neck kisses, the artwork emphasizes the slimy and gross nature of other men fucking your pure waifu. Naturally, the focus on aesthetic means body types are not consistent. Sometimes Ryouka has tiny arms and a super thin face, other times her arms are muscular and her face different.
Minor animations are featured during segments with activities like tongue kissing, but overall the game relies on still images.
The character sprites in this game are stock assets for RPG Maker MV with no personality whatsoever. This was tolerable in previous titles with smaller worlds, but the in-game world for Summer Colors is huge! You can go to town, school, the beach, the caves, the city, and more. With an enormous world like that, I was expecting some unique sprites to shake things up a bit.
There are 72 scenes in total, but most of them reuse artworks from previous scenes. In reality, there are about 30 unique images. The large volume of repeated images is bad enough, but it's made worse by some scenes having lazy artwork. For example, a scene with Ryouka's sister takes place entirely under a blanket. You can't see the action, all you can see is a blanket CG for ten minutes straight. This was horrible. Erotic writing is nice, but the game clearly needed more visuals.
VOICE ACTING AND SOUND EFFECTS (SFX)
While the game includes no original voice acting, there are some stock tracks which convey something similar. Kissing and slurping and moaning tracks are played during make out scenes. Although none of these tracks are original, they enhance the experience.
All of the sound effects for this game come from the RPG Maker stock library, including the generic punch sound available in every other game. Thankfully, some of these tracks mixed things up. There's a realistic sound effect for cutting vegetables, for example. It was still an odd presentation. Some sounds are digital chimes and beeps, while others were recorded by real people and sound totally realistic.
However, the sound effects during sex are pretty terrible. Vaginal sex sounds like an onahole being rubbed with lotion. Like, vaguely plastic and inhuman. It doesn't kill the scenes, but you will want to close your ears.
MUSIC
There are nearly 100 audio files for background music, but maybe ten of them are actually used. The main menu music is almost identical to every other game by this developer. Slow piano keys convey a mysterious tone. No musical talent was required to make such a barren track, and it's a terrible way to start out the experience.
Atmospheric tracks are frequently used during afternoon and night-time scenes. This keeps the focus on the moaning sound effects placed into the sex scenes. Crickets and birds are nice, but over time it does get repetitive.
HENTAI
The game has 72 sex scenes in total, the majority of which reuse artworks repeatedly.
While other games focus on quick and dirty sex, this game has a male protagonist who spends most of his time unaware of things. For example, you can call Ryouka or check social media for hints about who she's with and what she's doing. You never get to see her face though, because that would ruin the ending where Ryouka outright tells you she's in love with another man.
Some of the routes end in pregnancy, which is super hot. The escalation is also very well done, with one scene featuring sex in a bathroom stall! The sports superstar Ryouka is now a slut who takes cock in the boys' toilet! I would have loved a reputation system to really drive this point home.
The way that Ryouka is drawn varies dramatically from scene to scene. This is not necessarily a bad thing, but sometimes she feels like a completely different person. Whether it's her facial structure or awkward posing, some of these scenes felt absurd and not very believable. After only a few meetings with this guy she's completely nude with him, fucking in a public place!
CONCLUDING WORDS
Summer Color is a pretty average netorare hentai game. The developer has translated his previous titles into multiple languages (including Spanish), which has led to widespread support for this particular game. However, there are numerous flaws that hold the title back from being a masterpiece of its genre. Great experience overall, but rough around the edges.
I recommend this game to fans of netorare and busty bitches. Download Summer Colors. If you hate cuckolds but love the art style, check out our review of Kotoko is a Little Different.
Graphics

Gameplay

Story

Music

SFX

Hentai