Written by Jin0uga, edited by Otaku Apologist
Final Battle, developed and published by Cherry Bloom. An RPG maker title available on Steam for €5.69.
No matter how much I like beating my meat, sometimes you want to take a break, or risk popping a vein. For my short downtime between playing hentai visual novels, I decided to play Final Battle.
This game caught my eye for various reasons: the premise was interesting, it costs less than a cup of hipster coffee, it's an RPG, and most importantly, it had the warning tags for having Nudity and Sexual Content. Hentai fans with a taste for turn-based combat might want to check out Final Battle. It doesn't have ball busting art, or sex, but a decent story.
STORY
Blade is a worthless bum, living a carefree life in his village. He's an adult, but instead of helping out with the house finances or chores, he wastes his life slacking in the nearby forest. Most of the villagers tell him the same thing – to get off his lazy ass and make something of himself. Blade however, could not give fewer fucks about what they think.
The game begins with Blade waking up from a horrible dream. He's been having these dreams for a long time, but doesn't know what to make of them. He ignores his parents' nagging and leaves the house. While traversing through the forest, Blade is hit by a sudden bout of sleepiness. He drifts off, suddenly finding himself talking to a strange, scantily clad woman.
The woman knows who Blade is, despite them never having met. But before he can question her, a dark, ominous presence overwhelms them with a terrifying scream. Blade wakes up, he hurries back to the village. The village is in cinders. He stares in petrified horror as everyone is dead, familiar faces lying in pools of their own blood. A strange amazon warrior approaches him. She's been hired to protect him, but she was too late. Before Blade can make sense of anything, the enemy that destroyed the village appears before him.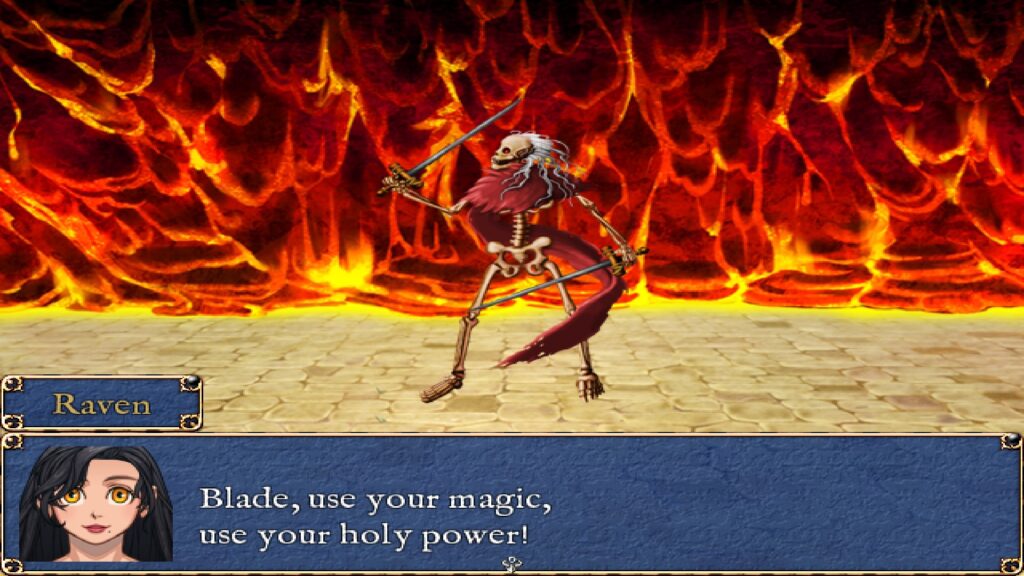 The nightmarish visage of a flaming skeleton attacks without hesitation. During the battle, like a man possessed, Blade banishes the undead skeleton with a holy spell. He's never cast a spell in his life, he is stunned by the turn of events. The amazon warrior, Raven, reveals that Blade is a special snowflake, born with an innate power. Wanting to know more, he follows Raven who brings him to her boss, setting off a chain of events that ensures Blade will never be lazy again.
The set-up of the story is executed decently, despite the clichéd premise. The first hour of the game didn't give me much to get invested, but things got better as the plot progressed. Final Battle doesn't aim to break the mold of RPGs, instead, it focuses on bringing its characters to life. Blade isn't your typical goody-two shoes protagonist. He's uncultured, constantly bantering with his party members, often commenting how hot they look.
There are some interesting plot twists, but most events are pretty obvious if you've played any kind of RPG in the last ten years. But the pacing is surprisingly good. Just as trawling through dungeons starts to get boring, the plot swoops back in to grab your attention. I came into this game expecting a half-assed story, only to have my expectations exceeded.
ART
The art is a passable. The sprites are RPG maker pixel art. They look plain and uninspired. Dungeons reuse the same tiles, and are not much to look at. However, the character and monster art are original, and they match well with the other assets. Blade isn't much of a looker, he's the regular run of the mill hero type, but the women who join his party are easy on the eyes.
The women in this game suffer from female armour syndrome. Their tits are always exposed. But because of video game logic, they are equally as protected as Blade, despite looking like part-time strippers.
Characters wear the same outfits throughout the game. Blade's armor is the most complex, followed by Raven's. While her armor isn't as detailed, there are several accessories that separate hers from Blade's. For example, she wears a set of edgy chains, which highlight her shapely thighs. I wished there were more variation in outfits.
I found the enemy designs in the game to be unique and refreshing. There is a good number of monster types, from typical ogres, to more exotic types, like the Cerberus in the above screenshot. The human enemies are also varied. I fought bishops and ninjas, for example. Unlike the character art, enemies are drawn with a different style. While Blade and his party resemble anime characters, monsters and hostile humans are drawn with a more realistic style.
The color palette has equal amounts of vibrant and dull colors. The RPG maker assets are gaudy. The reds, greys and blues are so bright and over emphasized, that they end up looking cartoonish. Character art has less bombastic colors. Like the subtle metallic sheen of armor, or the bronze coloring on a pair of fist cuffs. Enemy coloring is the most simplistic. Some monsters, like the blind ogre, is just a beige-looking potato.
GAMEPLAY
Blade's movement can be controlled using arrow keys. There is partial controller support, which works fine as well. You still have to rely on several keys even when using a controller, but I didn't find it a big deal. The rest of the keyboard controls are fairly standard. Press ENTER to confirm, ESC to cancel or bring up the menu. Press ALT + ENTER for fullscreen.
Final Battle features turn-based combat. At the beginning, battles are easy. As you progress, enemies get more challenging. The game doesn't give you much instructions, but you receive plenty of visual cues via the battle menu. Each character has special skills, and spells, and a regular attack.
Skills use TP, signified by the red bar. TP is built up by getting hit, or attacking an enemy. Spells use MP, signified by the blue bar. MP can only be refilled using items. More skills and spells are unlocked as characters level up.
Grinding can occasionally help if an enemy constantly fucks you over. I found the best way to fight was to make use of passive effects. Raven, for example, can poison enemies. This can be useful to end fights quickly. Battles are a simple affair once you find an enemy's weakness. Characters often have certain skills that are extremely effective against certain enemies.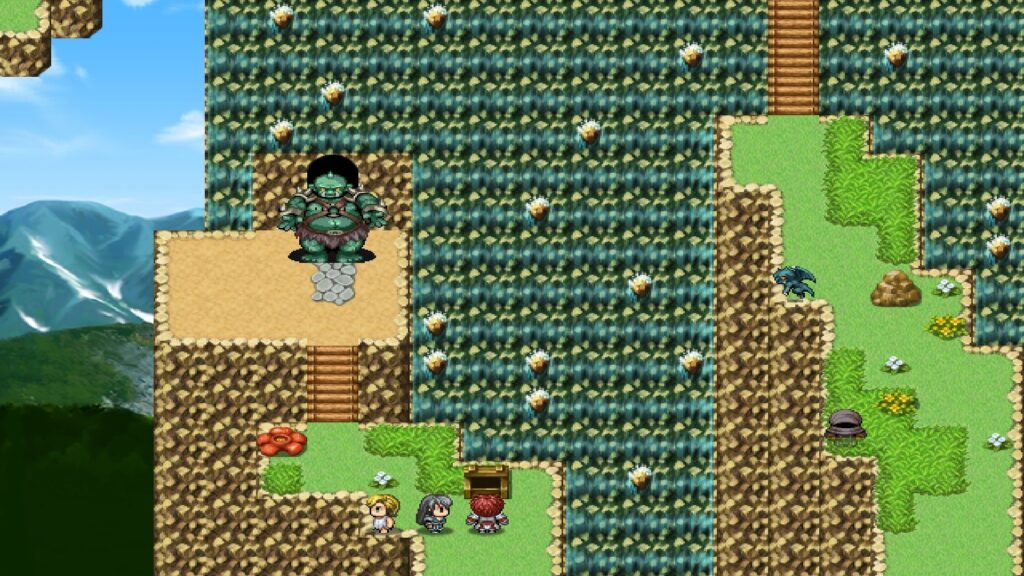 MUSIC AND SOUND EFFECTS (SFX)
The tracks lean towards the orchestral side. String instruments like violins and cellos are heavily utilized, as is the piano. This creates a more organic soundtrack. It sounds adventurous and fit the theme of heroes going on a journey. There is a decent variation of tracks for each dungeon and location, and the music gets more complex the deeper you get.
The musical tracks for the starting town and dungeon are relatively simple, they only use piano and violins. As the plot progresses and the main character visits other locations, the instruments used start to increase. When I arrived at the second dungeon, for example, I immediately noticed the new additions which created a change in tone. The new track had a drumbeat that gave it a dangerous edge. It made me feel like I'm entering a hostile area. The music during battles also changes depending on the enemy.
When Blade and his party face off against normal monster mobs, the battle song rocks violins, pianos and cymbals. But against a mini-boss, or multiple strong monsters, the music changes into one with ominous chanting and horn instruments, backed by an erratic drumbeat. For an RPG maker title, I expected a shitty mindless loop, but Final Battle surprised me with the variety and creativity of its songs.
On the other hand, sound effects are generic. I recognized most, if not all of them, from my time with other RPG maker titles. The sound effects do their job just fine, but don't expect anything special.
HENTAI
Unfortunately, the game does not have any sex. There's a ton of innuendos sown in the dialog by the main character, Blade, but things are mostly kept PG. The female characters are dressed skimpily, sometimes flashing a nipple or so, but outside of the location called the 'thermal baths', you won't see them naked. I personally never found the baths.
CONCLUDING WORDS
Final Battle fulfilled my craving for a short RPG. The story is clichéd, but the cast of characters make things fun with their lively dialogue. There is a small amount of strategy to the gameplay, but things are kept simple. Even hentai fappers unfamiliar with RPGs will be able to enjoy this title.
You can find Final Battle on Steam, available for €5.69