Written by Flamecaster, edited by Otaku Apologist
Evenicle, developed by Alice Soft, English localization published by MangaGamer in June 28th, 2018. A turn-based hentai RPG telling the story of a man's quest to marry his two stepsisters. Download at on MangaGamer for $44.95. For PC Windows operating systems. Full Japanese female voice acting. Uncensored genitals.
This is Evenicle, originally released in Japan in 2015. It's MangaGamer's third release from Alice Soft. If you missed it, we reviewed two classic games from Alice Soft, Rance 5D and Rance VI. Check out those stories when you got time.
STORY
Asterisk is a young virile man from Fresh Fish Island. He has one goal in mind: To marry his beautiful step sisters, Kyou and Kinou. They've taken care of Aster his entire life. But getting married is not so straightforward in the world of Mother Eve. Mother Eve is a powerful holy figure that crafted the rules governing the world. The land of Eve has blessings, favors, and curses granted by the power of Eve herself. In order to marry anyone, you must have sex with them. Sex creates a special personal bond between people signified by a magical golden ring. Normal people are only allowed to marry one person. Any infidelity that includes intercourse will cause a terrible curse to befall on the perpetrator. The curse is symbolized by a black ring. People wearing black rings are cursed to have their crops and farms wither.
While other more complex rules are also part of the cult of Mother Eve, the gist of Aster's adventure is that he needs a special boon in order to marry more than one person. The brave and horny Asterisk must become a Knight. This special title, granted by the world's kingdoms to great warriors is the only way Aster can marry both of his sisters.
Evenicle is a grand fantasy adventure with a unique premise. The game has great world-building and well-defined character arcs. The four girls involved with Aster, as well as a plethora of other major and minor characters, all feel like their separate entities that don't fall too hard into any pre-established personifications you might expect from a fantasy JRPG. Instead, they are significant mixes of tropes and traits that mesh together well for an emotional and involved journey. Ultimately, without giving too much away, "Evenicle" becomes a personal growth story for all the characters coming together on their trek towards understanding and solving each other's problems. The character arcs conclude in warm resolutions for even the most damaged characters.
Plenty of monsters, skills, magic and more are instantly recognizable for fans of Alice Soft games. This familiarity also extends to the game's tone. Evenicle sports a peculiar mix of incredibly goofy, pervy moments coupled with serious exposition about the world's history, politics, and geography. The tonal transitions between the scenes often happen without forewarning, and may shock some players.
The parts of the story that can wear your patience thin are handled with care. Don't expect to get lost in complex political intrigue or character drama. However, the plot of the story can get very predictable. The story also falls into patterns of recurring events. Exposition segments are followed by gameplay and world exploration, which briefly get interrupted by a sex scene that feels shoehorned. This pattern of exposition to gameplay to erotic content repeats until the finale. This leaves the player with very few twists and turns to look forward to.
GAMEPLAY
Evenicle is a turn-based RPG with visual novel segments, and world exploration. Aster and his four female life companions sport unique jobs with special abilities to handle any fight the game throws at you. There are plenty of towns to visit, equipment to buy, gold to farm, and experience points to grind. The game has a basic RPG stat system, slots for equippable items, and a freely customizable list of abilities.
The game doesn't set out to reinvent the conventions of the genre. Characters have a set number of skill points. You can level them up by experiencing love events for example. New skills gradually unlock as Aster fights monsters with his wives and fills up the Love Gauge. New skills are acquired from loot chests, leveling up, or simply fighting monsters. Mixing and matching appropriate skills for the more difficult encounters adds a layer of strategy to the combat.
There are plenty of optional activities to do in Evenicle, all documented into a handy compendium. The compendium lists 100 landscapes you can find in the world, that reward you with new lore and items. Finding these landscapes also triggers flirty encounters with Aster and his four female squeezes.
You also have a list of powerful Megamonsters to hunt down, and Gal Monsters you can capture that reward the player with brief erotic bondage scenes upon capture, but can also be equipped like items with different effects. The additional content is warmly welcomed as it's entirely possible to experience everything the game has to offer in a single playthrough. Evenicle is a linear experience, so after beating the game there's little left to explore.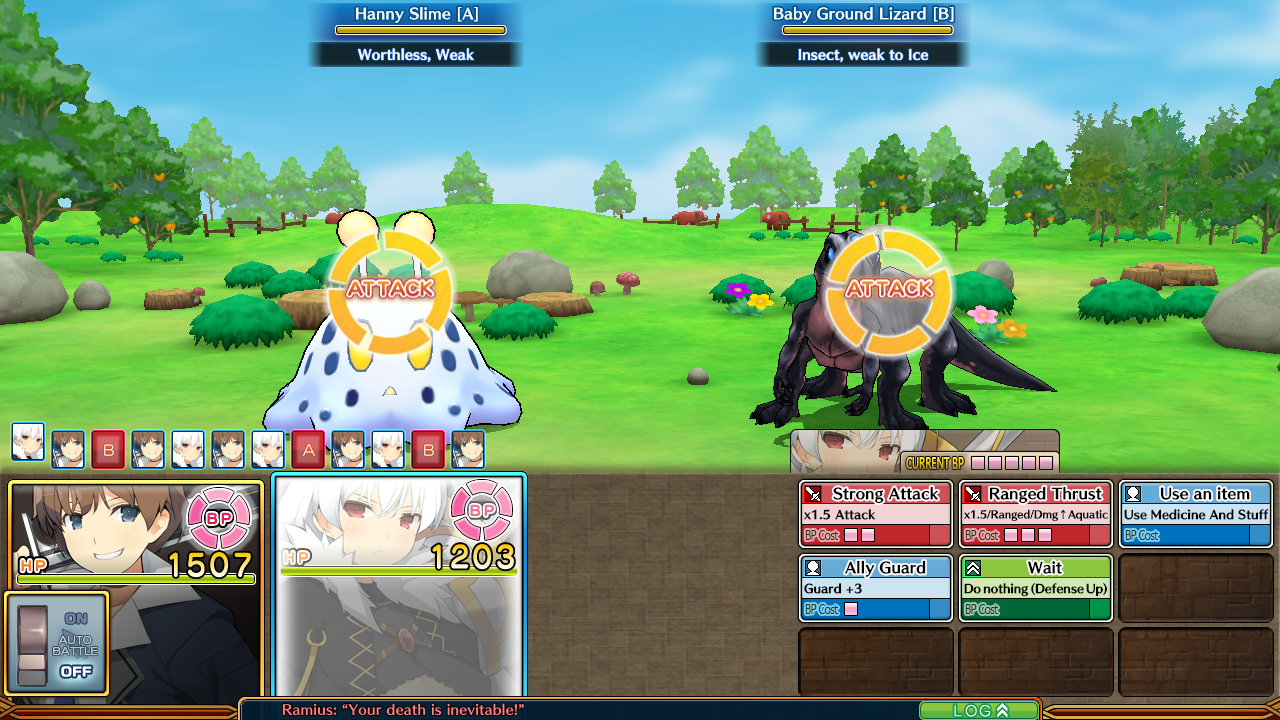 GRAPHICS
Evenicle's world is deceptively colorful. Yaegashi Nan's art style greatly contributes to an overall positive feeling, but the other two artists involved Hagiya Masakage and, Alice Soft's staple, MIN-NARAKEN also work their magic to present both the characters and the world as cutesy as possible.
All of the game's overworld, exploration, and combat sections are rendered in simple 3D greatly reminiscent of early PlayStation 2 JRPGs or early to mid-2000s free Korean MMORPGs. You may think that's quite lackluster for a game released in 2015, but Alice Soft makes it work. The rest of the world is presented in a stylistically consistent manner. This kind of presentation, even if it's a cost-cutting trick, gives the game a distinct personality that's in-line with previous Alice Soft titles. Everything is easy on the eyes.
MUSIC
Evenicle's soundtrack contains a whopping 47 tracks spanning several genres and styles. The songs befit the particular moments in the game they play in. Whether it's a goofy comedic scene, or a battle to the death, sex with your wife, or witnessing untold carnage, the music is always there to deliver the right mood. Regardless, calling it memorable would be a stretch. There are also plenty of chill tunes to relax to.
Much like other past and even more recent Alice Soft titles, the OSTs are usually larger than in the average eroge. Despite that, there is a prevalent problem. The overuse of a couple particular tracks creates the illusion that the game's collection of music is much smaller than it is. There are many high quality songs in this small package that deserved more screentime.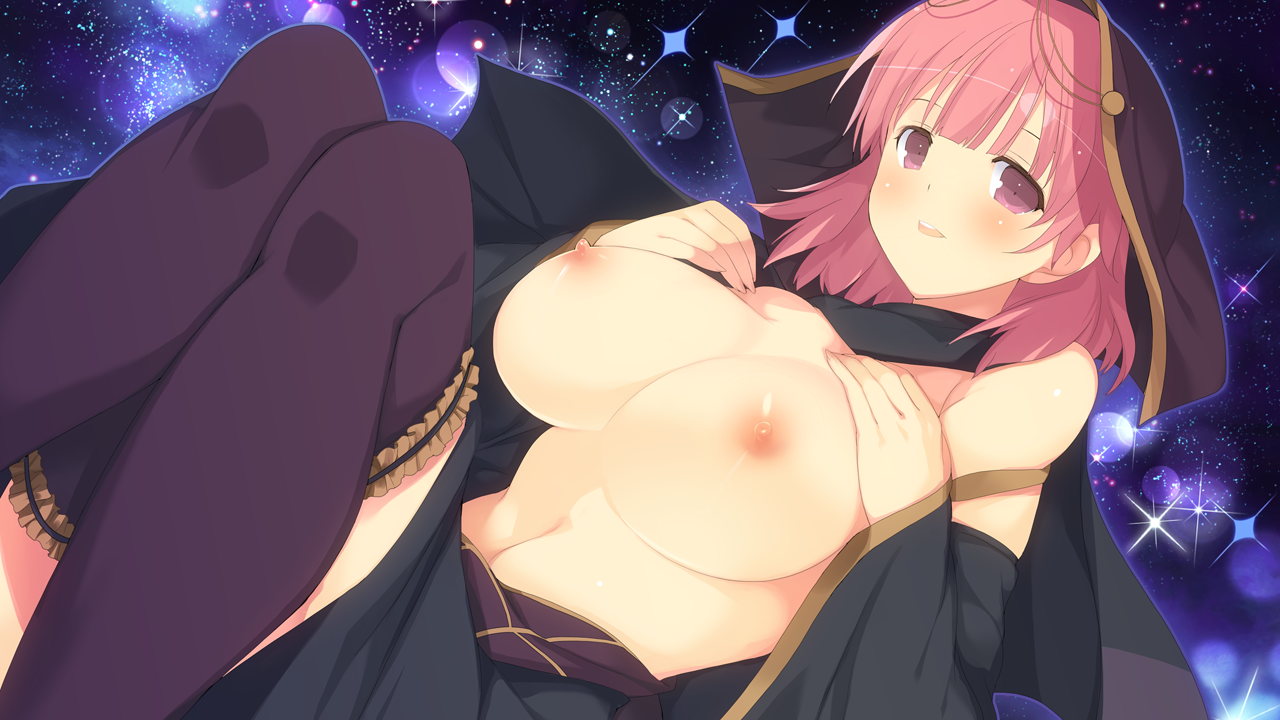 SOUND EFFECTS AND VOICE ACTING (SFX)

All the sex portrayed in "Evenicle", whether loving or gruesome, is complemented by excellent voice acting. The males and females, excluding Asterisk, are fully voiced. The performances are already praise-worthy during normal story segments, but sex is where they really bring out their A-game. Moans of pleasure, trembling voices close to orgasm, screams of pain and bliss, it's all there. I would not have nearly as much fun with the game without the great actors and actresses bringing forth their best efforts to give me eargasms on top of their regular solid performances.
HENTAI
As with every Alice Soft title I have played thus far, the erotic content is both the cherry on top, and the whole cake. Aster's adventures with his wives and the other maidens are jam-packed full of lustful sex. When I say "jam-packed" I mean that sex is squeezed into almost every venue of the game. Evenicle works on patterns that eventually circle back to doing the nasty. The plot always finds a way to introduce more sexy time with the ladies. The more you play, the quicker you'll be able to tell when an adult scene is coming. The game throws porn at the player at regular intervals.
The sexual content is premium quality, with a few hitches here and there. Expected of a story about marriage and love, even if with multiple girls, the sex scenes spread throughout "Evenicle" are on the vanilla side of things. Regardless, there's a healthy variety of fetishes included. Aster's bedroom affairs with his wives usually come down to exploring his feelings with them culminating in heartfelt intercourse. The scenes keep their focus and are virtually the same length. They're long enough to get the player in the mood, but not too long to make everything feel like padding.
Alice Soft wouldn't be Alice Soft if they didn't include their flagship coerced sex, abuse, and more hardcore elements into the mix. This is where those decades worth of experience developing hentai games come into play. The forceful abusive sex is written in an incredibly visceral direct way, you can almost feel the suffering coming out of the screen. There are very few writers out there with the gumption to portray events this horrible without damping down. Scenes of this nature were endlessly fascinating for me. I kept wondering to what point will they be escalated. Things went further than I expected to my satisfaction!
CONCLUDING WORDS
Evenicle delivered everything I expected from it. It also didn't deliver anything I didn't expect. The game lacked surprises, even though the experience was solid. The final product was executed with visible know-how and decades of experience backing it. Fans of hardcore RPGs may find themselves unimpressed with how safe and simple the combat aspects are. Others may end up shaking their heads at the predictable story. The overall experience is worth buckets of cum.
Evenicle sports 50 hours of jaw-dropping hentai gaming goodness. Download Evenicle today at MangaGamer.
Graphics

Gameplay

Story

Music

SFX

Hentai