Hentai Anime Review: Elf no Oshiego to Sensei
Hentai Reviews

>

Reviews

>

Hentai Anime Review: Elf no Oshiego to Sensei
Written by Mistress Valentine, edited by Otaku Apologist
Elf no Oshiego to Sensei, Episode 1, produced by studio Mary Jane. Released in August 3rd, 2018. Full Japanese voice acting. Censored genitals. English subtitles available.
This story takes place in an alternative reality where people and elves go to school together. Hiroki is a professor at a university where high elves study. His favourite student is an incredibly sexy blonde elf with huge tits called Lara. In this episode, Hiroki gets the chance to fuck her repeatedly.
Fetishes: Ahegao, blowjob, creampie, cunnilingus, elves, handjob, large breasts, masturbation, public sex
STORY
The story is an excuse for buckets of sex. Hiroko is showing Lara the dorm room at the Prestige Academy. Soon as she turns her back, Hiroko is possessed by the Spirit of The Patriarchy. He tackles the woman onto the bed, and perpetuates rape culture in her sloppy slutty vagina.  He kisses her passionately, and she begins to like it midway, so we can assume she'll not press charges despite Hiroko never filing the government paperwork for official consent. In a flashback, we learn that Lara and the other elves came from another dimension, but this bit of exposition is cut short. Lara admits to having a crush on Hiroko, and doesn't mind that he's raping her brains out. She even asks him destroy her pussy and cream her womb. With her consent, the rape is now legal.
The next day, Hiroki and Lara meet up in a classroom at school. Hiroki is feeling kinky at the sight of the elf's big anime titties. He spreads the reluctant elf bitch over the table and fucks her again like the slutty little bitch that she is. Chocking on cock, she gives token resistance to stoke his desire.
ANIMATION
The animation borders on average. Lara's character design is unique with an unusual hairstyle complimenting the elf motif. The crimson coloured school uniform she and the others wear is also very striking. Hiroki's character design has the same advantages and faults. His eyes, nose and mouth go missing in several sloppy wide shots, even when the character isn't far enough from the camera to justify obscured facial features.
Unfortunately the background art looks bland and stale.  The lack of vibrant colours is juxtaposed against beautifully animated bodily motions. Lara's entire body is given ample focus throughout the story. There's numerous shots of raised or spread open legs, plus breast fondling. The camera work is splendid during a scene where Hiroki doggystyles Lara untild umping his load in her Elven cunt.
VOICE ACTING & SOUND EFFECTS (SFX)
Hiroki and Lara' voice actors are amazing in their performances. Lara sprinkles her performance with the right balance of cute moeness and slutty bitch squeals.  Hiroki's voice actor manages to convey deep masculine yearning to insert his inseminator in elf pussy. He sounds aggressive, almost malicious.
In the sound effects department, we have Lara's mouth choking on Hiroki's cock, Lara's tongue slurping down Hiroki's dick. Lara's mouth works so hard in this episode; it should have a separate mention in the credits.
MUSIC
The music is all very beautiful, excluding a short techno track in the beginning.
The first sex scene features a beautiful, slow piano which creates a romantic atmosphere perfect for intimate sex. The song is gradually deafened by Lara's pleasurable moans. The track is very warm and evokes feelings of passionately making love to each others. During the sex scenes the score is paced to match the tempo of Hiroki's thrusts, rendering the ultimate climax even more powerful.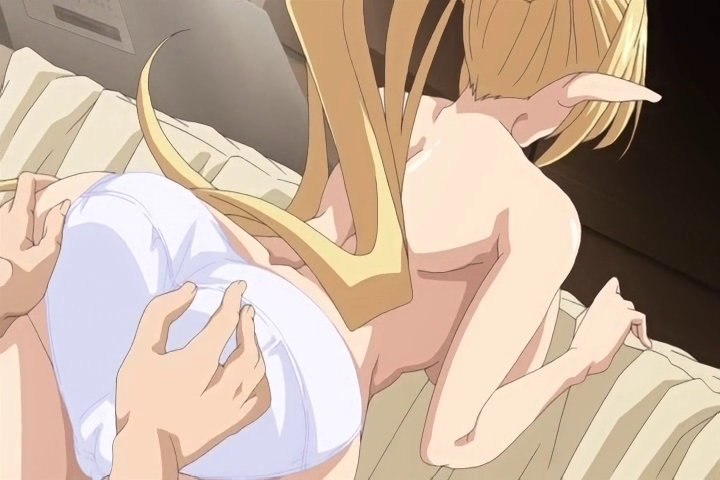 HENTAI
The first sex scene with Hiroki and Lara in the dorm is hardcore. Hiroki tackles her onto the bed and plants a kiss on her lips. To repay his kindness, she whips out his dick and demonstrates the centuries of experience that Elves have in sucking cock. Hiroki forces Lara's head to move to the beat of his dick before splashing his hot load in her sweet mouth. He fondles her giant tits and gropes her ass before eating her out, giving us a good view of some nasty bouncing elf titties. Hiroki positions his dick near Lara's valley and begins pumping into the elf. She traps him nside her pussy by wrapping her legs around him while her boobs bounce all over the place.
The second fuck lacks intimacy. It's more kinky than intimate. Hiroki fingers Lara underneath her uniform before removing her panties. He diddles her pussy until she cums before ramming his rock hard cock deep inside of Lara. Lara pleads with Hiroki to take it easy while she's bent over the table. As the thrusts get harder, Lara's moans grow louder and hornier.
CONCLUDING WORDS
If watching sexy elves getting fucked hard in the mouth, pussy and asshole gets your dick wet, I highly recommend this title. It's a simple story that doesn't carry a lot of substance, but makes up for it with entertaining sex scenes.
You can watch this anime at several shady streaming sites. I recommend watching the episodes at Hentaicore, Animeidhentai or Hentaistream. If you liked this review, try out the services below. Thank you!