Harem Hentai Game Review: Waifu School
Hentai Reviews

>

Reviews

>

Harem Hentai Game Review: Waifu School
Written by MissValentine, edited by Jin0uga and Otaku Apologist
Waifu School, a hentai puzzle game developed and published by circle Waifu Games. Released September 2018. Download on Steam. For PC Windows. No voice acting. Censored genitals.
You are the most popular playboy in high school. One day you get expelled for plot convenient reasons and transfer to a new school where hundreds of crazy bitches want to suck your dirty cock dry. Finally, your nerd swagger is a pussy magnet.
STORY
The plot for Waifu School is paper-thin. You play as a generic high school student who transfers schools. The reason for the expulsion is never explained and the expulsion itself doesn't matter. Once you enroll, you meet ten cute female stereotypes. Each of them are three puzzles away from spreading their legs for you.
The writing is mediocre and relies on anime clichés. The script is littered with minor grammatical errors. Sex scenes are short and dirty. H-scenes are not descriptive. The game a few too many girls. Each story arc feels rushed.
CHARACTERS
Waifu School has a large assortment of women to seduce and fuck. Himari is the first girl you meet on campus. She instantly feels a kinship to your pecker. Ai is a proud Kendo warrior lacking sexual experience. Doctor Violetta is drop dead gorgeous but ignored by men. Yui is your sweet and kind teacher. Hana is just shy, and Ichika is aching to make friends with benefits.
Each girl has a unique difficulty ranking and a different reason for wanting to have sex with you. You get lots of information about each girl, but the information never comes into play when interacting with the characters.
GAMEPLAY
Waifu School features match-three puzzle games. The puzzles are fun and very hard later on.
Each girl has a unique difficulty level which affects the complexity of the puzzle. There are three puzzles to beat for each girl which get progressively harder. Match three or more tokens of the same color to destroy those tokens. Once you conquer all three puzzles, you are rewarded with a screenshot of your cum juice sprayed all over your new 'girlfriend'.
Levels have the same victory conditions, but unorthodox layouts keep the experience interesting. You have to match the tokens in lines of three. The game does not provide you with hints that a certain group of tiles are eligible to be matched. Each tile you destroy earns you a certain number of points. You have to destroy a number of tiles within a set time limit to win the game.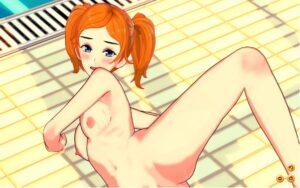 GRAPHICS
Character sprites are rendered in 3D. The 3D art style compliments the 2D background well. Characters look doll-like. They have little variety in facial expressions and only the bare minimum of poses. The animation often looks wooden and bland. Sprites have unique designs with similar body types, but different expressions and hair styles. Each character sports massive jiggling breasts. Background art is beautifully hand drawn with lots of detail. Light is utilized well.
SOUND EFFECTS AND VOICE ACTING (SFX)
Waifu School has partial voice acting. When you match tokens on the game board, the girl moans in ecstasy. It's extremely annoying if you match tokens in rapid succession. There are also sparkle sounds, and other abstract effects.
MUSIC
The main menu features an English vocal rendition of the main theme. The lyrics are beautiful. Otherwise the music is average and repetitive.
The soundtrack is extremely limited. The majority of the gameplay you listed to the same theme you hear in the main menu, without the English vocals. This song is comprised of an amazing slow piano which is the definition of relaxing. The first and second puzzle levels feature a whimsical, upbeat song that feels adventurous. You hear xylophone twinkles and taps that energize you. The final track is more sensual, falsely making the player think he's getting his dick wet. It's a song you'd expect in a low budget porno movie.
HENTAI
Sex scenes in Waifu School are practically non-existent. It seems as if the developers decided very late into development to make it a porn game. After conquering all the puzzles, players are rewarded with one sexy selfie of a girl on her back with cum on her body. The girls all look like they have the same facial expression. If it wasn't for the dialogue, you wouldn't be able to tell these bitches just climaxed.
You get only only one or two lines of kinky dialogue before and after the sex act.
CONCLUDING WORDS
Waifu School is a good game if you're looking to tease your brain, less so if you want to tease your cock. It's a puzzle game first, a hentai game second. The artwork is average and the music is uninteresting. The saving grace is the cute 3D animated sprites begging for penis.
You can download Waifu School at Steam. Discover higher quality games at our shameless perverted webstore.
Graphics

Gameplay

Story

Music

SFX

Hentai