Hentai RPG Game Review: Girl Knight Milk
Hentai Reviews

>

Reviews

>

Hentai RPG Game Review: Girl Knight Milk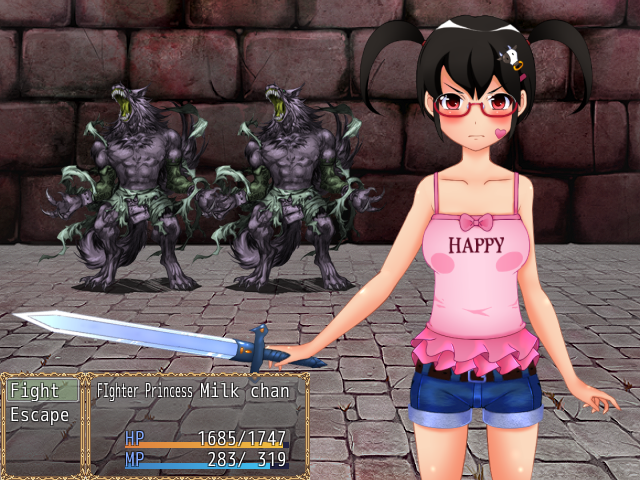 Written by Rastafoo69, edited by Otaku Apologist
Girl Knight Milk, a hentai RPG developed by circle Shoku. Released on February 11, 2016. Download on DLsite.com for $14.25. For PC Windows. Partial voice acting. Censored genitals. Free demo available. Download the English fan translation patch.
The story of a young noble woman who fights the demons of the world! Not everything goes according to keikaku, as she soon finds a curse has been placed on her. The curse makes her more lustful and more submissive as time goes on. It doesn't take long for men to start making passes on her. Made by the hard-boiled weeaboos that brought to you the cancer of Petite Goddess Emily.
Read our guide how to download DLSite games. Also visit our perverted online games store!
STORY
Suddenly the head of her noble family, Milk sets out to battle demons and fulfill the orders of the king! Along the way, she discovers a lewdness curse was placed on her, that leaves her ready and willing to be defiled!
After many tough missions, something unpredictable happens to Milk. Her father steals her virginity and impregnates her! After giving birth to the inbred baby, Milk's life takes a turn for the perverse.
From then on, Milk goes on many misadventures where men and monsters alike take advantage of her and use her as a cum dumpster! She endures every bit of it knowing her search for the king of demons must take priority over her innocence! This girl is a true hero.
After many trials, Milk finally defeats the Demon King. The writing misleads you into believing this is the end of the Milk's story, but the game has just begun!
Now that you have completed the main quest line, you can focus on the over 80 side quests in the game, including assassination missions! After getting raped repeatedly in the game, Milk is now able to kill everyone who ever took advantage of her during her journey!
GAMEPLAY
The game was created with RPG Maker, and uses the systems that circle Shoku created for Petite Goddess Emily. You move with the arrow keys and press the spacebar to interact with objects and people. However, one important feature that's missing this time around is a button to skip dialogue.
The game cycle is very simple in the beginning: receive a mission, clear a dungeon, and return to the castle. With your treasures, you can buy new weapons and armor for the next adventure.
Although the main quest-line may function that way, there are a wealth of side quests and other endeavors for players to sink their teeth into. For example, Milk can purchase businesses in town and receive profit over time.
Outside of the resource game, the sexual elements are constantly locked behind more quests and dialogue that cannot be skipped. For example, it is impossible to get pregnant until over 3 hours of gameplay.
Once you complete the game, you'll have more freedom to roam the game world than most hentai games offer. Work at the brothel, collect your profits, abuse drugs all you want, explore the world! The only negative is that each of these features requires that you first complete a long series of tedious quest lines.
The game has a decent character progression system that's not designed so well for secondary playthroughs. You cannot progress without plowing through mandatory sex scenes, which on your second time, you may want to skip. While this isn't a problem in many similar games, here it's a chore. If you dislike tentacle rape or drug abuse, you'll be unable to skip through the scene. You are forced to tap spacebar repeatedly.
GRAPHICS
The art is anime style, and overall generic at that. There is an enormous world map to explore with a variety of locations from icy mountains to desert wastelands. Still, most of your time will be spent in the generic looking and plainly named "Castle Town".
Nearly all in-game NPCs are shown as floating heads in the screen corner, while Milk is fully animated; she blink, fidgets, and feels alive. Well written dialogue would make up for this lack of visuals, but unfortunately the story is uninspired compared to the circle's other works. Overall, the visuals have problems. For example, every sex scene has an "x-ray mode". You can see the penis move through the vaginal canal. While this sounds like a sexy feature, it gets very repetitive after seeing the same animations 50 times.
The point of playing erotic video games is to explore things that you cannot, and shouldn't experience in real life. This game betrays that point. For example, when you inject drugs, there are no needles or injection animations – if not for the dialogue you'd have no clue! And this happens countless times throughout the game. The animations and graphics come up short as though things were rushed, or the creator was afraid of disgusting the players. Another example, your character has sex with over a thousand men at once. To illustrate this, the game progressively adds writing onto your character like "slut" and "whore" – while covering her in more cum. I never once believed my character was being used by a thousand men – it seems like they barely even tried to get the point across! The writing tells you to expect the outrageous, but the graphics don't keep up.
SOUND EFFECTS AND VOICE ACTING (SFX)
Girl Knight Milk has partial voice acting. However, the voice acting is copied from Petite Goddess Emily.
The circle reused many of the sound effects from their previous titles. Although the audio and voice clips are good, this game came out a full year after Petite Goddess Emily. The game shouldn't be reusing so many assets.
MUSIC
The soundtrack includes 36 songs. The soundtrack of this game is the one aspect of it that is fully original and very high quality. There is a return to string and percussion instruments as well as electric guitar that mesh perfectly with the visuals in battles. The songs in the game include a healthy variety of digital instruments. A synthetic violin is mixed with a nice drum beat and flute. Some tracks reminded me of glorious Super Nintendo classics like Chrono Trigger. This game has over twice as many tracks as the circle's past titles.
The battle music changes depending on who you're fighting, and where you're fighting. Especially at the final boss fight, the background song truly makes you feel the importance of the battle.
HENTAI
There are 46 total hentai animations and 54 total scenes in the game. Milk can wear a variety of sexy outfits. There are five extra base CGs reused for certain sex positions.
Near the end of the game you unlock the ability to have sex with random men all over town, but the town is so large and hard to navigate, you may have trouble finding men to do it with!
The hentai content in this game is hardcore. There is no scat or violence, but there are some disgusting things on offer here. There is inbreeding, lactation, frequent urination, a pregnant lady getting gangbanged by twenty men, frequent tentacle rape, anal beads, and much more. At one point a giant ogre fucks the protagonist leading to an enormous stomach bulge and leaving her with a ravaged, gaping pussy after blowing his gigantic load. Her pussy after that fuck is so wide, she could hide a computer in there.
The entire game seems to be about total and complete humiliation, yet at the end of the game, everyone in town gets naked and starts having sex. The humiliation aspect of the scenario is ruined!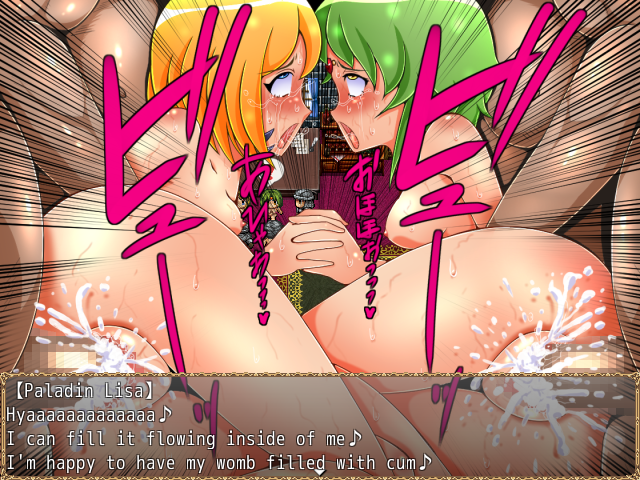 CONCLUDING WORDS
Girl Knight Milk is a faptastic game for lovers of corruption hentai and hedonism themes. It's an enormous game on indie standards with ten hours of nut-busting content. The gameplay is standard and solid, easy to pick up for anybody. The soundtrack is full of great original songs. It's an insanely perverted game that goes the extra mile to sate your most depraved urges for sex and ultra violence.
I recommend Milk's sex adventure to all lovers of hardcore hentai action. Download Girl Knight Milk. You can find more high-quality porn games we have reviewed at our webstore hentai-onahole.moe.
Graphics

Gameplay

Story

Music

SFX

Hentai