Written by MissValentine, edited by Otaku Apologist
Lucy Got Problems is a fantasy hentai visual novel developed and published by Flat Chest Dev. Released on September 2018. Download on Nutaku.net for $7.99. For PC Windows, Mac OS, and Linux. No voice acting. Censored genitals.
In this yuri hentai visual novel, you follow the sexual misadventures of an air-headed succubus in a perilous elven forest. You must survive in a forest full of dangers, make new friends, and find love!
STORY
Lucy is a clumsy, dim-witted succubus with an important mission: She must venture into the elven forest and retrieve magical artifacts for High Priestess Tiamat. Lucy isn't good at her job, and spends most of her adventure getting into trouble that could easily have been avoided!
Lucy stumbles upon two elves patrolling the forest. She gets captured by them. While in captivity, she learns about a powerful Seer who can help her find the legendary Orb of Fate. But the quest isn't so simple, as a menacing spirit called a 'Hollow' stalks the forest and is looking for Lucy.
The writing in Lucy Got Problems is excellent. The entire narrative is packed with witty dialogue, visual gags, slapstick and meta-humor. The comedy feels genuine and unobtrusive. The jokes patch the otherwise spotty storytelling. The plot is that of an RPG fetch quest combined with a Chosen One narrative with chunks of tits and asses sprinkled on top. It's a short sex romp, it's over before you know it.
While the girls have nice visual designs, they barely go through character development. They could experience more development in a lengthier narrative, but this game is like a premature ejaculator.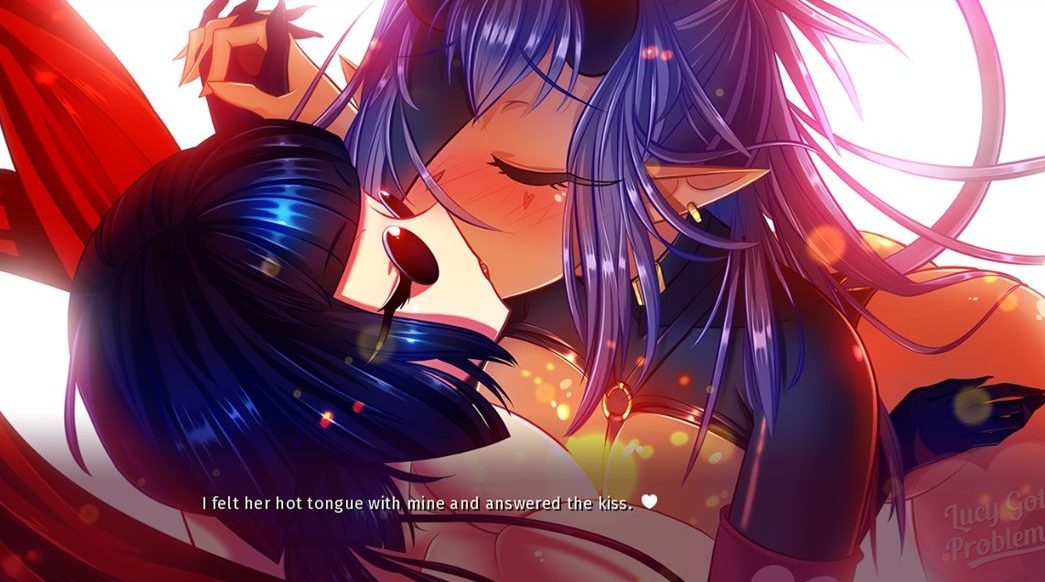 CHARACTERS
Lucy is the main heroine. Her idiotic personality is adorable, and her jokes are funny. You don't learn much about Lucy other than she's a lesbian with a fascination for big boobs. She desires to get into Tiamat's panties, but she's terrified of her dominant personality. Lucy's character design is striking. It doesn't scream "sex object" as most succubus characters do. She's still got a nice rack.
Seer is Lucy's mentor. Her character design screams "sex object" with bulging big boobs and almost no clothing. The sunglasses add eccentricity to her character.
Thea and Ellie have generic character designs. One is a thief, the other is a klutz.
The game treats all other characters as objects to be moved around by the plot. It makes them feel more like decorations than people, which really lowers the quality of the experience.
GAMEPLAY
Lucy Got Problems is a visual novel. Gameplay is limited to clicking the screen to "turn the pages". There are multiple routes available with several dead ends mixed in. You can optionally remove the possibility of dead ends in the game's settings. There's enough save slots for everything you need. There's also a button to speed through parts of the dialogue you already read. Auto-play option is also available!
Lucy Got Problems uses visual novel mechanics to simulate battles with enemies. In battles, you are presented with a list of options of possible tactics that determine whether you live or die. The battle menus include a time limit, which makes the fights more immersive. The game also has optional point and click features.
There are more than thirty achievements for one-handed gamers to hunt, as well as two secret characters that you can unlock. The game may have problems, but at least there's no shortage of boobies!
GRAPHICS
The graphics are excellent. You can tell a lot of work went into the drawings. The character sprites are animated, and they move on the screen with their breasts heaving up and down. Sometimes the camera will trail upwards, or side to side for dramatic effect. It makes the artwork feel more three-dimensional.
It feels like the emphasis is less on pornographic depictions of young women, and more focused on the artistic side of hentai. The use of lighting and shadows is breath taking, and makes you feel like you're in a museum. There's plenty of sexy art available, but most pieces are made to be funny.
Characters are beautifully drawn in a wide variety of poses. They have tons of varied facial expressions that shift constantly during dialog. Colors are vibrant, while light and shadows are well balanced.
SOUND EFFECTS AND VOICE ACTING (SFX)
Lucy Got Problems has no voice acting.
The game makes up for its lack of voice acting with a full library of sound effects. There's too many sounds to count. You have ambient sounds for the forest and its creatures, magic spells, and more. Most sounds remind you of comedy anime. Their timing and placement is perfect, amplifying the punch lines of the jokes.
A lot of the audio clips are stock material that you'll find in most comedy anime. There is also a vast variety of funny sounds strategically spaced out throughout the experience to avoid repetitiveness.
MUSIC
The music is excellent. It's enjoyable on its own, and complements the artwork and writing beautifully. The songs aren't memorable in and of themselves, though each one is noticeable when you're playing. The music follows the events taking place, and will abruptly change to fit the new tone, sometimes multiple times within a scene.
The songs will remind you of sword and sorcery anime. There's lots of variety, and no song feels intrusive. Songs do not repeat very often, which is good. Instruments used include piano, and flute, which fit the more fantastical songs perfectly. Real instruments are also used for songs that play in funny scenes. Combat scenes feature synthetic instruments.
Most songs in Lucy Got Problems have an upbeat, mischievous tempo. The tone is often cheerful with a whimsical flow. Certain songs are dark and slow-paced. The music changes speed to mimic the action taking place on screen and builds towards climactic endings.
HENTAI
Lucy Got Problems is not a hentai game. It's a comedic adventure game with ecchi content. There is no sex between any of the characters. Lucy doesn't even masturbate once. The lewdest thing she does is grab and squeeze another character's rack. It's a short, cute scene.
Lucy also has to massage Seer's back and resist the urge to grab hold of those big boobies. The game shows its sense of humor by incorporating your desire to fondle boobs into gameplay.
There are other sexy scenes in the game but they're too short to bust a nut over. The ecchi art itself will make for great desktop wallpapers, but that's about it.
CONCLUDING WORDS
Lucy Got Problems is a fun ecchi game that swaps sex for humor. It works as a visual novel and is guaranteed to make you laugh with funny dialogue, meta-humor and visual gags. It's a game that deserves content updates. Here's to hoping the developers take notes and throw more sex into their next release.
If you like sexy bimbo succubus girls, you will enjoy this. Download Lucy Got Problems.
Story -

70%

Gameplay -

60%

Graphics -

90%

Music -

90%

SFX -

70%

Hentai -

50%