3D Porn Game Review: Ice and Fire of Maiden
Hentai Reviews

>

Reviews

>

3D Porn Game Review: Ice and Fire of Maiden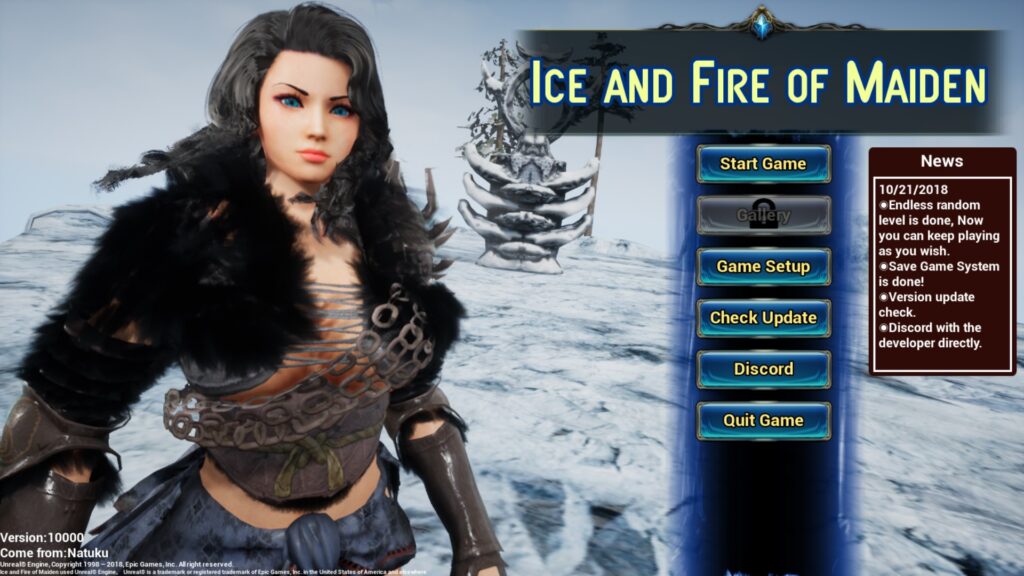 Written by Otaku Apologist
Ice and Fire of Maiden, side-scrolling beat 'em up adult game developed by Wijat Studio. Released October 5, 2018. Available for download on Nutaku's digital store for $14.99. Available for PC Windows. Partial voice acting.
Normally I take 2-4 weeks to review each product before publishing my review. This is one of those times when I'm cutting it short, because the product is terrible. The development of this game seems to be ongoing, but as the game is currently being sold on Nutaku's storefront, I have to review it as a finished product.
STORY
The game starts out from a tutorial without any story context. There's no cutscene that would explain anything. Even the synopsis provided on the product page is complete nonsense.
GAMEPLAY
Ice and Fire of Maiden is a 3D action game. The keyboard control shortcuts are "A" to move left, "D" to move right, "S" to crouch. To run, double tap "A" or "D". Spacebar is for jumping. You can zoom in and out of the action by scrolling with your mouse wheel. "H" is punch, "J" is kick, "K" is sex attacks which regenerate your health. "Y" and "I" scroll the item menu, and "U" is to use items. In a game with real-time combat, it's not a good system at all.
The gameplay is that of a side-scrolling fighting game. You collect items, avoid traps, and fight enemies. The levels don't have any puzzle elements that would require you to think, and the enemies are just terrible idiots who get knocked down from the slightest breeze. Seriously, you can incapacitate a dozen enemies with a single jump kick. You can execute attack combos by pressing the same attack button four times. The pacing of the action is completely off, because the enemies are always on the ground, and you can't fight them until they get up.
Also, the characters have no collision detection. Ten enemies can stack in the same spot and attack you at the same time for massive damage. Without the ability to stun groups of enemies for 20 seconds with a single jump kick, and the chance to recover health with sex attacks which cannot be interrupted, the difficulty would be impossible. The game compensates its brokenness with broken mechanics.
Recovering health is incredibly slow and breaks the game's pacing. When you're engaged in a sex attack, the enemy is pinned down and unable to attack. Her friends cannot attack you, they just stand around while you whack yourself back to full health. If you're low on health, you'll be recovering health for a whole minute.
The skill tree in this game is dumb. You only upgrade health and damage, and gold gain. You don't need a talent system if you only offer stat upgrades for the player. I almost maxed out all my talents right after the tutorial.
I was getting frustrated that my damage was so low, until I decked out my damage talent, which let me deal up to 13 points of damage per kick. I also discovered a throwing item that instantly killed singular enemies.
GRAPHICS
The character models look decent, but the background art is beyond confusing. There's insanely large statues and hill-sized dragon bones, like you're walking through an ancient battlefield. Except, it doesn't feel that way at all, because there's no storytelling whatsoever. I kind of liked that there were large trees in the levels beyond the tutorial, but these trees are often lined up weirdly next to each other, like a human planted them after cutting down the forest for lumber. The levels end when you enter a platform near a floating skull. Nothing makes sense.
The animations aren't that good either. Even simple things like running are done wrong. The player character barely moves her arms while running at an insane speed. During sex sequences, the girl you're fucking will gush out blue pussy juices in a geyser.
There's assets in the game that look okay, like the viking-style loot chests. The clothes on the player character are kind of cool, but her high heels and stockings ruin the image that she's a viking babe. She looks more like a hooker than a viking warrior.
SOUND EFFECTS AND VOICE ACTING (SFX)
The voice acting is annoying. The female voice actress spouts all kinds of noises, like panting while running, which doesn't sound good. The noises are the worst when she's punching and kicking. Also, when you press jump, you can prompt her "jumping shout" several times during the jump, which means the game is coded to trigger this audio clip when the player presses the button, not when the character does the action. There's no other voice acting in this game I found.
The sound effects are minor and not at all impressive. There's no sounds for landing punches.
MUSIC
The soundtrack includes like two tracks and is not done by a professional. Random guitar notes with whimsical synthesized background audio is not music. There's no melody, no singing, barely any musical instruments. The only good thing about the music is that it's non-intrusive and smoothly looped.
HENTAI
When you knock an enemy down, you can grab her by the pussy. The first sex attack you learn is "lesbian kiss", which lets you finger-bang the girl while kissing her. The sex sequences disrupt the gameplay and they're very basic. There's three sex positions, which are unlocked via the talent tree system.
CONCLUDING WORDS
Ice and Fire of Maiden is an unfinished game. Although the development is ongoing, and the final product could improve with future patches, I don't have high hopes for this developer after finding so many badly written sentences and the numerous aforementioned issues. This game should not have been published.
Forget this game and download much better porn from our perverted webstore.
Graphics

Gameplay

Story

Music

SFX

Hentai