Written by Misstress Valentine, edited by OtakuApologist
KanoBitch ~Kanojo ga Bitch ni natta Riyuu, (eng. My Slut Girlfriend), a hentai visual novel developed and published by Jinsei Tsuukoudome. Released August 17, 2018. Download at DLSite for $17.00. For PC Windows. Japanese female voice acting. Censored genitals.
Ryousuke is a hopeless man. No money, no life, no pussy. His childhood friend Mai is getting pounded in the pussy by some random bitch boy with a big dick. Ryousuke invites Mai over, and learns the most shocking truth: Not only has this bitch been fucked by that random guy, she's gotten herself fucked by practically every guy but him. The slutty village bicycle that she is, Mai offers Ryousuke a taste of her pussy. So begins a heart-warming journey to psychological healing.
Fetishes: Dark skin, sextoys, stockings, pregnant, big boobs, anal, blowjob, tittyfuck, footjob
STORY
This game has two very distinct story lines: Present and past. Both stories follow very different paths and present different sexual encounters. For this review, I chose to play the Present Story.
You can read juicy details of "the past" story arc here: My Slut Girlfriend: Mai's Sexual Empowerment.
Ryousuke and Mai have been friends since childhood, but Ryousuke realizes he doesn't know his best friend as well as he thinks he does. Mai has sex with guys all the time, every day, multiple times a day. She eagerly offers to help him lose his virginity and gets on her knees. She blows his cock like a saxophone and then spreads her legs wide open for him to stick it in.
Motsutoys is 20%+ cheaper than Japanese stores for European masturbators. Buy pussy!

After cumming inside of her, Mai suggests they go another round. Eventually the two of them transition from childhood friends to sexhood friends. And with each sexual encounter, the two become closer and closer until they're something far closer than a simple cock in need of pussy.
My Slut Girlfriend: Present unfortunately doesn't contain much substance. You can call it a simple love story, but most of the 'plot' is just an excuse to watch two horny people bang each other senseless. The narrative is devoid of any real plot development. After setting up the premise, the rest of the game is just a series of sex scenes.
GRAPHICS
My Slut Girlfriend's artwork is above average. The sex scene CGs showcase the bodacious Mai having sex to her heart's content. She gets into all kinds classic porn positions that showcase the gorgeousness of her toned, muscular body.
Mai's visual designs exposes the maximum amount of cleavage. She looks extremely slutty. Most images feature Mai in erotic casual wear, or her fully naked. Body proportions stay consistent between pictures, which adds to the immersion. Her facial expressions vary from subdued to extremely horny.
The lighting and shadows complement each other and give characters a realistic look and feel.
Background artwork is reused plenty, the only variation coming from different coloring that reflects the passage of time. The lack of different environments makes the world feel boxed-in, limited, and uninteresting. Most of the sex scenes takes place in Ryousuke's shabby apartment.
Mai is the only character that gets a sprite. Ryousuke is partially shown in some images. The story doesn't have other girls. But neither do you miss other babes, because Mai is a deliciously fuckable slut. Lots of artwork is reused between scenes.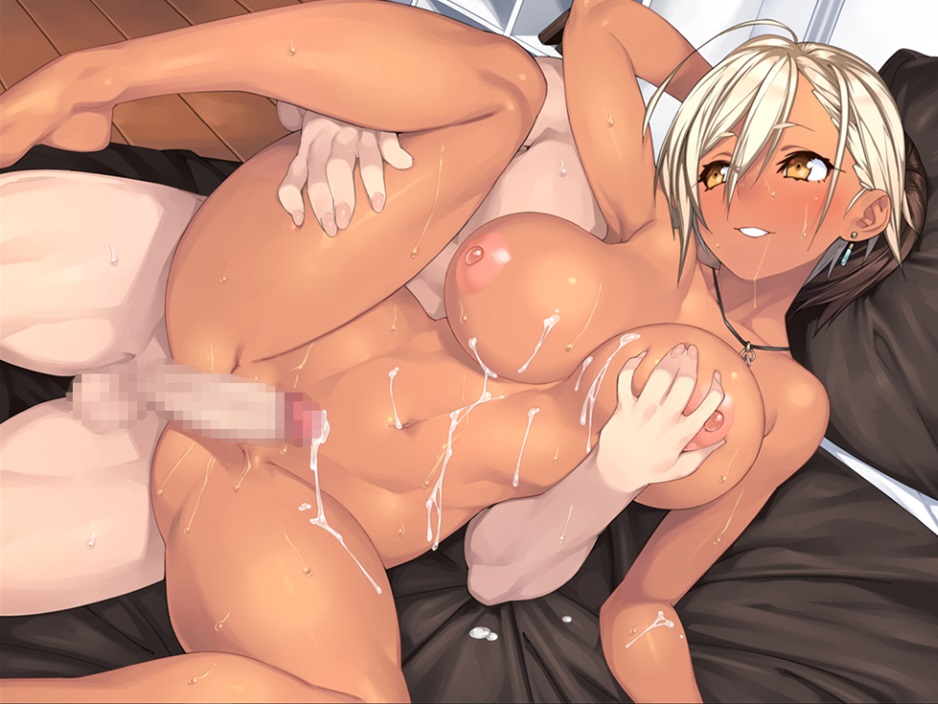 GAMEPLAY
My Slut Girlfriend is a visual novel. You click the screen to "turn the pages". Most of the gameplay consists of reading dialogue. Players are only given two choices, both appearing at the beginning of the game. The game has two story lines: The present, and the past. The "present" recounts how Mai and Ryousuke become a couple. The "past" shows what happened to Mai that made her transition from nice girl into a slut.
Because this game lacks an official English localization, you can expect to encounter glitches. The English can be difficult to read because of additional characters at the start and end of most sentences. Long words are also broken up weirdly: Words like 'that' can be displayed as 'tha' on top row and 't' on the row below. Most of the game's menus and options are in Japanese, making them difficult to navigate.
VOICE ACTING AND SOUND EFFECTS (SFX)
My Slut Girlfriend contains Japanese voice acting. Mai's actress is the only character that is voiced. All of her lines are voiced. The actress gives a wonderfully stimulating performance as Mai. She manages to sound cutesy and mischievous during story-heavy scenes, and playful during the h-scenes. Mai spends much of the story on her back, moaning like a horny bitch eating dick with her lower lips. Her sexy groans are enough to bust a nut.
Sound effects are limited to sex noises. The effects include cock thrusting into a wet, slobbering hole, dick thrusting between juicy boobs, and cum splurging. There are no environmental, or object-related sound effects.
MUSIC
The game's musical score is limited to a few tracks. Most of the music features a good combination of soft flutes, guitars, saxophones, drums and piano. These tracks sooth and immerse the player into the sexual encounter. The speed of the music does not build up with the intensifying action taking place, nor does it change to compliment the final ejaculation.
The music sounds like something from a slice of life anime. You feel a little happy while listening, but it's not the perfect experience. Some scenes last very long, but the music is not properly looped. The same track will repeat over and over again until the scene concludes. The transition from the end of the song to the beginning of the song is a little too noticeable.
HENTAI
The first h-scene between Ryousuke and Mai starts almost immediately upon booting the game. The scene is a long one. Ryousuke wants to live out all his fantasies with Mai in one single fuck. The babe kneels down, and opens her slutty mouth for a slobbering blowjob. After Ryousuke blows his load down her wide open throat, she spreads her legs and takes his dick for a ride between her fleshy folds.
After Ryousuke is done confessing his tender feelings towards Mai, she returns those feelings, opening her holes to his penis. This h-scene stands out because of Ryousuke's internal monologue. He recites how lucky he is to be fucking the woman he loves. He comments that his dick is harder than ever. Mai is shocked when his rock hard prick grows even bigger during their intercourse. Enthralled by the size of his massive cock, Mai accepts her childhood friend's feelings, and Ryousuke starts pumping a baby into her. They fuck so much, his apartment starts smelling of her excretions – very romantic.
After several minutes of filthy genital rubbing, Ryousuke reveals himself to be a premature ejaculator. It's a heart-rending moment that jerks at your tear ducts. But Mai is such a fantastic girl, she doesn't even guilt-trip him for failing to make her cum, unlike the hundreds of guys that successfully gave her mind-blowing orgasms. Instead of destroying his self-esteem, Mai gently comforts him, and offers her pussy for another go. She tells him he shouldn't expect sex without protection to become a normal thing between them.
For the rest of the game, the couple fucks like rabbits without any form of birth control.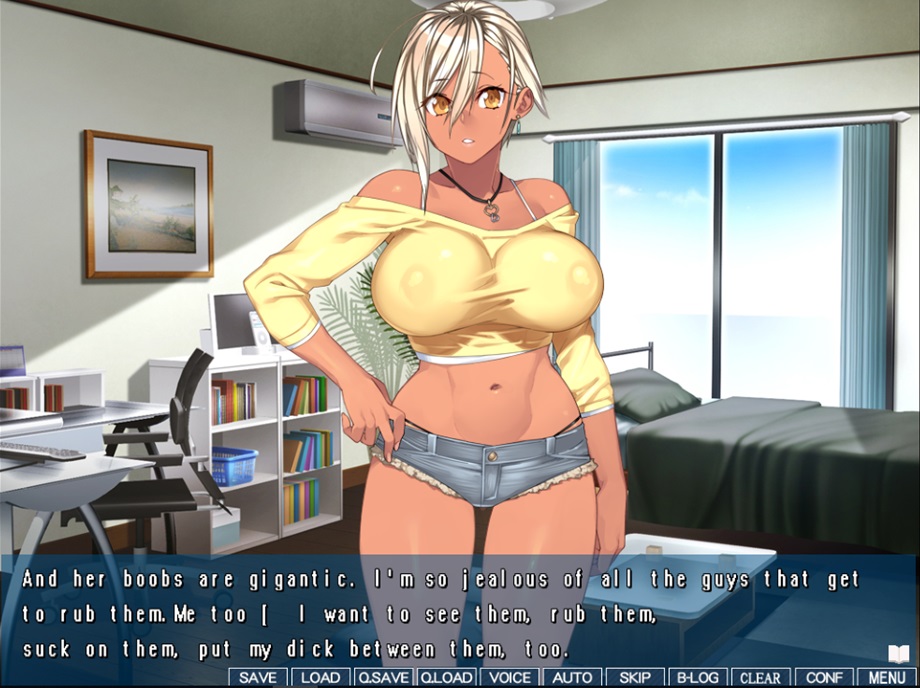 CONCLUDING WORDS
My Slut Girlfriend is a true work of art. Mai is beautifully slutty, and completely dominates the show. She lives and breathes a whore's lifestyle. She loves slutting, fucking, being a sexy, living the life of a dirty human cock sleeve whore. The game can last anywhere between 2-10 hours, depending on how fast you read. There is more than enough fap material to strap fappers into their chairs during cold, lonely, slutless nights.
Download at DLSite for $17.00. Visit our store for more porn games.
Graphics

Gameplay

Story

Music

SFX

Hentai