Milf Hentai Game Review: Sobo to Boku
Hentai Reviews

>

Reviews

>

Milf Hentai Game Review: Sobo to Boku
Written by MissValentine, edited by OtakuApologist
Sobo to Boku ~Obaa-chan, Nanika Dechau yoo~ is a hentai visual novel developed and published by Appetite. Released 17th August 2018. For PC Windows. Female voice acting. Censored genitals. The game lacks an official commercial western release, but a fan-translated version is floating around the internet. Available for download here.
Sobo to Boku is the story of a slutty grandmother named Minako, and her grandson, Shouta. One evening, the young boy wakes up her granny by ramming his erect dick between her fat droopy breasts. It's a sexual guilt-trip down a forbidden path to the actualization of incestous carnal desire. The granny hasn't fucked in decades and needs to get laid so badly, she barely fights back when the enormous boy stick comes to fill her up.
STORY
Minako is a fine-ass 60 years old lady, a fuckable grandmother who looks half her age. She's married to an impotent husband who barely lays with her. Together the couple takes care of Shouta, their grandson. Things take a turn for the sexy, when the boy wonder drops his pants to reveal his cunt-breaking monster cock.
One evening Minako is woken up by a squeezing feeling in her chest. When she opens her eyes, she sees a sexually hungry and confused Shouta lying next to her helping himself to her big fat tits. She asks him what's wrong. Shouta explains innocently that he was drawn to her boobs. Minako doesn't fight back as the boy continues to grope her chest. She asks him to promise, to never to tell her husband. Shouta agrees and fucks her boobs.
The game features scenes where the grandma and her grandson fondle each other while other people are close by, skirting danger. The scenario escalates from groping to a tittyfuck, to vaginal sex. Shouta eventually goes all the way and plunges his dick in Minako. This triggers grandma's cock addiction, and they keep fucking each other's brains out for the rest of the story.
The English translation is average, and can be difficult to read due to some issues. There are additional characters at the front and back of most sentences. Long words are broken up. This causes some words to occupy two different lines.
GRAPHICS
Sobo to Boku's artwork is above average. Artwork featuring Minako is beautifully drawn. Lines and wrinkles on her body supports the illusion that this character is really sixty years old. There is loads of great artwork depicting her breasts from several lewd angles, but not a lot of unique facial expressions.
Male bodies are rarely shown, and are never the focus. Their faces are obscured, no eyes are shown.
Male and female body proportions stay consistent from image to image, but the size of Minako's breasts change depending on the camera angle. H-scene artwork does a great job of showcasing Minako's body. She looks fuckable as hell.
A lot of subtle attention to detail is given to lights and shadows. Subtle shadows in the hair and clothes give shape to bodies and objects. Background art is average. None of the backgrounds stand out, and they're always overshadowed by characters. Colours are pale and ordinary, which gives the game a realistic feel.
GAMEPLAY
Sobo to Boku is a visual novel. The gameplay is limited to clicking the screen to "turn the pages", and making the occasional branching choice. There are only three choices available very late in the game, and only two endings.
The game features an auto-play option, which lets players sit back and fap. Most of the game's menus and out-of-game options are entirely in Japanese, which makes it very difficult to navigate.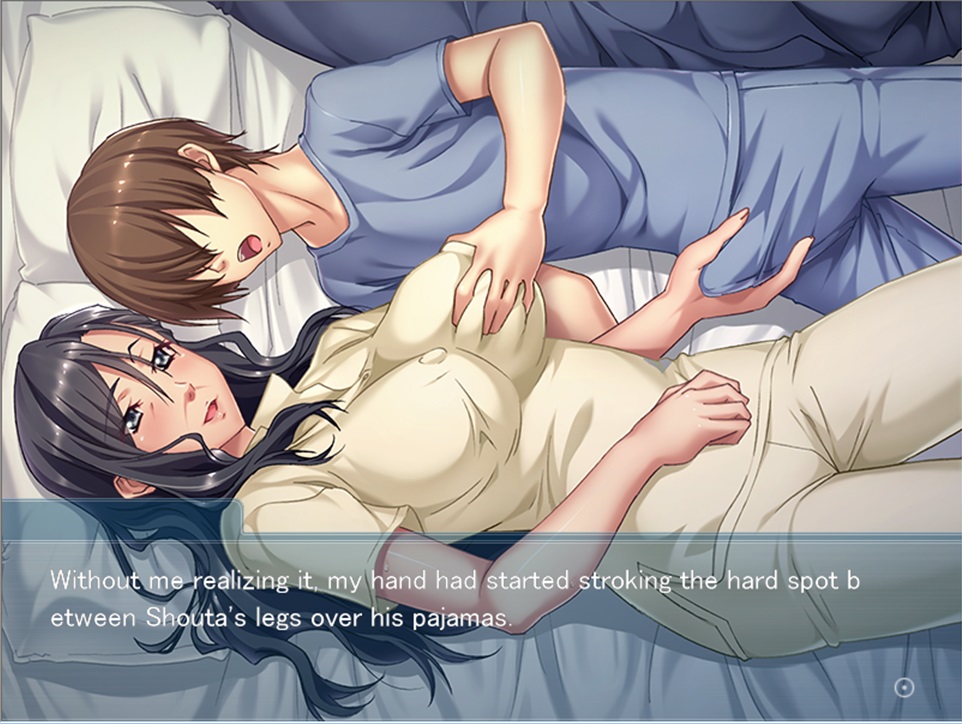 VOICE ACTING AND SOUND EFFECTS (SFX)
Sobo to Boku features Japanese female voice acting. Only Minako's character has a voice actress uttering her lines. Because of this there is a lot of pressure to make MILF grandma Minako sound as horny as possible. This game passes this test with flying colours as every sentence drips with lewdness.
Unfortunately, the voice acting fails to capture the character's age. Minako sounds like a typical youthful middle-aged wife. Her voice acting is hot enough to make guys bust a nut. She's very skilled at groaning and moaning in a realistic manner while her character is spread wide open with a huge dick between her vaginal lips. This actress possesses a siren's voice that makes the semen dance out of your balls.
Sound effects are very limited. There are no environmental sounds, like dishes and utensils smashing at each other while the characters eat, no rumming of engines when neighbors drive cars. There are virtually no audio clips apart from the slushy sound of Shouta fingering Minako's pussy, and the sound of his tongue making circles around her vaginal lips.
MUSIC
The game's musical score is average. The genres are limited to traditional tracks which you would find in everyday romance anime. Most of the songs are upbeat and fast-paced. The tracks got an electronic techno feel. The music is overshadowed during sex scenes, with Minako's sex noises obscuring all other audio. There are also softer pieces which use guitar, piano and triangles to lull the player into a relaxed state during the less exciting game time. None of these tracks stand out, or make an impression, but their absence is very noticeable in scenes where the music is silent.
The speed of the music does not build up when someone's orgasm is approaching. Many scenes are devoid of music.
HENTAI
Shouta and Minako's first sex scene is easily the best. Shouta fondles Minako's tits, and forces her awake. He squeezes the boobies like a pair of ripe grapefruit. Her pussy gets wet with anticipation. The boy is so absorbed by Minako's breasts he doesn't notice she takes her panties off. All set for sex, she guides his penis deep into the wet cavity between her legs. Minako's pussy lubricates itself in seconds when Shouta's cock touches it. He asks to put it inside and Minako's vagina swallows him whole. She instructs him to move his hips, and Shouta pounds new life into his grandmother.
After cumming inside her, Minako goes to clean up. As she bends over, Shouta slams his rock-hard dick up her pussy and takes her doggystyle. Her husband wakes up. Minako is forced to keep her mouth shut during the sexual encounter, or risk alerting her husband to her sinful activities.
Another great scene is when Shouta tricks her grandma into taking a bath with him. Minako gets naked, and is half submerged with her legs spread wide open, when Shouta gets in the bath with her, and starts ramming his meat rod in her. He thrusts his penis as far back into Minako's lady hole as he can. Minako begins rocking her flabby body to increase the pleasure. Shouta's dick grows bigger. He pumps through the water and into Minako, ignoring calls from his mother who's right nearby, and makes Minako orgasm and shoots his load into her womb yet again.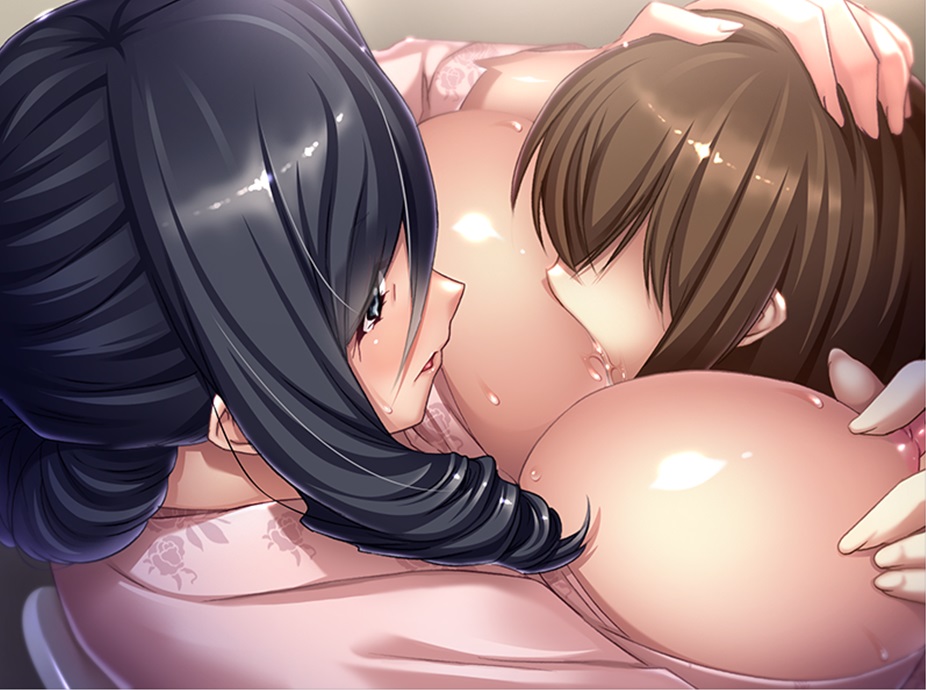 CONCLUDING WORDS
Sobo to Boku is good fap material, with a decent story and characters. Shouta is wonderfully perverted and bold. Minako is a woman who's so damn horny, she doesn't take much persuading to give her mouth, pussy and ass to the first man that looks at her twice. It just so happens the man that gets the privilege of pumping her dick-deprived pussy, was her grandson.
Download Sobo to Boku. We have verified this download link to be safe and secure. And before you go on to enjoying your free entertainment, take a moment to check out our store and support our comic production!
Graphics

Gameplay

Story

Music

SFX

Hentai