Maid Hentai RPG Review: Decaying Flowers
Hentai Reviews

>

Reviews

>

Maid Hentai RPG Review: Decaying Flowers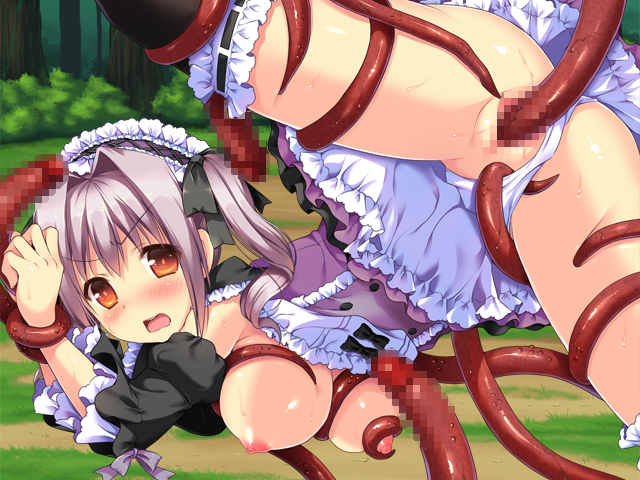 Written by Rastafoo69, edited by Otaku Apologist and Mistress Valentine
Decaying Flowers, a hentai RPG developed by Clara Soap. Released January 26, 2018. Download on DLSite for $12.00. For Windows PC. No voice acting. Censored genitals. English translation available.
You are now the debtor to a beautiful young lady. You give her a choice, lose her house or become your maid! She decides to become your maid, to serve you to the best of her ability!
PROMO: When you download games through links on Hentaireviews, we make original hentai comics.
Before trying this game, please read our guide how to download DLSite games.
STORY
You were a poor starving boy from the slums. One day you left, seeking a better life. You wandered the forest until you found a woman collapsed under a tree. You later discovered she was the Princess of the local castle! As a reward for finding her, you were given a large cash reward. You used it to buy a mansion and enjoy plenty of women. Pure catharsis. But that all changed when you found some documents in your basement.
As the owner of the manor, all of its assets fall to you. Whoever used to own the manor (probably dead now) used to be a loan shark and they still have contracts. They are still owed a large amount of money by a certain family. A mother, a father, and a daughter named Marpel. But when the parents died, Marpel was left with the debt. She's been paying it off little by little, but now that debt belongs to you. Your name is Lobelia, and you convince Marpel to abandon her shop and become your maid. If she serves as your maid for a while, you will forgive her debt.
That's the setup for the story and that's all you really get. The rest of the game is just Lobelia having sex with Marpel as she explores the nearby ruins to earn money to escape her debt slavery. If you're hoping for a strong plot, prepare for disappointment.
Discover more porn games we have reviewed with hot obedient maids!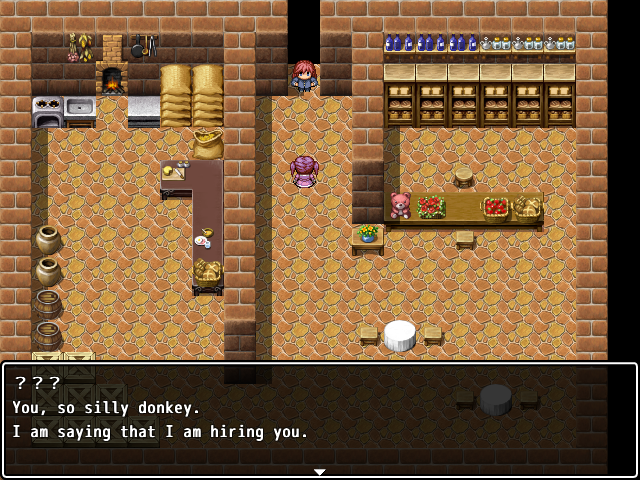 GAMEPLAY
The game was made in RPG Maker VX Ace. There are two primary actions. Firstly, you can put Marpel to work. This involves cleaning windows, mapping the forest, and other menial tasks. Secondly, you can send Marpel on adventures. This involves exploration and opening random treasure chests. Sometimes you find big money, other times you find random items. Certain special items unlock lewd scenes like the red rope unlocking the bondage scene.
There is no text log, text skip, or hiding text boxes. After exploring enough you'll find items like lanterns, so you won't have to buy torches, and an armor that grants immunity to poison, so you won't have to buy health potions.
The gameplay is extremely bare bones. Just keep exploring the caves and opening the chests for a few hours and the game will be complete. There is no point to grinding EXP, as there are no level-ups. Walking into enemies simply drains health points.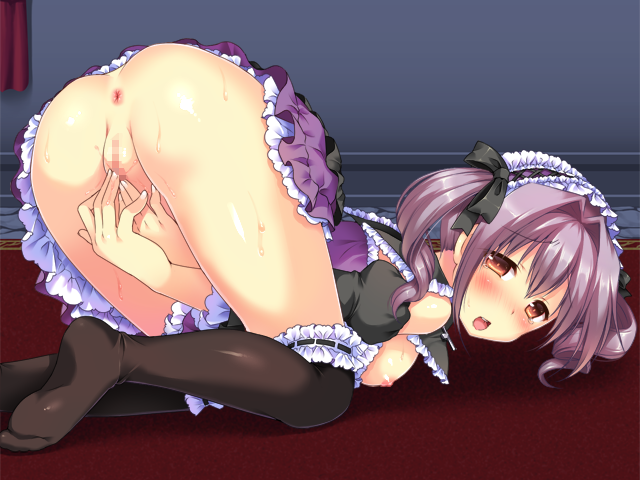 GRAPHICS
The art is drawn in the Japanese anime style. Marpel's body proportions are consistent all throughout the 10 CGs. She almost always wears her maid outfit, which means that feet fans may be disappointed by the knee-high socks always covering them. Whether it's the long luscious hair or the cute blushing face, seeing her feminine body react to cock is always a joy. Oddly enough Marpel has a necklace of the Christian Cross, yet no mention of religion is made throughout the game.
Her standing art is a bit pixelated and low quality. Similarly, even though this is the official English translation, there are still some issues with text overlapping or running off-screen. These errors are minor, but do add up to give the impression of an unpolished experience.
Marpel's character sprite is the RPG Maker default sprite for a basic maid. This doesn't fit her at all, since Marpel's hair is not brown and she does not wear a white smock. It's clear this is an indie developer trying to save money and development time by using pure stock assets for the game world.
The dungeon Marpel explores is very basic. Stock assets are used throughout, including the yellow cave walls, purple poison floors, and gray stone zone. If you were hoping for some visual variety, you'll be sorely disappointed here. The visuals in this game shine best during sex scenes, but nowhere else.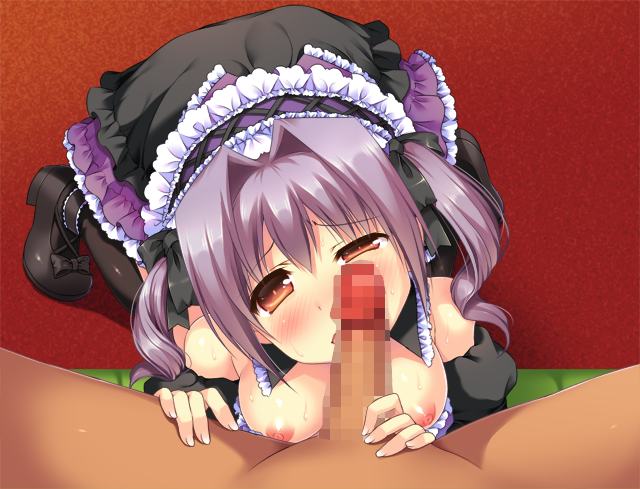 VOICE ACTING AND SOUND EFFECTS (SFX)
Decaying Flowers has no voice acting.
Sound effects are almost entirely standard RPG Maker assets. Due to the lack of interesting enemies or friendly NPCs to accompany your party, or varied equipment even, the sound design lacks any chance to shine.
MUSIC
There are 52 tracks in total, all of which are stock assets. 10 of them are lesser known and feel a bit more fresh than the average game. The main menu music feels melancholic even though it's just a slow piano rendition of the basic dungeon music used in most other games. While some fresh piano notes are added, it copies the tempo and melody almost entirely. While the game is enjoyable, the audio fails to do anything new or memorable to innovate on things.
HENTAI
There are 10 CGs total. Five scenes are vaginal sex. The rest are miscellaneous scenes like masturbation, groping, tentacle sex, and bondage. Sex positions range from doggystyle to suspended congress. Seeing Marpel lifted up and locking legs with her man is a truly erotic experience.
Since sex can be accessed so easily, there really isn't a corruption aspect to this game. Rather, Marpel simply has sex with you because she has to. If she doesn't, you'll take away her family home.
The lack of evolution images means the developer has no method of simulating animation. Similarly, the lack of any deep personality for the protagonist and Marpel means that sex talk is limited to "I bet you like that" and "yes I do". It's not very engaging material, even if the scenes are above average overall.
CONCLUDING WORDS
Decaying Flowers is a visually beautiful adult game about a girl in a maid outfit exploring a mysterious dungeon to pay off her debt to you. The plot is basic, the sound design is forgettable, and the sex lacks any real buildup or excitement. Play this game if you like the art.
Download Decaying Flowers. If you're into anime maids, definitely check out our coverage of Custom Order Maid 3D 2.
Graphics

Gameplay

Story

Music

SFX

Hentai