Written by Otaku Apologist
Jasmin is a young college student desperate for quick cash. She works her nights at a strip club, jiggling her body against a metallic pole while dirty men throw dollar bills at her feet.
Despite a fully matured body, and the adult decisions she's making, Jasmin is still a naive young girl. The poor thing is surrounded by greedy, manipulative men who use women like her for profit. Jasmin's boss is the average sleaze ball that goes by the name of Mister Frost. When he sees the girl shaking her booty like a porn professional, going all the way stripping out of her panties, Frost smells money. He invites Jasmin to his office where he pokes at the girl's insecurities before laying out his offer: Attend a local party, dance for the guests.
This story is based Negligee: Love Stories, a prologue to the visual novel Negligee. You can check out my second writeup about this hot hentai game here.
Jasmin doesn't have any marks in her resume that would let her apply for a better-paying, less degrading job. Her stripping experience won't help her nail a cozy corporate office job. The only promotion poor Jasmin can get is making herself a servant of wealthy male clients who are starved for compansionship with hot, young girls.
Mister Frost gives her the address to go to. Jasmin dons a luxurious blue dress for the party. She's first taken aback by the weird people and things she sees: Everything in the party location looks expensive. It's a giant mansion owned by some local millionaire.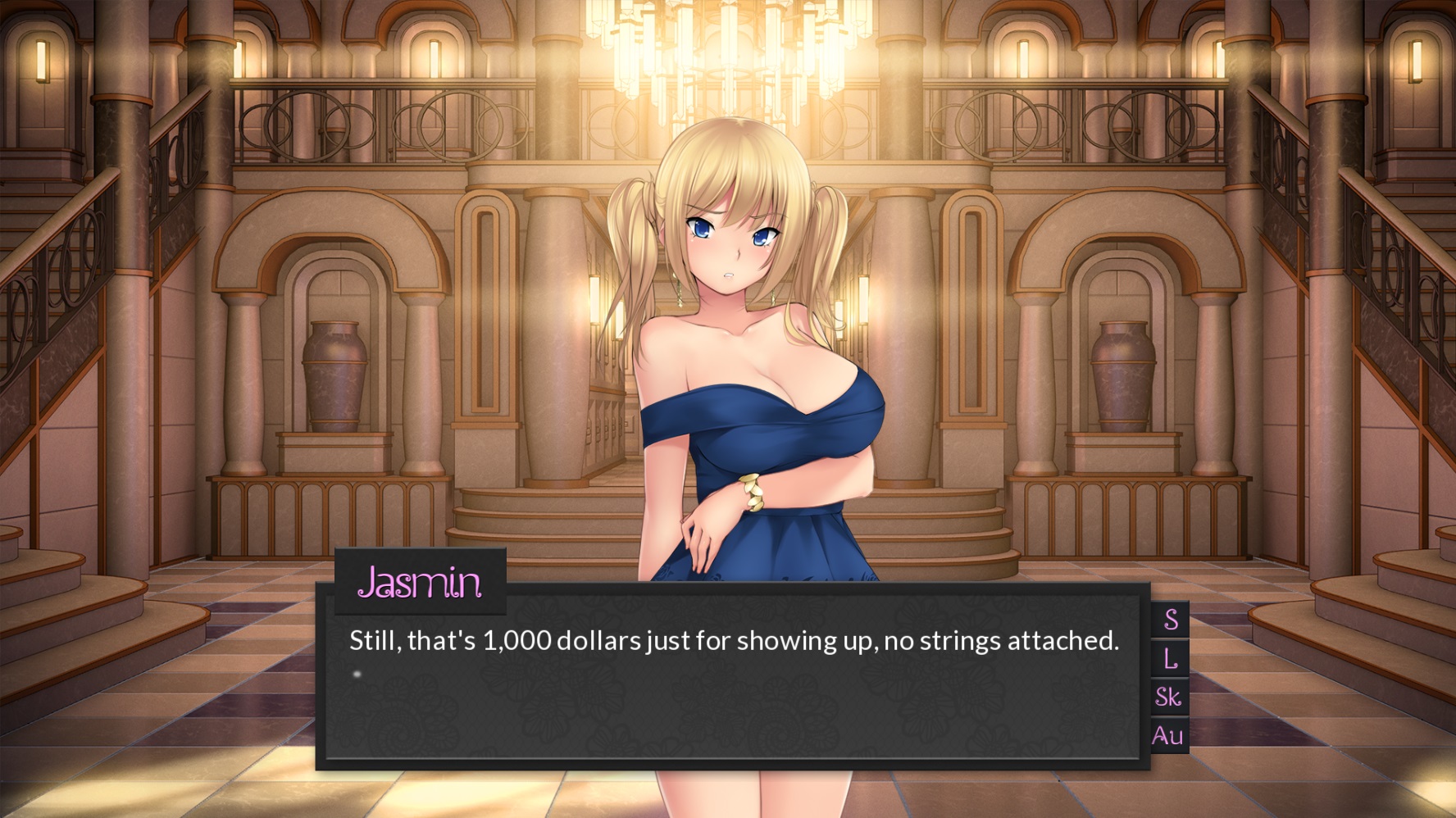 It doesn't take long before Jasmin's fetching presence draws the attention of one of the male guests. The young man approaches him confidently and immediately asks to pay her for "taking things further". The girl refuses, she's not feeling it, but she's comfortable with dirty dancing. The man agrees to pay for a dance. She gets in the zone quickly, like she's back in the club. Midway to her dance, the man briskly unzips her dress. It doesn't take long before her bra and panties are wrinkled on the floor, which is when the man asks her again, "is $750 enough?"
She's already naked. She's getting wet. She's there for the money. She only has to lay on the couch, and she'll get paid. The man gets on the couch with her, his fingers quickly slipping into her tight little slit. He unbuckles his belt and unzips his pants. Jasmin stays her ground, knowing fully well where things are headed. She feels scared and uncomfortable, but at the back of her head, it doesn't feel like a huge leap.
When the man slides his fully erect dick against her young quivering pussy, she jolts. He's really big, bigger than the first guy that took her virginity. The thick white dick slips into the drooling cavity between her thighs and the thrusts begin. The man grabs her ass in her palms and rams into her hole for all his money's worth.
They get lost in the moment, like they're the only people in the room. Jasmin is on all fours on the couch, in front of people, and it doesn't shake her. She doesn't scream, she doesn't run, she stays in position taking thrust after thrust into her pussy while the man groans like an ape in her ear. He's not wearing any condom. Even though it's scary, it feels better without the layer of rubber stealing the taste of big, hot, raw cock rubbing between her lower lips.
He explodes in her pussy. He pours the backed up contents of his balls in her gaping hole, caring not about Jasmin who fails to achieve an orgasm. The cum slithers into her crevice, filling her insides in a layer of hot cream.
When the girl wakes up, she's still naked and dripping between her thigs. The party is over, everyone is gone. $750 lay on the floor. She scoops up the money and her clothes. Droplets of semen accidentally drop on the frabric. It's going to be tough cleaning off those stains. A single wash in the washing machine might not suffice.
The next day, Jasmin goes back to her workplace at the strip club. Mister Frost summons her into his office, to complement her for her spectacular performance at the mansion. "You were popular, girl". He reveals he's got another well-paying gig already available. Nothing extreme, nothing worse than she's done already.
Negligee: Love Stories is available for download on Nutaku's digital store. Buy yourself a copy and you support our comics, our games, and our game reviews.