Hentai Visual Novel Review: Hikari! Clover Rescue
Hentai Reviews

>

Reviews

>

Hentai Visual Novel Review: Hikari! Clover Rescue
Written by Rastafoo69, edited by Otaku Apologist
Hikari! Clover Rescue, a hentai visual novel developed and published by Toffer Team. Released on October 22, 2018. Download on Nutaku.net for $5.00. For PC Windows and Mac OS. Partial voice acting. Uncensored genitals.
You are a perverted slacker named Keigo. You're kidnapped by a gorgeous blue-haired babe. She wants your help in defeating the mysterious Corporation. Rescue other members of the team, and have sex with them to activate their super powers!
STORY
You are the average male who's sucked into a world of magic and mystery to battle the mysterious Corporation. Rescue the lost heroines of this world! Then, you unlock their magical powers through the ritual of vaginal sex.
The plot is to travel to different in-game locations and grab with you the heroines in those locations. You have to use trickery and morally ambiguous methods to break the girls free. There's a scene where you send one of your girls to distract the prison guards by pretending she's being sexually harassed. False rape accusations save civilized society once again!
The game is very, very redpilled, touching on more serious topics like shadowy organizations trying to usurp power and start a "New World Order". It's bold for a hentai game to tackle the issue of rising authoritarianism in the world.
The writing is engaging, but is a little too obsessed with one single joke: The girls must have sex with the male character to unlock their dormant super powers! While one girl might get on all fours quickly, another girl will call everyone perverts, and refuse your dick! With five fuckable girls to plow through, the same charade does get repetitive.
The plot goes through highs and lows. The great writing will easily keep serial masturbators on edge, thirsty for what comes next. And the anti-corporation message will definitely strike a cord with millennials living in socialist shit hole countries where regulations and taxes kill all the small businesses. You have to give them points for pandering to their customers.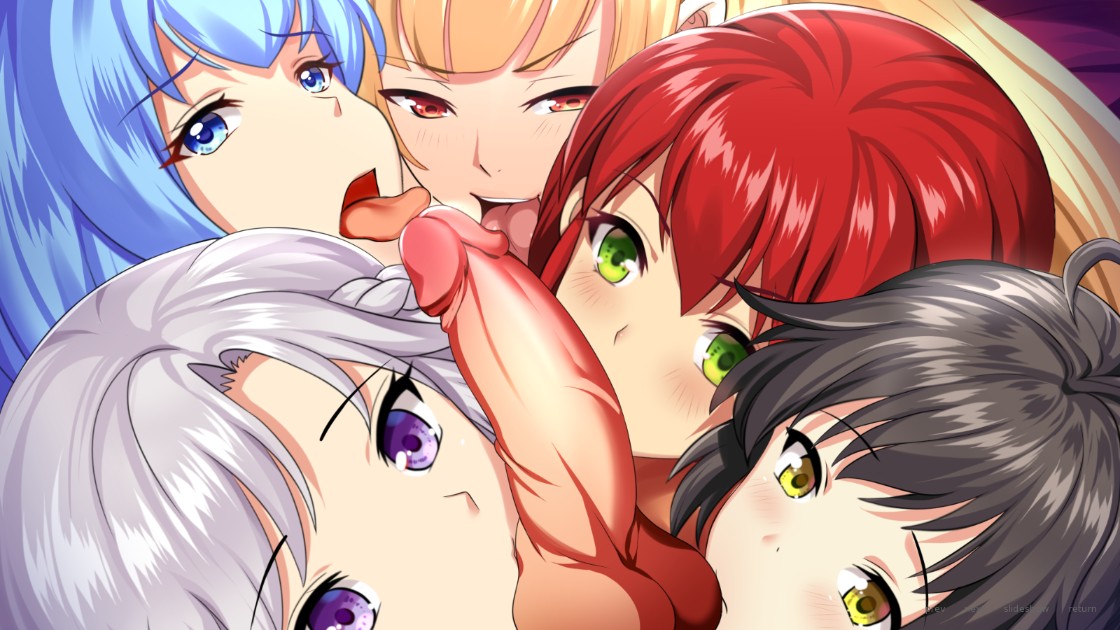 CHARACTERS
Kasumi is the blue-haired beauty who recruited you! She's super smart and super sexy. Owner of the C.R.S. ship and the Transparent Clover, she's practically the leader of the mission. Although she's shy and short-tempered at times, she doesn't hesitate to take the lead.
Akane is the red-haired soldier you recruit at the start of the game. Fierce and energetic, Akane is a very loyal, kind-hearted girl. She's the leader of her own resistance group against The Corporation, and the owner of the Blue Clover. The corporation slaughtered Akane's family when she was young.
Urara is the sultry white-haired super model of the team! Owner of the Green Clover, this beautiful lady won't hesitate to use her charms and raw power to take down anyone blocking her way! Of all the girls, she's the most willing to have sex.
Shizuka is the heir of a powerful company run by her father. Owner of the Red Clover. She's only 20 years old, but ready to show the world she's not a little girl anymore, and that she can save her family's company all on her own!
Elizabeth is the blonde lead fighter of The Corporation. With a dominant attitude and prideful personality, she's the most commanding of the five girls. At first she's your enemy, but maybe you can convince her to join the team?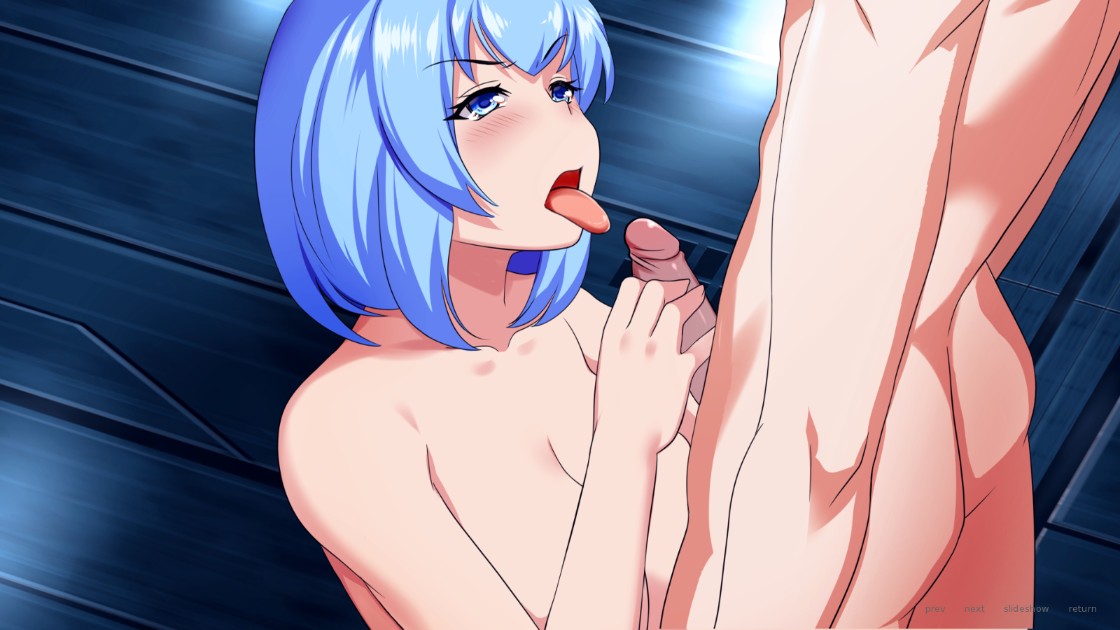 GAMEPLAY
Hikari! Clover Rescue is a visual novel. You click the screen to advance the story. The game presents you with a few choices at certain points, but none bear any impact on the overall plot. It's a very linear play and simple to understand. You can save your progress at any point into multiple save slots.
GRAPHICS
The art is modern anime style. The girls have long, gorgeous hair with a pretty face to match. The shading and lighting is done masterfully, and the body proportions are fantastic. During your interactions with them, the girls feel like real women! Especially Elizabeth is a jaw-dropping beauty. The dimples of venus on their lower backs are an example of the sexy details that convey how shapely and sexy these ladies are!
While the character artwork itself is drop-dead gorgeous, it doesn't always match the events taking place on screen. Early on in the game, there's a scene where the narrator says "Kasumi starts to suck me… She removes her clothes", but the image doesn't change until five minutes later! The art is not always in sync with the dialogue.
The sprites are beautiful. Each girl has a unique outfit and varied facial expressions. Their outfits are very sexually enticing, exposing lots of skin. Some girls have their panty lines vividly displayed. Meanwhile, the dirty line of their tit cracks is invitingly shaded, giving the boobies a sense of mass and shape.
The girls' unique facial expressions bring the characters to life. During dialog scenes, they will react differently to situations. If you make a sexual reference for example, Urara will smirk, while Kasumi just blushes before getting down on her knees.
The game has eight unique sex scenes. The visual novel can be completed in less than an hour, but it's packed full of sex from the beginning to the end. You basically have a sex scene every five minutes.
The background art is restricted to two CGs. You're mostly staring at the dark blueish walls of the ship, and the white bed sheets during sex. The ship background displays computers and other machinery. Off the ship, you're standing outside of a skyscraper owned by the corporation. Depending on the time of day, the color and lighting of the building will change. There are two other background CGs, but their screen time is very limited.
VOICE ACTING AND SOUND EFFECTS (SFX)
Hikari! Clover Rescue has partial voice acting. The five girls have six some phrases they utter at the start of dialogue. The audio clips include such undying one-liners as "Hey!" and "What?"
Each girl has her own unique voice that befits her personality. Kasumi is a tsundere with a high-pitched voice that lowers when she reveals her emotions. Urara has a sultry tone that magnifies her sex appeal – she's a super model, after all! My favorite girl, the blonde-haired Elizabeth, has a commanding voice that works with her dominatrix design.
Sound effects are rare. You hear an audio clip when a door is opened, or when there's footsteps. However, the lack of sounds on key dramatic moments can break your immersion. For example, there's a battle at the beginning of the story. The narrator says "in the blink of an eye we took down the guards". Imagine that kind of ultra violence without any sound.
MUSIC
The bulk of the game you listen to a single musical track. It's a decent song, but gets repetitive very quickly. It's a techno-synth digitally created beat comprising of various tones at different pitches. Think of "Tron" the movie. Very technological, no real instruments, love it or hate it.
During sex scenes, the music changes. Light tones of the electric piano are complimented by a smooth bass and quiet drumming. The music is sultry and sexy and perfect for an intimate moment of passionate intercourse.
HENTAI
The hentai content is fully uncensored and extremely hardcore. You access the first scene very soon upon starting the game. It's a simple blowjob, and gets you excited for the future. After each girl you rescue from their captivity, you get to fuck her. That's the routine preceding every sex scene up until the very end where all five of girls gather around to lick your cock! At the end of every scene you have the choice between cumming inside the girl, or pulling out. Rewind to see both finales.
The best scene in the game is the one you unlock after recruiting Elizabeth. A few minutes ago she was trying to kill you, and now she's dominating you in bed! Laying on top of you, she caresses your dick between her huge breasts while smirking victoriously, knowing she's the one in control of your happiness! Later on, you also get to plug her pussy and cream the bitch like she deserves. Elizabeth is so damn hot and dominant, I love it!
CONCLUDING WORDS
Hikari! Clover Rescue is a fun hentai visual novel from an aspiring studio. The artwork is incredible and will milk your nut with ease. The five female characters are uniquely appealing in their own way. The story has great writing considering the limitations, with a plot devised around bombarding the player with as many erotic fuck scenes as humanly possible. The limited voice acting is super cute.
I highly recommend this game to hentai fans around the world. Download Hikari! Clover Rescue.
Graphics

Gameplay

Story

Music

SFX

Hentai
https://hentaireviews.moe/2018/12/08/hentai-visual-novel-review-hikari-clover-rescue/
https://hentaireviews.moe/wp-content/uploads/2018/12/Hikari-Clover-Rescue-Hentai-Visual-Novel-Developed-by-Toffer-Team-Screenshot-elizabeth-paizuri-1024x576.jpg
https://hentaireviews.moe/wp-content/uploads/2018/12/Hikari-Clover-Rescue-Hentai-Visual-Novel-Developed-by-Toffer-Team-Screenshot-elizabeth-paizuri-300x300.jpg
Reviews
big boobs,blowjob,boobjob,creampie,doggystyle,dominatrix,ecchi,eroge,harem,hentai,hikari! clover rescue,nukige,nutaku,paizuri,sexy,tittyfuck,toffer team,tsundere,vanilla,visual novel
Written by Rastafoo69, edited by Otaku Apologist Hikari! Clover Rescue, a hentai visual novel developed and published by Toffer Team. Released on October 22, 2018. Download on Nutaku.net for $5.00. For PC Windows and Mac OS. Partial voice acting. Uncensored genitals. You are a perverted slacker named Keigo. You're kidnapped by...
Rastafoo69
TELEPHONE2145@gmail.com
Contributor
Hentai Reviews