3D Impregnation Hentai Game Review: Curse of Kisera
Hentai Reviews

>

Reviews

>

3D Impregnation Hentai Game Review: Curse of Kisera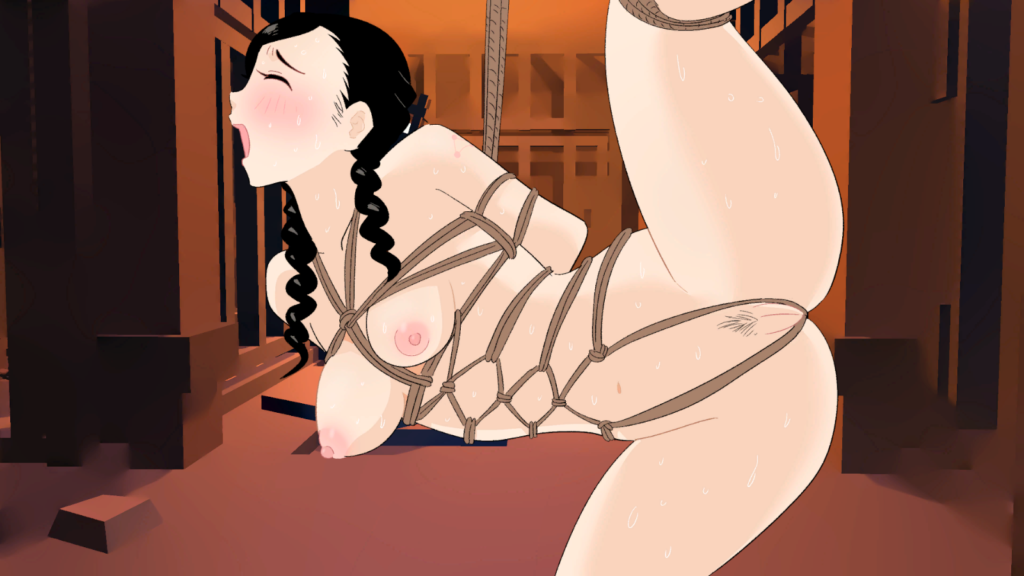 Written by Rastafoo69, edited by Otaku Apologist and Mistress Valentine
Curse of Kisera, a 3D hentai game developed by Yoiko Books. Released July 10, 2021. Download on DLSite for $20.00. For Windows PC. Full Japanese voice acting. Censored genitals. Available in English and Japanese.
Berry looks like an ordinary girl, but her body actually has a special ability; she can conceive babies with monsters! She is targeted by an evil organization and must search for the reason behind her mysterious power.
PROMO: When you download games through links on Hentaireviews, we make original hentai comics.
STORY
The story is extremely linear and basic. Berry must leave town to find out the truth about the magic mark on her shoulder. First she crosses the slime forest to reach Meffle. From there she is told to visit the wise man Paramino. He tells you to go to the port town of Syangaira and take a ship to Mulbec. You comply and do some walking, reach Mulbec, and meet the obese otaku posing as a wise man. He tells you to go to Snow Town. You go there and meet the midget wise man. He tells you to find the wise man named Chardonay. You meet him and get captured by the cult, but easily escape. Finally, you seek out the wise woman named Kisera.
Spoiler alert! She's dead! And she's also your mother! Your long lost sister attacks you! You defeat her and she gives you the cure for the curse. The end.
This game is a mere walking simulator. The entire game can be completed without ever having sex, doing a battle, or lifting your hand from the W key on your keyboard.

There is no tutorial to explain game mechanics. We never learn anything about the cult coming after Berry. A girl named Mika appears, but she has plot purpose.
There is no real suspense or call to action. While other games make you care for the protagonist and get you invested in their journey, this game knows the promise of impregnation content is enough to make most gamers sit through anything. Literally no effort whatsoever was put into getting players attached to Berry. Apart from being naive and kind she has no real character traits.
There are a handful of NPCs but their conversations are uninteresting and unrelated to the main plot. Since the story keeps you moving forward, you will never see these NPCs again, these characters never get any development.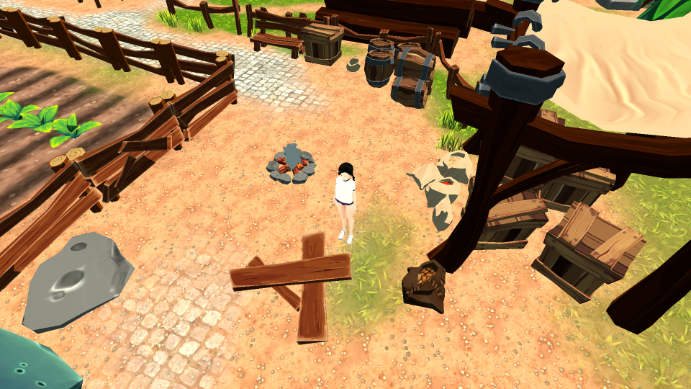 GAMEPLAY
Curse of Kisera is a 3D exploration game, not an RPG. Your left hand is for WASD, while your right hand is for the mouse. The pause menu and dialogue choices can only be accessed with the mouse, so this game is a two-handed experience.
Firstly you walk around and find NPCs and treasure chests. Secondly, there are optional battles where you defeat monsters and recruit them to your team. Thirdly, Berry can engage in prostitution to earn for new outfits. A virgin playthrough should take 2-3 hours, but a whore playthrough will take four.
There is no quest log or load game feature. There is no fall damage, so you can literally jump off mountains and keep walking like nothing happened. Prostitution and birthing services are available in each town, so you never have to backtrack. Press Spacebar to jump. Left click to adjust the camera. Right click for the pause menu. Press E to talk to NPCs.
There are no level-ups. You get stronger by recruiting new monsters to your party. In-battle, monsters have to charge up power before they attack, so it's always necessary to bring items that help Berry resist enemy attacks. After they charge up power, your team attacks and the battle is over.
I highly recommend you avoid entering Kissera's house until you're ready, since it's poorly designed and easy to get glitched into a wall or soft-locked. Before you enter her house for the final battle, make sure to bring three restorative items and one defense-up item. I avoided battles the entire game, but the items are so overpowered that I still cleared the boss fight.
There are 17 possible monsters to capture and add to your party. However, there really is no point to this since the game lacks side quests, boss battles, and standard RPG features like critical hits.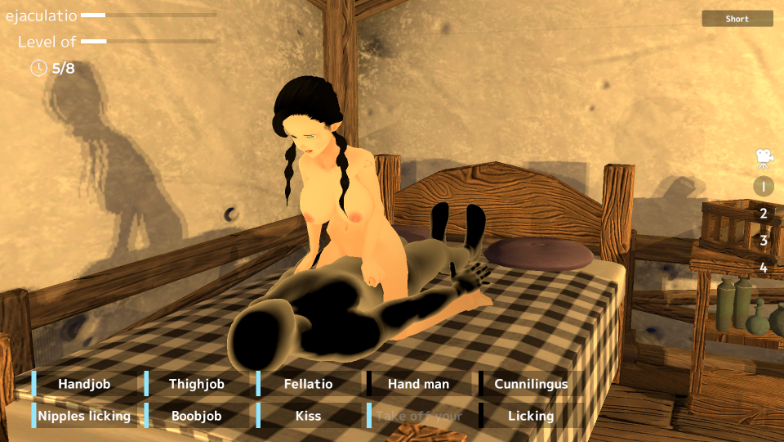 This game has a fatal flaw. Normally you press E to open a chest, but if you press E multiple times, you'll receive multiple copies of whatever is in the chest. This allows players to acquire infinite items and currency. I completed the game without using this cheat mostly because currency is worthless.
Invisible walls may block your path periodically. Although the game is marketed as an open-world RPG, your movement is very slow, which discourages exploration. You can't just ignore treasure chests, but you'll miss out on cool outfits to customize your character. I wish all the outfits were available in town instead of forcing me to find them.
Pregnancy is pretty simple. Sperm will make your belly swell over time. Talk to the old lady in town to give birth, then the baby will be out of sight, out of mind. While the sex system is nice, it often feels like sex is completely separate from the actual game.
Regions are split between loading screens almost like large rooms. This means navigating from one place to another is always a hassle. Either you slowly waddle forward, or you sit through a loading screen.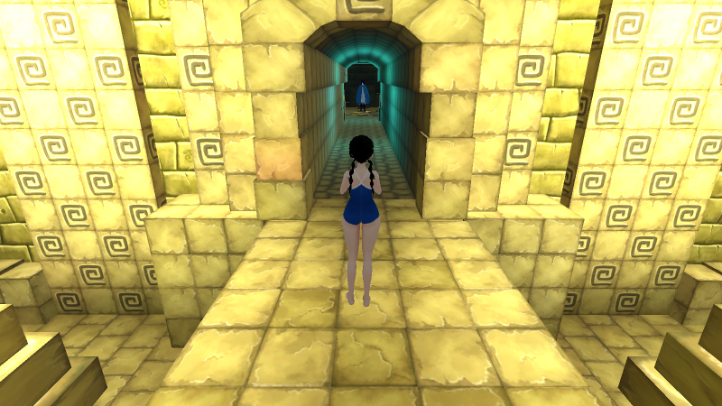 GRAPHICS
This is a highly resource intensive 3D title. Everything is animated from NPCs to windmills to hair movement to shadows! The Unity Engine is famous for frame drops and slowdowns, so be ready for stuttering.
The DLSite page advertises 21 base CGs and 16 animations. This is because the core 8 scenes tend to use 2-3 CGs. I'd argue there are far more than 16 animations. Whether it's interactive prostitution, battle gropings, animations for the CGs, or some other situation; the visuals in this game are almost constantly animated.
No backgrounds are drawn for the CGs. All CGs feature Berry in her default outfit, meaning the wide variety of clothing options only really affect your in-game avatar. Your avatar has a dead-eyed stare like a doll. All facial expressions are limited to 2D CGs while the 3D models are only animated only to move.
Some CGs show Berry having modest B-cup breasts, but once a titfuck scene occurs, she jumps up to F-cups! Most 2D artworks have her breasts fit her body, while her 3D model has breasts almost the same size as her head! Although the visuals of this game seem impressive on the surface, in reality there are many flaws.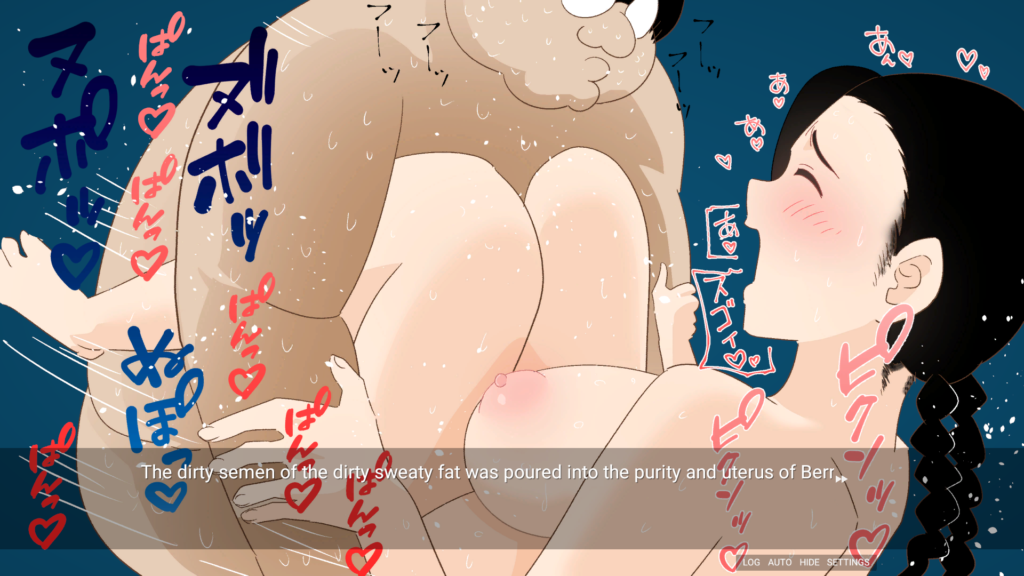 While moving around in a 3D space is nice, the character animations are a bit clunky. Jumping feels more like levitation. Thank god this isn't a platformer, because Berry moves like she has osteoporosis. It's hard to put into writing, but any experienced gamer knows the difference between a good video game jump and a bad one.
This game desperately needed a world map to give players a sense of direction. After speaking to Paromino you'll be told to find the docks. However, the docks are not in town! Instead you must go to town, then exit it at the front gate to reach the hill zone. You cannot find the hills exploring on your own, so you must return to Meffle and interact with the town gate, or the hills will be inaccessible. If that sounds retarded, it's because it is. I wish this game was truly open-world instead of being a mess like this.
While custom outfits are nice, they can be easily missed if you forget a treasure chest. Even if you do find them, they often clip through your clothing. The same applies to flowers and rocks. Sometimes scenes just aren't animated. Like on the boat, the sails of the ship are just giant rectangles that don't move at all. Another huge flaw is that the character of Pitter, who has a sudden costume change and now looks like they're drawn by a different artist! When you clear the game to unlock the gallery, the battle replay system does not work. The game just freezes completely!
This game has a lot of flaws. Creating a 3D video game is harder than it looks! But when the developer does it correctly, it's fantastic! Like the enormous and well-designed dungeon that Berry has to escape from! Or the giant magic force field around Kissera's house! Or the animated breast reveal followed by Berry's chest moving as she breathes heavily. Honestly, it feels like this developer just needed a larger staff to polish this game up. He has the skill, it's just a mountain of work making 3D beautiful.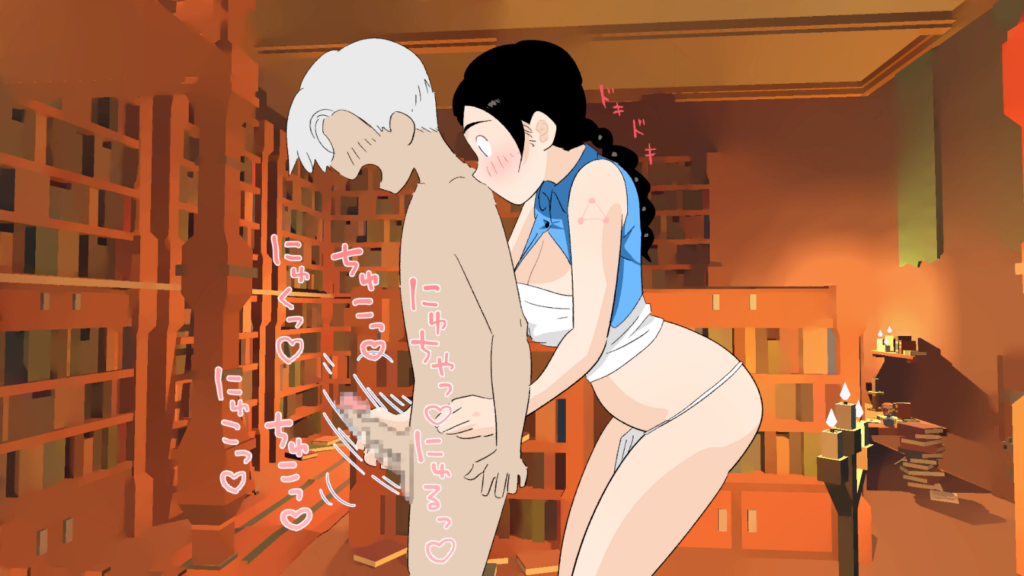 VOICE ACTING AND SOUND EFFECTS (SFX)
Voice acting is used during story moments, but not for conversations with NPCs and other miscellaneous moments. Simply put, the voice work is fantastic during sex scenes but absolute trash during big story moments.
As a character, Berry's voice work should be pretty easy. She's a naive girl who is experiencing sex for the first time, so she's vocal yet inexperienced. During these light-hearted scenes, the voice sounds fine! But the actress is not the best, you can hear it at the finale.
Berry is overjoyed to discover she has a sister, then heartbroken to learn that Pitteru is planning to sacrifice herself. With one defiant spell, Pitteru sacrifices herself and Berry shouts "Onee-chan!". The problem is, there is zero emotion in the delivery. It feels completely mechanic.
They say one bad moment can ruin a game and this is a good example. What should have been an emotional moment, becomes a stupid one. This is her first time meeting her long-lost sister, so it's only natural her concern would be surface-level. The delivery was still bad.
At least the sound design is very well done! Whether it's small footsteps in the dark or the rapid thrusting of a fat man deflowering Berry, the sound effects do a fantastic job of complimenting the visuals and environments.
MUSIC
There are a handful of unique songs used, usually swapping between two. The first is the exploration music which relies on violin, drums, and bass guitar to create a fresh and exploratory feeling. The second is the battle music which uses similar instruments to create a faster tune, like an anime theme song. While the visuals are mixed, the music is undeniably great and I wish the main menu had a music room.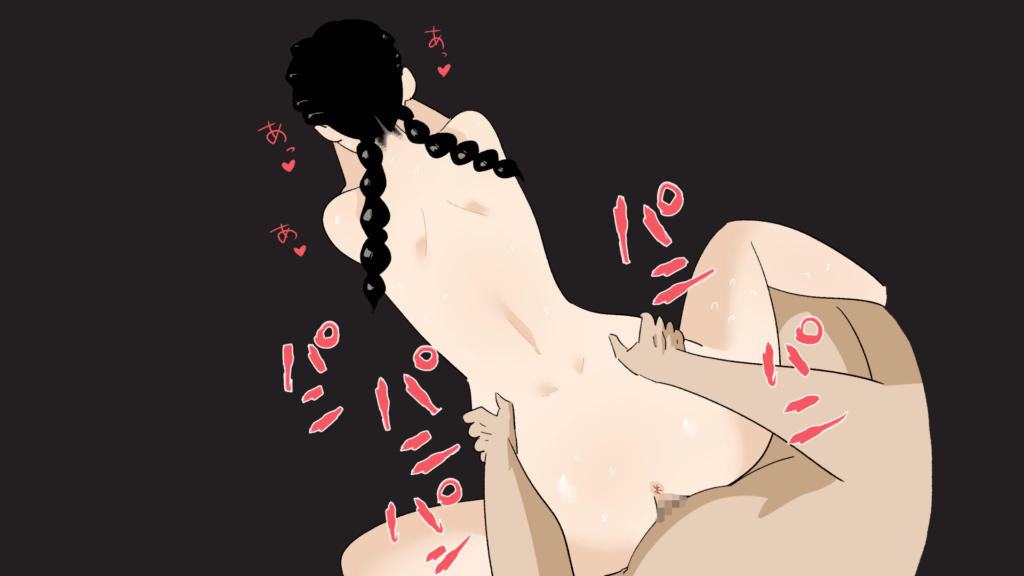 HENTAI
Curse of Kisera features 8 full sex scenes and a wide variety of side-scenes. These include spider sex, blowjob prostitution and many more. I was left wanting more unfortunately.
Berry does not have a health bar. Rather, she has an empty arousal bar that increases whenever monsters grope her. If the arousal bar is maxed out, Berry will fuck them and the battle will be considered lost.
The primary appeal of this game is that it's a 3D impregnation title, even though that's not really emphasized in-game. When a monster creampies Berry, she will have a chance of getting pregnant. If she does, her stomach will swell. She will return to normal when you give birth at the nearest town. The monster baby has no impact on the story and impregnation without consequences feels cheap.
Beat the game to open the art gallery. Although prostitution is possible, it's completely optional. When monster sex does occurs, it's usually spiders and other weird pairings. For me, that doesn't feel as exciting as the traditional orcs and goblins.
Scenes vary based on your virginity and corruption levels. Some scenes are animated to varying levels. Sexy moans and voice acting give each scene a great feeling of lust. While the sex stats are nice, they aren't properly explained by any tutorial, so they feel like a tacked-on feature.
I wish the game put more emphasis on how Berry's pheromones attract the monsters. I also wanted there to be more scenes when she used a magic mirror to show off her tits.
My favorite scene involves one with the obese otakus. Not only is missionary sex one of my favorites, but I also love what happens if you reject him. Berry says "shut up and go to bed fattie", which is probably my favorite line in the entire game.
CONCLUDING WORDS
Curse of Kisera is one of the few Japanese eroge that tackles the 3D exploration genre. While there are flaws like environments clipping into characters, there are also great features like the dynamic camera during prostitution. For this game more than most, you'll have to tolerate some bumps if you want to experience the good stuff.
I recommend this game to fans of 3D erotic games. Download Curse of Kisera. If you like this game and want another 3D title like it, then check out our review of Fall in Labyrinth.

Graphics

Gameplay

Story

Music

SFX

Hentai