Netorare Hentai Game Review: Elfen Fire Sofia
Hentai Reviews

>

Reviews

>

Netorare Hentai Game Review: Elfen Fire Sofia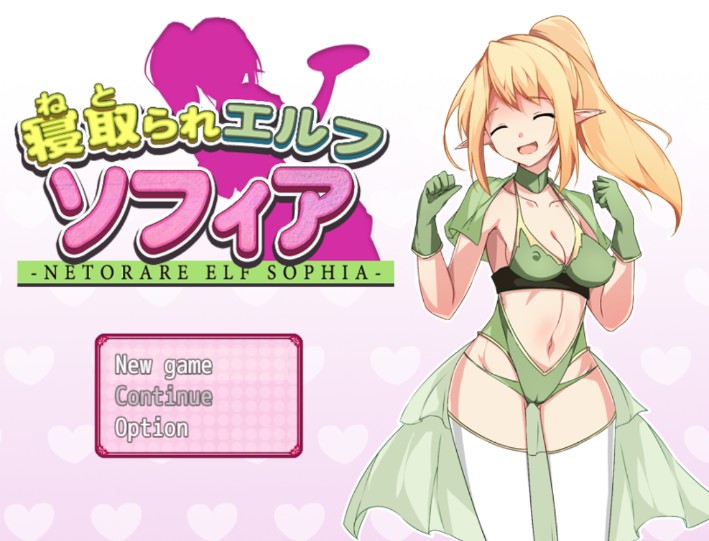 Written by Rastafoo69, edited by Otaku Apologist
Cuckolding Elfen Fire Sofia, a hentai RPG by Studio Neko Kick. Released November 24, 2018. Download on DLSite.com for $15.00. For Windows PC. Partial Japanese voice acting. Censored genitals. Available in English.
Sofia's father owes money to some dangerous men. Even though little Sofia is dating her childhood friend, she must cheat on him to help pay off the debt and save the family.
STORY
Sofia was happily living in the elf village of Refon. She was dating her childhood sweetheart, Rudy. When they finally confessed their love for each other, everything seemed perfect.
Just when Sofia thinks nothing can ruin her life, it's revealed that her father is massively in debt!
You have 50 days to pay off a million gold pieces worth of debt. The story follows Sofia as she works at different places to earn money, getting her ass sexually harassed. You start out working at the church. You get drugged and groped by the local lecherous priest. Then you'll move to the weapon shop where you'll be groped by a customer. Eventually Sofia is so desensitized – and traumatized! – she loses all her inhibitions.
The game ending is strange. After fucking like 20 guys and having kids with three of them, Sofia's cuck husband happily supports her, and helps to raise her kids. You don't get more cucked than that. Pathetic!
GAMEPLAY
Elfen Fire Sofia was created with RPG Maker. Press spacebar to interact with objects and people. Press SHIFT to run. Press 'w' to skip dialogue when you're exhausted from reading.
First you work as a cashier, working yourself up to eventually whore your body on stage as a pop idol. Each working environment is full of lecherous men who take advantage of your poor ass. You must work all the jobs in the game, even if you're not interested. You can't unlock new jobs until you complete the old ones. Either work your ass off, or watch your life go absolutely nowhere.
Although you got 50 days to raise the money, the game's progression curve is fucked. You get corrupted very, very fast, and will be able to unlock every sex scene without really trying, and still have 10 days left over.
Many features in this game are carbon copies from President Yukino, but less polished. For example, you can tell your boyfriend about what you did during the day. In other games I've played, the guy always reacted to revelations of my cheating. But in Elfen Fire Sofia your boyfriend just ignores your unfaithfulness.
GRAPHICS
The art is traditional anime style. If the art looks familiar, it's because this artist has worked on many other games from Studio Neko Kick, like the very erotic Orc of Vengeance.
Each area has a unique theme. The elf village is hidden in the woods, the farm is surrounded by green plains of grass, the town is near a lake. The developers used plenty of standard RPG Maker assets.
You have a huge world to explore from the get go, with full access to all five zones. You can explore all of the surrounding areas before taking your first job. It feels like you're actually taking jobs in a living world.
Even though there are 9 costumes for your character to wear, none of the wardrobe changes are reflected on the in-game sprites. There are times when Sofia wears a maid outfit, while the sprite wears a green blouse.
Small graphical details make for cute visuals, like Sofia's eyes. When she's forced into sex, her eyes well up in tears. When she consents to sex and enjoys the dick rodeo, her pupils become pink hearts of love!
VOICE ACTING AND SOUND EFFECTS (SFX)
The female lead has full voice acting for every line. The actress goes by the handle MasakiFan.
All other characters besides Sofia are silent. Masakifan goes from happiness to regret at the drop of a hat, covering every point in the emotional spectrum with her expressive acting.
Even when male characters get brainwashed by a demon into sexually harassing Sofia, the actress gives a realistic performance. You can easily suspend your disbelief and immerse yourself in a good, hard demon fucking!
As for sound effects, the developer used stock RPG Maker assets. They get the job done.
MUSIC
The soundtrack has 71 songs in total, most of which are RPG Maker stock music. Some of the tracks are unique to Studio Neko Kick. They reuse songs from their previous titles, and will sound unique to most players.
The music is digital, created with a music program that mimics instruments like harps and accordions. There's a medieval feeling to the music. However, the execution is imperfect. The music is meant to replay on a smooth loop until you switch areas. As the songs aren't properly looped, they restart abruptly midway.
HENTAI
Elfen Fire Sofia has 21 sex scenes with 18+ base CGs and their variations.
Sex positions include blowjob from a sitting pose, classic missionary, doggystyle, and more. The scenarios and erotic text carry the show. Sofia gets into all sorts of sexual trouble, she even gets drugged and fucked by her very own stalker! These unique setups keep your interest, even if the art is plain, and the variations of the art lacking.
You can only get pregnant in specific scenarios. You can't influence the conditions that lead to pregnancy, and it's not a full-blown game mechanic. For a game with fully developed pregnancy mechanics, check out Petite Goddess Emily.
The corruption of Sofia progresses far too quickly. You work a job two, or three times and suddenly Sofia is cheating on her man! It's not a good corruption story if the girl consents so quickly! As for cuckolding, it practically never happens! You never see the boyfriend at all. He's at home, and acts like every other NPC, standing still, always spouting the same lines of dialogue.
There are very few elves left in the world, and Sofia whores her womb to breed human children! The elves are literally going extinct because little Sofia couldn't keep her panties on!
CONCLUDING WORDS
Cuckolding Elfen Fire Sofia is a chill netorare RPG about an elf betraying her race for easy human dick. The voice acting is fantastic and the music is pleasant for the ears. The graphics are gorgeous and the story is easy to follow. If cuckolding and cheating are your fetish, this is a title worth checking out!
I highly recommend this game to fans of cheating wives. Download Elfen Fire Sofia. If you're looking for another cuckolding game, check out Prank War, The Story of a Small Isolated Island.
Graphics

Gameplay

Story

Music

SFX

Hentai