Written by Rastafoo69, edited by Otaku Apologist
Orange Trainer, a Star Wars porn parody visual novel developed by Exiscoming. Visit the developer's Patreon page. Released on January 2, 2017. Download for Windows PC, Mac OS, and Android. No voice acting. Uncensored genitals.
Jedi Padawan Ahsoka Tano is stranded on a space station on the outer rim of the galaxy. This pure-hearted Jedi has no experience with men. Play your cards right, and you'll soon be the one to take her virgin pussy for a spin!
STORY
You're stuck on an abandoned space station with Jedi padawan Ahsoka Tano. You're outside the jurisdiction of both sides of the galactic war. You just want to repair the broken space station and make it your personal smuggler's haven!
You need to make the credits to buy hypermatter to fuel your ship. You send Ahsoka to work! First she works as a waitress, then as an exotic dancer. You can only unlock new jobs by corrupting Ahsoka. You need to peel off the princess from this bitch, and dig out the cock-hungry slut buried within. This proves to be easier than expected, because apparently you're the most corrupt piece of shit this side of the galaxy. Simply spending time with you will corrupt Ahsoka as your toxic male swaggery rubs on to her. You're a bad influence to a young woman.
The style of the game is very similar to Akabur's Witch Trainer and Princess Trainer games. There's even modern day references thrown in for comedic effect. For example, the girl asks at one point "Are you slut shaming me?" Eventually you learn that Ahsoka is on this space station to investigate it on behest of the Jedi council. You expect to face Jedi interference in your shady affairs in the near future. The game is still in development, and future updates will likely elaborate on this plot-point.
The game has a wide variety of locations and quest lines to explore. You can visit Tatooine's pod racing tracks, you can check out Naboo's brothels, and many other places taken directly from the Star Wars universe.
GAMEPLAY
Orange Trainer is a visual novel created with the Renpy engine. Press CTRL to skip dialogue. Scroll up to see previous dialogue. The game can be saved at the pause menu. Backtrack your choices by loading backup saves.
Although the game is heavy on dialogue, it also has extensive simulation mechanics.
Hypermatter is the main currency of the game, and there are four main ways to get it. First, you can go hunting to collect a bounty on the local wildlife. Second, you can gamble and bet on various combat matches. Third, you can send out robot drone ships on missions. And fourth, you can send Ahsoka on missions to make money.
High paying missions require higher levels of corruption. You work your way up to more lucrative jobs, starting as a waitress and eventually becoming a full-blown prostitute. Ahsoka will go to work and bring hypermatter back to the ship in exchange for your help in the Republic's battles.
Use the hypermatter to create ships. Those ships can be sent on various missions to help the Republic, which will make Ahsoka happy. When she's happy, she's more willing to try new sexual things.
Alternatively, you can assassinate Republic officials for money and buy Ahsoka gifts to seduce her!
GRAPHICS
Every visual asset in this game is hand drawn by the Patreon creator himself. The production started with a more cartoonish art style, but its currently been patched to have more realistic visuals.
The game has two years of development behind it, and it shows! Each item has a unique sprite in your inventory screen, and Ahsoka has upwards of six different outfits to wear. Although the art is skillfully done, the lack of a consistent style is an issue. An early scene of Ahsoka dancing looks completely different from a later scene with Ashoka stripping. The first picture looks cartoonish while the other like a caricature with Ahsoka's forehead looking twice its normal size! During scenes with dialogue, Ahsoka's breasts are a perky B-cup, but during sex scenes they grow into lumpy C-cups.
Also, it must be mentioned that there's only about six actual CGs in the entire game. When you exclude background and sprite art, the number of unique images in the game only totals six.
VOICE ACTING AND SOUND EFFECTS (SFX)
Orange Trainer has no voice acting. There are no grunts or moans during sex scenes.
The game includes a variety of sound effects used sparingly for dramatic effect. You'll hear the classic sound of a blaster firing during an action scene. You get the hollow sound of footsteps on a metallic floor. Each sound effect is used very rarely, and perhaps inadvertently this creates a fitting atmosphere for a story taking place in cold, black space. There's even a scene where Ahsoka finds a lightsaber crystal, and she turns on the blade – its color is red instead of blue! The sudden burst of sound breaking the silence gets your heart pumping in anticipation.
MUSIC
The soundtrack has only like four songs. Some songs comprise only of atmospheric noises like breathing and panting. There's also a song that's heavy on the harp and other light string instruments. Some tracks are remixes of original Star Wars songs from the movies. They include digital beats and extra cymbal noises – possibly to avoid copyright lawsuits. You won't be listening to any one track long enough to notice. Whether you're going hunting, speaking to Ahsoka, or working on the many in-game quests, the songs change fast. Constant rotation makes the music feel less repetitive.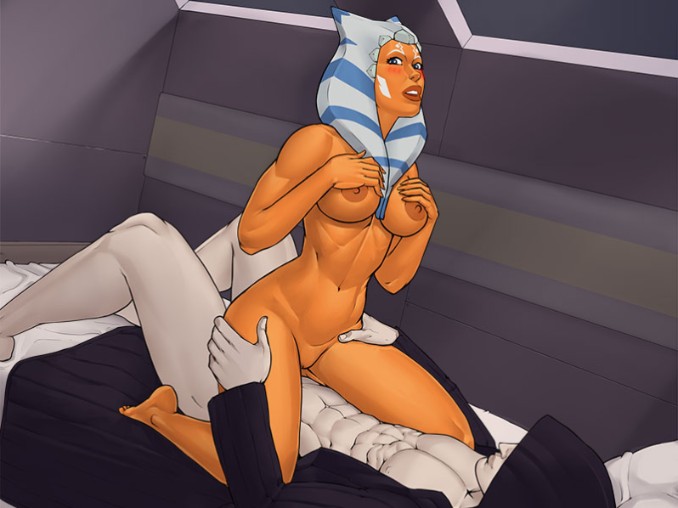 HENTAI
Orange Trainer features primarily foreplay and minimal vaginal sex.
The sex scenes are few in number. The bulk of your time is spent slowly corrupting Ahsoka. The corruption scenes are sexual but do not feature actual sex. First there's groping, then she dances for you. After she's gotten all warmed up for you, she will give you a handjob and a blowjob. After all that's done, she'll finally have sex with you. Each sex act has only one CG with few variations. There is only one vaginal sex scene in the entire game. There's a lesbian scene as well.
The creator is in the process of adding more scenes, but he's been slow with that. For example, there's a titjob scene with dialogue but no art. I don't believe that's intentional. There's also no animations, and uninspired writing. If we're being honest here, if the game didn't feature a popular Star Wars jailbait, this game wouldn't be as popular as it is.
The author is currently working to add two more girls for players to seduce, despite the scenes with Ahsoka not even being finished. Each girl only has one scene, and they start blowing you without a hassle. You can't call your game a "trainer" when only one girl in it needs training to get down.
CONCLUDING WORDS
Orange Trainer is a charming Star Wars porn game available for three operating systems. If you've enjoyed the trainer games of Akabur, you'll definitely enjoy this one. The artwork is good, but there's not much of it. The game is unfinished, flawed, and in many ways unsatisfying. If you liked Star Wars before Disney went full-blown communist agenda with the franchise, you'll have a good time.
Download the game from the following links to your operating system: Orange Trainer download (PC Windows), Orange Trainer download (Mac OS), and Orange Trainer download (Android).
Graphics

Gameplay

Story

Music

SFX

Hentai