Written by MissValentine, edited by Jin0uga and Otaku Apologist
Angel, Devil, Elf and Me, a hentai visual novel developed by Norn/Miel and published by Cherry Kiss Games. Released on April 12, 2019. Download on Nutaku for $11.99. For PC Windows. Full voice acting. Censored genitals.
Ayumu is a basic bitch bachelor living a pussy-free life of depression and nihilism. His life is forever changed when three gorgeous babes emerge from a portal in his living room. Ayumu is apparently the descendant of a legendary hero. His future offspring will be incredibly powerful. The buxom bitches want his high-quality semen.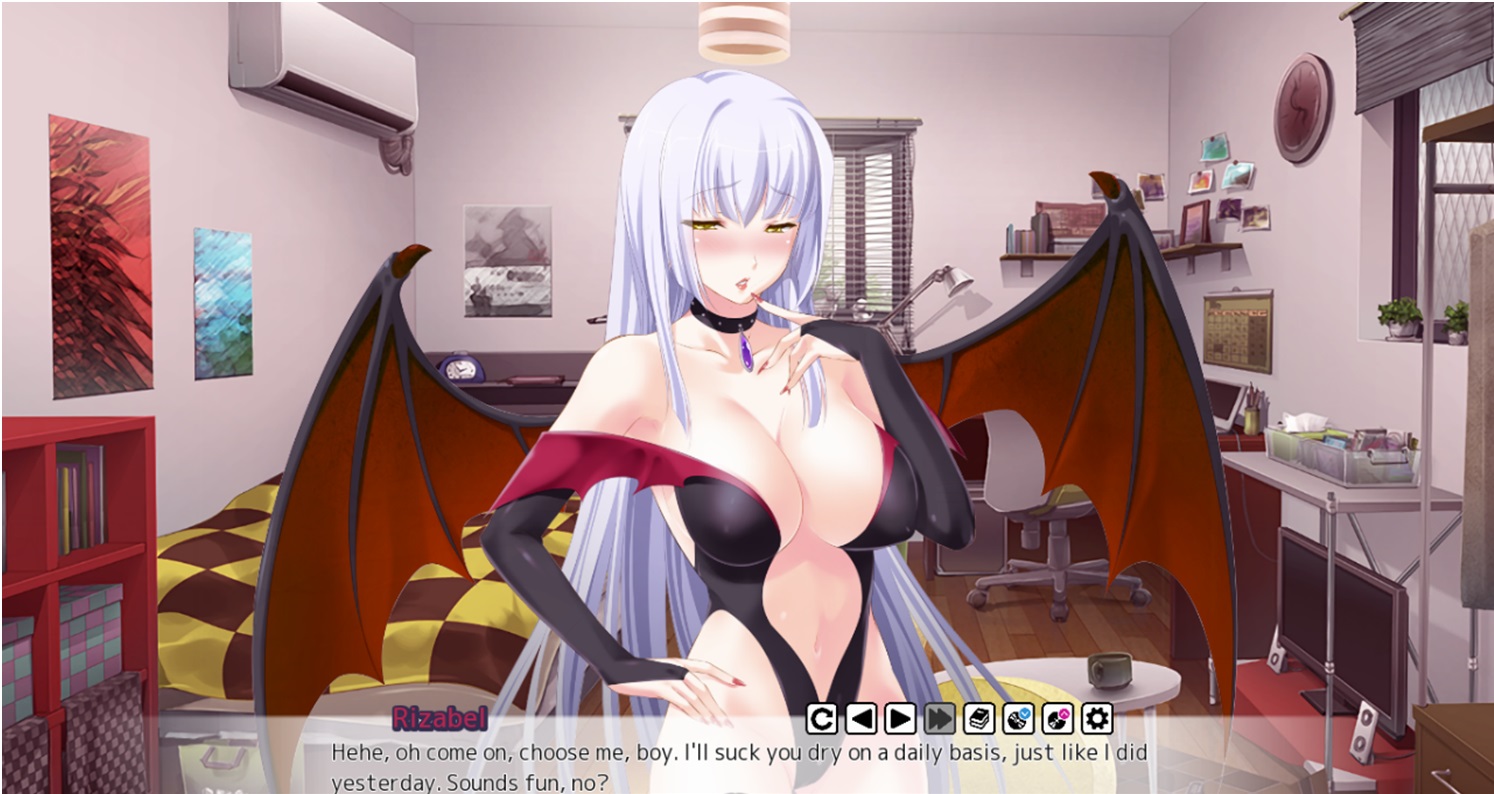 STORY
You play as Ayumu, an anime-loving slacker who never got any. He is deeply envious of ecchi anime protagonists and their harems. He wishes he had big-breasted bimbos fighting over his dick. He gets his wish when three high-status females appear in his living room. The girls are Elysia (angel), Rizabel (devil), and Hilda (the elf).
Ayumu learns a shocking truth: His essence is nearly identical to a great hero's. The babes want his semen to birth an heir who can save their world. But, because Ayumu is a total gentleman, he doesn't take advantage of the situation to get his dick wet. Instead, he wants to spend time getting to know them first. He takes his sweet time to sample all three pussies before committing to a heterosexual monogamous cookie-cutter relationship!
Despite the incredibly pandering premise, this game has some excellent writing. The balance between hentai and plot is perfect. All the characters have distinct personalities. Each girl is more than just tits on legs. Chapters are dedicated to fleshing out the characters and their relationships. I was happy to not find major grammatical errors on my playthrough.
CHARACTERS
Angel, Devil, Elf and Me features three diverse sex fantasies in one tight package. The game is beautifully constructed around these drop-dead gorgeous gals. Each babe has massive tits that beg for a cock to be sandwiched between them. While these ladies are basically plug-and-play fuckdolls, the game tries its utmost to make each girl feel like their own unique person. Elysia, Rizabel and Hilda argue about everything, so there's plenty of banter raising your adrenaline levels in preparation for the sex scenes. The banter highlights the differences in their super sexy personalities.
Elysia is an angel who is pure and virtuous. Rizabel is a succubus who acts flirty and proud, despite never sucking a cock in her life. Hilda is the youngest girl, with your typical regal upbringing. She's embarrassed about sex and sex-related topics. Each of the girls have striking visual designs. They wear incredibly sexy clothes on their mouthwatering bodies.
GAMEPLAY
Angel, Devil, Elf and Me is a kinetic novel. Gameplay is limited to clicking the screen to "turn the pages". The game has basic visual novel functionality. There are plenty of save slots to save your progress. There's a handy skip button to speed through text you've already read. There's also a hand-free auto-play option.
The story is linear without branching choices. There is only one ending. There's also a menu with a list of chapters if you want to revisit certain scenes, including the sex scenes. There's also a gallery to view all the art.
GRAPHICS
Angel, Devil, Elf and Me features excellent graphics. Character lines are thin while shadows are light. Every scene has great lighting with a strong colour contrast between daytime and night-time. Backdrops resemble your typical generic anime households. Backgrounds are detailed with stunning animation and textures.
Characters are beautiful and pleasant to look at. They are drawn with sexy bodies and big, soft tits. Their faces have gentle curves, emphasized by their wild hairstyles and exotic outfits. Everyone has vibrant, striking designs with detailed textures. There are many poses and facial expressions for each character. The developers show their attention to detail by animating how character's lips move when speaking. It makes the game much more immersive.
There is a large collection of artwork. Everything is beautifully drawn, but sparingly showcased. Close-ups and zoom-ins trick the player into thinking there is more artwork available. H-scenes are sexy as hell.
Angel, Devil, Elf and Me treats its female heroines like disposable sex dolls. The girls are always assuming lewd poses that expose every dip and curve of their luscious feminine bodies. The rampant sexualization is magnificent! Poses are accompanied by flirty facial expressions that tempt your throbbing cock into blasting a thick load.
SOUND EFFECTS AND VOICE ACTING (SFX)
Angel, Devil, Elf and Me is fully voiced. All female characters are voiced by seemingly the same gold-throat Japanese babe. Their voices sound suspiciously similar. I'm fairly certain they were all voiced by one person.
Hentai scenes feature a ton of sultry moans, breathless panting and gasps of sexual release. The dialogue is stimulating even if you can't understand the language. The game uses the usual generic stock sex sounds. You get to hear generic feminine cock slurping, cocks slamming into pussies, the thrusting of hips against naked flesh, and women climaxing in utter ecstasy. The game doesn't have non-sexual sound effects.
MUSIC
The music sets the tone for the events on-screen. Most of the soundtrack uses generic slice of life songs typically found in anime, but the songs used in hentai scenes are magical. Each of the girls get a unique song.
Rizabel's tune is a slow, cabaret piano number, like something from the 1920s. It is easily the best song on the soundtrack. In contrast, Hilda's theme uses a mixture of piano and tambourine, which doesn't feel as sexy. A special song is played during the foursome orgy, featuring an exotic, tropical mix of pianos, guitars and synthetic instruments. It was the perfect mood for happy consensual sex.
The game uses a combination of instruments. The synthetic instruments can sound bland and distracting at times. There's even battle music in the mix, but it feels out of place due to its futuristic style.
HENTAI
The game features eight sex scenes in total. Sex scenes are glorious. You get the chance to stick your dick into all three girls. I personally loved fucking Rizabel the most. She makes a fantastic expression as she takes cock, like she's perpetually on the verge of cumming.
The hentai scenes are styled after each girl. Fucking an angel is an intimate and sacred experience, while sex with the devil is fun and exciting. The elf is completely innocent, you need to coax the timidity out of her and awaken her inner slut. You accomplish this by groping her tits. It doesn't take long for little Hilda to suck you off like a hard-boiled porn star. Once she's done blowing you, you get to snatch up her priced virginity!
The sex scenes are lengthy. The prosaic descriptions are detailed, with plenty of dialogue. There's a lot of text to read through, but thankfully it's good shit. You'd be wishing you had more. With the the auto-play option, it's like watching a very good porno.
The content itself is rather vanilla, and will appeal more to the romantic hentai fappers instead of the kinksters.
CONCLUDING WORDS
Angel, Devil, Elf and Me is a great hentai game with great artwork, a funny premise and tons of content. It's a winner in every category, even if it is a linear experience. The girls are beyond hot, not just in body, but their fuckdoll personalities that just beg for cock. Don't be afraid to pick up this title. It's sure to make you bust a nut more than enough times to satisfy.
Get this incredible hentai game today. Download Angel, Devil, Elf and Me!
Graphics -

80%

Gameplay -

40%

Story -

70%

Music -

80%

SFX -

80%

Hentai -

80%