Free Hentai Game Review: Witch Hunter
Hentai Reviews

>

Featured

>

Free Hentai Game Review: Witch Hunter
Written by MissValentine, edited by Otaku Apologist
Witch Hunter, a fantasy hentai game developed and published by Somka108. Updates are released monthly. Download the latest public build on Somka108's Patreon. For PC Windows. No voice acting. Uncensored genitals.
W.I.T.C.H. is a French-American animated television series based on the Italian comic book series of the same name. The story follows five girls named Will, Irma, Taranee, Cornelia and Hay Lin. They are Guardians of the Veil, and technically not witches, but magical girls. The series takes place in the fictional city of Heatherfield and various mythical worlds.
Google drive links: Download for Win/Linux. Download for Mac OS. Alternate links: Download for Win/Linux. Download Mac OS.
STORY
You are Cedric, Prince Phobos' right hand man. Phobos sends you beyond the veil to Earth where the Guardians live. Your job is to find, befriend and fuck Phobos' lost sister, so she cannot reclaim the throne.
You start a book store on Earth and hire Elyon, who you systemically turn into your obedient slut. You also take up a teaching position at the Guardians' school where you infiltrate their lives and start corrupting their young, innocent mind.
The writing in WitchHunter does a good job in setting up the pornographic content of the game. Each WITCH girl has their own story line and a list of fetishes explored. Taranee is desperate to keep her good grades, and Cedric successfully blackmails her into a transaction involving sexual services. The cute redhead Will needs someone to tutor her, while her mother needs a big cock to pump the frustration out of her. Elyon has debts to pay, and is willing to do anything to pay them off. Those are just some examples of the story arcs you plow through.
Character interactions feature decent-quality writing, and do not feel padded. The developers managed to stay true to the girls' personalities established in the source material.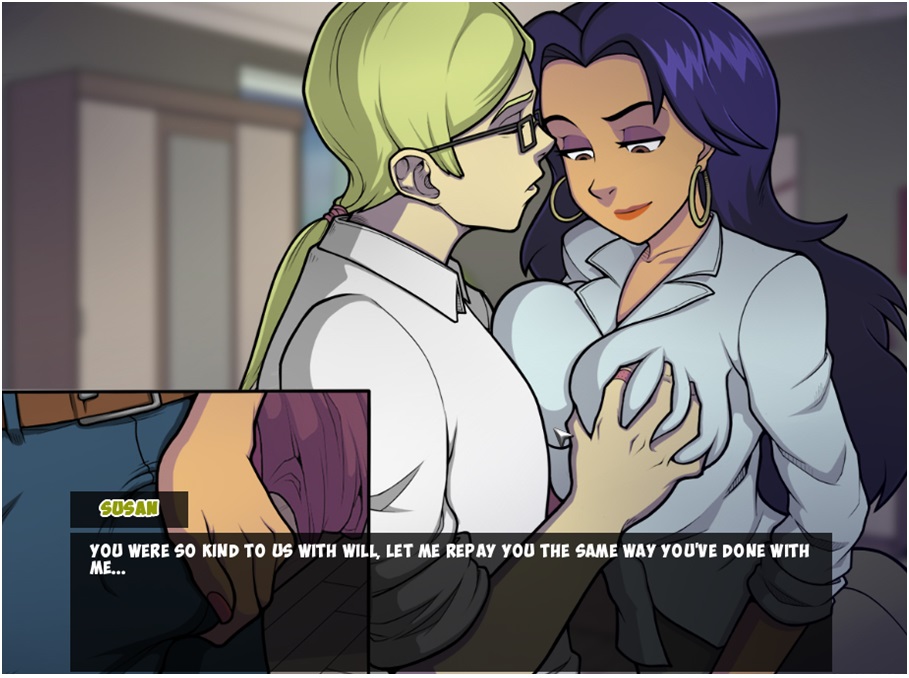 CHARACTERS
The game has an original art style that closely resembles the style of the comics. The girls' designs and outfits are very recognizable for fans of the series. Will is your fiery redhead with a dysfunctional relationship with her single mother. She gets angry when her mother chases her teachers' dicks at her school. Cedric gets to Will by leveraging his relationship with her cougar mother. He becomes Will's tutor, and wins her trust while blasting baby juice into her mommy.
Taranee's personality is inspired by season 2 where she became more rebellious. She dresses up in a punk style, and rolls with an attitude. She's blackmailed into sex by Cedric.
Will is relatively true to her personality from the series. She's a basic bitch who is yet to discover her lust for regular dick.
Elyon has the least amount character, despite being Cedric's main target. She serves as the most common source of sexual relief for the player. She feels like a side character in her own story arc.
The game is still relatively early in its development. Several of the girls are featured very shortly, like Irma who only sucks Cedric's dick once and is never seen. Hay Lin is not available in this build.
GAMEPLAY
Witch Hunter is a visual novel made with RenPy. It has some gameplay elements, and mini-games. You progress by clicking the screen to "turn the pages". Different story arcs take place simultaneously in different locations.
Time is counted with a day counter. You travel to different locations and interact with different characters. Your decisions affect how fast a story arc progresses. Choices in the game have little impact on how the game progresses.
In order to seduce the W.I.T.C.H. girls, Cedric pampers them with gifts. He also buys various supplies to sabotage their lives. You spend your income from working at your book store to get pussy, just like real life.
Sex must be earned and usually involves a lot of preparation. The prep work becomes grating because of how short the sex scenes generally are. There is a built-in cheat button to max out your bank account. There are plenty of save slots available.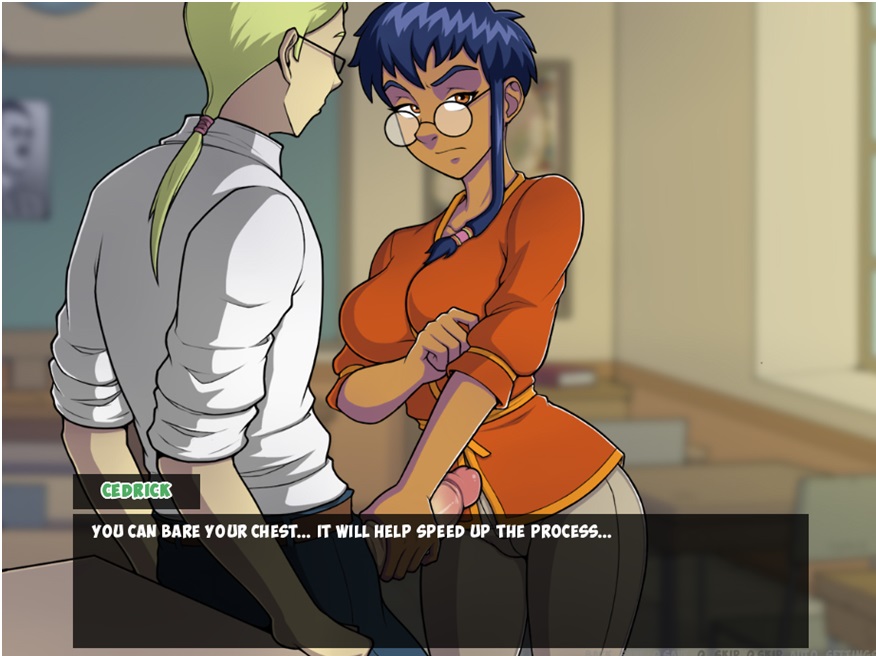 GRAPHICS
WitchHunter's graphics mimic the art style of the comics perfectly. The game looks and feels like a living comic book. The characters are beautifully drawn with thick black outlines and rich, vibrant colors.
Backdrops are drawn in a similar style as the characters, which adds to the authentic comic book feel. There are a multitude of characters, all with distinct designs and facial expressions. Some side characters exist purely for fanservice purposes.
There is a good balance of day and night time scenes. After-dark scenarios make great use of darker colour shades and hues. Certain backdrops, such as Cedric's book store, also feature tremendous attention to detail.
Character proportions stay consistent in-between scenes. H-scenes put enough emphasis on the sexy lady bits. H-scenes also feature simple animation, like hands stroking dicks, or heads bobbing up and down on a cock.
SOUND EFFECTS AND VOICE ACTING (SFX)
WitchHunter has no voice acting and no sound effects.
MUSIC
The music is very limited. Only one or two locations have songs. Everything else in the game is dead silent. The music that's available is average quality. They employ real instruments, mostly cello and various string instruments that remind you of sword and sorcery games. There is also a traditional Chinese theme that plays when you visit Hay Lin's grandmother's restaurant.
The songs are too loud for my taste, and utterly forgettable. They feel intrusive and repetitive. Music is absent during sex.
HENTAI
WitchHunter contains a lot of h-scenes. Irma, Will, Elyon, Will's mother, Taranee are only a handful of the pleasing sex toys at Cedric's disposal.
The 'Corrupt Elyon' arc is easily the lewdest. She has debt to pay and depending on her mood, Cedric can periodically ask her to do lewder things for him. From lifting up her shirt and showing him her breasts to slurping Cedric's cock. It's so sexy to watch Elyon tell Cedric not to get cum on her face since she still needs to go to school only to see Cedric blast his load all over her.
There's an early scene where Irma is blackmailed into having sex with Cedric that is so sexy, but far too short. The Taranee scenes are equally lewd because of how pissed off she is at being used by Cedric.
The hentai scenes are very short unfortunately. The sex doesn't last nearly long enough for you to bust a nut. The game feels afraid of going full-on hentai. Each character gets their turn to pleasure Cedric, but after each session you can't help but feel like you're being subjected to endless cock tease without payoff.
Featured fetishes include handjob, blowjob, footjob, group sex, public sex, MILF, and more.
CONCLUDING WORDS
Witch Hunter is worth checking out if you enjoy seeing your favorite childhood magical girls sexed up. The content has some high-quality artwork, and very good at setting up the sexual shenanigans. The audio and music are missing. The pornographic segments are safe and short. This porn game has tons of potential. If you enjoy the content, you can support this project at Somka108's Patreon.
Google drive links: Download for Win/Linux. Download for Mac OS. Alternate links: Download for Win/Linux. Download Mac OS.
Graphics

Gameplay

Story

Music

SFX

Hentai