Netorare Hentai Game: Kanade and the Ecchi Worklife
Hentai Reviews

>

Reviews

>

Netorare Hentai Game: Kanade and the Ecchi Worklife
Written by Rastafoo69, edited by Otaku Apologist
Kanade and the Ecchi Worklife, a hentai game developed by circle Acerola. Released on November 28, 2016. Download on DLsite for $15.00. For PC Windows. Partial voice acting. Censored genitals. Free demo available. Download the English fan translation patch.
Kanade has to raise five million yen to pay off a debt! Should she fail, she'll be whored out by the Yakuza! The stakes are high. It's time for Kanade to search for easy-access jobs in the flailing Japanese job market.
New to Japanese eroge? Read our guide how to download DLSite games. Also read our guide how to apply translation patches.
STORY
Kanade is hoping to get a part-time job to pay off a family debt to the Yakuza! She's healthy, smart, and blessed with a loving boyfriend. Her life will be perfect if she can just pay off that debt!
You have 60 days to make 1 million yen. How you go about it, is up to you. The events of the story are almost entirely up to the player. You can prostitute Kanade to horny men that pump her pussy full of cum, or find a less shady job that allows you to protect your chastity.
The game allows you to switch between Kanade and her boyfriend. You can see in-game events from both perspectives. If the boyfriend realizes he's become a cuckold, he'll set up cameras to watch his girlfriend cheat and jerk off!
The stellar writing handles the cheating girlfriend fetish incredibly well. Kanade and her boyfriend were neighbors and childhood friends for years. They loved each other, but never became a couple until recently. Will they stay true to one another? Or will they give in to the cheating lifestyle? Their fate is in your perverted hands!
There are eight endings in total. First-time players are likely to get the "poor whore" ending where Kanade stars in a porn film to pay off her debt. But if you play new game plus and carry over your items, you're very likely to get a happy ending!
Discover more cuckolding hentai media we have reviewed!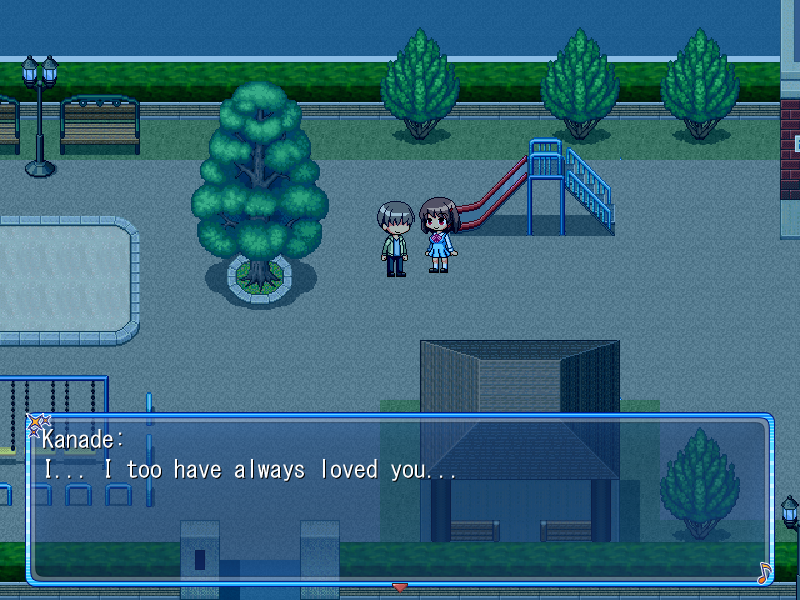 GAMEPLAY
Press 'Z' to talk to NPCs and activate items. Use arrow keys for movement. The 'X' button cancels dialogue and menu choices. Press 'C' to skip dialogue. Press 'A' if you want to review dialogue you already read.
You have 60 days to make 1 million yen. It's completely impossible working at a convenience store! The game encourages you to use money to buy new outfits and items that will open up better jobs for Kanade.
The stats in the game are stamina, desire, guilt, and suspicion. For high-paying jobs like being a pop idol, you'll need low guilt. With low guilt, you'll be able to make Kanade do outlandish things like walk outside completely naked!
Each job takes up different amounts of stamina. Working at a convenience store is easier than singing on stage. If your stamina hits zero, you'll automatically take a day off work.
The "suspicion stat" measures how much your boyfriend suspects you're unfaithful. When Kanade is sleeping with random men constantly, you unlock new game features to play as the cuck boyfriend!
You need certain clothes to qualify for jobs. Change your clothing in the pause menu. If you're struggling to get new scenes, buy condoms, or lower your shyness level. The guy that sells items is in the public park.
The pause menu offers multiple features to help you play. The diary shows your recent choices. The game guide explains how to play. And the stats menu lists out how sexually experienced Kanade has become.
The game takes between 2-8 hours to complete. With only 60 days to play, you won't be able to explore all of the content. With the new game plus mode, this game has over 30 hours of fun to enjoy.
GRAPHICS
The art is Japanese anime style with a good level of detail. There are 10 outfits to wear, ie. french maid, classy dress, school swimsuit. Each costume unlocks more jobs and sex scenes.
Kanade has beautiful short hair with a single braid on the side. With scarlet red eyes and enormous breasts, this girl is just begging to get fucked! There's also another fuckable girl in the game called Chika. She's equally pretty, with long blonde hair and emerald blue eyes. She's the little sister of Kanade's boyfriend, and looks super cute and innocent!
The game has tons of locations in a huge open world, ranging from a bustling city block to a quiet residential zone. Each area has its own personality, along with tons of opportunities for lewd encounters with various men!
The graphics intersect with gameplay many times, and it works perfectly! For example, men will comment on your outfit. Depending on the time of day and your reputation, they'll say different things. It makes the game much more immersive.
Your reward for seeing all the sex scenes in one career path, is a unique pixel animation of your in-game sprite having sex! The animations are short and not very detailed, but they're still impressive, and worth finding!
VOICE ACTING AND SOUND EFFECTS (SFX)
Every line by the main character Kanade is voiced in Japanese. Kanade and Chika are the only voiced characters.
Each actress demonstrates significant range, and does a great job in giving personality to the role. The moans, kissing, and dick slurping during sex scenes are incredibly hot, as are her surprised reactions when groped by men. Their passionate performances bring the characters to life.
The sound effects are mostly unique to circle Acerola, and not the stock content you'd hear in other RPG Maker games. The only problem with these crisp and clean recordings is, they're rarely used! The voice acting is so dominant, sound effects are left ignored and under-used throughout almost every scene. Still, they're great when used!
MUSIC
The soundtrack is all digitally synthesized tracks. The instruments create both upbeat, and calming tunes fit for the moment. From soft notes on the electric guitar, to alternating beats on the electric piano, multiple instruments bring great variety to the audiovisual experience.
HENTAI
Kanade Ecchi Worklife has over 60 sex scenes, each with a unique partner and scenario. Sex positions include the classics from missionary to cowgirl. There's also animated sprite sex. Erotic dialogue is plenty, but it can be hit or miss.
When Kanade is first being corrupted, things progress slowly. The anticipation for sex is great. When the girl is forced to sort through the dirty books at the library, she doesn't know much about blowjobs or titfucks. She is both confused and excited!
As Kanade gains more sexual experience, she eventually turns into a total whore. Then you can have sex with complete strangers! From homeless bums on the street, to the horny guys in your class, you can turn Kanade into the village bicycle all day long!
My favorite scene has to be when the boyfriend discovers what's going on, and watches her have sex from afar. Kanade gets so turned on by having homeless dick in her pussy, she says she wants to get pregnant! Hearing this, the boyfriend creams his pants while the dirty bum fills Kanade's pussy with homeless cum!
The absolute best part of this game, is how the sex scenes connect to the larger timeline. This game takes place around the same time as President Yukino, and the connections are strong! If you play President Yukino, you can access computers and see photos of Kanade taken by the dirty men! You also get eight scenes with Chika while playing as the boyfriend.
CONCLUDING WORDS
Kanade and the Ecchi Worklife is the perfect hentai game for lovers of cuckolding porn. The game has over 20 hours of content, with each scene better than the last. The dialogue is well written, the sex scenes are glorious, and the graphics impressive. If cuckolding is your preferred masturbation material, this game will be your ultimate source of pleasure.
I highly recommend this game. Download Kanade Ecchi Worklife. Also check out President Yukino.
Graphics

Gameplay

Story

Music

SFX

Hentai