Written by Otaku Apologist
Seed of the Dead, a zombie shooter adult game developed by TeamKRAMA, published by Eroge Japan. English localization released on March 7, 2019. Download on Nutaku.net for $15.00. For PC Windows. Full Japanese voice acting. Censored genitals.
The one thing that pissed me off about Left for Dead was the absolute absence of anime boobs. Apparently, I wasn't the only one who felt that way. Some obscure no-name Japanese company made a ripoff of Left for Dead with awkward 3D anime porn.
TeamKRAMA has an English Patreon campaign running to fund the development and English localization of their next game, Ascot: Demon's Waltz. If you're in the hype train for Ascot, you can become a donor at their Patreon.
STORY
A mysterious pandemic all but wiped out the world population. Cities are full of bloodthirsty monsters. You are a survivor, fighting tooth and nail to keep yourself alive long enough to repopulate the world with three hot girls who really like to fuck.
The storytelling in this game is barely passable. Trust me, I'm not cheating you out of a good twist by spilling the beans. After cleaning the streets from the undead scourge, your little harem breaks into a hospital that just happens to be a satanic research laboratory. The clandestine facility was instrumental in developing the virus that destroyed civilization. You start your girls into fuck machines and create a vaccine from the pussy juices of your girlfriends and save humanity with the power of love.
The story is conveyed between levels in visual novel style segments. These segments feature traditional anime character art, and 3D backgrounds. The girls' lines are fully voice-acted, bursting with feminine energy. The story is long-winded, and the dialog mostly useless filler. The characters are cookie-cutter mash-ups of tropes without background story, or depth.
GRAPHICS
Seed of the Dead features 3D graphics in the gameplay sections, and 2D character artwork for the story segments. The 3D visuals are pretty basic on modern standards. Enemies look great, but there are only four enemy types. The basic zombie monsters are creepy shitters that frantically wobble towards you. The other enemies include giant worms, and some kind of demonic mutants.
The areas are quite spooky with just enough detail to not feel unfinished. The lighting is dark throughout the experience, and plenty of rooms are completely black. Sometimes you can only spot enemies in the darkness by watching their lit-up eyes. Most areas are just dirty and dark, but there's a couple more gruesome areas with skulls and occult symbols, with splatters of blood all over the place. The lighting enhances the creepy atmosphere, but the developers never go overboard with the horror elements. I never felt scared, just entertained.
I found a couple of glitching roof tiles. Enemies sometimes froze into weird gravity-defying positions at death. The big fire mutant monster that's supposed to be the toughest enemy in the game, completely stopped moving at random times. The visual problems were minor, but notable. The issues stacked up the longer I played, and my overall impression was mediocre.
The 2D anime art is high quality. The character sprites have multiple poses and facial expressions, and nice nude variants. I enjoyed all the girls' designs very much. My favorite was the blonde babe in her red skin-tight dress and a cute princess tiara on her head. I especially appreciated the erect nipples of the two younger girls straining the fabric.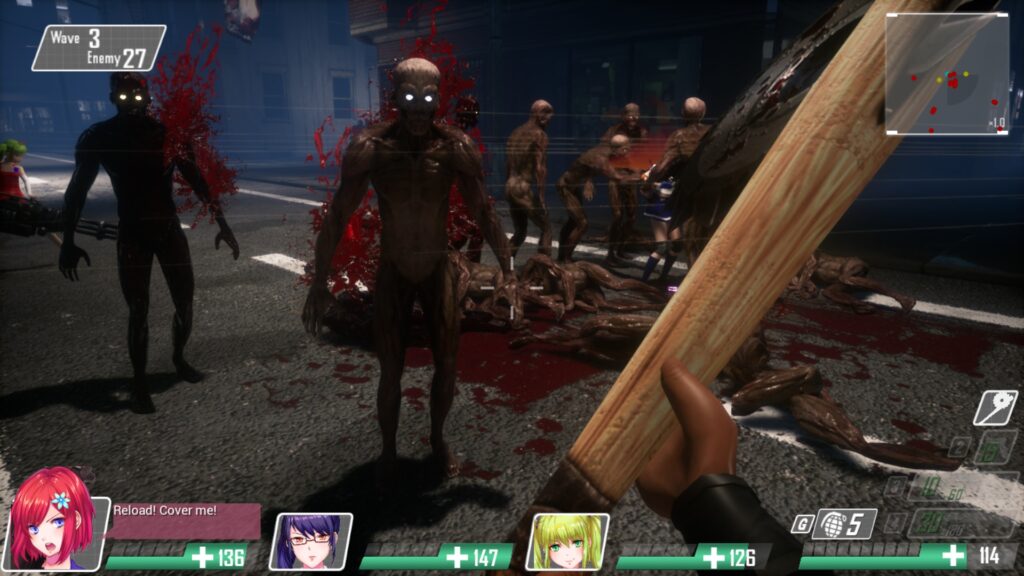 GAMEPLAY
Seed of the Dead is a first-person shooter. You move your character by pressing WASD keys, and attack by clicking your left-side mouse button. Right-side mouse button lets you aim a gun. With melee weapons, the right-side mouse button is a power swing that can instantly kill a zombie. Against the more agile monsters, the power swing is useless.
You are accompanied on your adventure by three strong conservative girls who believed gun rights are women's rights before civilization collapsed. As a result of their strict upbringing, they know their way around guns, but not dicks.
In each level, you dispatch hordes of monsters that often appear on badly hidden spawn locations. You can see the enemies appear in front you from out of nowhere. It's awkward and immersion-breaking as hell. The spawns are instantaneous.
You can wield an AK-47, a pistol, a shotgun, and even a lightsaber! My favorite gun was the shotgun, which instantly kills most enemies. You also have a limited number of grenades for mass destruction. Every time you complete a level, your gear gets reset.
The game has a sex-based healing mechanic. You can initiate sex with any of the heroines at any time, even mid-combat! The sex is basic skin-on-skin intercourse, with juicy voice acting and ass-pounding audio, and a comical cumshot sound. The sex could've been miles better, with better camera work, randomized sex positions, and something more meaningful than Guitar Hero style gameplay.
You'll be swinging your basic melee weapon the most, which is a baseball bat with a buzz saw embedded into it. You can't upgrade from the baseball bat at any point, as bullets are scarce. Its lackluster power will often force you to swing 3-6 times at an enemy to score a kill. I really didn't enjoy the unresponsive melee combat gameplay, and it was the bulk of my game-time. My second default weapon, the pistol, was completely useless, because I was fighting hordes of rapidly moving enemies, forced to reload every three seconds.
The game has three difficulty levels (easy, normal, and hard). You can't save your game state, but you only have to pass a level once to be able to return to it in the menu. Clicking options in the various menus is unresponsive, but nothing the average player can't manage.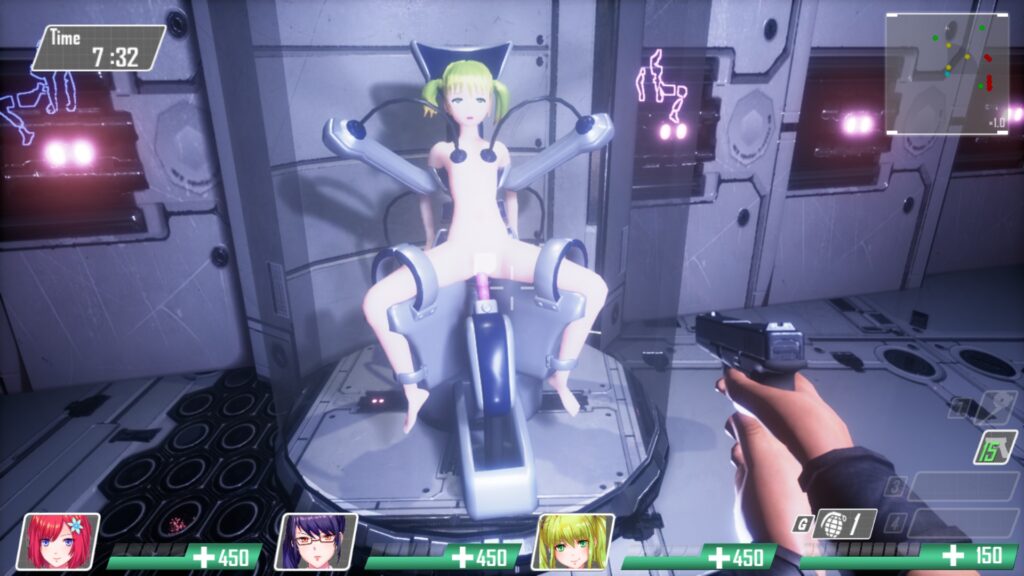 SOUND EFFECTS AND VOICE ACTING (SFX)
The three heroines each have their own voice actress. Their performances are solid and professional. If you enjoy Japanese voice acting in your anime, you'll enjoy it in this game. The babes are feminine, sexy, and enjoyable to listen to. Their verbal token resistance when you whip out your dick while enemies surround you, is like an invitation for a post-apocalyptic sex session. They call you a "baka", they tell you to quit, they know it's insane to fuck when zombies are rending you to a bloody mess, but at the same time, they aren't putting up a convincing fight.
One thing that irked me is that the swing sound for my baseball bat overpowered the whacking sound when my bat actually connected with an enemy. It sounded like I was swinging through the air.
The gun sounds are not very realistic. Several guns sound like they shoot pellets, rather than bullets. The heavier guns like the AK-47 are more realistic. The audio design suffers from an inconsistent style: sometimes it's downright cartoony, other times it mimics reality.
MUSIC
The soundtrack is full groovy instrumental rock, techno, and heavy metal songs. You see the names of the song and the band when the track starts playing. The variety is great, and the performances stellar. It's the kind of aggressive trashy music you listen to while lifting weights at a gym. The songs switch multiple times during a single level, and you'll easily hear 3-4 different songs before the last zombie's brains are splattered across the walls.
The soundtrack is clearly full of licensed content. I have a lingering doubt that any of these tracks were originally composed for this game. Still, the content itself is high quality and delivers a great zombie killing experience.
HENTAI
The hentai content comprises of short 3D animations. You can have sex with the girls during combat, although the animation is always the same. You can view the fucking from different angles by rotating your mouse.
After each level, you unlock a sex scene with one of the girls. The content is fully voice-acted and the sex audio is boner-inducing, but the 3D visuals are somewhat cheap. You also can't rotate your camera for some reason. You fuck the girls in varied poses, in very dirty locations, like toilets, dark caves, and the backstreets of the city. Before you dip your dick in a girl, you get a story segment where the babe describes her lustful feelings. The performance is believable, you can tell these girls love dick.
The best part for me was in the cave level, where you're separated from your harem. Each girl is trapped somewhere in the area, getting their pussies destroyed by monsters. When you find the monster, you can stop to admire the sight of it fucking your waifu before shooting its head off. Her pussy is all warmed up when you replace the monster's dick with yours.
The best cure to sexual trauma is to get back to riding dicks!

CONCLUDING WORDS
Seed of the Dead is the kind of hentai game we need more of in the degenerate west. While globalist influence in our media, education, and our politics are destroying the foundations of our decaying civilization, we need nihilistic games like this to practice our mindset for the grimdark future where there's only war. This game has everything you could want: Action-packed gameplay, sexy conservative Asian girls, and all the sex and ultra violence you need to get off. For its meager asking price, it's worth it.
Download Seed of the Dead. If you enjoy post-apocalyptic hentai games, also read our review of Ghost Town Gunsweeper.
Graphics

Gameplay

Story

Music

SFX

Hentai