Hentai Game Review: Kuroinu Chapter 2 – Princess Prostitutes
Hentai Reviews

>

Reviews

>

Hentai Game Review: Kuroinu Chapter 2 – Princess Prostitutes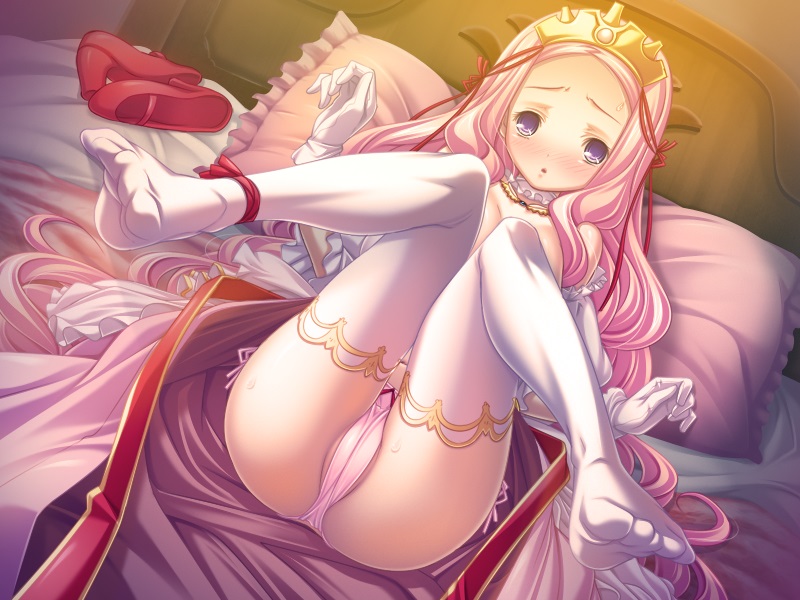 Written by Otaku Apologist
Kuroinu Chapter 2, an hentai visual novel developed by Liquid ltd. Published in English by Mangagamer in November 17th, 2017. Available for download at Mangagamer for $24.95. For PC Windows Vista, 7, 8, 10. Full female voice acting. Uncensored genitals.
A dark medieval fantasy erotica, Kuroinu is a visual novel series with three chapters in total. All the chapters have been officially released via commercial channels in the English speaking market. The second chapter continues the tale of the mercenary Vult, as he establishes his own ultra patriarchal nation based on the principles of rape culture.
Read my review of Kuroinu chapter 1. Read my review of Kuroinu chapter 3.
STORY
The dark elf queen Olga has waged war against the southern kingdoms for hundreds of years. As the kingdoms grew tired of getting fucked in the ass, they launched an alliance. However, instead of uniting under one banner to take the war to the north, the alliance leaders decided to employ a group of mercenaries to defeat the dark elf queen. They hired Vult. His battle-hardened army effortlessly demolishes the ragtag band of monsters defending Olga's castle.
Soon after conquering the citadel, Vult declares war against the southern kingdoms. Assisted by multiple betrayers within the Seven Shields Alliance, the mercenaries conquer each fortress and capture the luscious princesses.
Vult declares the birth of a new nation: Cuntry. The law of the land is that women must service men sexually. The girls are turned into prostitutes, their holes sold to the highest bidders.
This chapter of Kuroinu features three girls: Kaguya, Prim, and Alicia. All the girls are high-status virgin females, so godlessly empowered, they don't even wear pants or skirts that would cover up their panties.
Kaguya is a holy priestess with a divine anus that makes guys orgasm instantly – her scenes are all anal. Prim is an oppai loli princess harboring secret dark fantasies of dominating men sexually, which he explores with two disgusting pig men. Alicia is a proud warrior princess who never had sex with a man.
The premise has tons of potential to be a solid fantasy story with extraneous sex, but it leaves too many important questions without answer. Why Olga attacked the southerns kingdoms is not explained. What motivated Vult to create his own country? The developer left a few too many plot holes to be filled by the players' imagination. There's also tons of religions and cultures, adding flavor to each girl, but they barely get explored.
As porn goes, the game features many hardcore scenes for each character, with top-tier art and voice acting.
GRAPHICS
Some of the sprites look off. I've noticed this before in Liquid ltd's products: The character artwork has inconsistent quality. Some characters have quirky noses and jawlines, and somewhat weird body proportions. Other characters look magnificent, as if penned by an entirely different artist. The CG artwork is ways better than the character sprites. The contrast in lighting, and detail, is enough to make the sprites look cheap in comparison. The images of sex have been gracefully colored, with gorgeous shadows providing a sense of shape to the bodies. The sprites have one pose, a few sets of clothing, and multiple faces.
The character designs are extremely erotic. The girls have curvy feminine bodies with large breasts and hips. They're very realistic, with even their ribs and bone structure clearly visible. Their outfits leave little to the imagination. The women wear tiny panties that barely cover their bikini area. Their dresses barely hide a speck of flesh. The background art is consistently high quality, my favorites were the depictions of the medieval castles with their high towers.
The CG artwork in this chapter was particularly beautiful. Every sex scene was like a painting. The vaginas deserve a special mention; most girls' genitals were drawn to have inverted vaginal lips. The pussies were nothing but tiny slits in their groin, looking young and untouched. Every scene gave a good glimpse of their panties before they were pulled down and hordes of men fucked them, until they gaped like drooling wounds after a stabbing.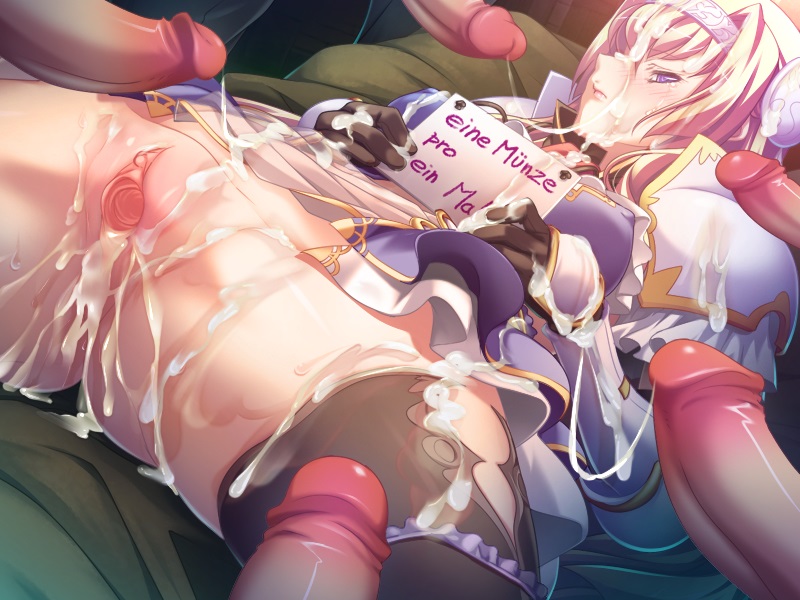 GAMEPLAY
Kuroinu is a visual novel. Click the screen to turn the pages. Multiple save slots let you save your progress.
The game let me choose which castles to raid, accompanied by two sex scenes with the girl. After Vult wins the war, you get to choose which babe to put up for slave auction. Each option includes a sex scene for the chosen girl.
MUSIC
The music is dark and edgy, befitting of a medieval princess rape scenario. I enjoyed all the tracks, including that chill song that played during dialog songs. The casual songs in eroge are usually the ones that fail to set the mood. The soundtrack provided the freaky ambiance that made this edgy story come alive. The songs were great, with plenty of variety for the sex scenes as well, though none were particularly erotic. I almost felt like the music was working to kill the emotional side of the scenes. Kind of like how the songs played in night clubs are often cold, synthetic beats without singing.
The soundtrack is distinct and fits the context, but I wouldn't consider any of the songs memorable.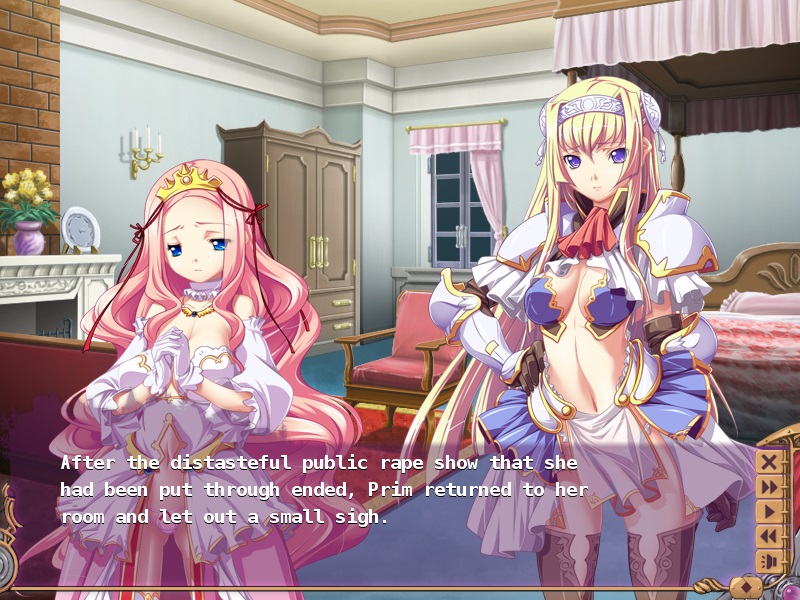 VOICE ACTING AND SOUND EFFECTS (SFX)
The women are fully voice-acted, while the men aren't. The game has a few sound effects, like doors slamming open or shut. Many sound effects you would expect from a porn game, like the sloshing of a wet pussy, are blatantly missing. The voice actresses make up for this by keeping constant noise. If they're eating a cock, you're hearing their slurping on a constant basis.
The voice-acting is professional-tier Japanese quality. The actresses somehow completely immersed themselves in their roles as victims of rape. Every embarrassed gasp and sound of protest, they utter in a sexually enticing manner.
Some girls were a little too loud with their screaming. Kaguya's actress completely lost her shit during later scenes. The developer was clearly aiming to show the contrast between how she started (stalwart and emotionless), and how she ended up (insane and wishing for death).
If you're the type to get off on young Japanese women ranting about "jimp milku" and "manko", this game will make you cum buckets. Note, there's an occasional censorship bleep when the girls talk dirty; the words for genitals are censored.
HENTAI
The hentai scenes depict exclusively non-consensual sex. The women are high-status females who are raped and destroyed. I played multiple scenes for each girl for a comprehensive review. Kaguya's route was about humiliating anal insect rape. Prim's route revolved around two disgustingly fat pig men named Ponti and Conti, whom I expected to molest little Prim. Prim's storyline went into an entirely different direction. Alicia's route was more predictable, focused on sexual humiliation and vaginal sex. Each girl's story was about the defilement of high-status females, clinging desperately to their pride while they are drugged, and prostituted on the streets like cheap whores.
The sex scenes feature a singular slide and plenty of text describing the action. There's also incredible Japanese voice acting. The image slide changes to a different variant as the scene progresses. For example, after the first creampie, the cum stays in the woman's now-gaping slit. When another monster comes to plow her hole, the gallons of semen gushing out are shown.
The trick that makes these crazy rapey scenarios enjoyable for a mass audience is that the sex is hyped as non-consensual, but there's barely any violence involved. If the writing was changed, there's not really any visual cues that make the sex look any more terrible than a normal video of consensual group sex. The circumstances surrounding the sex scenes are dark and edgy, but the women are not harmed.
I personally enjoyed the women protesting the horrors being done to them. There's something special about a woman telling you "no", while you force your hot load into her womb. Eventually the girls grow to enjoy the sex, and their entire tone of speech becomes more sultry. After all, women's bodies are designed by nature to handle multiple sexual partners a day.
CONCLUDING WORDS
Opportunities were missed to build the world into a unique setting. Kuroinu Chapter 2 is a streamlined exploration of many interesting fetish scenarios in a dark medieval fantasy setting. The game hit many popular tropes with the female character designs and the scenarios, adding just the right amount of surprise to keep things interesting.
Download Kuroinu Chapter 2 at Mangagamer. Also, use our discount code when shopping at JLIST.
Graphics

Gameplay

Story

Music

SFX

Hentai
https://hentaireviews.moe/2018/07/28/hentai-game-review-kuroinu-chapter-2-princess-prostitutes-humiliated/
https://hentaireviews.moe/wp-content/uploads/2018/07/kuroinu-chapter-2-hentai-visual-novel-by-liquid-screenshot-x7.jpg
https://hentaireviews.moe/wp-content/uploads/2018/07/kuroinu-chapter-2-hentai-visual-novel-by-liquid-screenshot-x7-300x300.jpg
Reviews
creampie,eroge,hentai game,kuroinu chapter 2,liquid ltd,princess,prostitution,rape,rape porn
Written by Otaku Apologist Kuroinu Chapter 2, an hentai visual novel developed by Liquid ltd. Published in English by Mangagamer in November 17th, 2017. Available for download at Mangagamer for $24.95. For PC Windows Vista, 7, 8, 10. Full female voice acting. Uncensored genitals. A dark medieval fantasy erotica, Kuroinu is...
OtakuApologist
otakuapologist@gmail.com
Administrator
Hentaireviews' admin. EMAIL: otakuapologist@gmail.com
Hentai Reviews