Written by Rastafoo69, edited by Otaku Apologist
Kunoichi Botan, a hentai game developed by circle Enokippu and published by Kagura Games. Released August 1, 2017. Download on DLsite for $13.00. For Windows PC. Partial voice acting. Uncensored genitals. Available in English and Japanese.
After her master was captured on an assassination mission, young kunoichi Botan has no other choice but to go after her. Can she save her master? Or is she doomed to get captured and fucked out of her mind?
New to Japanese eroge? Read our guide How to download DLSite games.
STORY
Botan is an inexperienced kunoichi on a mission! Assasinate the mysterious merchant, rescue her mentor, and gather intel on the mysterious "Oni". She's in over her head, but she has no choice but to infiltrate the merchant's castle.
"Oni" are demons. Pure demons are incredibly power and incredibly stupid. The real danger is the half-oni, because they have a human form, and catch most people off guard. In fact, the mysterious merchant himself is a half-oni.
The merchant has been controlling the half-oni for a long time. Your mentor, Kaede, tried to investigate, but was caught and ass-fucked by this mysterious man. One wrong move with this man and you end up dead!
The writer of this story shows some serious skill. It's a great mix of comedy and drama. A great example is a scene where three men want to rape Baton, and they demand her to create three shadow clones to please them all. The first thing she says back: "I didn't spend so long learning this technique just to whore out my clones!"
This game is incredibly dark. If you try to escape and fail, your abuser becomes enraged. The screen fades to black and you can hear terrible noises. She begs for mercy and dies.
If you can endure all the stresses and strains this story has to offer, you can finally reach its climax. The mysterious merchant consumes enormous amounts of demon energy and attempts to murder Botan. He outright says he will cannibalize your body and consume your life energy, and if you lose, he does. If you enjoy horror and hardcore themes, this game delivers.
GAMEPLAY
Kunoichi Botan was created with RPG Maker. You move with the arrow keys and press spacebar to interact with people and objects. Press F12 to reset the game. Press Shift to run. Press CTRL to skip dialogue.
The first half of the game is almost entirely stealth gameplay. The second half is pure combat.
Stealth gameplay is a matter of hiding behind crates and avoiding the line of sight from your enemies. If you are able to get directly behind them, you can easily assassinate them.
The combat gameplay features lots of items, abilities, and fighting. Items can be used without consuming a turn. Baton's two abilities are shadow clones and a quick attack. A Quick attack can be used without consuming a turn, while shadow clones give you two turns of invincibility. A standard attack relies on dice rolls to deal damage. Your level of base damage is added to the number on the die to calculate your total damage output. A base strength of 10 and rolling a 5 will deal 15 damage to the enemy.
Gameplay is very linear, with no item shops, money, or level ups to be found. There is no reason to kill enemies and no way to grind experience. There is no experience point system at all.
There are five minigames to break up the stealth and combat gameplay. These are quicktime challenges, the groping minigame, the "look away" minigame, the "stuck in a wall" minigame, and the "take a walk" minigame. Each can be replayed from the recollection room once the game is beaten. The game will take between 2-4 hours and has zero replay value. In all honestly, the game is just one big hallway. While it's new and unique at first, it will be boring the second time around.
GRAPHICS
The art is Japanese anime style. The CGs in this game are numerous, varied, and gorgeous! There are over 50 unique CGs.
Almost all scenes have some form of animation. The best animated scene is a POV standing sex scene where you can visually watch Baton bounce on your cock. The animated scenes are absolutely beautiful.
Killing enemies activates a crazy visual effect of dark red blood coating the screen. Baton says in dialogue that she hates to kill people, and this effect reinforces that notion. Killing people feels very unnecessary and cruel.
The developer has great attention to detail. Each character gets a unique sprite, and each region of the mansion is distinct. The game world is made with RPG Maker's pixel graphic assets, and very well executed.
When groped, Baton's clothes can fall off of her. The level of disorder is determined by how far the groping goes. Vaginal sex guarantees you'll be near nude. Go to a nearby mirror to straighten up and reset your outfit to normal.
VOICE ACTING AND SOUND EFFECTS (SFX)
Kunoichi Baton has partial voice acting. During groping and sex scenes, Baton will yelp and moan with pleasure. Full words are kept to a minimum, with primary focus going to unique squeals depending on the action taking place. Her voice will raise in pitch when her pussy is touched, and it's very exciting to listen to!
The sound effects are standard RPG Maker assets. The cut of a blade is visceral, while the sound of a body wiggling against another is orgasmic. The sound design is good, but not incredible. I was never surprised or excited by the sounds.
MUSIC
There are 76 songs on the soundtrack.
The tracks are borrowed from previous games by the developer, they include stock RPG Maker assets, and a couple new songs. Sometimes you're listening to a foreboding melody from string instruments like cellos, and other times you're hearing digitally synthesized music. Sometimes you'll endure low-pitched foreboding music that strikes fear into your heart, and other times you'll have generic exploration music. It would have been best for stylistic consistency to leave out the RPG Maker songs.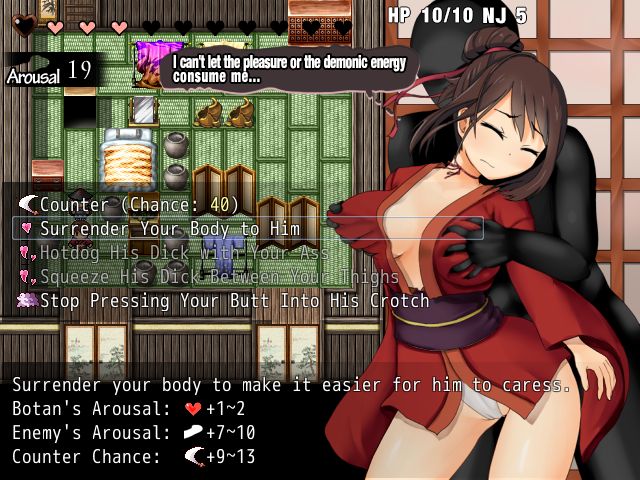 HENTAI
Kunoichi Botan has 17 scenes in total, each with a unique scenario and multiple variation images.
There are 19 CGs, 18 poses, and 18 cut-in images. On top of that, there are nine "mini-scenes" that reuse earlier art. The large variety of artwork ensures that high quality sex scenes are constant.
You must avoid the men with hearts above their heads! If they catch you, they will pounce you. If you fail to escape them, you will be murdered.
Being inseminated by a half-oni will end the game, because Botan will become enslaved to cock. Their cum is poison, so whatever you do, don't let them cum inside!
My favorite scene was when Botan got stuck in a wall and became a cum dumpster for all the men in the castle. This was even better than the public humiliation scene, because Botan's best friend sees your predicament!
CONCLUDING WORDS
Kunoichi Baton is a high quality hentai stealth game. The story is exciting, the gameplay is detailed, and the large amount of animated CGs are sure to keep you happy. Even though the game lacks replay value, it's pure awesomeness the first time around.
I recommend this to stealth RPG fans across the web! Download Kunoichi Baton. If you want a longer stealth game with less hardcore content, check out our review for Escape Fort Rugome!
Graphics

Gameplay

Story

Music

SFX

Hentai