Hentai RPG Game Review: Rune's Pharmacy
Hentai Reviews

>

Reviews

>

Hentai RPG Game Review: Rune's Pharmacy
Written by Rastafoo69, edited by Otaku Apologist
Rune's Pharmacy, a hentai RPG developed by PICOPICOSOFT. Released for PC at April 1, 2016. Get at DLSite for $19. Then grab the fanmade Ennglish Translation Patch. Partial voice acting. Censored pussy.
Erunelle Odette is a young lady who was orphaned after her parents died suddenly, leaving her in massive debt. On her own for the first time in her life, she must make money any way she can, even if it means selling her body!
New to Japanese eroge? Read our guide How to download DLSite games. Also read how to apply translation patches and if the patch is deleted, try this tool to translate the game.
STORY
Erunelle Odette is an orphan who has to pay 1 million gold to her family's debt collector. Will she prostitute herself? Do quests for the townsfolk? Or use her alchemy to create incredibly valuable items? The choice is yours.
The game is an open-world experience where Rune takes whatever quests she pleases. If you'd like, you can completely ignore quests and make the 1 million gold your own way. Of course, you'd be missing out on a lot of fun episodic content.
However, some of the content is not so fun. For example, a rich girl in the lord's mansion requires a specialized stamina potion and will pay you big bucks for it. If you stay over at her house, she fucks you. It wasn't a girl, it was a trap, you're faced with an unwanted futanari sex scene. There was no warning given, and Rune gets deflowered in a way that genuinely made me feel violated. Fuck the author for pushing futa on the players without telling us.
There are other dark moments in the story as well. Like if you get fucked by a giant demon, he destroys Rune's insides and she dies, sending you to the title screen. And if you go into the slums, a gang of men beat the crap out of Rune and nearly kill her. Don't let the colorful art fool you! This game has some seriously dark moments!
At the end of the game, the debt collector reveals he was friends with your father and you don't actually owe any debt. He was only testing you to see if you're ready for adulthood on your own. In the virgin ending, Rune becomes a schoolteacher – that was kind of random.
In spite of its title, you never actually run your pharmacy as a business. And in spite of my complaints about random dark moments, the game as a whole is still very enjoyable. It all depends on how you play it and what you do. Make bad choices to get traumatized, make good choices to become a millionaire. Your experience with the game depends entirely on how you play it. A true open world experience.
GAMEPLAY
Rune's Pharmacy was created in RPG Maker VX Ace. Press A for the backlog. Press W to hide text boxes. Press CTRL to text skip. Use the arrow keys and shift to move.
It's a standard dungeon crawler, perfecting the formula with a wide variety of side features that incentivize smart playing. And yet, the game is still well paced without being overwhelming to new players. By the end of it, you'll be level 36 and have four hours of playtime. Finding all scenes increases that to six or more.
Features include a quest log to track missions, sex stats to track corruption, an in-depth crafting system, and so much more. For the people who like to find every secret in their to reach 100% completion, there are almanacs for items and enemies to track your progress in finding them all.
When you start the game, things feel pretty limited. But as you progress and unlock new areas, you'll find a wide variety of things to do with your money. Like purchase ingredients at the port so you won't have to forage anymore. Or purchasing stat boosting items from the slums with money you earned prostituting yourself. Or simply getting a massage after you've unlocked it via a side-quest. There's always something new to do and I love it.
Other quality of life features include a tutorial guidebook in the pause menu, a storage container to preserve items in case you're defeated, and a wide variety of quest rewards. Gold, items, fame, and even experience points are rewarded to the player for every successful quest. It genuinely made me excited to meet new people and do new things, because the rewards were always worth it! The standard RPG formula made perfect.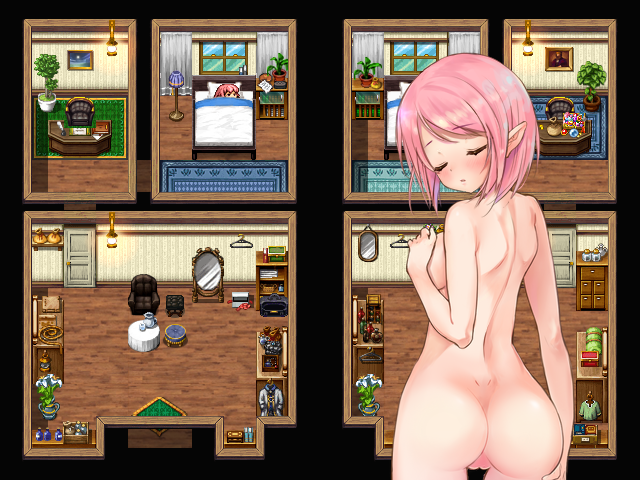 GRAPHICS
There are 37CGs and 20 animations, 70 H-scenes in total. Artworks only repeat where fitting, like during prostitution or repeatedly losing in battle to the same type of monster. In a single playthrough, you'll probably never see an artwork repeat, it's only noticeable in the recollection room.
The art is drawn in the Japanese anime style with a heavy emphasis on realistic lighting and atmosphere. For example, a candle on the side of the bed will light a scene, the other side of the bed is darker. Open windows on a sunny day will illuminate most of the room except nooks and crannies like high shelves. It's crystal clear the author painstakingly drew every single detail of every single scene to work perfectly together cohesively.
Rune is best girl. She's so beloved, she's even in cameos in competing games like Sister Travels. From her adorable face to her conservative outfit, Rune is clearly waifu material. Many moments like her sadness and tears from her parents' death give her a lot of relatability. You see her crying face and think "I have to protect this girl". This feeling enhances your own emotions when you see her weakened via clothing damage, about to fall to a dangerous foe. In one scene, blood is splattered across the screen as the music fades out. If you're unfortunate enough to lose in battle and see this scene, the visual effects will fill you with an overwhelming feeling of self-hatred for letting Rune die. The visuals make the game, making this a truly unforgettable experience.
Although there is only one town, it is super well designed. The world isn't enormous, but it's large enough where you feel proud to have crossed a mountain range and reached the mysterious northern forest. This feeling of scale and size is even more emphasized by the mini-maps and warp-points used throughout the game. You start out in Rune's small and cozy home, but end up traveling so far through the big wide world. Seeing your little map-dot move through the unknown fills you with a sense of pride and purpose. More games need to implement dungeon mini-maps!
Cut-in images are overlaid on fullscreen CGs too zoom in on certain body parts like the breasts or lips. When fullscreen CGs are not used, pixel animations are used instead. From blowjobs to double penetration, the animations are clear and well drawn, aiding the dialogue in conveying the events Rune is enduring.
Rune's Pharmacy is well known as a super popular cult classic, so much so it even has its own anime adaptation. Even normie places like Youtube are filled with videos about this game! Naturally, Rune's Pharmacy is significantly more polished than its competitors. Although it came out in 2016, the developer continued to patch it and add more content all the way into 2018. It's perhaps the most professionally made hentai game on the market today.
VOICE ACTING AND SOUND EFFECTS (SFX)
Voiced lines are only used during battle. Whenever Rune is hit by her opponent she'll make a sound to emphasize the impact of the blow. Sex scenes however, tend not to use the moaning and grunting tracks. Instead, the focus is on the animations like the cross-sectional views.
Atmospheric sound effects like birds and footsteps are used constantly to convey the setting. Are you walking on a road or through flowers? Maybe you're all alone in your empty house after your parents died, and the sound of your feet on the wood is the only thing left now that you're alone. Safe to say, the sound design in this game is simply phenomenal. Even something as simple as a vaginal insertion is well timed with the audio to give impact to every movement. It's perfection.
MUSIC
There are 91 tracks in total. The developer used four unique developers of licensed music to create a distinct vibe that no other can mimic. The title track, "Dear my Dear" makes heavy use of piano and bongos in a beautiful game theme that feels almost ethereal, yet adventurous.
Musicians include Mozell, Kufu, Pocket, and The MatchMakers. All are credited in the game's readme-file. Each track is better than the last. The developer truly chose a team of kings, a professional assortment of music that perfectly conveys the wanderlust and determination of Rune while also capturing her innocence and youth.
HENTAI
There are 70 scenes in total, made up of 37 CGs and 20 animations. Almost every scene is unique with tons of setup and foreplay.
In one scene, you steal a shiny necklace and get spanked for being a thief. In another scene, an alchemist ages Rune down and fucks her tighter, younger pussy. And in a really wild scene, Rune is attached to a milker and produces tons of breastmilk!
My favorite scene is to lose your virginity in a brothel. Like a real brothel, the women are all lined up and the man gets a good look before picking the girl. Once he does, he deflowers Rune and fucks her pussy all night long! She cums so many times, she loses track!
Another fantastic scene is when Rune finally has sex with Farmer Doga! He was a friend of her father, and has always been like an uncle to her. And now, he's got her pinned in the mating press and she's calling him "papa"!
There are too many scenes to explain them all, but here's a couple themes you'll see: Futanari, massage sex, public cum-dumpster, fucking drunkards at the bar, being tied up and deflowered by a stranger in the forest. If only there was impregnation, this game would be a masterpiece.
CONCLUDING WORDS
Rune's Pharmacy is one of the greatest hentai RPGs ever made. The music is perfect, the visuals are super detailed, and the scenes are downright orgasmic. The plot might be simple, but everything else is incredibly impressive.
I highly recommend this game to fans of the RPG genre. Download Rune's Pharmacy.
Graphics

Gameplay

Story

Music

SFX

Hentai